Is your family attending Mickey's Not So Scary Halloween Party? If your child or a family member suffers from food allergies, I have the perfect Allergy Friendly Guide To Mickey's Not So Scary Halloween Party for you! Halloween time can be hard for children and adults with food allergies, especially those who are allergic to peanuts. To me, it just seems that everything now contains or is manufactured in a peanut facility. I'm so grateful for Walt Disney World, who are fantastic about making guests with food allergies feel so welcomed.
Thank you, Disney, for the invite and all the Spooktacular fun! All sugar rushed opinions are our own.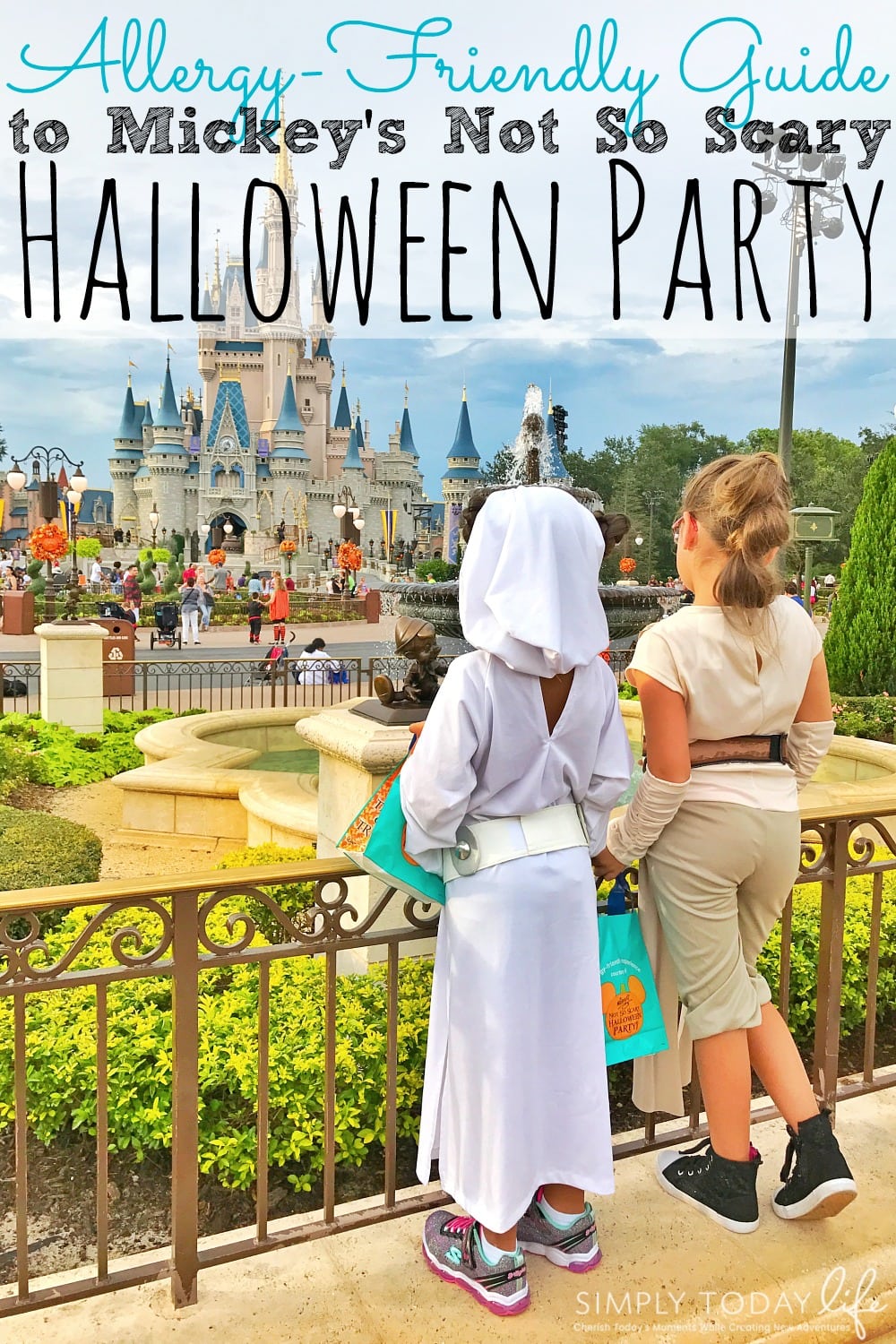 Allergy Friendly Guide To Mickey's Not So Scary Halloween Party
When it comes to the holidays, no one does it as Walt Disney World does! Tricks, treats, shows, rides, costumes, and so much more! Now, if you have a child with food allergies as we do, then it can take away from all the fun! As parents we would be on egg shells the entire night anywhere candy is being handed it out and then my daughter would be so sad that she would not be able to eat the candy at the end of the night! For us, our daughters both get the best of both worlds! Disney magic and all the allergy safe candy and treats they can handle!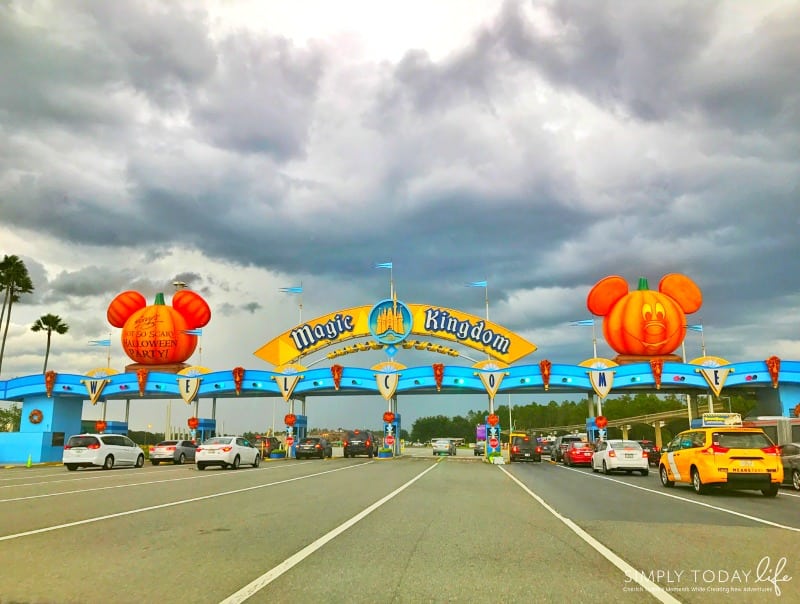 Know How It Works
Here's a quick guide on how the allergy-friendly trick-or-treating at Mickey's Not So Scary Halloween Party works. Easily pick up a Teal Bag at any of the candy stations around the Magic Kingdom. They will have them all around the park, check my list below for Candy Treat Locations. Collect Teal coins and exchange them for candy!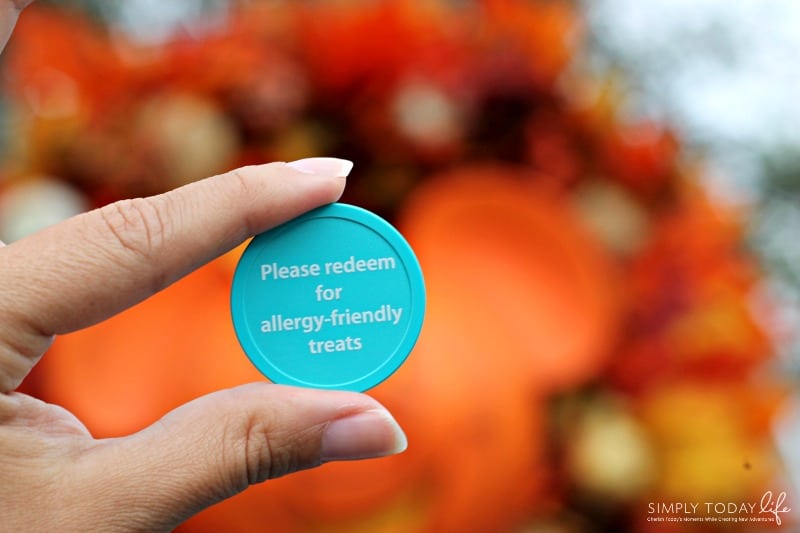 Where Do I Get Teal Coins
Every candy station will have regular candy and Teal coins to hand out to trick-or-treaters with the Teal bags. Remember, you need your Teal bags to get your Teal coins. It makes it easier for the cast members to know that your child cannot have the regular candy.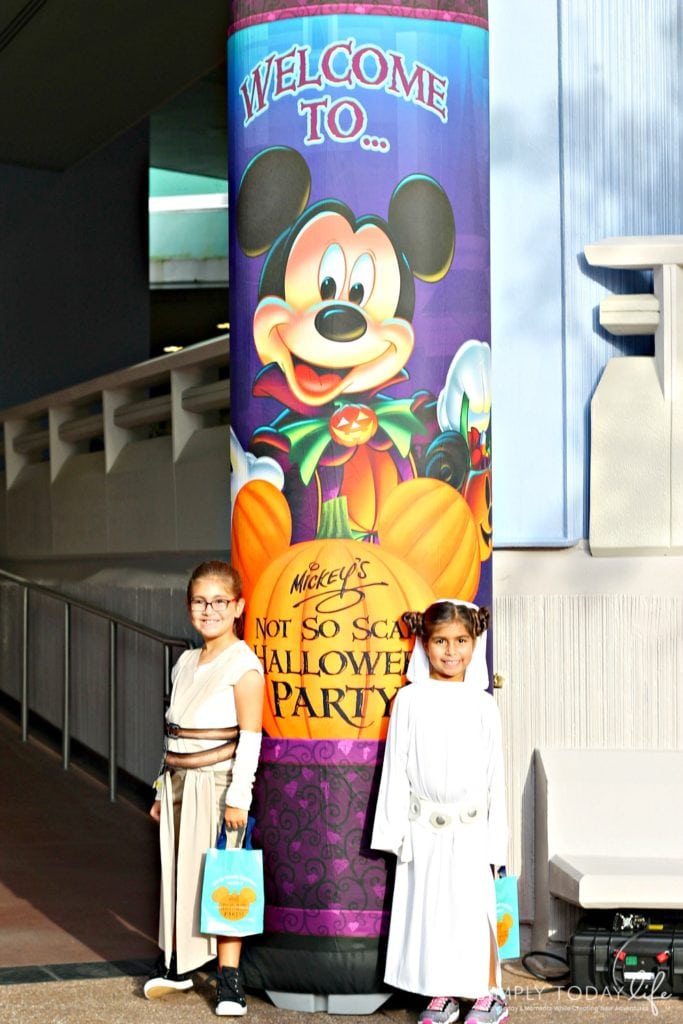 Candy Treat Locations
Main Street, U.S.A
Town Square Theater, this is where you will cash in your Teal coins
Adventureland
Pirates of the Caribbean
Walt Disney's Enchanted Tiki Room
Jungle Cruise
Frontierland
Splash Mountain
Dock to Tom Sawyer's Island
Liberty Square
Heritage House, this is where you can cash in your Teal coins
Liberty Square Riverboat
Fantasyland
Pinocchio Village Haus
Mickey's PhilharMagic
Pete's Silly Sideshow
Tomorrowland
Space Moutain
Cosmic Ray's Starlight Cafe
Walt Disney's Carousel of Progress
Don't be shy about going back again for more Teal coins! Especially on those rainy days to keep you a bit dry! The cast members don't mind at all, and it just makes it fun for the kiddos!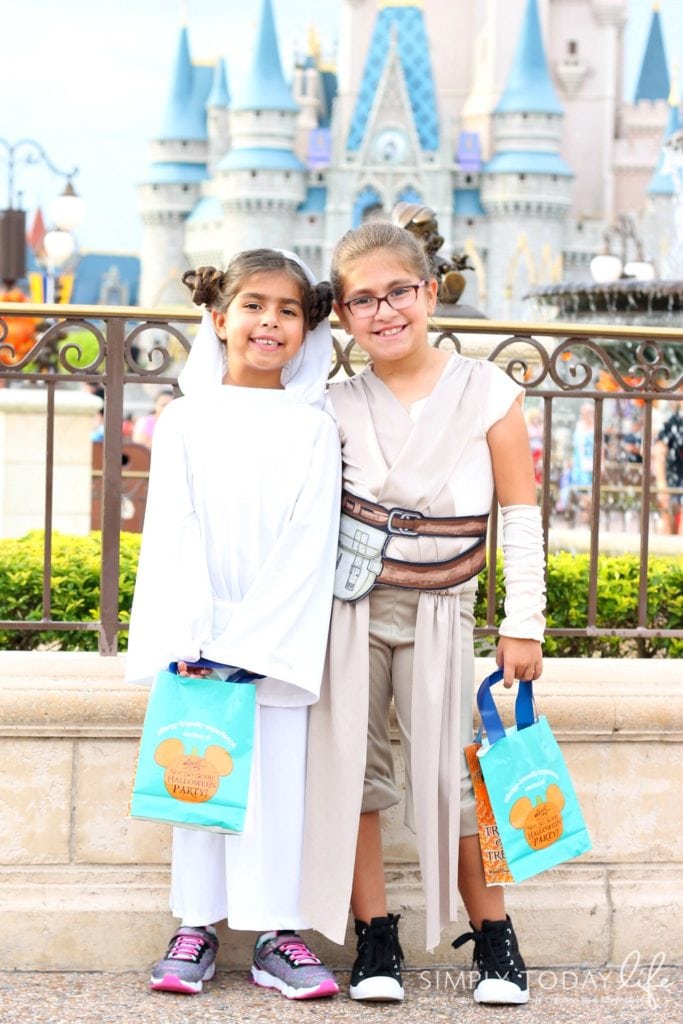 Trick-or-Treat Teal Coins Please
Please, make sure that cast members who are giving out candy and teal coins are aware that your child needs the Teal Coins and not the candy. There are tons of kids coming up to them at the same time, so I can see how it can become a bit overwhelming for them, but after more than a few mishaps of them throwing not safe candy into our daughters Teal Bags, we started singing "Trick-or-Treat Teal Coins Please." It seemed to help a bit more, but we still had a few incidents where not-safe candy was dropped in their Teal Bags. So, we made sure that they were completely aware that they needed coins and not candy before opening their Teal treat bags.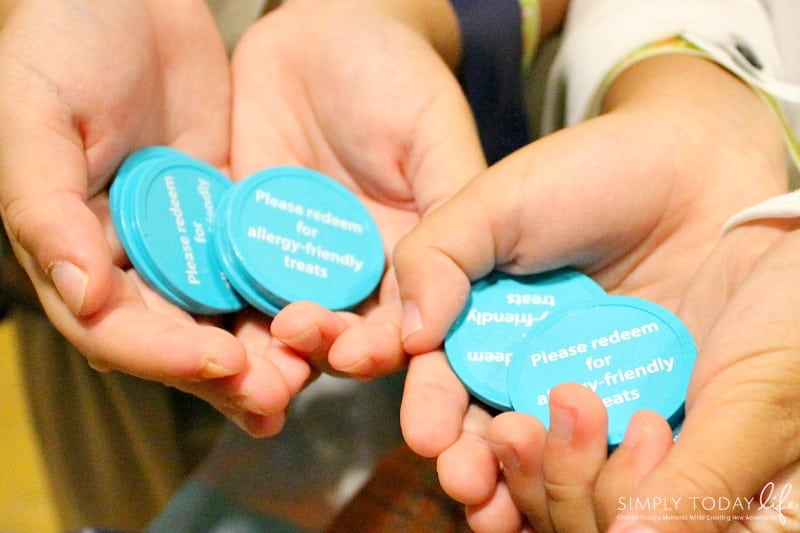 Where and How To Cash In Your Allergy Friendly Coins
Cashing in your Teal Coins for your safe candy and treats is super simple! There are two locations where you can go. The first location is at the front of the Magic Kingdom, at the Town Square Theater, which is the same building where you can meet Mickey Mouse and Tinkerbell. The second location is at the Heritage House at the entrance from Liberty Square.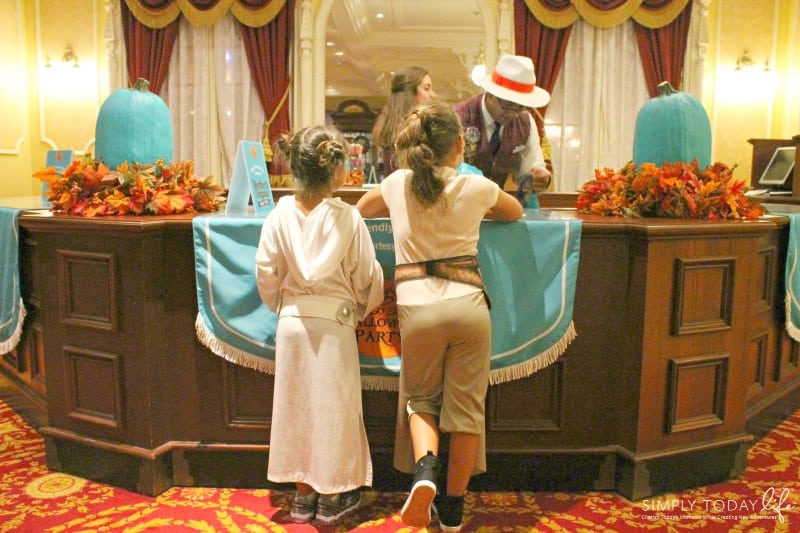 Exchange your Teal Chips for any of the safe candy options and fun crafts available with a cast member. Each candy is listed on the table with all the ingredients to make sure that you are picking items that the kids could have. My oldest daughter is allergic to peanuts and Brazilian nuts, so she was able to eat any of the options on the allergy-friendly options, and because our youngest daughter is not allowed to have any other candy that could harm her sister, she also does the allergy-friendly options.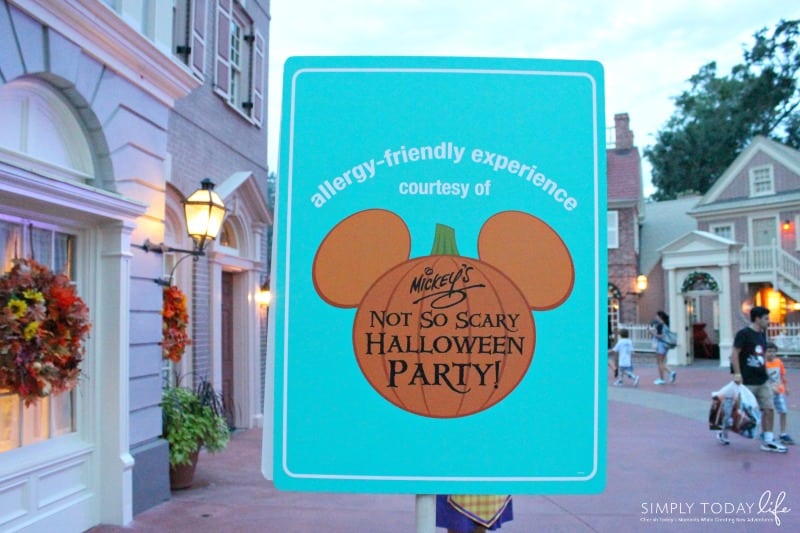 Quick tip, you don't have to wait until the end to cash in some of your coins, you can do so whenever your kiddos feel like having a treat! I highly suggest not waiting until the end of the night because the lines might be a bit long. We like to cash our coins right before the last Boo To You Parade so that the girls have a treat while watching the parade in Frontier Land (less crowded).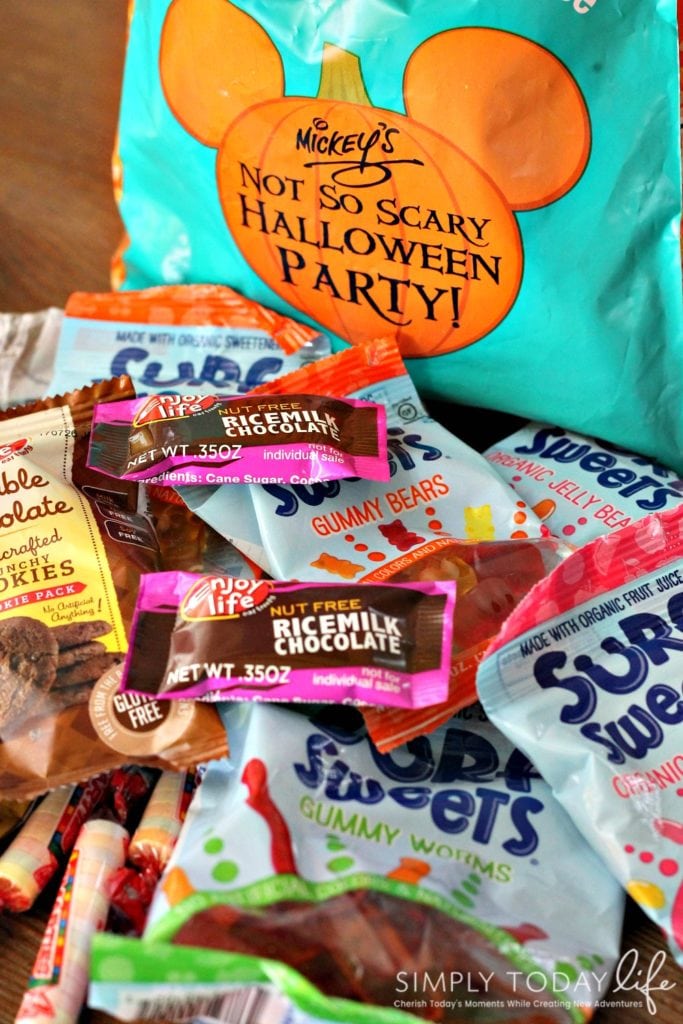 Allergy-Friendly Treat Options
Enjoy Life Vanilla Graham Crunchy Cookies
Enjoy Life Double Chocolate Crunchy Cookies
Enjoy Life Rice Milk Chocolate Bars
Enjoy Life Dark Chocolate Bars
Surf Sweets Organic Jelly Beans
Surf Sweets Organic Gummy Bears
Surf Sweets Gummy Worms
Smarties
Arts & Crafts Bags
Make sure to let the cast member know which specific treats you would like. They are very accommodating, and I noticed that the girls usually get more treats than coins in their bags. As you can see, my girls got a bit of everything, and we loved the crafts this year. We don't remember them having those last year!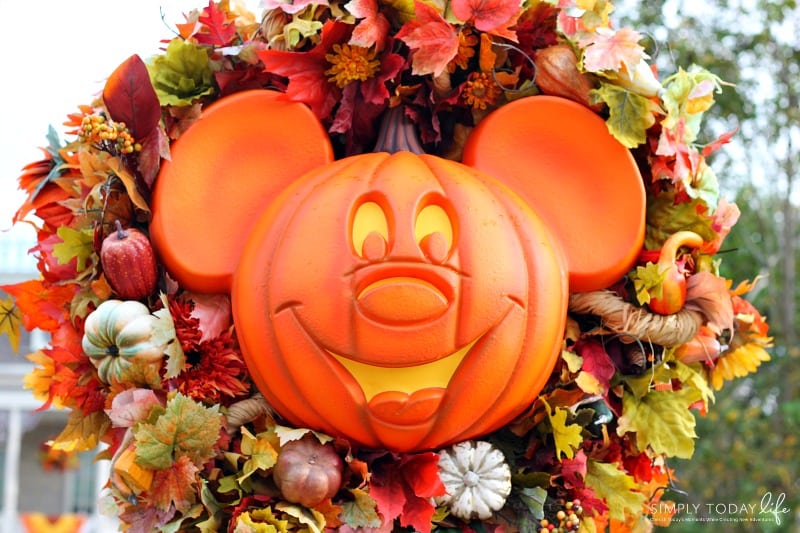 If you have a child or a family member with food allergies I know how hard Halloween can be. My daughter looks forward to Mickey's Not So Scary Halloween Party each year and I'm so grateful that Disney goes out of their way to make Halloween special for kids and adults with food allergies!
Dates for Mickey's Not So Scary Halloween Party 2017
August 25, 29
September 1, 7, 10, 12, 15, 17, 19, 22, 24, 26, 29
October 1, 3, 5, 6, 9, 10, 12, 13, 15, 17, 19, 20, 22, 24, 26, 27, 29, 31
November 1

Visit the Walt Disney World website for more information, pricing, and date changes.
Head on over and check out our Very First Mickey's Not So Scary Halloween Party! Wow, this was a very long time ago and at the beginning of my blogging career!
You Are Also Going To Love:
If you loved learning about how you can have an Allergy-Friendly time at Mickey's Not So Scary Halloween Party, then you will also love the following Disney events I have put together for you:
Have you visited Mickey's Not So Very Scary Halloween Party?

SaveSave
SaveSaveSaveSave
SaveSave
SaveSave
SaveSave
SaveSave
SaveSave
SaveSave
SaveSave
SaveSave
SaveSave
SaveSave
SaveSave
SaveSave