Last month we had the opportunity to check out the Tour de Turtles at Disney's Vero Beach Resort. I will admit, as a huge Disney fan, I didn't even know this resort existed, especially so close to Walt Disney World. Here are 8 Reasons To Stay At Disney's Vero Beach Resort + Room Tour to show you all the details of this fantastic resort.
My family and I were invited as media to attend The Tour de Turtles Event, which included a one night stay at Disney's Vero Beach Resort. Although, this review was not asked of us, we felt that our readers would love to know more! All beach cruising opinions are our own.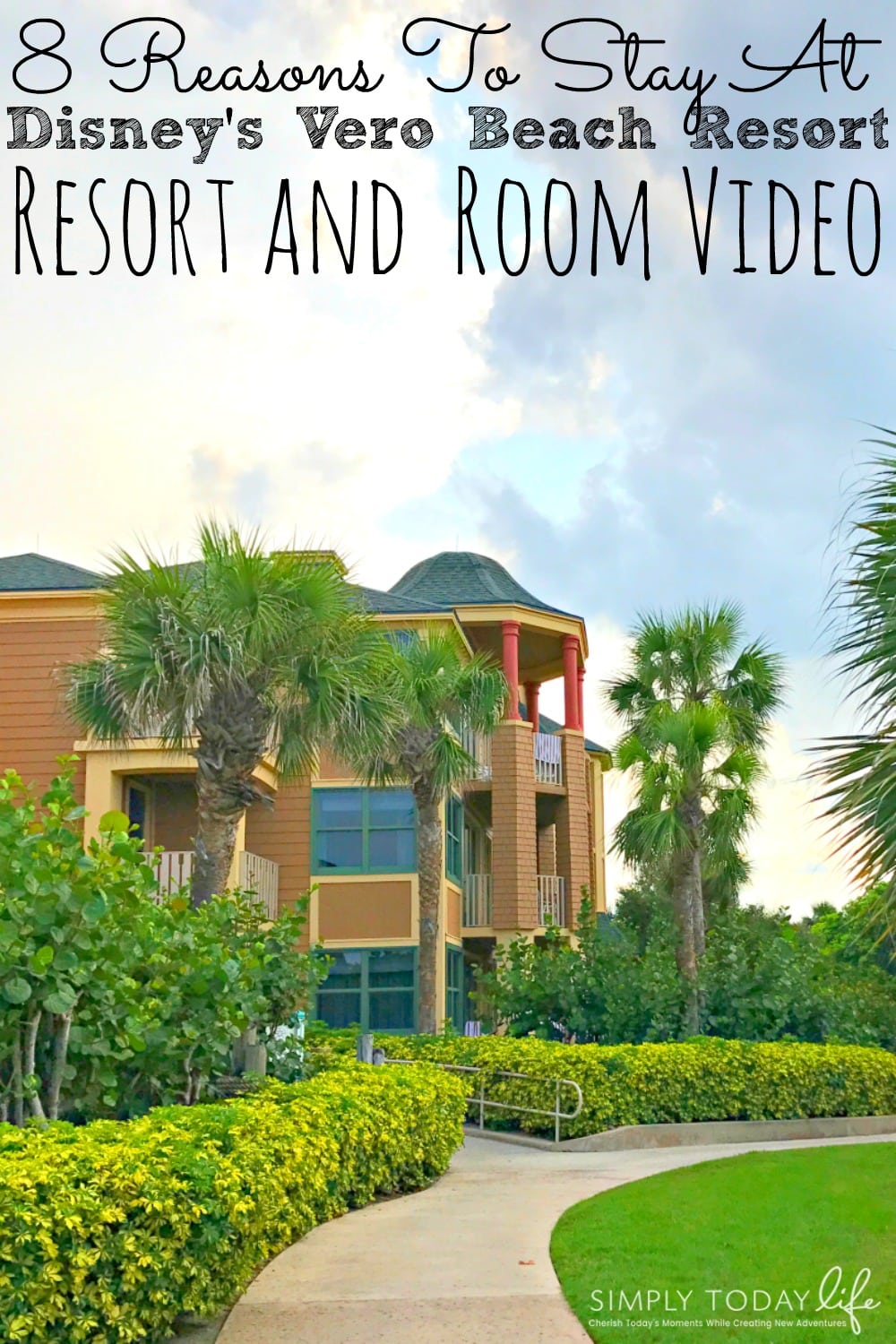 8 Reasons To Stay At Disney's Vero Beach Resort + Room Tour
If you love Disney as much as we do, then you need to visit Disney's Vero Beach Resort with the family, especially if you're visiting Walt Disney World theme parks. Disney's Vero Beach Resort is only about two hours away from Walt Disney World and Disney Springs, but with a few extra perks that the resorts on Disney property don't have. So, make sure to leave a few extra days just to check out the resort and the city of Vero Beach.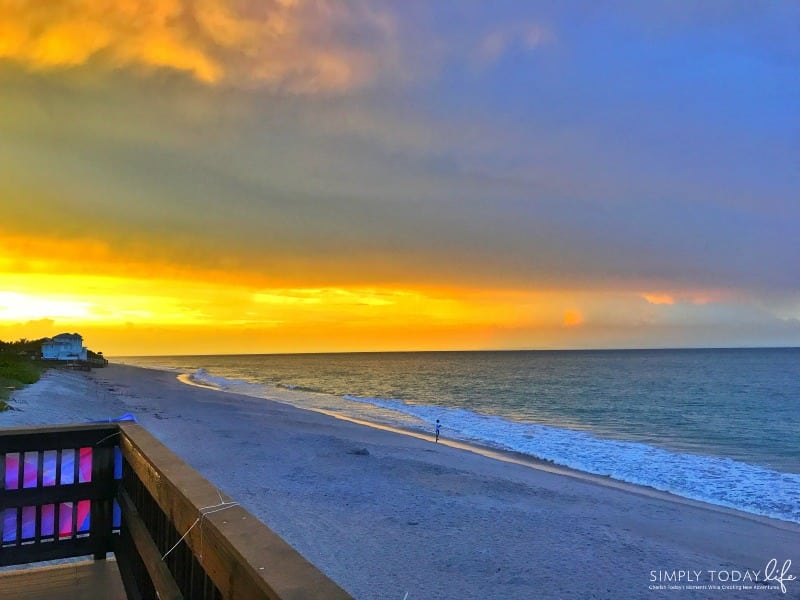 The Disney Magic
Disney's Vero Beach Resort is a Vacation Club Resort having the best of both worlds when it comes to staying on Disney property and visiting the state of Florida, Disney magic, and the beach! Disney's Vero Beach Resort includes all the astounding amenities that you would expect from staying at a Disney property, but with it comes Florida's natural habitat at its finest.
The resort sits on the Atlantic Ocean side of Florida, bringing in its nautical and turtle theme throughout the resort.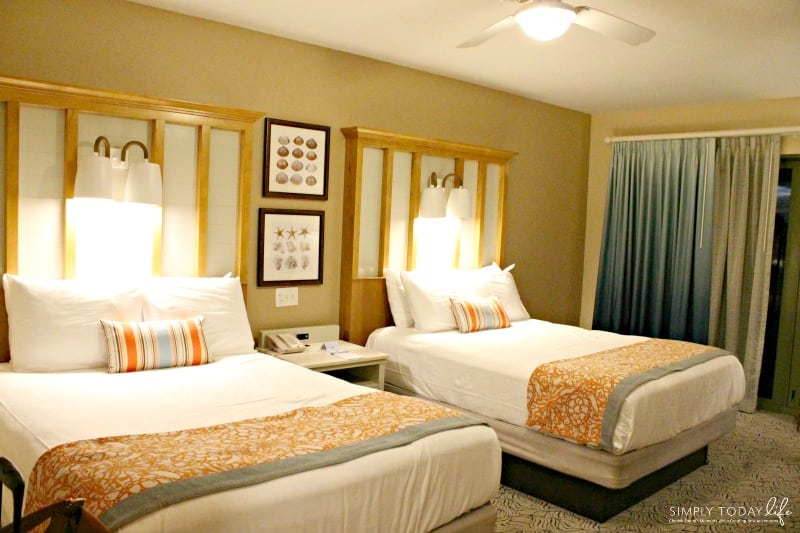 Spacious and Family Friendly Rooms
One of the most important things for us as a family of four is making sure that we have enough space in our hotel room to move around comfortably. The rooms at Disney's Vero Beach Resort are designed with families in mind, whether you are a family of four or a family of nine.
We stayed in one of their Inn-Ocean Garden View rooms, perfect for our family. The room included a nice mini wet bar with a sink, coffee machine, mini-fridge, and a microwave.
Along with the television is a Blu-Ray player that you can use with your Blu-Ray movies or rent them from the shop in the lobby.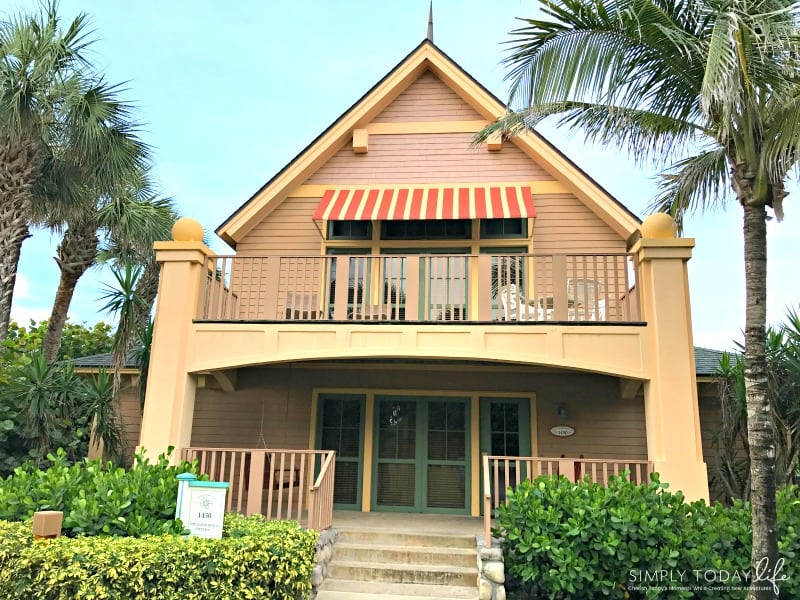 A great feature of the room is the fact that the sink is on the outside of the tub and toilet area. Making it easier for families to get ready at the same time. They also have a Pack' n Play available for families with younger children and lots of drawer space for clothes.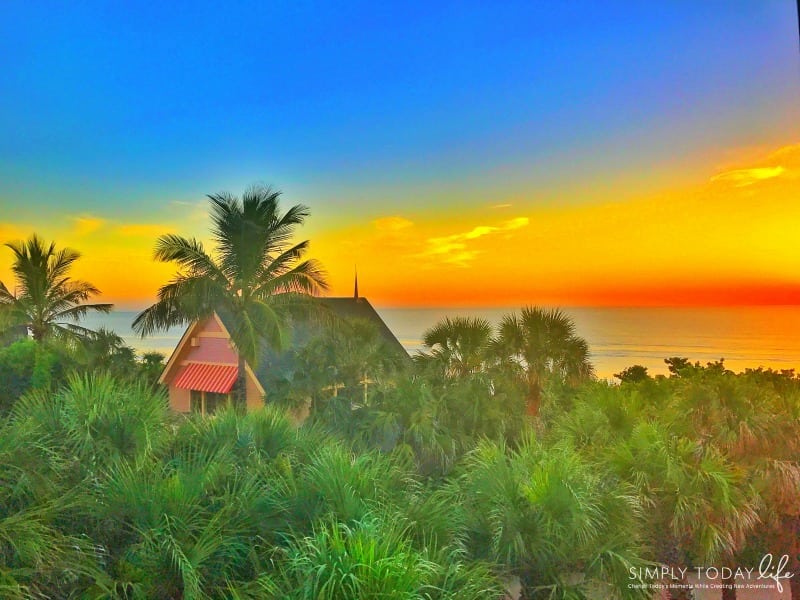 All of these features are fantastic, but my favorite one was able to walk out into our very own patio that overlooked the Atlantic Ocean! We missed the sunset because of the rain, but the morning after the sunrise was glorious! Probably, the best one I have ever seen!
The resort also offers One and Two bedroom villas, accommodation between five and nine adults.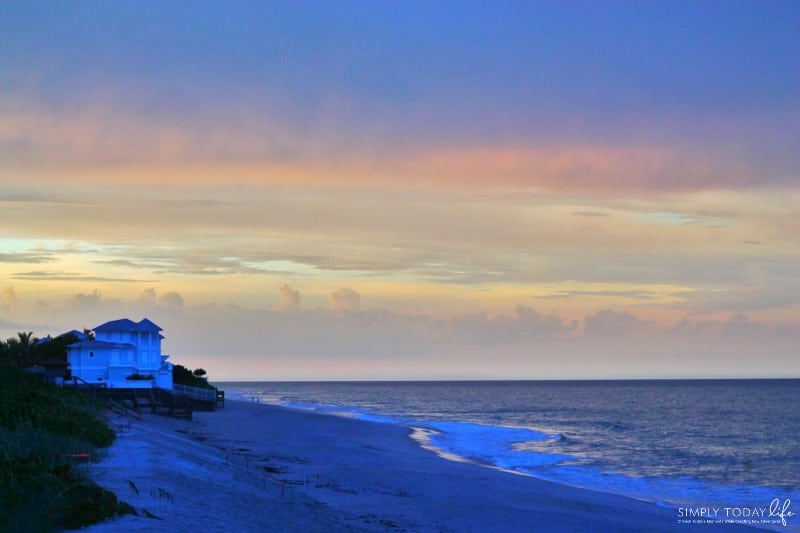 Spectacular Atlantic Beach View
Being able to stay at a Disney property and walk out to my porch to see the ocean waves is what I call a win! My family loves the beach! Not only do they enjoy being on the sand, but they also love to surf and explore the ocean life. Disney's Vero Beach Resort provides all the amenities needed to relax on the beach and all the amenities for creating some family adventures on the water!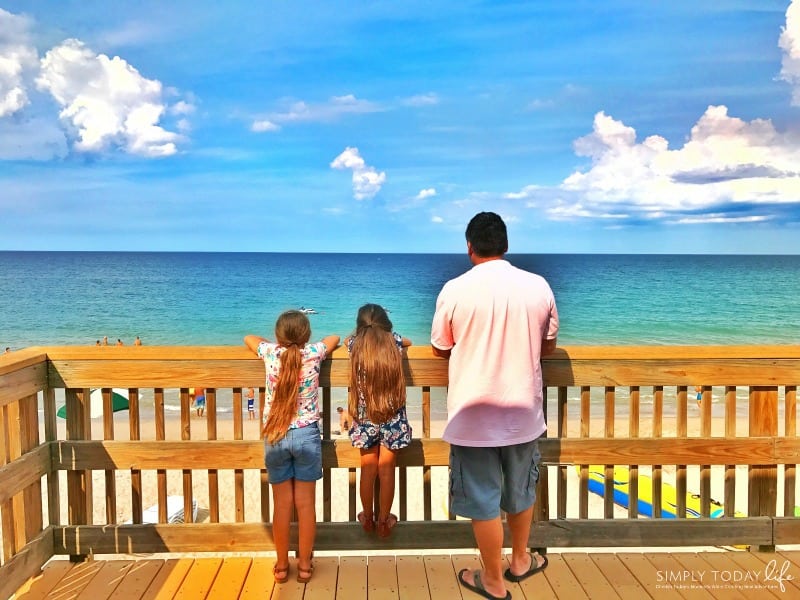 There's nothing like relaxing on a beach, but there is just something special about relaxing on a Disney property beach. Beach chairs and umbrellas are available to guests for a small fee, but it includes set up and clean up. No need to lug around beach chairs or covers from the sun! The hotel does provide you with fresh, clean beach and pool towels daily in your room. So leave those at home!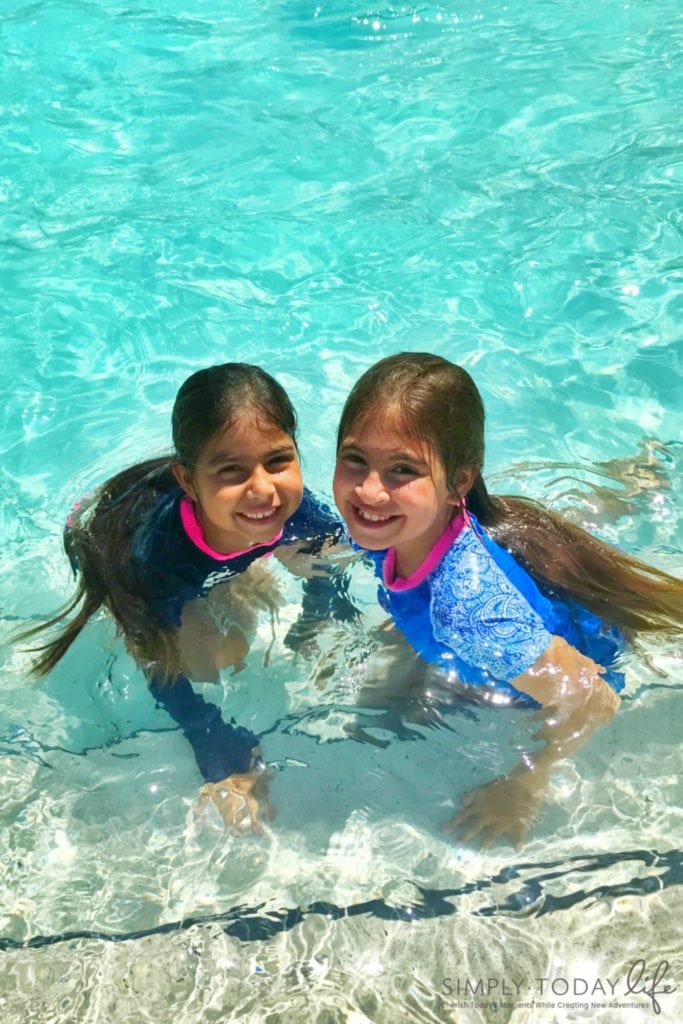 Slipping Slide Mickey Pool and Kiddie Pool
There are two pools to enjoy at Disney's Vero Beach Resort! The Mickey Mouse shaped pool is perfect for the adults and older children. Including a very fun spiral slide that my girls enjoyed for hours! Even my youngest daughter who is usually afraid of big slides went down hundreds of times! Not even kidding! Plus, this mama relaxed in the 82-degree pool while my girls had a blast!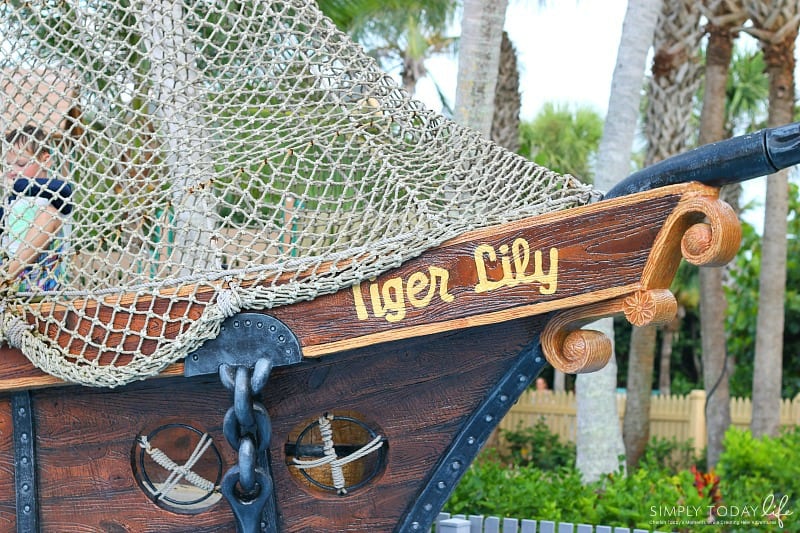 The second pool is the Pirate's Plunge, and it's perfect for the little early swimmers. It's a two-story pirate ship with a small water slide ideal for toddlers. Can you guess the name?
There's also a hot tub on the side for the adults to enjoy as well
Remember, the hotel provides pool towels in your room! So, no need to bring your own during the trip. Moms, this means less laundry for you to worry about when you get back home.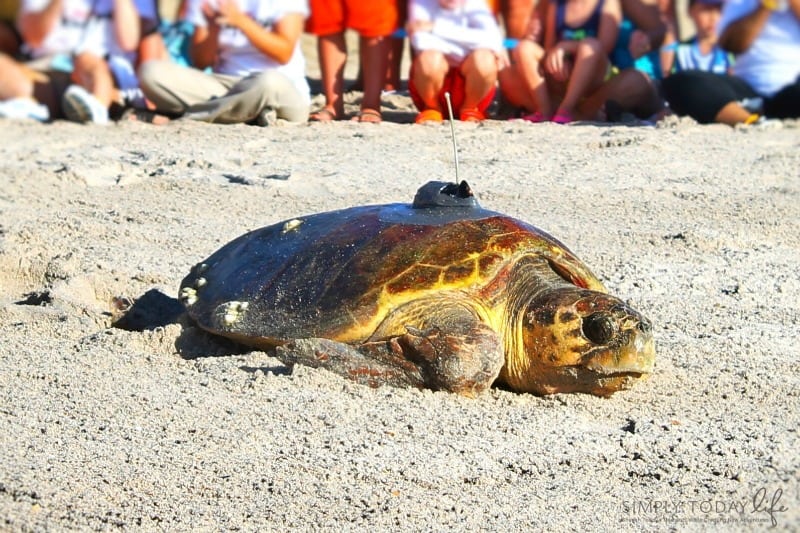 Nesting Sea Turtle Location
One of our favorite things about staying at Disney's Vero Beach Resort is the fact that it sits on one of the places where turtles come to nest their eggs. Being that we are local to Florida, we know what the orange markings mean on the beach and about turtle conservation. We had never had the opportunity to experience turtles returning to the ocean after laying their eggs, so this was an amazing experience for us. I know that it's something my family and I will never forget and are so grateful to experience together.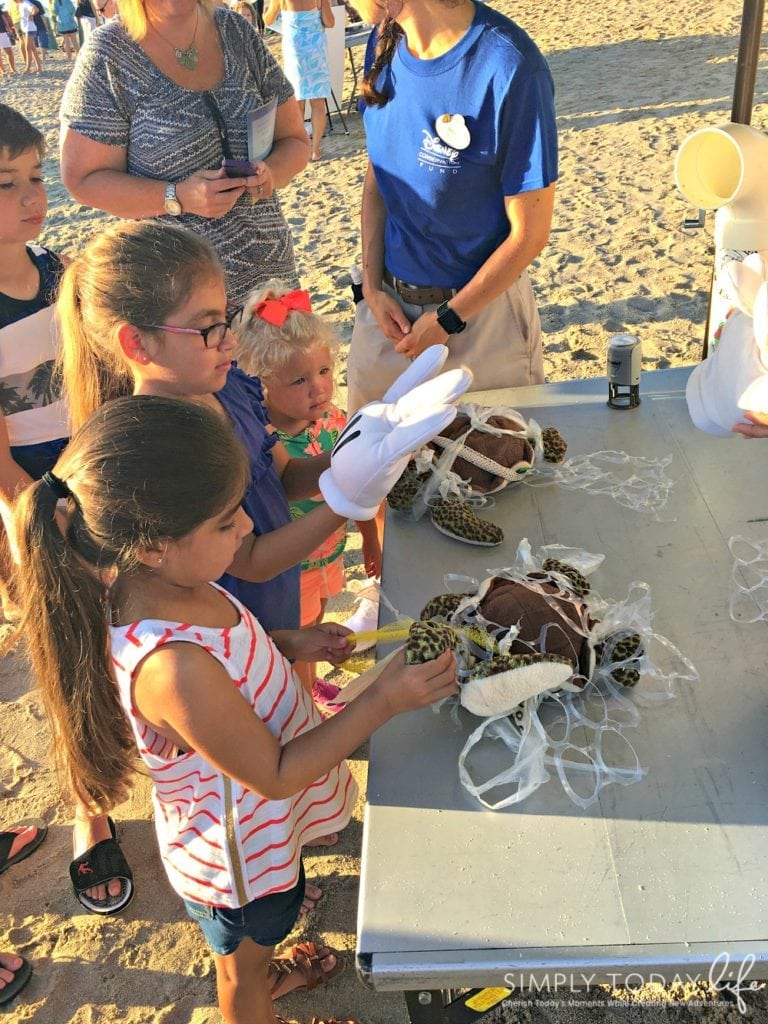 We highly suggest visiting Disney Vero Beach Resort during their Tour de Turtles event, but make sure to book your reservations early because it's quite the popular event. Check out all the fun we had at this year's Tour de Turtles Event.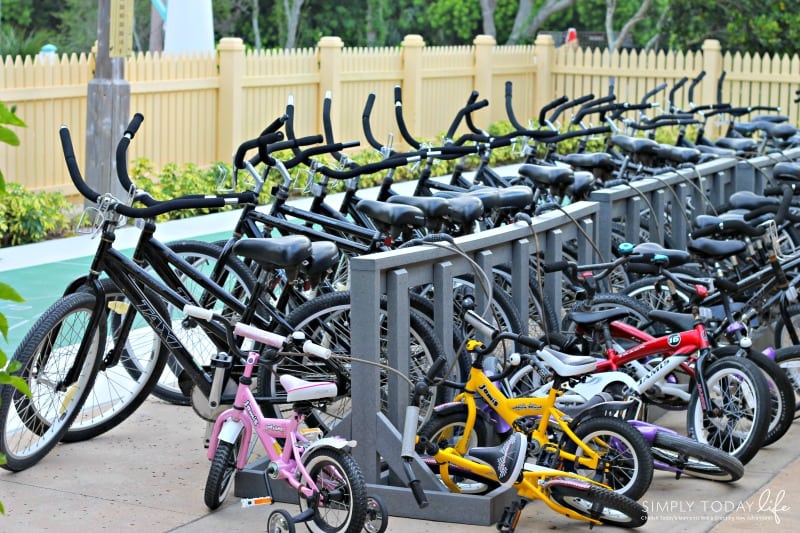 Family Activities Galore
One of the things about visiting Florida is that the weather is very unpredictable, especially during the summer months. So, making sure that you have other activities available to keep the kids busy is a must! Good thing the resort provides an endless amount of entertainment and activities for families to enjoy.
Miniature golf
Video game rentals
Games and nature activities (kids and teens)
Sing-Along campfire in the evenings
and so much more!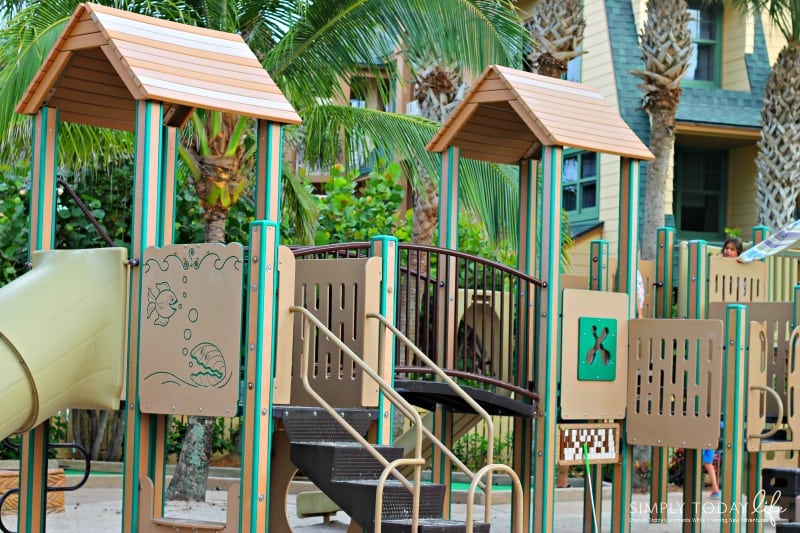 You can even head on over to Eb and Flo's Rentals where you can rent items for the beach such as boogie boards and kayaks or activities like surfing lessons, fishing equipment, and bike rentals.
Taking Your Taste Buds For a Spin
If your family is like ours, then you look forward to sampling the resorts restaurants and different flavors. We were lucky enough that during our stay Disney provided a fantastic dinner at the resorts casual dining, Wind and Waves Grill.
Being that the resort is on the beach, hubby was excited about learning more about the seafood offered on the restaurant's menu. Let me just say that he was not disappointed.
We had several appetizers, including freshly baked bread that comes with the meals. They also bring out butter sprinkled with your choices of mineral salts. That was the first for us and let me just say how delicious it tasted! I just wished they sold the mineral salts in their store!
The food was created by very high standards and would say that the menu is a bit more than casual dining. Even just the way everything was laid on the plate was beautiful and elegant.
Now, being that we were on a Disney property resort, I only expected the best for my oldest daughter who suffers from peanut, shellfish and Brazilian nuts allergies. As always, the chef came and visited us at the table as soon as I mentioned the allergies to our server. He was very accommodating on what she wanted to eat. Even at dessert time, he had several choices for her. Her face was filled with happiness as it always does when we eat on Disney properties!
My husband and I also ordered dessert. Let me just say that if I had known how good everything was going to be, I would have started with my dessert! That way I could have taken some of my dinners leftover back to the room where I could heat up.
Make sure to get the souvenir cups for the kiddos! They come with their drink and a fun light up clip. My girls got the fairy drink, so it brought a light up Tinkerbell! They were super excited about this!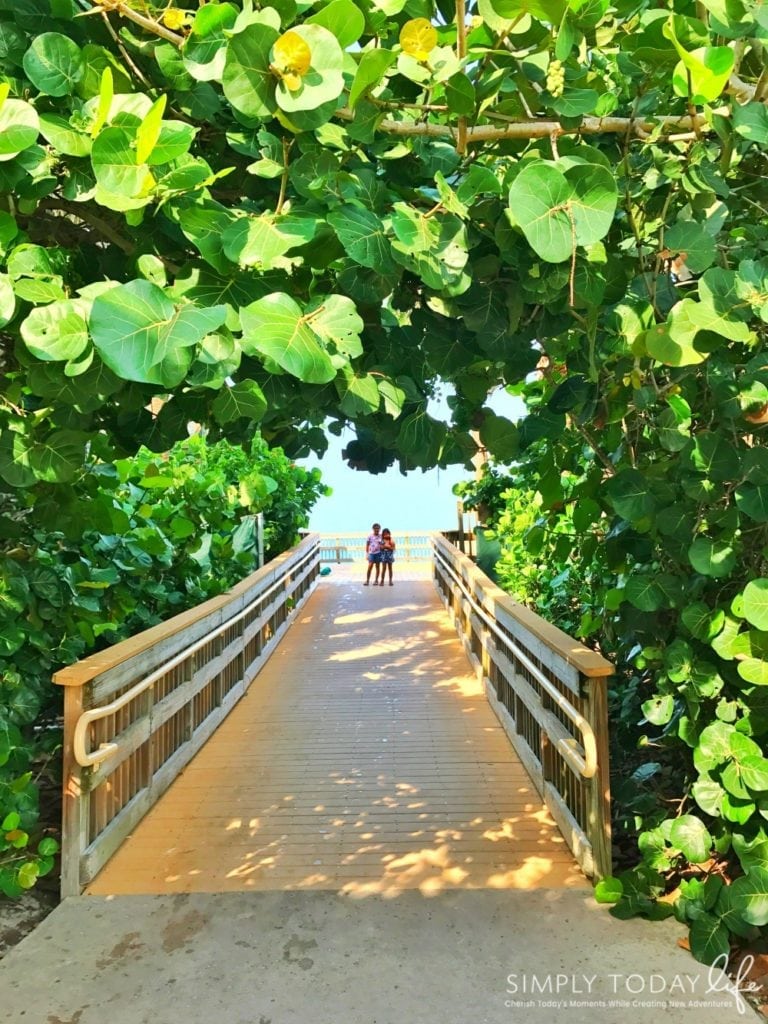 A Chance To Explore One Of Florida's Beach Towns
A special reason to stay at Disney's Vero Beach Resort is the opportunity you get to explore outside of Orlando. You get to get a taste of some of the local spots at Vero Beach, including the Indian River Lagoon.
You can easily explore some of Florida's nature, fantastic food, and tours you would not be able to experience further into Florida. My family and I are all about exploring more outside of the resorts. Unfortunately, during our trip, we had a little mishap with our van that didn't allow us to do so, but we are already planning on returning very soon to explore the town of Vero Beach!

To learn more about Disney's Vero Beach Resort and Tours de Turtles just visit their websites.
You Are Also Going To Love:
If you loved reading about 8 Reasons To Stay At Disney's Vero Beach Resor,t then you will also love the following Disney posts I have put together for you:
Have you ever visited Disney's Vero Beach Resort?

SaveSave
SaveSave
SaveSave
SaveSave
SaveSave
SaveSave
SaveSave