A few weeks ago we had the opportunity to check out Disney Typhoon Lagoon H2O Glow Nights and today I'm sharing with you all the best experiences for kids with a parent guide to this night time fun! Thank you, Walt Disney World, for inviting our family to attend the first night. All glowing splash worthy opinions are my own.
Best Disney Typhoon Lagoon H2O Glow Nights Experiences For Kids | A Parents Guide #H2OGlow
It's been a while since I've visited one of the Disney water parks and this is the first time my girls got to experience it for themselves. Not only did they love it, but they got to experience Typhoon Lagoons H2O Glow Nights a special event created for this summer! So, join us and some of the Toy Story gang to check out the best experiences for kids you don't want to miss!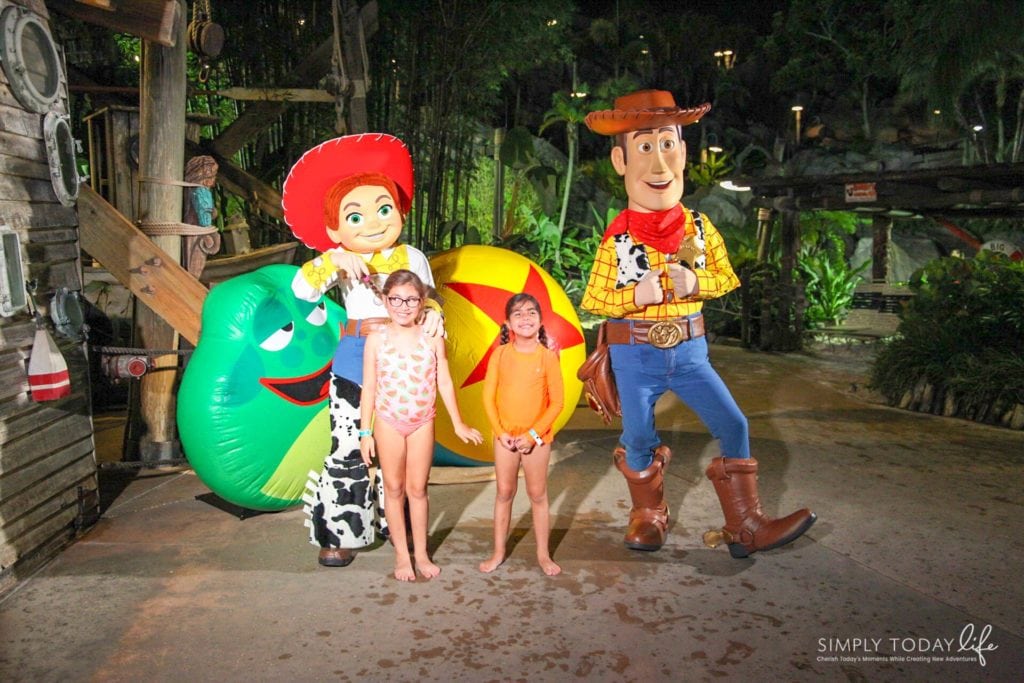 Character Meet Ups
We all know that kids and adults both love those character meetups! Especially during special nights like Mickey's Not So Scary Halloween or Mickey's Very Merry Christmas Party! We get to experience some special characters who don't always come out to play. Well, Typhoon Lagoon's H2O Glow Nights has some of these special characters as well! You are able to meet some of your favorite Toy Story friends like Woody and Jessie by Typhoon Boatworks and Buzz Lightyear by Crush 'n' Gusher. It's such a magical moment when your kids see their favorite characters! Woody and Jessie spent a good amount of time with our girls playing and fooling around!
Tip: Mom and dad don't forget to jump in the photos with your kids! Especially if you have the Memory Maker!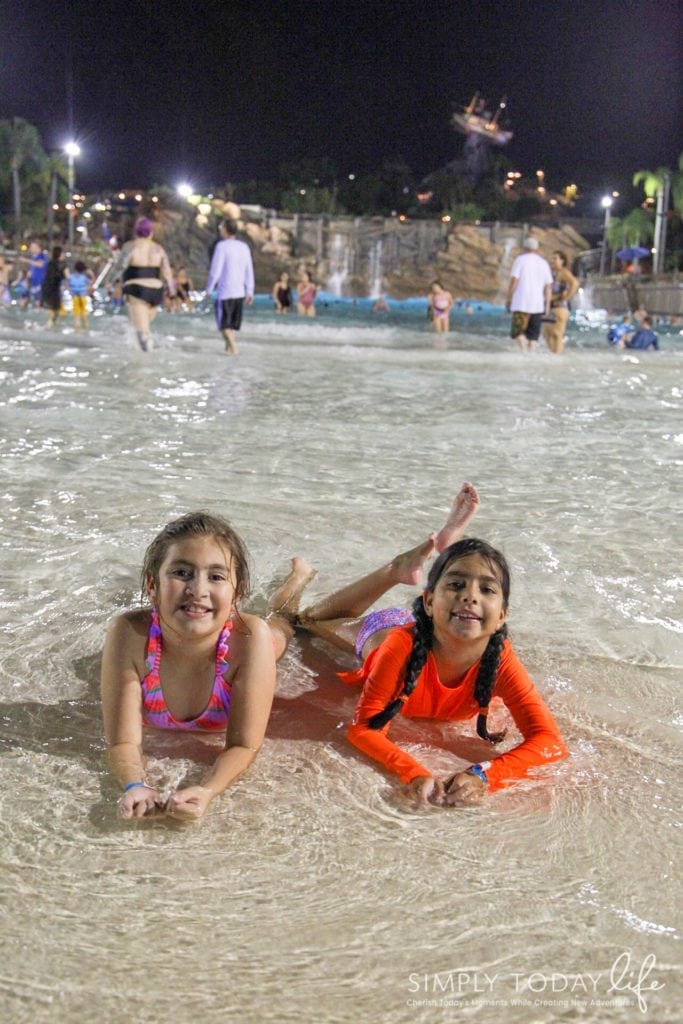 Night Time Attractions
Do you love running around Disney at night? We sure do and Typhoon Lagoon H2O Glow Nights is no different! For us, it's worth it for the smaller lines and experiencing the attractions at night time! Especially the wave pool! Typhoon Lagoon will have 12 attractions opened for guests to experience! Make sure to take a relaxing trip down Castaway Creek with glow attractions along the way. Oh, and did I mention all the fun floats they bring out especially for the event?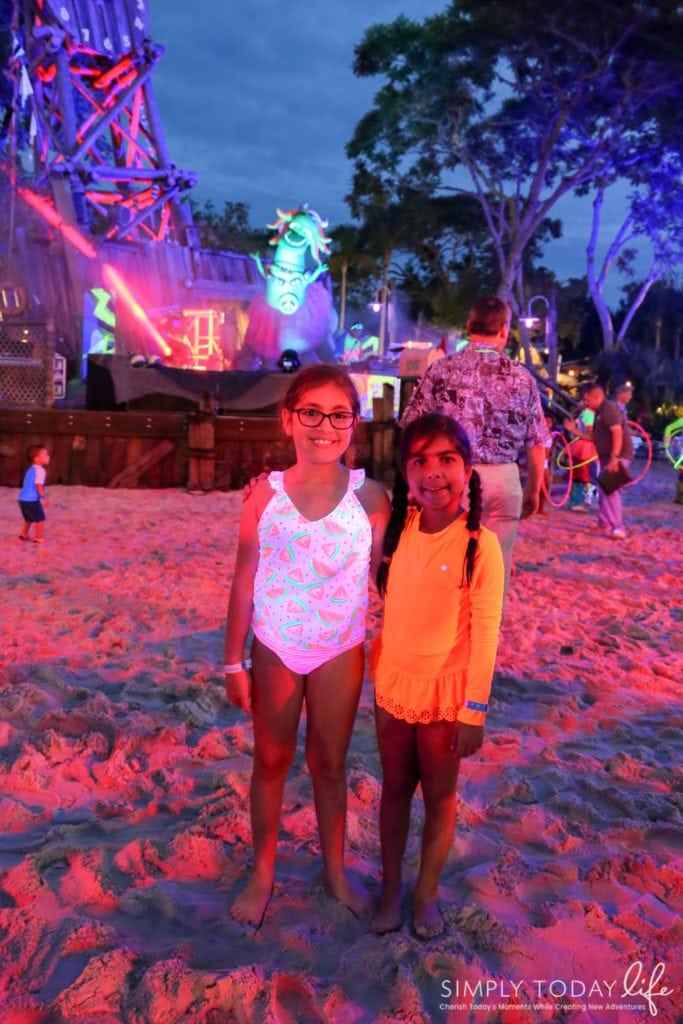 Rex's DJ Dance Party
The entire reason to head on over to Typhoon Lagoon H2O Glow Nights is to experience all the fun nighttime glow fun! My girls had the best time dancing at Rex's DJ Dance Party! Great music for the entire family to enjoy, plus games and lots of dancing. You can hear the music throughout the park, but you most definitely need to take a photo in front of the DJ area at the Clock Tower Stage with Rex. Especially when he's wearing all of his fun party get up at night!
Bathingsuit tip: If your kids have fun bright color swimwear have them wear it! They will fit right in. My girls wore bright suits without realizing it and they matched all the glow decor!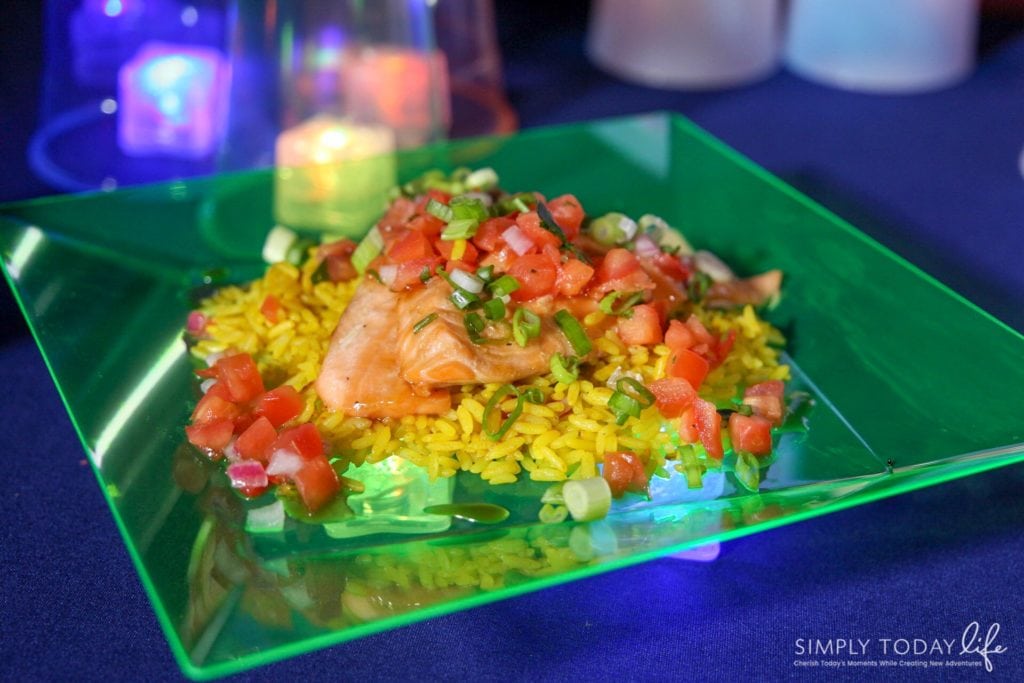 Fun Food and Beverages
One of the things that my family looks forward to when visiting any of the Disney Parks is being able to enjoy a meal as a family. That includes our daughter who has several food allergies. During H2O Glow at Disney's Typhoon Lagoon, they have a delicious menu that they have vamped up with some fun glowing accessories! Including a few adult beverages. Don't forget dessert! As always Disney is so accommodating when it comes to their food allergy guests. My daughter wasn't able to have the special frozen treat being offered and one of the cast members was more than happy to get her a Mickey Bar which is safe for her to eat.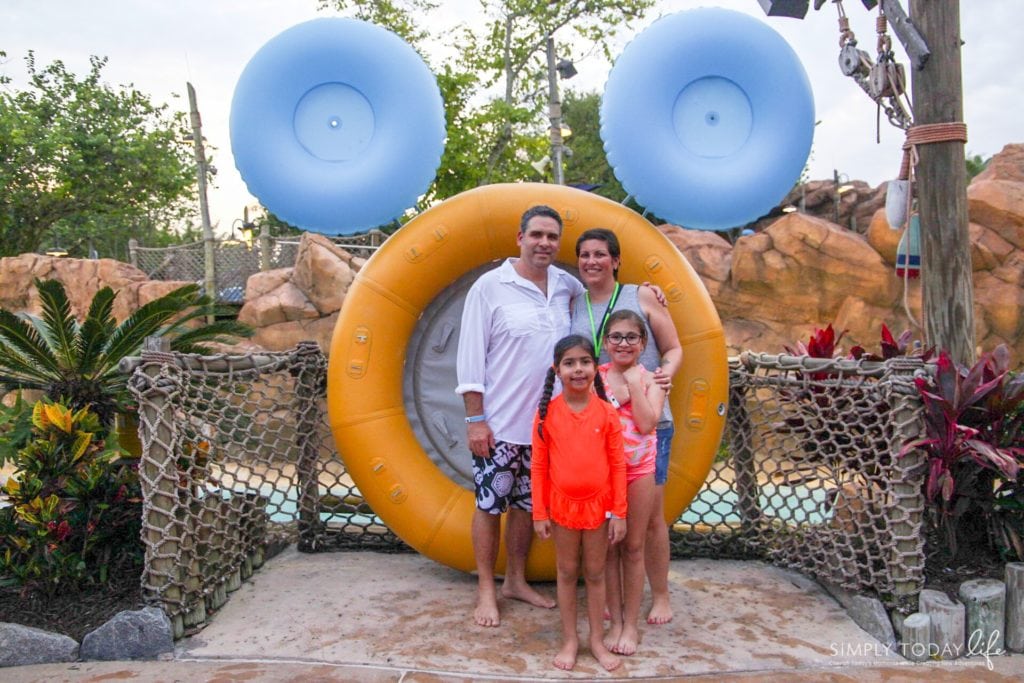 Don't forget that even though Disney's Typhoon Lagoon H2O Glow Nights ends at 11:00 pm, Disney Springs is opened until 2:00 am! It's the perfect place to wind down the night with a walk, food, or some shopping! Just don't say I didn't warn you with all the awesome merchandise they have!

You Are Also Going To Love:
If you loved learning about Disney's Typhoon Lagoon H2O Glow Nights, then you will also love the following Disney posts I have put together for you:
Have you attended Disney's Typhoon Lagoon H2O Glow Nights?

SaveSave
SaveSave
SaveSave
SaveSave
SaveSave
SaveSave