This Apple Craft is perfect for toddlers, preschoolers, and kids to learn about fall! An easy apple craft that the kids will love! Plus, check out all of the fun paper plate crafts on the blog!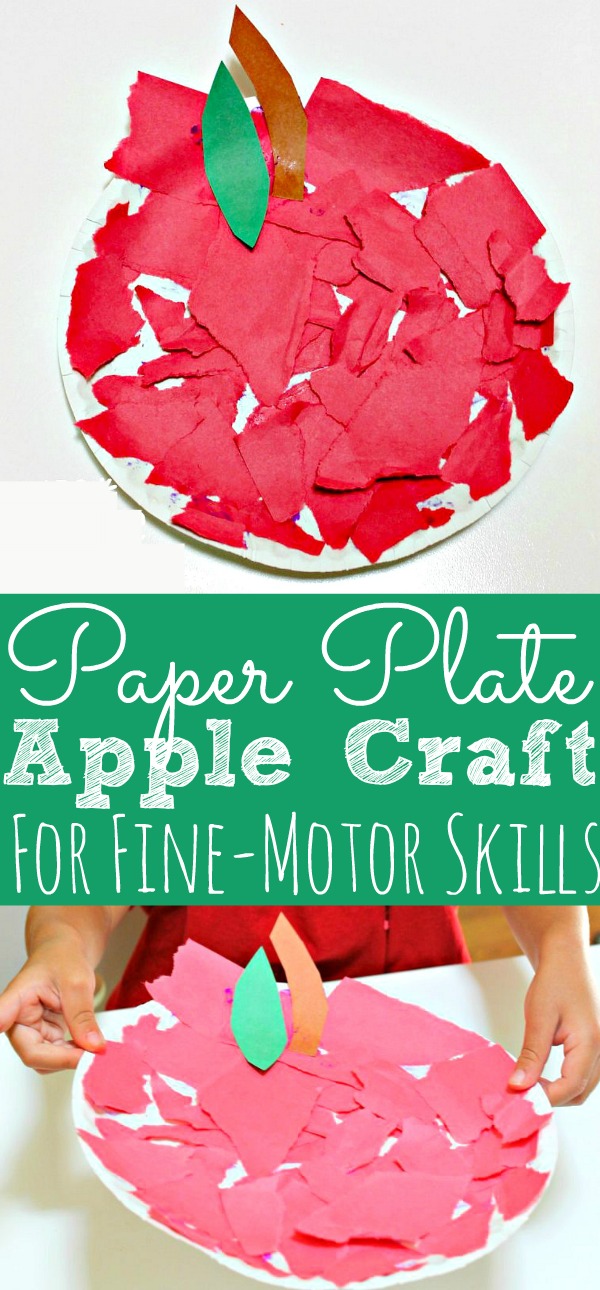 Toddler Paper Plate Apple Craft For Fine Motor Skills
We all know how much kids love crafts, but sometimes we don't realize how important crafts are for kids' fine-motor skills. It's a great way to allow children to explore not only through the arts, but to also allow them to explore the way their hands and fingers move. Crafts like this toddler apple craft are perfect for young children and preschoolers.
This post contains affiliate links.
Materials Needed For Paper Plate Apple Craft
Red, green, & brown construction paper
Paper plate
Craft glue or glue sticks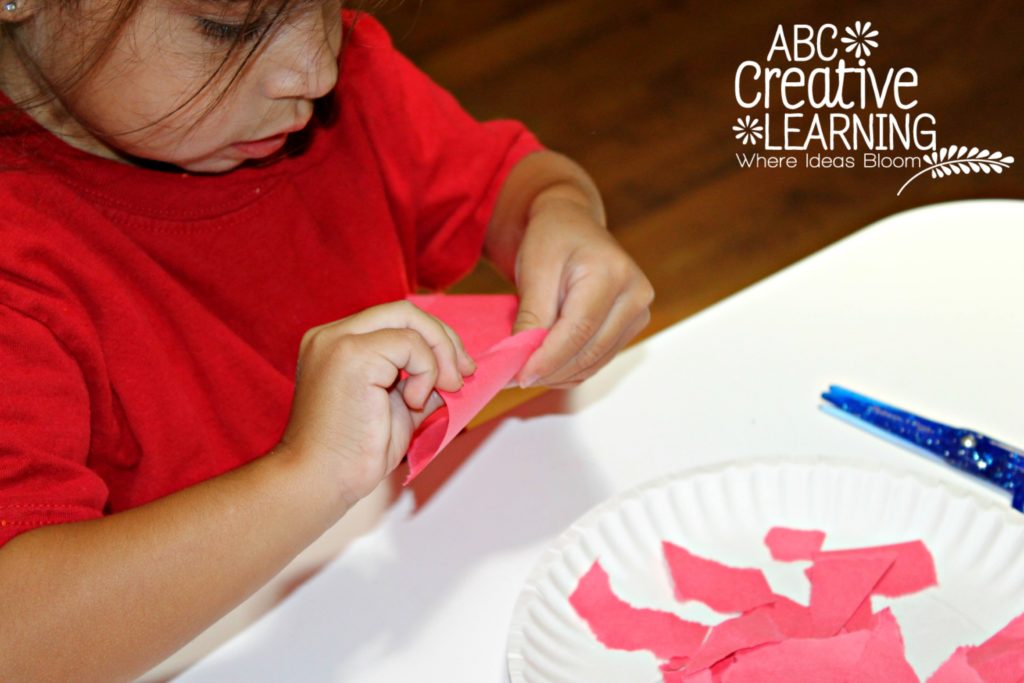 Fine-Motor Skills Craft For Preschoolers
This is an easy fine-motor skills activity that is perfect for the fall months and in the end, you will have a cute little apple craft to hang for everyone to enjoy!
First I showed my daughter how to rip and tear her own construction paper into pieces.
Then I allowed her to show me so that I could see how she was moving her fingers and hands.
Adjust the way your child tears or help them out if they feel frustrated.
I then allow my daughter to finish tearing the rest of her paper on her own.
Tip: If your child wants to try and cut the paper with scissors allow them to explore with child-safe scissors. My daughter wanted to try to cut the pieces with the scissors, so I allowed her. She noticed that it was difficult for her, so we went back to tearing with our fingers.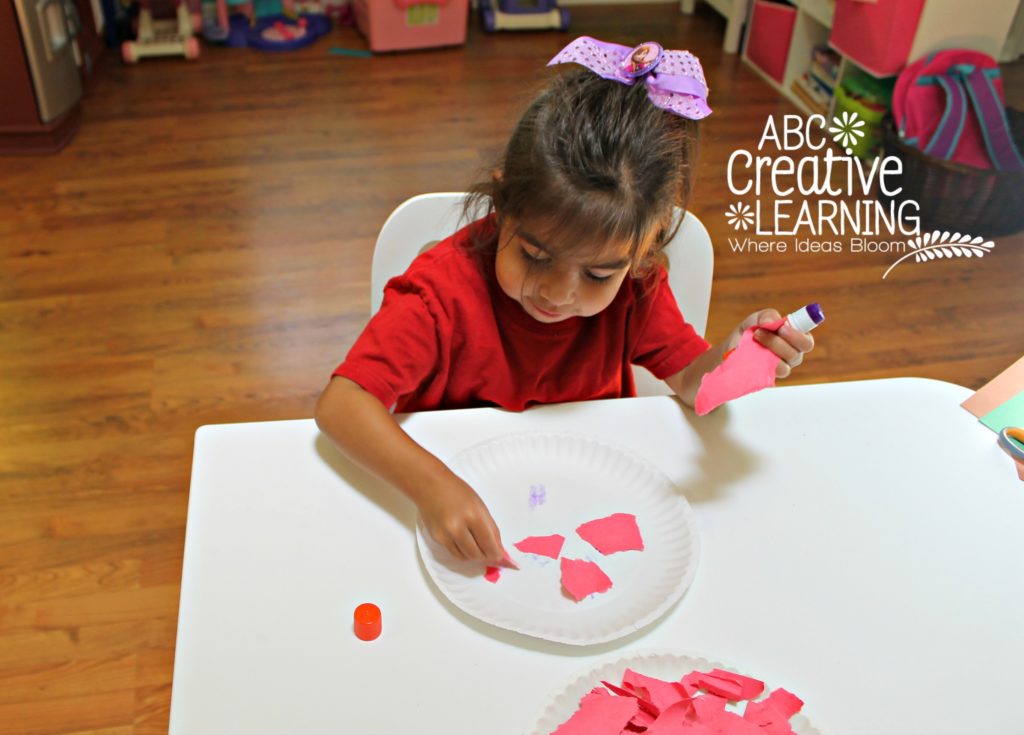 Once my daughter had all of her pieces torn apart, I showed her how to glue each piece individually on her paper plate.
The goal is to fill the entire white area of the paper plate.
When the paper plate is filled with torn red construction paper is time to add a leaf and a stem to your apple.
Tip: You can help your child draw a leaf and a stem, then help them cut out with scissors or you can allow them to tear around it as well. There's no right or wrong way to complete this apple craft!
I think my daughter was most excited about using her own glue stick over everything else! Especially since she sees her big sister use them for crafts and school activities all the time.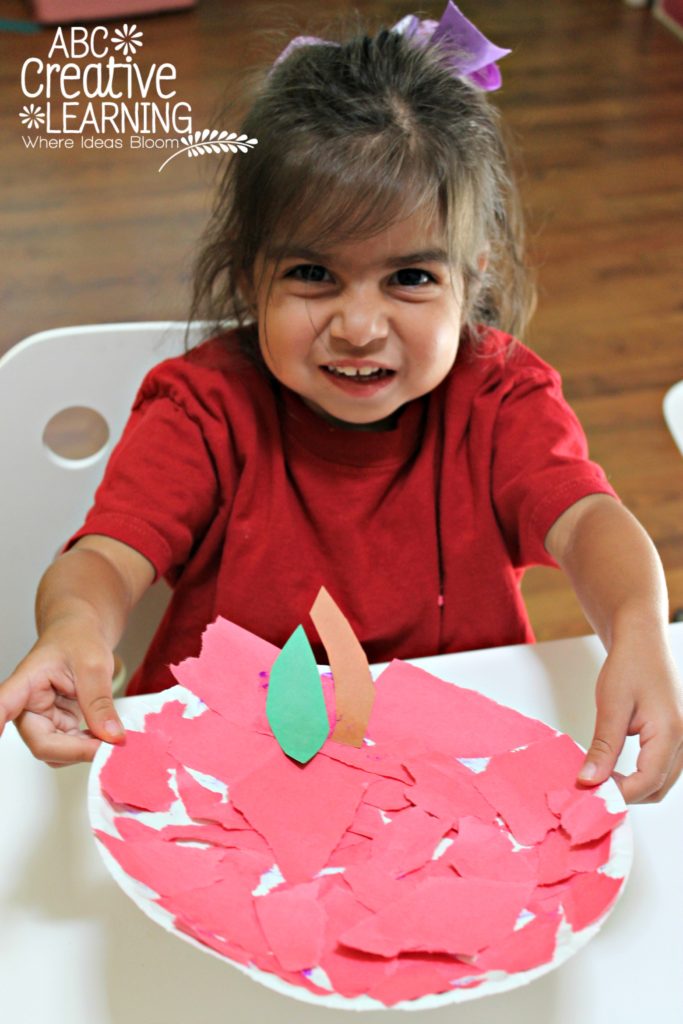 An Easy Toddler Apple Craft With Benefits
This is a super simple apple craft, but my little one enjoyed it very much. Especially the part where she got to tear paper and use her own glue stick. The benefits of tearing, gluing, and pasting pieces together are very beneficial for toddlers.
This craft would also be perfect for when you are homeschooling older children and need to keep the little ones busy or want to just add a fun fall craft to your day. It's a great quiet craft and because they are tearing the paper and gluing everything themselves it keeps them busy on their own for a bit.

You Are Also Going To Love:
If you loved this Toddler Apple Craft For Fine Motor Skills, then you will also love the following Fall Crafts I have put together for you:
Have you started some apple crafting yet?