Spring Clean Your Home On A Budget with these simple tips! When your home is disorganized you may buy things you already have, or order takeout because your kitchen is a disaster. So, it's time to tidy things up in the home and welcome spring with a nice clean home!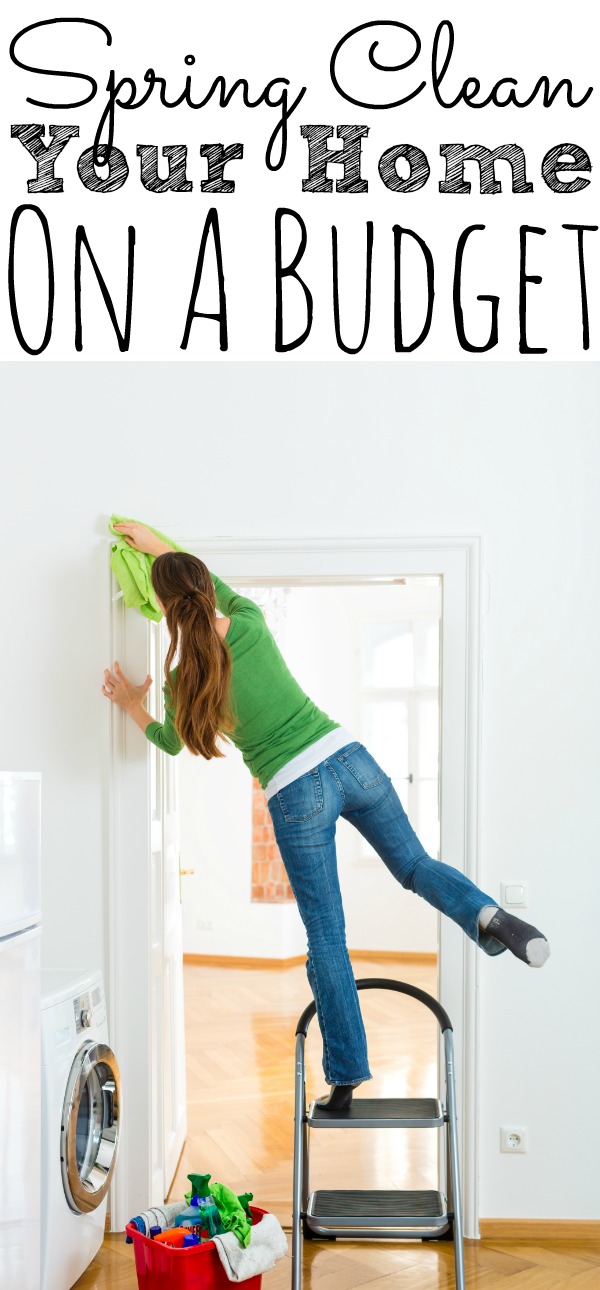 How To Spring Clean Your Home On A Budget
After making dinner, paying the bills, and running around the home trying to keep your kids from getting into everything, that doesn't leave much time to scrub down your home. Spring cleaning is a necessary evil that you don't want to miss!
This once a year task of completely cleaning and refreshing your home will not only help you get organized but help you save money.
Post contains affiliate links.
Decide Which Rooms Matter The Most
Before you ever pick up your cleaning supplies, sit down at your table and make a list of all the rooms in your house.
After you've made your list, put them in order of the most important to least.
This will tell you which rooms you should be focusing on and need to spend the most time in.
Then choose which rooms you will focus on depending on how much time you have.
Make A List Of Cleaners You Have
One of the ways to spring clean on a budget is by creating a list of the cleaners, sponges, and items you already have.
This will help create a new list of what you need to clean your home.
Throw away anything that is old or if you're creating your own cleaners.
Remember, you're spring cleaning, so that also means anything you're not using in your home. Including cleaning supplies.
Make Your Own Cleaners
Instead of rushing to the store to buy cleaning supplies, make your own!
Homemade cleaners are much cheaper than any storebought cleaner, and you can control the chemicals used in your home.
Here are some of my personal favorites:

Get your Family to Help Out
If you have a long list of tasks, enlist the help of your family members! Even your younger children can help out with simple chores.
Moms should not be the only ones doing housework, especially when it comes to spring cleaning.
If you're unsure about age-appropriate chores make sure to sign up for my Free Kids Chore Chart. T
his will not only help you encourage your children to help out, but it will make your spring cleaning that much more fun.
Start with Safety and Security Areas First
When you are thinking about where to start, think about what things pose a risk if they're not clean.
This includes things such as smoke alarms, carbon monoxide detectors, and other things of this nature.
Look for anything that could start a fire or areas that have excess moisture that could allow mold to grow.
Stick to a Spring Cleaning Schedule
I am way more productive when I have a schedule or checklist to follow.
If you don't have a lot of time to spend on your spring cleaning, make a weekly planner or checklist to help you complete all your tasks.
If you're looking for a free cleaning checklists to use my favorite ones are from Clean Mama.

Following these simple steps will help you stay on budget when it comes to spring cleaning.
Plus, the home will be spotless with help of the entire family.
You Are Also Going To Love:
If these tips on How To Spring Clean Your Home On A Budget, then you will also love the following cleaning tips I have put together for you:
Are you ready for spring cleaning?