One of the things that I enjoy doing when I clean my home is creating my own floor cleaner. This DIY Natural Floor Cleaner with Essential Oils is one of my favorites!

DIY Natural Floor Cleaner With Essential Oils
I don't know about you, but with two girls running in and out all day my floors are never cleaned. I love being able to clean my floors without damaging our laminate floors while leaving the house smelling like peppermint. This floor cleaner is super easy to make, keeps the floors clean, and you can customize the smell to the seasons!
Try some Thieves essential oils in the fall and you'll not only be sanitizing your floors, but it will smell like fall in your home.
This post contains commissioned affiliate links.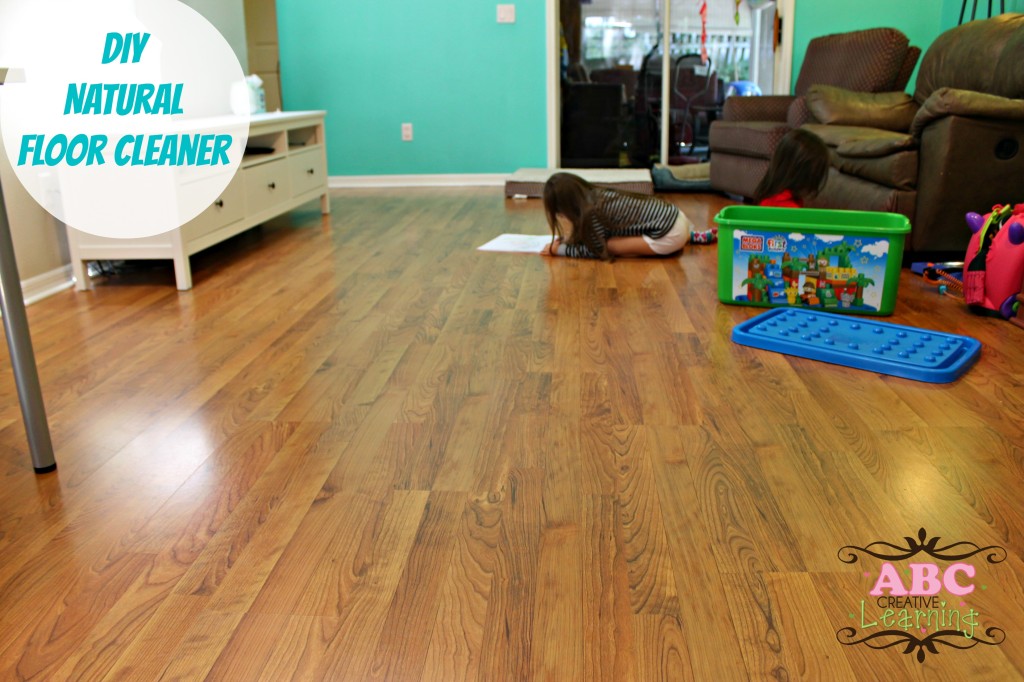 Making Time To Create Cleaners
My main floor cleaner used to be the Swiffer Mop Pads, but since the new year, I've been trying to buy either natural cleaners or making them myself. My excuse has been that I just don't have time to make my own, but the truth is that it only takes a few extra minutes to mix all your ingredients together. I have tried a few other natural cleaners on my laminate flooring, but for some reason, they leave a thin layer on and the floor honestly doesn't look clean.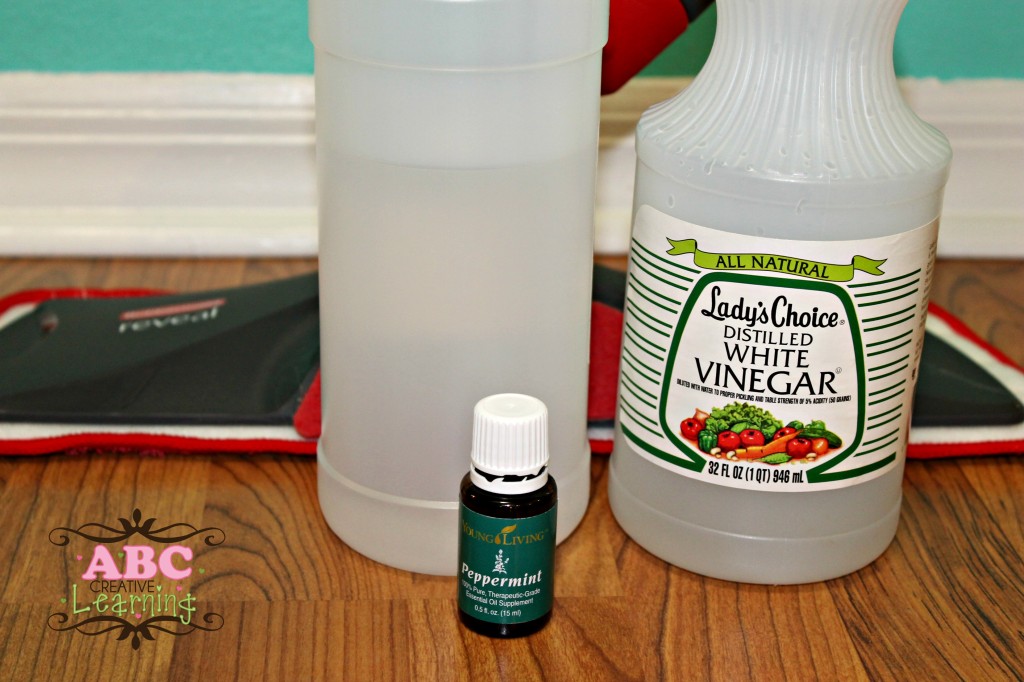 Ingredients for laminate floor cleaner: Equal Parts about 5-6 oz.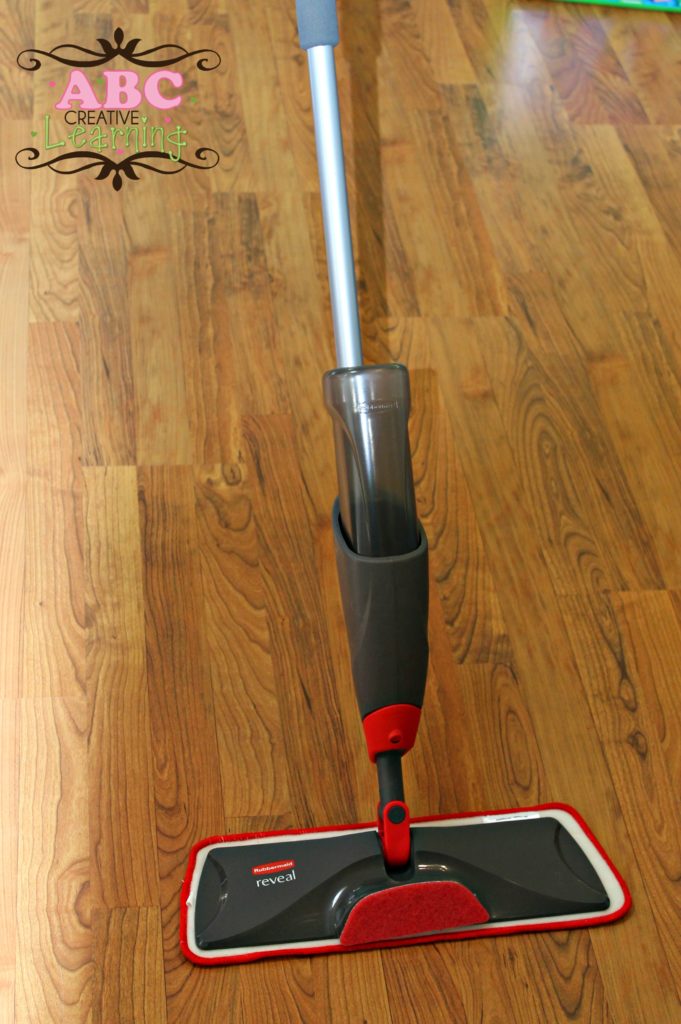 Mixing The Ingredients
When I mix my ingredients I usually make about 6 ounces, just because I like to make a little extra to have just in case.
I like to mix 2 ounces of each – water, white vinegar, and rubbing alcohol.
Then I add 10 drops of Young Living's Peppermint Essential Oil or any of your favorite essential oils.
Even the hubby said how good the house smelled afterward. I was a little worried about the vinegar smell, but the peppermint overpowered that and it did smell very nice.

One of the things that I am loving about my Rubbermaid Reveal mop is that I can take off the microfiber pad and easily throw it in the washer. I hated throwing away so many pads when I mopped with my Swiffer, it just seemed like a waste to me. Now I just use two different pads when I mop my home. I use one pad for living room area and bedrooms, then I use another pad for kitchen and bathrooms. My home is not very big, so this works perfectly.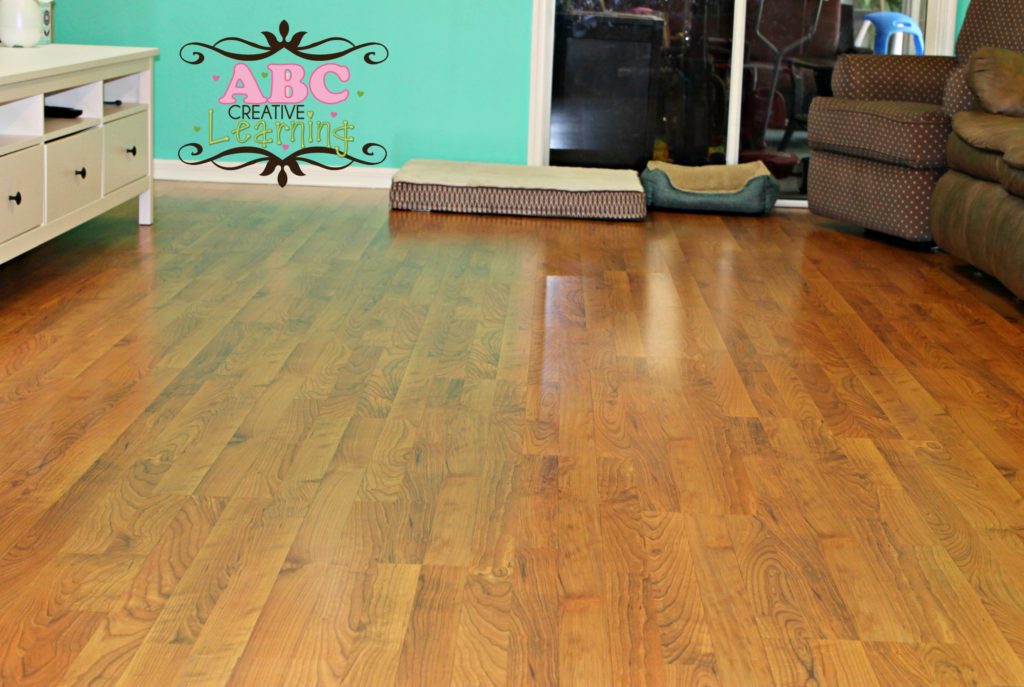 I really could tell a difference in my floors and it didn't leave a residual film. I definitely feel more at ease when the girls are playing or eating food off the floor.
Some of my favorite items to clean my floors

You Are Also Going To Love:
If you love this DIY Natural Floor Cleaner with Essential Oils, then you will also love the following cleaning articles I have put together for you:
Do you clean with essential oils in your home?

Disclaimer: I only recommend using high-quality therapeutic-grade Young Living Essential Oils for ingestion. These are not everyday oils that you can find at the store. This is also what has worked for me and my family, this is in no way to take away from what is suggested by your doctor. I am not a doctor and I am not promising any healing or medicinal advice. I just love therapeutic oils and love sharing how we use them at home. These statements have not been evaluated by the food and drug administration. Contains Affiliate links.
SaveSave
SaveSave
SaveSave
SaveSave