It's a new year, which means it's time to get some organizing done! Starting with my daughter's bathroom. Here are 7 easy Organization Tips For Kids Bathrooms that work.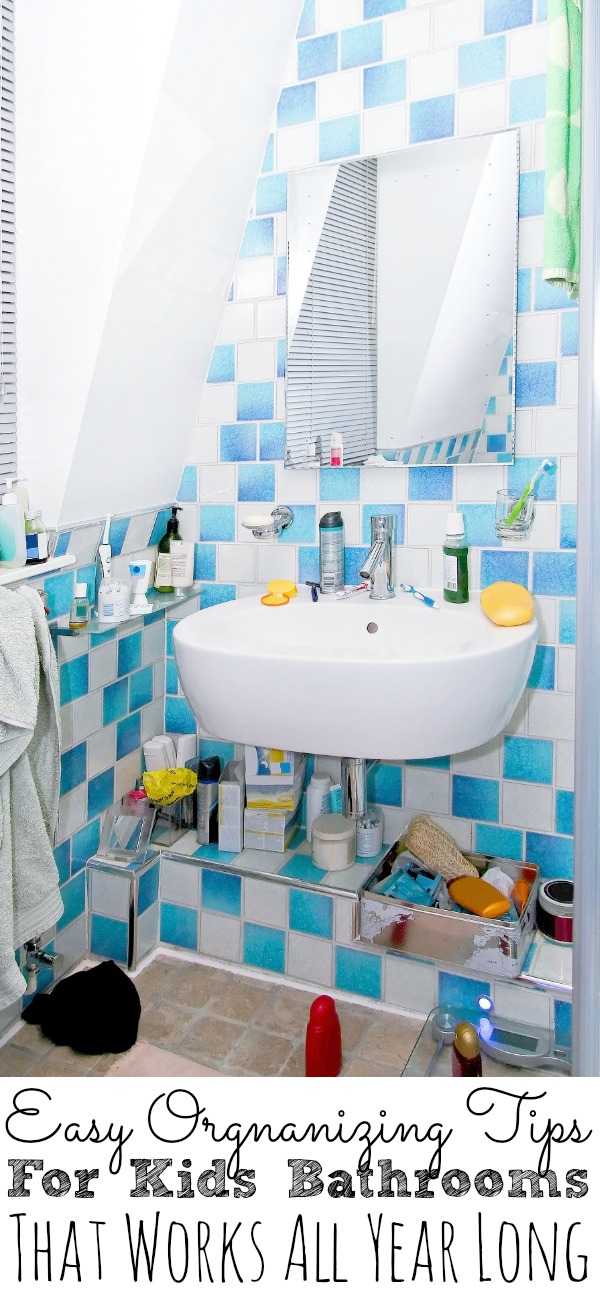 7 Easy Organization Tips For Kids Bathrooms That Work
These tips can help make your morning or even evening routine go much easier when it comes to cleaning. Kids are always making little messes, who am I kidding, big messes. But these tips will make those easy to manage no matter how busy you are. Getting things organized and clean can make bathroom time so much easier for the entire family. That means less stress when you are getting the house cleaned and organized.
This post contains affiliate links.
Use In Shower Storage
There are tons of great hanging over shower storage ideas out there. To keep the bathtub less cluttered, install the right shower storage for things like shampoo, conditioner, body wash and similar. This is best in kids bathrooms that have both small children and adults or teens. This way your younger kids bath time isn't cluttered with older siblings bath products.
Create A Color-Coding System
Multiple kids using one bathroom requires some serious organization tips like color coding. Assign each child a color and buy towels, hand towels, washcloths, toothbrushes and cups in that color. That way nobody uses an item that doesn't belong to them. This makes clean up easy and helps prevent argument among siblings.
Limit Bathroom Products
Instead of having multiple hair products, shampoos or bath products make some limitations. For younger kids, an all-in-one shampoo, conditioner, and body wash are more than sufficient. For older kids who want to have a few extra things in their daily routine, you can look for quality products that are dual purpose. You may also want to limit things like hair dryers, hair straighteners and curling wands.
Add over the toilet shelving. Using empty space is vital when organizing a bathroom. Over the toilet storage is one of the best organization tips for kids bathrooms you'll find. Not only can you store more, but it will take up empty wall space that may make the bathroom look plain otherwise.
Hang Waterproof Baskets In The Bath
The dollar store is a great place to get some simple baskets that have woven bottoms that will drain easily. Hang these low in the shower or bath for kids toys. You can even hook these over a second shower rod that is placed lower on the back wall of the bath or shower.
Create A Bathroom Schedule
If part of your struggle comes from kids not having enough time in the bathroom, it's time to create a bathroom schedule. You can organize their time by assigning kids a bath day and time. For younger kids, you can often go a day between baths in winter months when they aren't getting as dirty or sweaty. Swap out evening showers and morning showers so everyone has plenty of time and hot water.
Use An Over The Door Hook
To keep kids changes of clothing in order and wet towels hung, install an over the door hook. This will help you to hang kids clothes so they can get dressed right after their bath or shower and not have to worry about having stuff stacked up on the counter. Plus, it helps to keep the floors clean of wet towels, which in the end would mean less laundry for you.
For younger kids, install the door hook low enough for them to reach. This has helped a lot with my youngest daughter when it comes to cleaning up after herself.
These organization tips for kids bathrooms are all great tips that can work in any bathroom no matter the size. The idea is to get things orderly and keep kids bath toys and products organized for easy use and less clutter.

What organizing methods do you use at home?

SaveSave