Essential oils have many great properties, and quite a few of them are known for their cleaning abilities. Cleaning naturally, and organically, are important to many families. Deep clean your house with these Essential Oil Cleaning Recipes.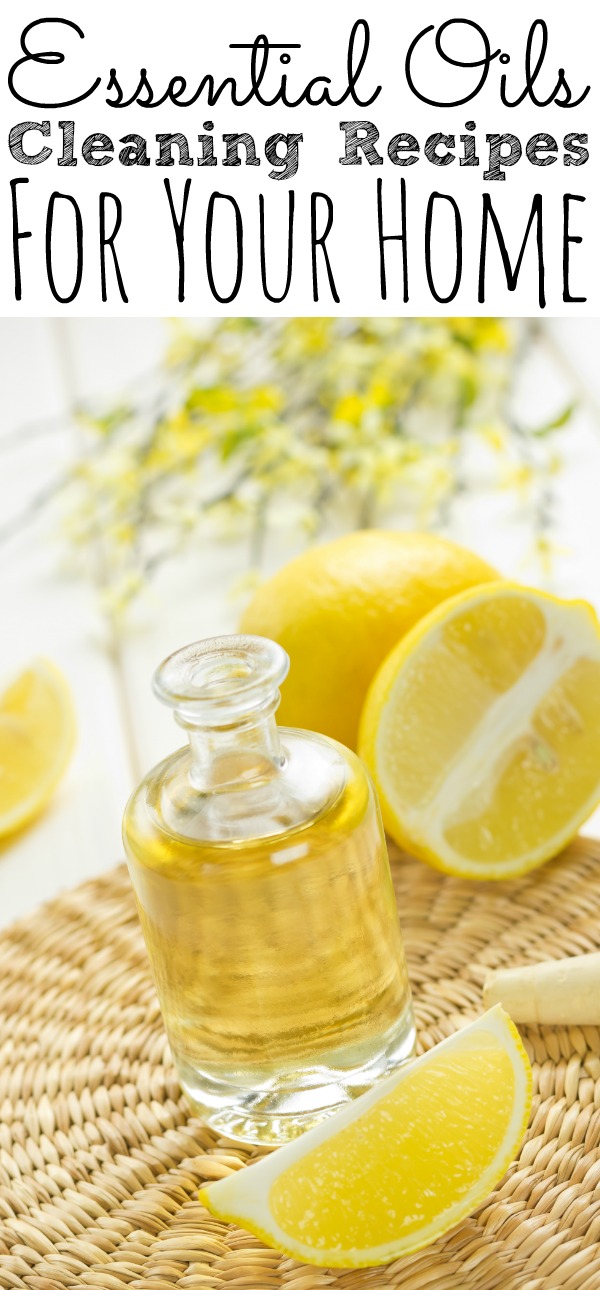 Deep Clean Your House with these Essential Oil Cleaning Recipes
I love creating my own homemade house cleaners with essential oils, plus it's a great way to get my kids to help clean around the house. Plus, I do not have to worry about chemicals touching their skin or accidentally being spilled in our home. This list of essential oil cleaning recipes is perfect for deep cleaning your home.
Post contains affiliate links.
Bathroom and Kitchen Cleaner
10 Drops Lemon Essential Oil
5 Drops Orange Essential Oil
2 Tablespoons Vinegar
Glass spray bottle
In a spray bottle, add in the Lemon and Orange Essential Oil, the vinegar, and fill it up with water then shake well. Lemon Essential Oil is both antibacterial and antiseptic, which means it kills germs. Spray this on bathroom or kitchen counters, stove, tub, toilet, and any other surface that needs to be deep cleaned. Let it sit for about a minute and then wipe off.
Carpet Cleaner
8 Drops Peppermint Essential Oil
2 Drops Lemon Essential Oil
1/2 Cup Baking Soda
For deep-set stains in the carpet, apply this solution to it and let sit for 3-5 minutes. Sprinkle this mixture on the rest of your carpet and let sit for just a couple minutes before vacuuming up. Peppermint Essential Oil is an antibacterial agent and will kill bacteria lingering in the carpet. This is also great to sprinkle to windowsills and entryways to keep insects out.
Floor Cleaner
5 Drops Orange Essential Oil
5 Drops Tea Tree Essential Oil
Mop and bucket
In a mop bucket, fill it up with warm water and add in Orange and Tea Tree Essential Oils. Orange Essential Oil helps to get cut through grease and Tea Tree Oil kills bacteria. These two are perfect together as a deep cleaner for your floors.
Washing Machine
2 Drops Lemon Essential Oil
2 Drops Tea Tree Essential Oil
To brighten up clothes, add both Lemon and Tea Tree Essential Oil to the wash cycle. It is also good to run a cycle without any clothes in it to deep clean your washing machine. Add in a couple of drops of Peppermint Essential Oil when you do to help get rid of any lingering bacteria or mold.
Air Mist
3 Drops Lemon Essential Oil
1 Drop Tangerine Essential Oil
Diffuser
Thieves Essential Oil
Mix both Lemon and Tangerine Essential Oils into a spray bottle. Mist the air for a natural air purifier or use a diffuser throughout the day. This is perfect to use when family members are sick as it helps to rid airborne bacteria. You can also use Thieves Essential Oils to kill airborne germs.

I love creating my own cleaning recipes for our home. I can create recipes that also smell according to the season. Lemon and orange essential oils are perfect for spring cleaning. Add a bit of clover or thieves during fall and it smells like cinnamon! The cleaning mixtures are endless and natural.
If you don't know where to start with essential oils, send me an email with questions or to help you get started on this journey!
You Are Also Going To Love:
If you enjoyed how to Deep Clean Your House with these Essential Oil Cleaning Recipes, then you will also love the following cleaning articles I have put together for you:
What is your favorite Essential Oil to use for cleaning?

Notes: I only recommend using high-quality therapeutic-grade Young Living Essential Oils for ingestion. These are not everyday oils that you can find at the store. This is also what has worked for me and my family, this is in no way to take away from what is suggested from your doctor. I am not a doctor and I am not promising any healing or medicinal advice. I just love therapeutic oils and love sharing how we use them at home. These statements have not been evaluated by the food and drug administration. Contains Affiliate links.