Epcot's Candlelight Processional is one of the most beautiful events at Walt Disney World during the holidays.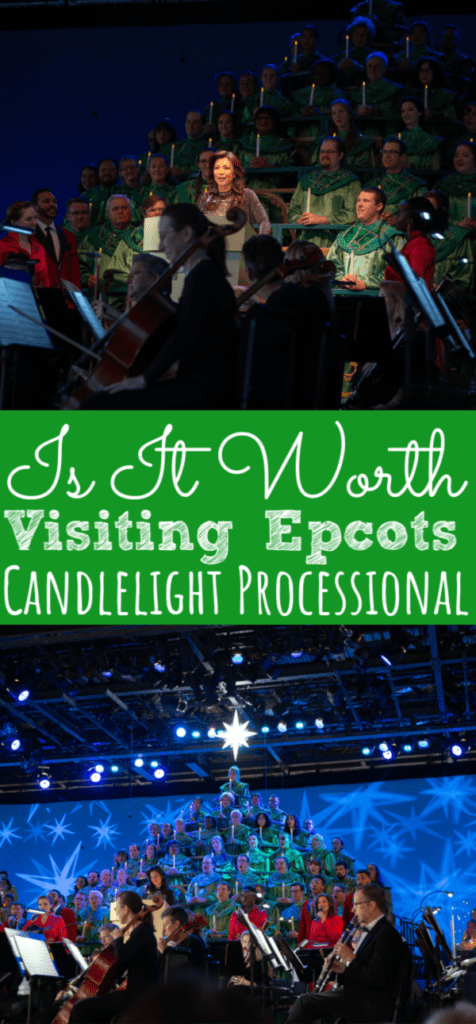 Epcot's Candlelight Processional
If you're a Disney fan then you know that Walt Disney World is the place to be during the holiday season.
Especially with so many events going on at the parks like Mickey's Very Merry Christmas Party at the Magic Kingdom, Holidays at the Animal Kingdom, Epcot's International Festival of the Holidays, and Jingle Bell, Jingle Bam at Hollywood Studios.
Now, these are just a few of the fun holiday events going on at the park. That's why I wanted to share all the details of Epcot's Candlelight Processional.
Thank you to Walt Disney World for inviting my family to enjoy this years Epcot's Candlelight Processional. All holiday opinions are our own.This post contains affiliate links.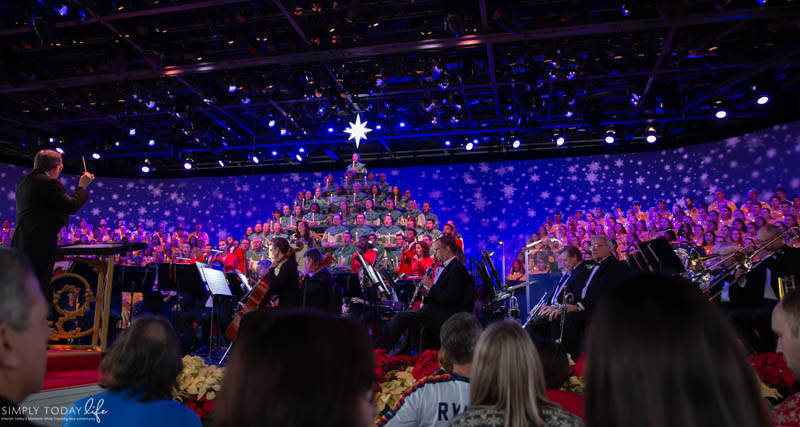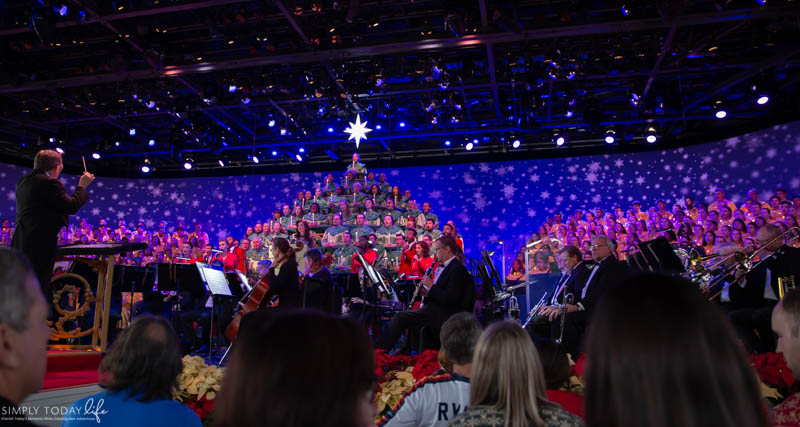 What Is The Candlelight Processional
The Candlelight Processional at Epcot goes on during the end of November throughout the end of December.
During the processional the biblical tale of a savior born to a virgin in Bethlehem is told by a special guest. This year our family was excited to see Ming-Na Wen tell the tale.
I will add in here that she was my absolute favorite narrator thus far during the Candlelight Processional and I have attended quit a few of them.
Not only did I perform with my high school choir 3 years in a row, but it's become a tradition with our youngest daughters birthday.
While the narrator tells the biblical tale, there is an amazing orchestra and choir composed of cast members and high students.
If you were to ask my daughters what the Candlelight Processional is to them they would tell you it's the best and biggest caroling around.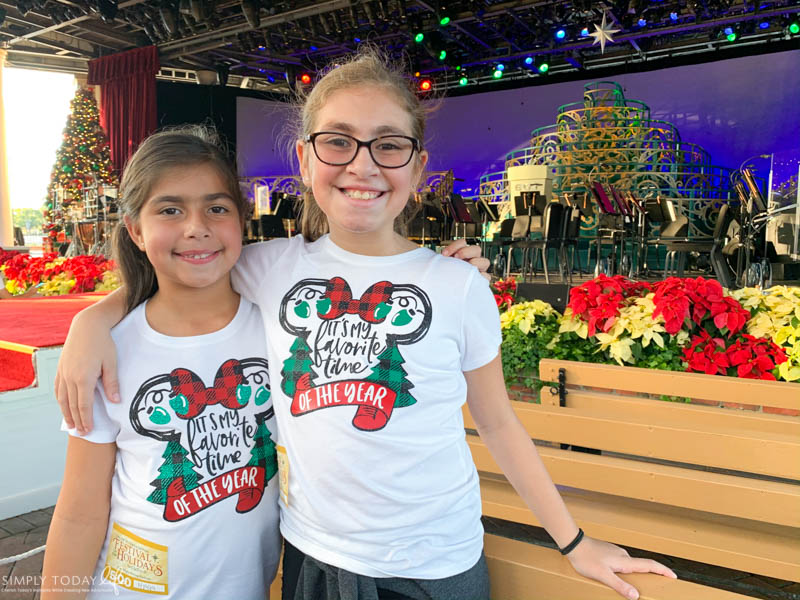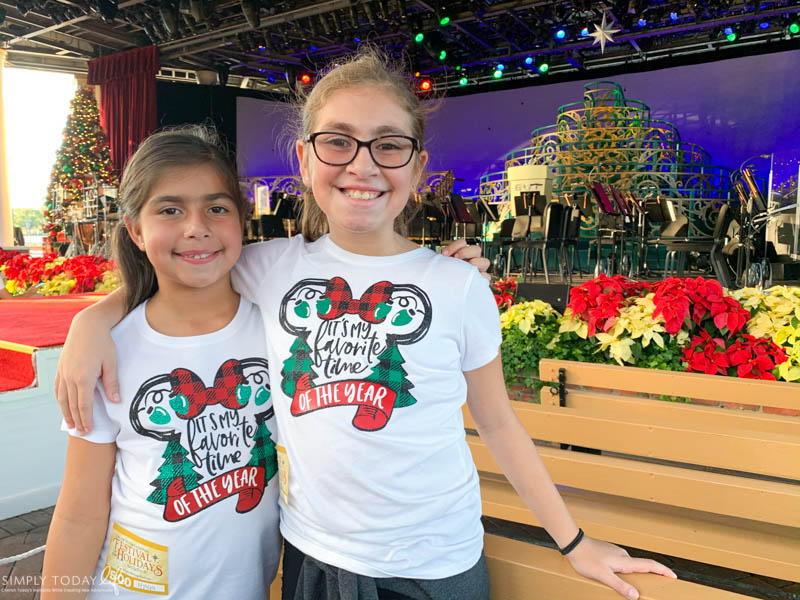 Is Epcot's Candlelight Processional Worth Seeing
This is a question that I have been getting a lot this year. That might be because I mostly shared about Epcot's Candlelight Processional throughout social media.
An easy answer is most definitely! If you are planning a trip to Walt Disney World during the holidays, visiting The Festival of the Holidays at Epcot is a must. Then make sure that you plan on seeing the Candlelight Processional.
In fact, you don't even have to have a favorite guest narrator. No matter who is narrating the story the songs and music is just breath taking.
Tips On Getting A Good Seat
The reality is that Epcot's Candlelight Processional is quit popular, although many haven't even heard of it. I think Disney fans from all around will travel just to see this event.
Get In Line Early
Because it can get filled quick, I always suggest getting in line early.
If you are going to see a show after the first showing, then I would get in line as soon as the show beforehand begins. That is if you want to get a seat closer to the stage.
There will be two different lines for seating at the event at either side of the pavilion.
This is a great time to grab some dinner on the go and eat while you wait in line. Plus, it will keep the kids busy while they wait.
Candlelight Dinner Package
Our favorite option is the Candlelight Dinner Package, because it not only includes dinner before or after the show, but it also includes guaranteed reserved seating which opens 15 minutes prior to the show starting.
If you want to have the best seat in the house then I would most definitely suggest this option. Especially if you are having a date night with your loved one.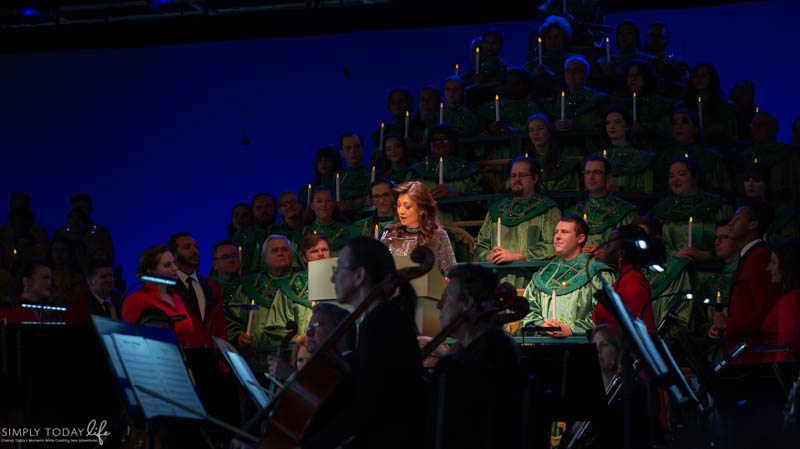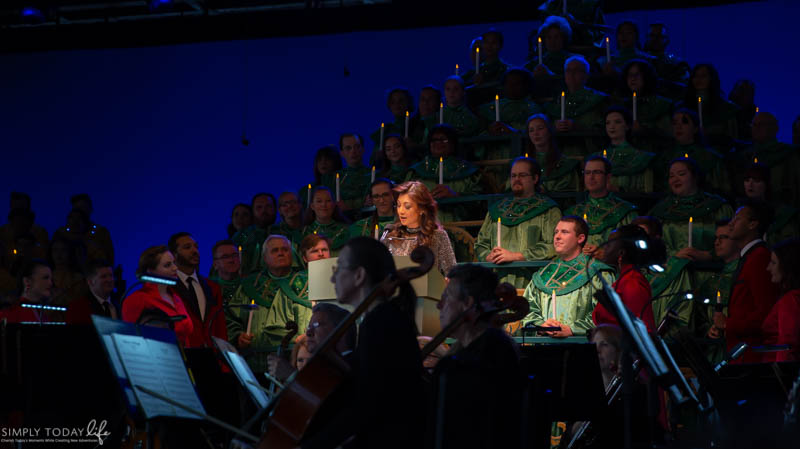 Dates and Narrators For Disney's Candlelight Processional
Every year Walt Disney World invites a special guest to narrate the biblical story of Jesus. Here is the list and dates of all the narrators coming during the month of December for the Candlelight Processional.
Ming-Na Wen – November 29 through December 1
Neil Patrick Harris – December 2 through December 5
Whoopi Goldberg – December 6 and 7
Isabella Rossellini – December 8 through 10
Alton Fitzgerald White – December 11 through 12
Gary Sinise – December 13 through 15
Pat Sajak – December 16 through 18
Geena Davis – December 19 through 21
Steven Curtis Chapman – December 22 through 24
Edward James Olmos – December 25 and 26
Marlee Matlin – December 27 and 28
Lisa Ling – December 29 and 30
Performances are at 5:00 PM, 6:45 PM and 8:15 PM nightly from November 29th through December 30th, 2019.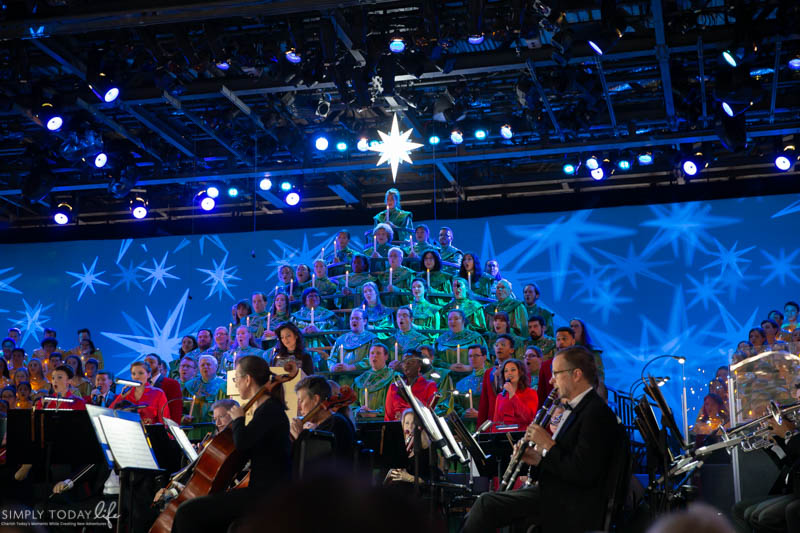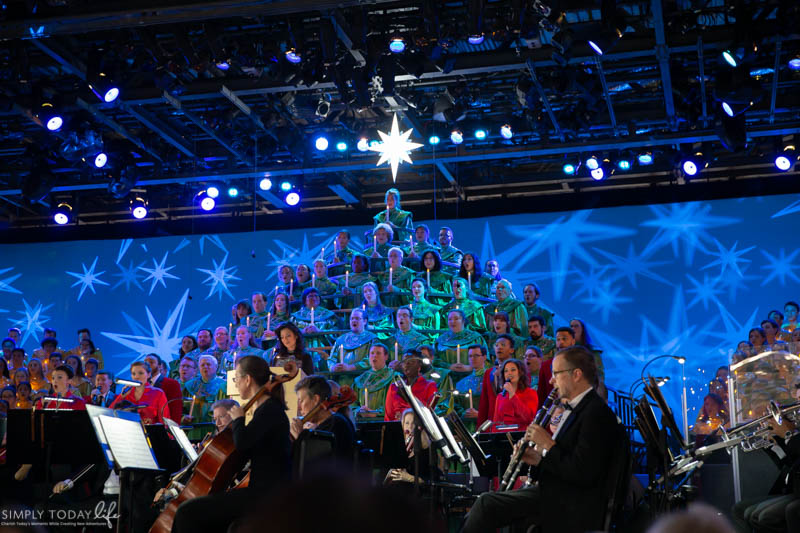 Epcot's International Festival Of The Holidays
Don't forget to enjoy the wonderful holiday events also going on around the park that celebrates the holidays around the world.
Every country is celebrating the holiday seasons with food, entertainment, and stories.
It's such a wonderful way to see how other countries celebrate this joyous season of Christmas.
Check out this post if you want to learn about the best parts of Epcot's International Festival Of The Holidays.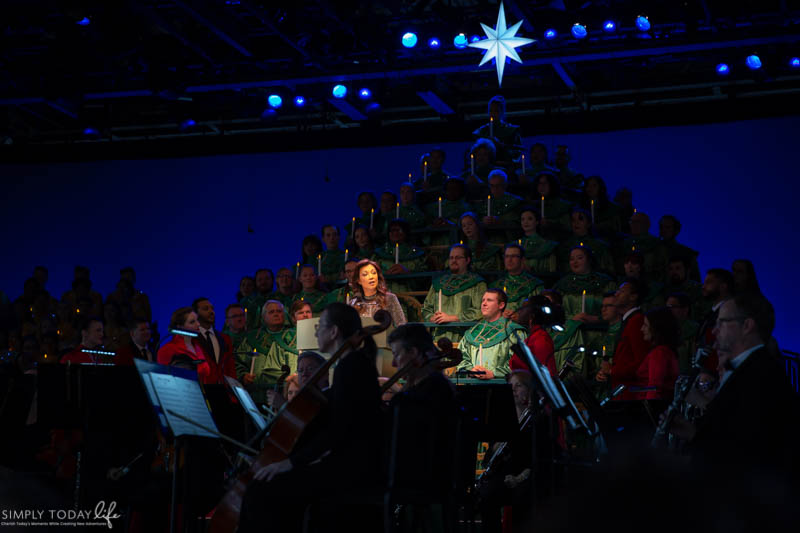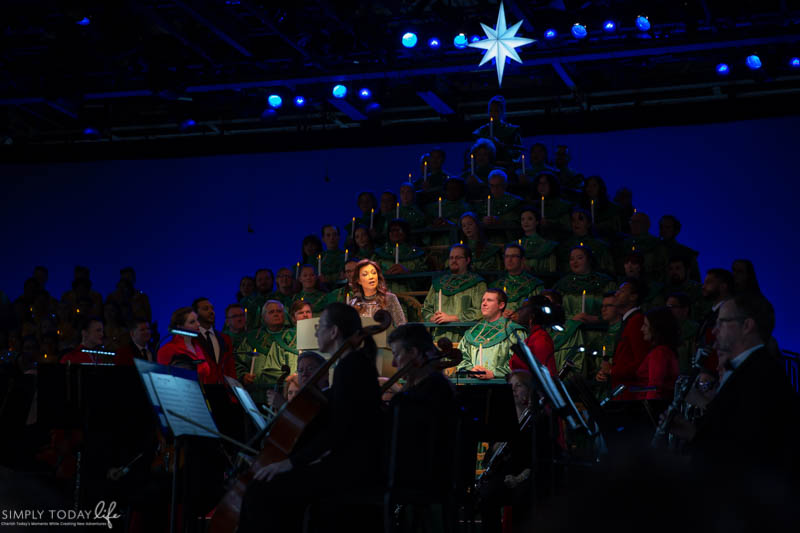 As you can see there is so much to do at Epcot's International Festival of the Holidays.
Our favorite being to enjoy the live music of Epcot's Candlelight Processional.
For us it's the perfect way to start the Christmas season of joy, happiness, and love!
For more information on any of these Walt Disney World Holiday events make sure to visit their website for prices, dates, and detailed information.
You Are Also Going To Love:
Will you be visiting Epcot this holiday season?