Share these Halloween Safety Tips for Kids and help your kids stay safe while they have fun this year trick or treating with their siblings and friends.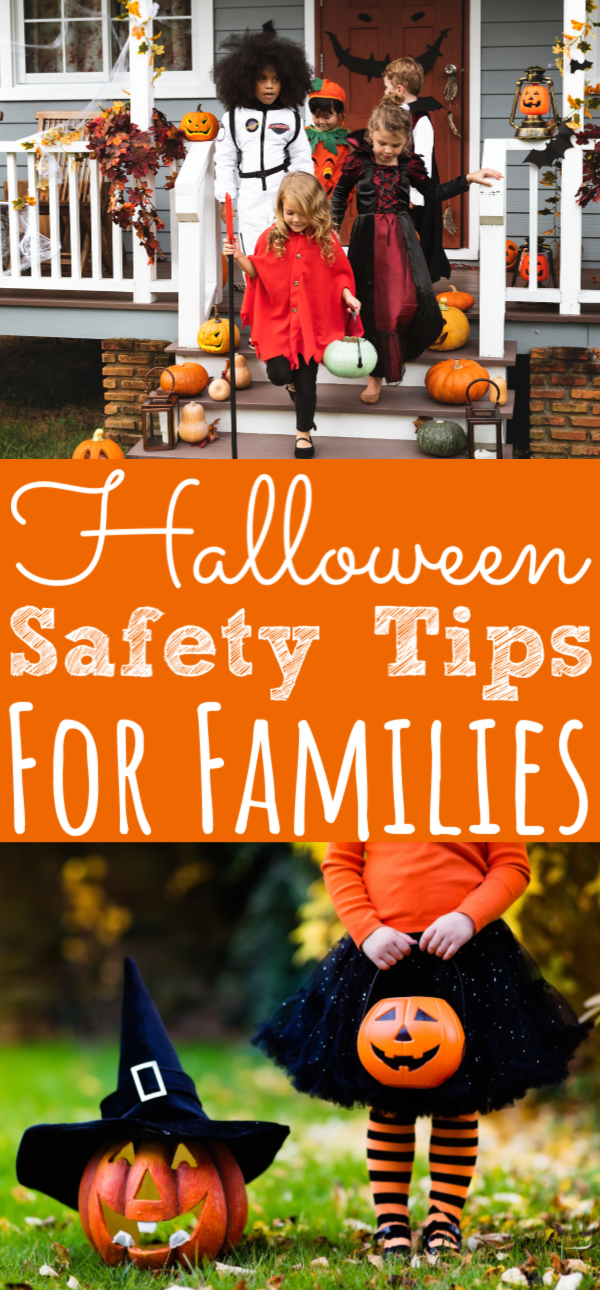 Halloween Safety Tips For Kids
Dressing up your kids at an early age and getting them excited for Halloween will give everyone a ton of wonderful memories. These memories and the pictures you take to go with them will be cherished for many years to come.
But within all the fun we can't forget to teach our kids to be safe during this fun spooky holiday.
By sharing these simple Halloween safety tips with your kids, this year will not only be filled with memories, but you will be keeping them safe.
This post contains affiliate links.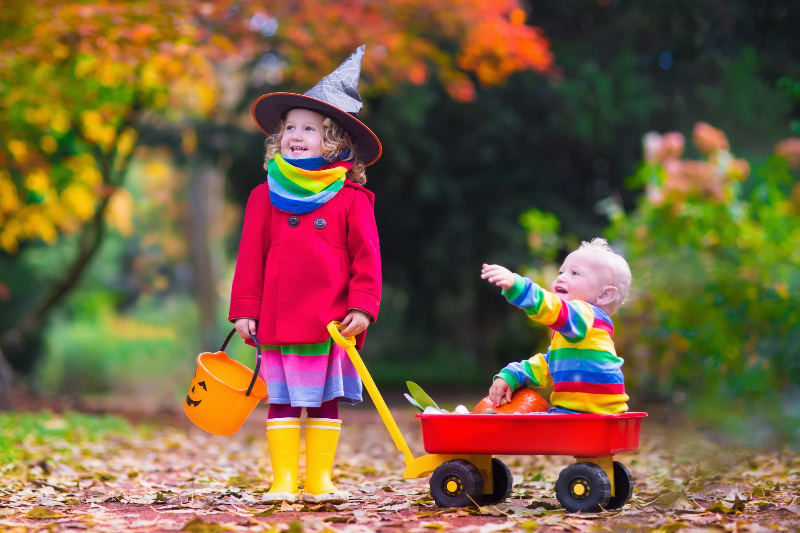 Wear Reflective Clothing
If your family tends to go trick or treating after dark, make sure to add a reflective item on your child's costume. This could be as easy as adding some reflective tape or a pin to their costume.
Even if your child is are right with you, a small child can be hard to spot after dark. Especially to ongoing cars.
Our family stays in our neighborhood, but we have seen other neighborhoods some visit ours for the night. We have also seen where the adults are driving in a car or truck nearby keeping an eye on their children as they trick or treat.
The reflective clothing or items on your child's costume will help them be seen easier by other adults and passing vehicles.
Use Strollers In Crowds
When you are going out into a crowd with a toddler, use a stroller, wagon, or choose to carry your child instead of letting them walk.
I know that this can be a pain, but busy areas after dark can make it hard to keep up with kids. Especially if they run after older siblings or friends.
Don't get separated and take precautions by bringing a wagon on Halloween night. When they get tired they have somewhere to sit.
Having a stroller or wagon is even great for carrying all the delicious candy and water bottles!
Avoid Suckers And Hard Candy
While lollipops and hard candy can be popular on Halloween they can become a choking hazard. Especially for younger children.
Choose differently or keep those out for older siblings or yourself. Kids tend to get excited on Halloween night and sucking on a lollipop while running is not the safest for kids.
Hard candy and suckers are often easy for toddlers to choke on and should be avoided. Especially with so many different candy and treats being handed out.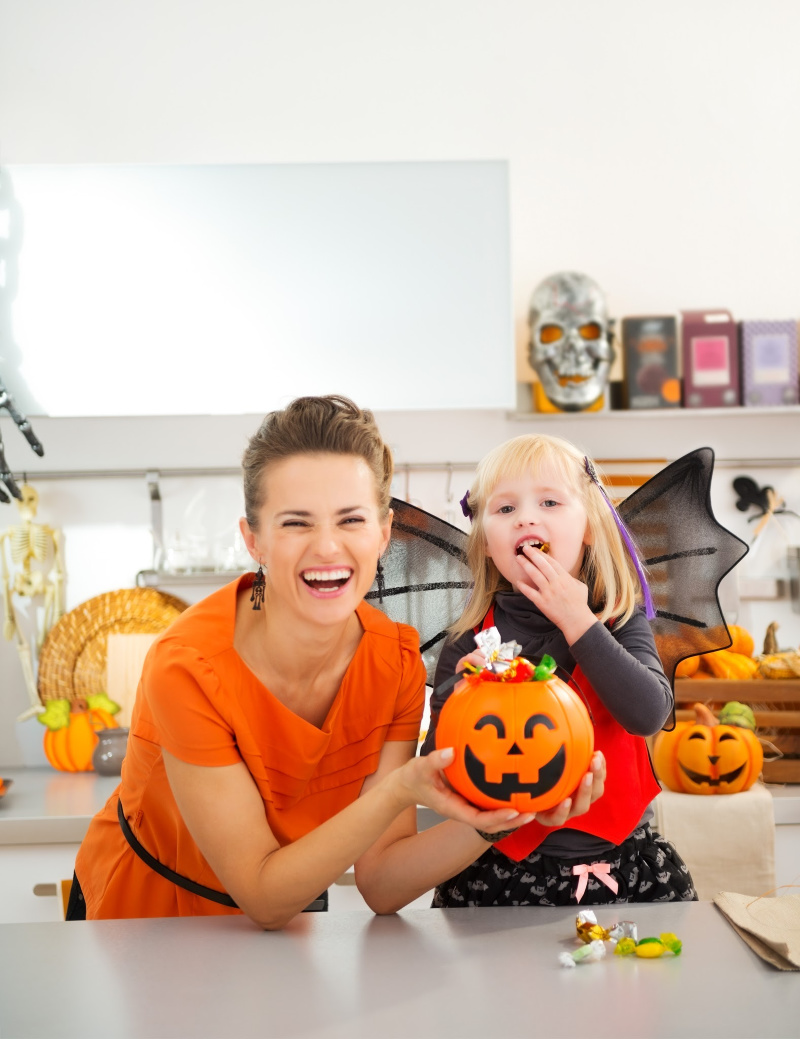 Always Inspect Candy
Don't allow your child to eat candy while you are out and about.
This is especially important for kids with food allergies or dye/food sensitivities. It is rarely a concern of food safety as much as a reaction to foods due to the child having an allergy.
I don't know about your kids, but my girls always want to dig into their Halloween bags as soon as they see the candy! Instead, bring a small bag from home that is age-appropriate so that the kids can enjoy while trick or treat.
It is much safer to keep all treats out of their mouths until parents can inspect them. It's better to be safe than sorry. One year I found a pointy object in my daughter's candy. As crazy as it sounds, I did and became even more cautious during Halloween.
Skip The Mask And Paint Their Face Instead
Masks on kids are cute but can cause all kinds of problems.
From not being able to see or breath easily to straps being irritating a mask can be a bad choice for younger kids. Most of the time they don't even wear it the entire time.
Instead, choose hypoallergenic face paint and have fun. I bet your child will enjoy themselves more than having to worry if you don't recognize your child or getting their skin irritated.
If you have girls this can be fairly easy as they are always up for some makeup!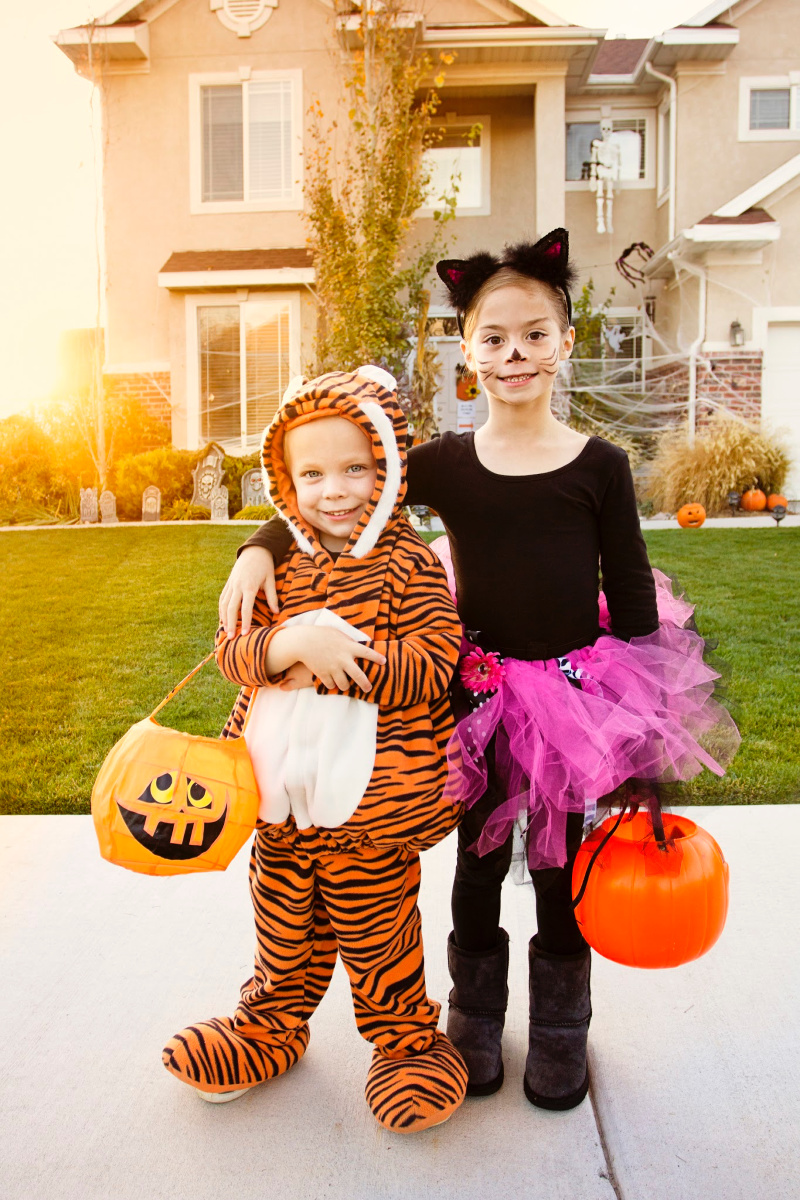 Put Them In Close Toe Shoes Or Sneakers
One of the best Halloween safety tips for toddlers or kids, in general, comes with putting them in closed-toe shoes instead of dress-up shoes.
While the dress-up shoes look cute, they are not functional. Not only do they often lead to tripping and falling, but they can also cause blisters and injuries on the foot itself.
One of our Halloween safety trick or treating rules is that my girls have to wear closed shoes or sneakers. Not only for the purpose that I don't want to hear them complaining the entire time. But also because this will avoid them getting cut or stepping on something unsafe.
Enjoy Halloween As A Family
I know that the older your kids get you may want to send them on their own trick or treating. Instead, enjoy Halloween as a family and build memories.
Not only will you be partaking in an event your child most likely wants you to be apart of, but this also avoids any danger.
Bring another family along or mom. Together you can have a fun time while your child has a safe and memorable Halloween.
These Halloween safety tips for toddlers can be used for all of your kids. Keeping them safe while having fun out and about getting candy and treats is important. Don't let safety be an issue this year. Follow these tips to have a safe and fun Halloween that creates great family memories.
You Are Also Going To Love:
If you loved these Halloween Safety Tips For Kids, then you will also love the following Halloween Crafts and Tips I have put together for you:
What other Halloween safety tips would you share?