One of the things that I have been planning more of, is traveling our very own state of Florida. The state of Florida itself is filled with amazing history that I would love my daughters to learn. My family and I were so excited when Visit Tallahassee invited us to explore the City Capitol and all its history. Today we are Visiting Mission San Luis in Tallahassee Florida and sharing with you all the riches and history.
Thank you Visit Tallahassee for hosting us and allowing us to explore the City Capitol of Tallahassee Florida. #IHeartTally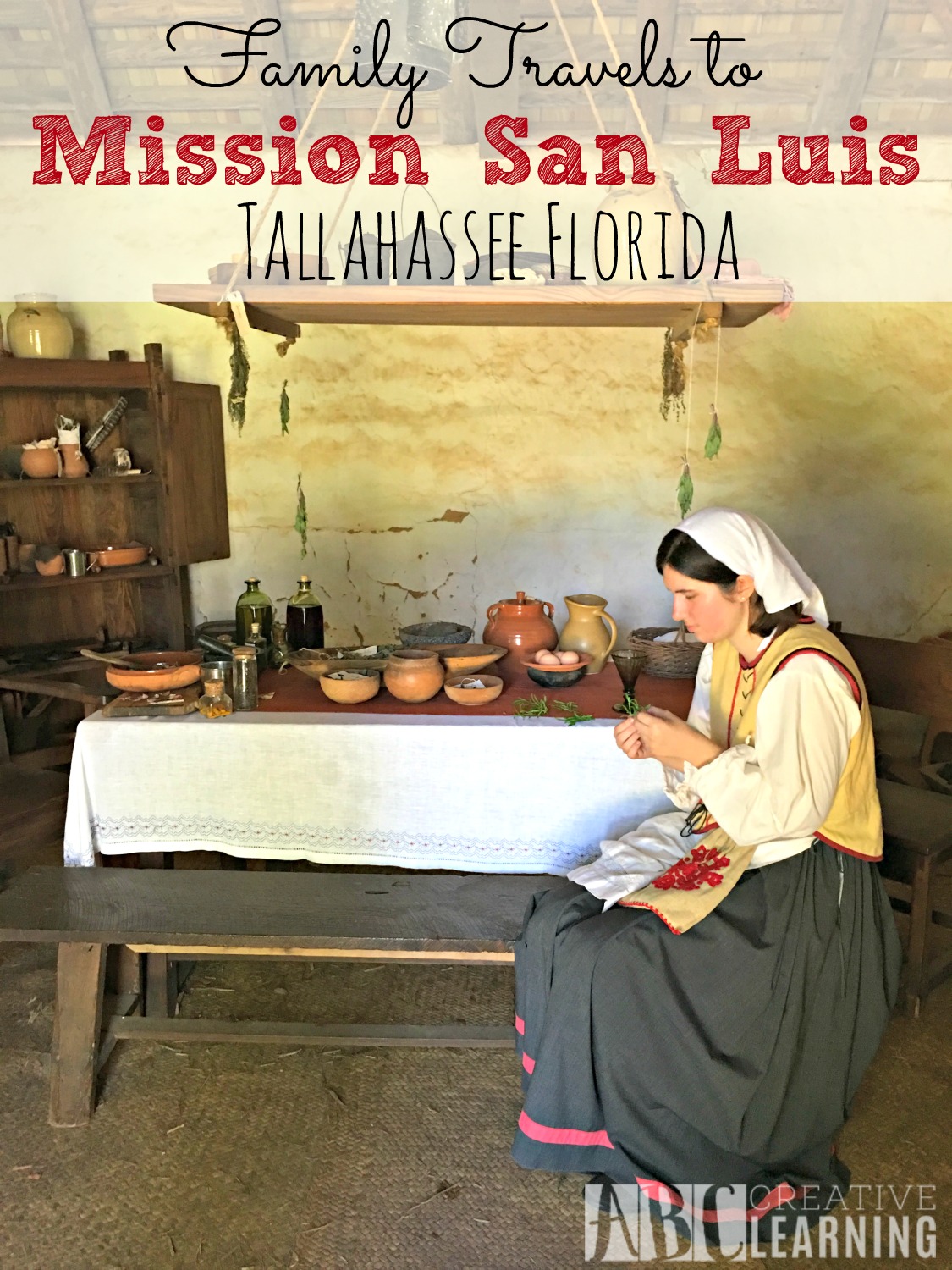 Visiting Mission San Luis in Tallahassee Florida
As a homeschooling family Mission San Luis is a dream come true for us! Being able to learn hands on is definitely something that my girls really love to do and something that I strive to do as much as I can throughout the year. Being able to learn about some of Florida's history and actually walk though a town in which both Apalachees and Spaniards lived together many years ago was a wonderful learning experience. Both for my children and ourselves.
Here are some of our favorite things to do while visiting Mission San Luis.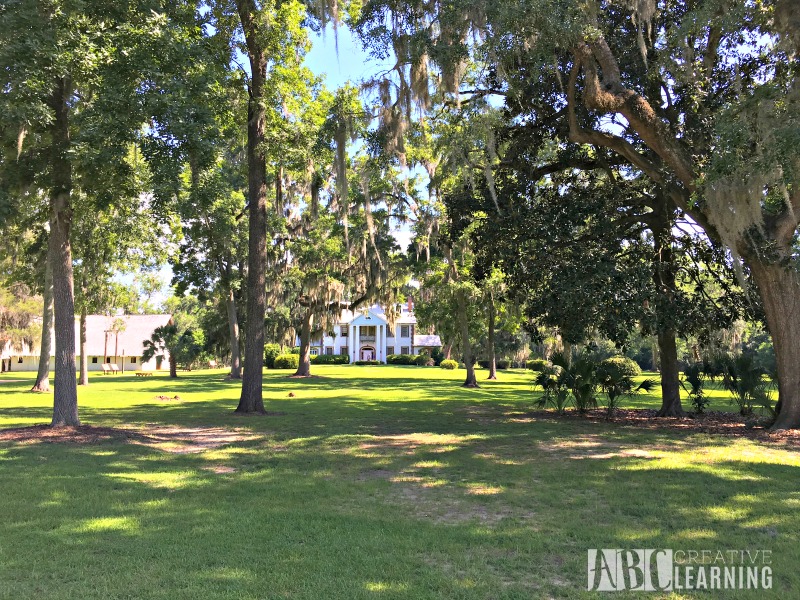 Scavenger Hunt
When you first arrive and purchase your ticket at Mission San Luis the children will have the option of completing one of their scavenger hunt sheets, which can be turned in at the end for a fun prize. This is a fantastic idea to get the kids looking for artifacts and items around the entire property. Plus, it really makes them want to read and look into the history a little bit more rather than just walking around the beautiful property.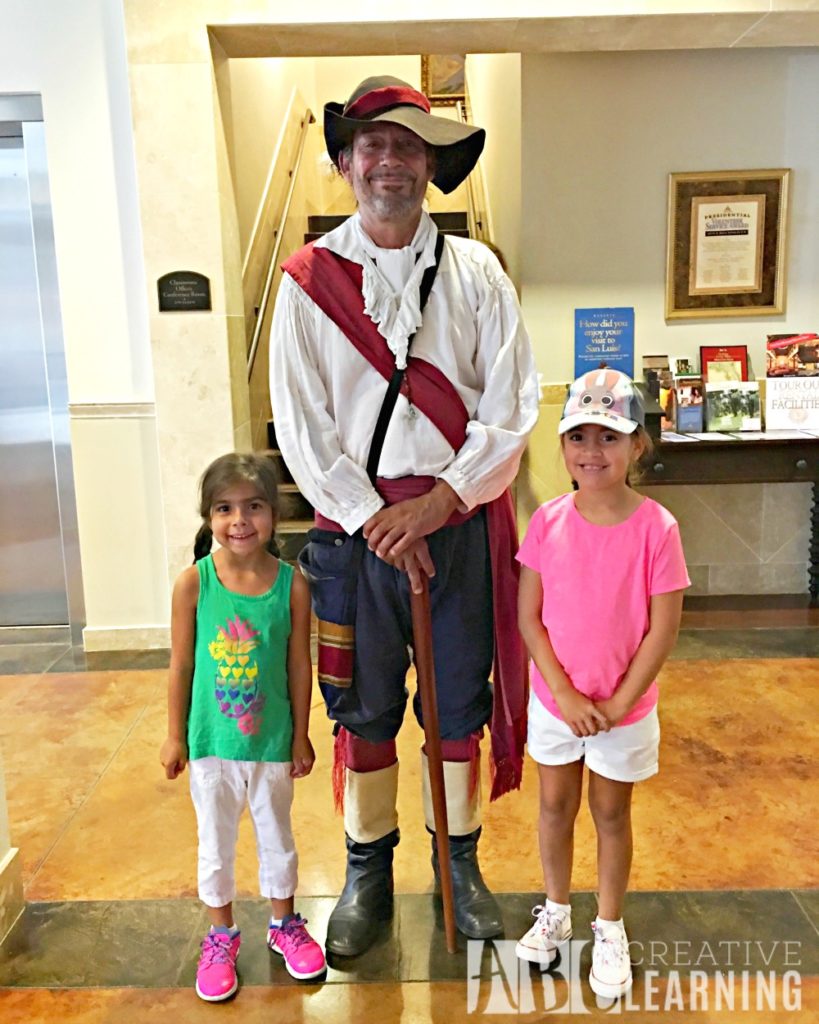 Tour Guide
I was completely fascinated with the tour guide, not only was he dressed and it complete character, but I truly believe that we wouldn't have learned as much about the Apalachees and Spaniards life in this settlement if it weren't for his detailed stories. Plus, because everyone on property are dressed as their characters, it really seems as if you are literally walking back into 1702.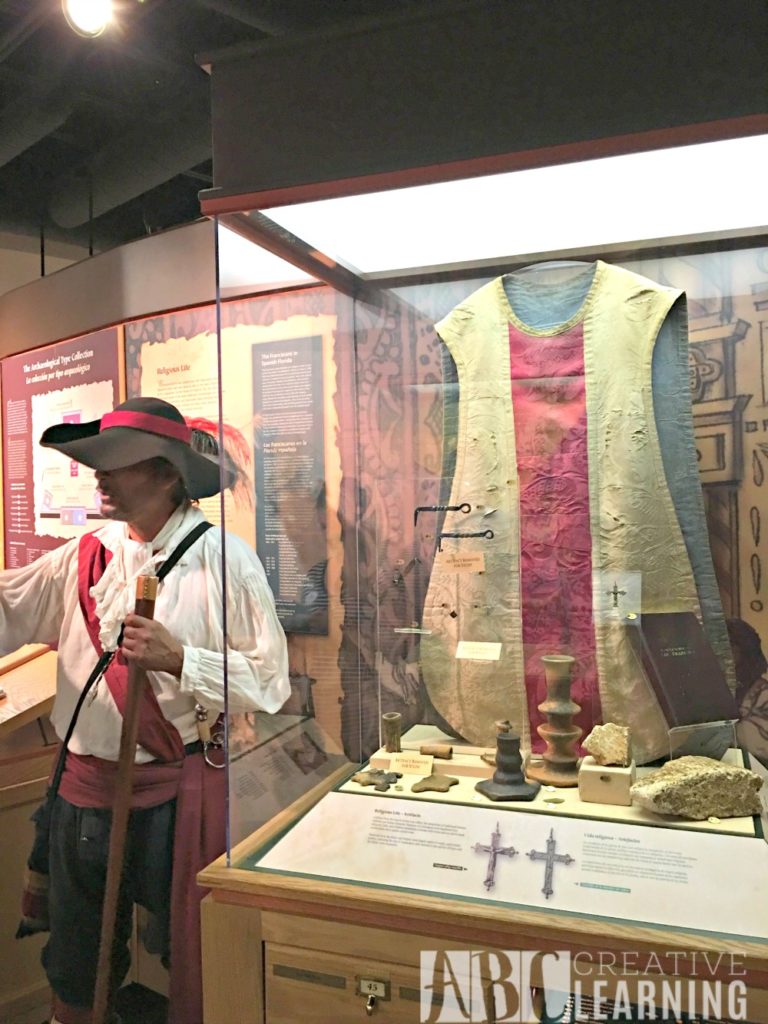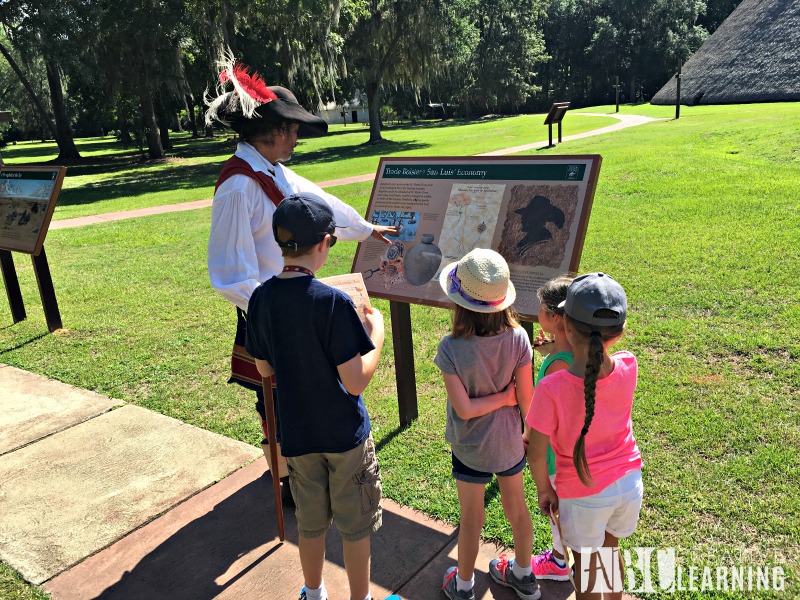 Real Artifacts
After the original Mission San Luis was built, it burnt out several years later. Archaeologist Bonnie McEwan, the director at the time of the excavation began, found all the amazing artifacts that now are displayed at Mission San Luis. Not only will you find artifacts that were dug up, but you will also find photos of todays 300 existing Apalachee.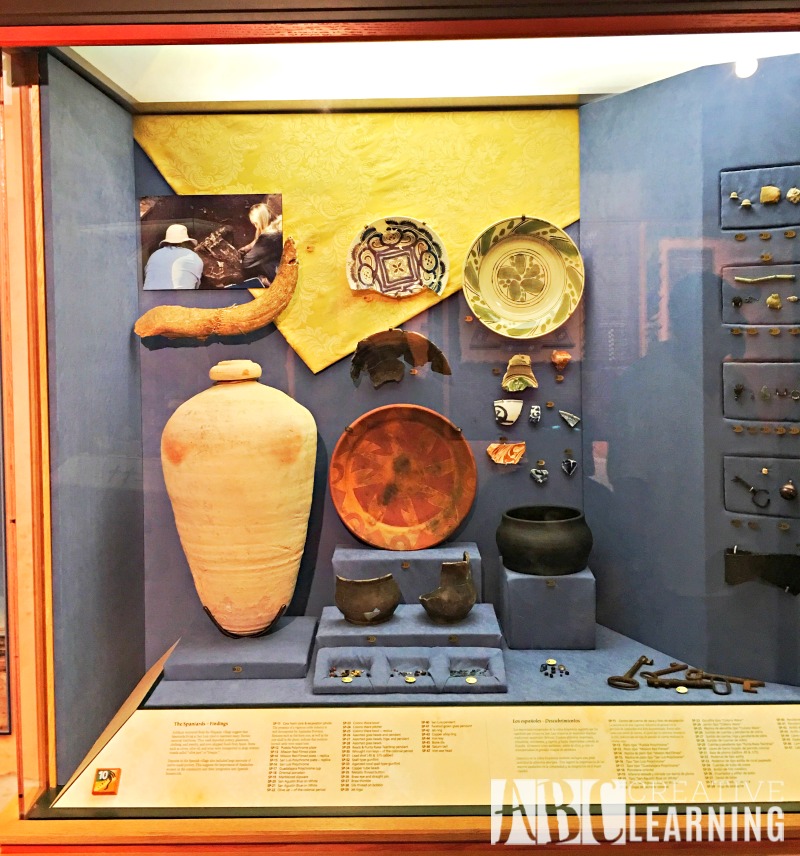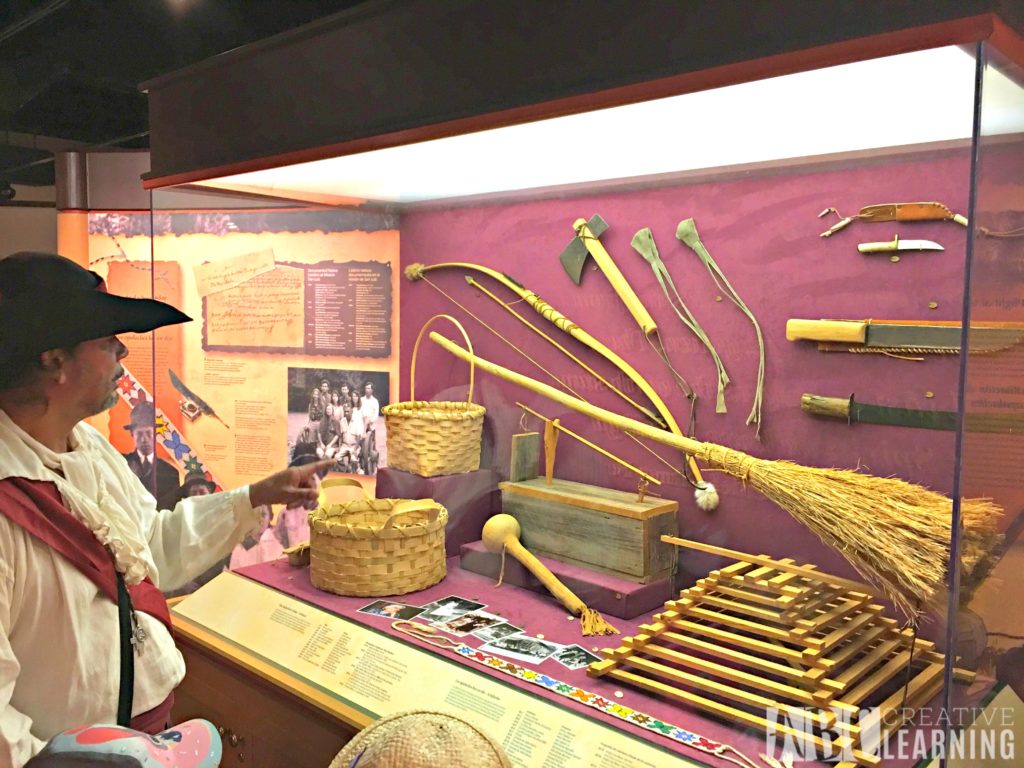 The Council House
The council house was basically used as a city hall for the Apalachees to gather and discus community life. I couldn't believe how big the council house actually was. It was actually one of the largest historic Indian structures in the southeastern United Sates at 120 feet in diameter, accommodating about 3,000 people at one time. Could you imagine being surrounded by so many people in the Florida heat and no air condition?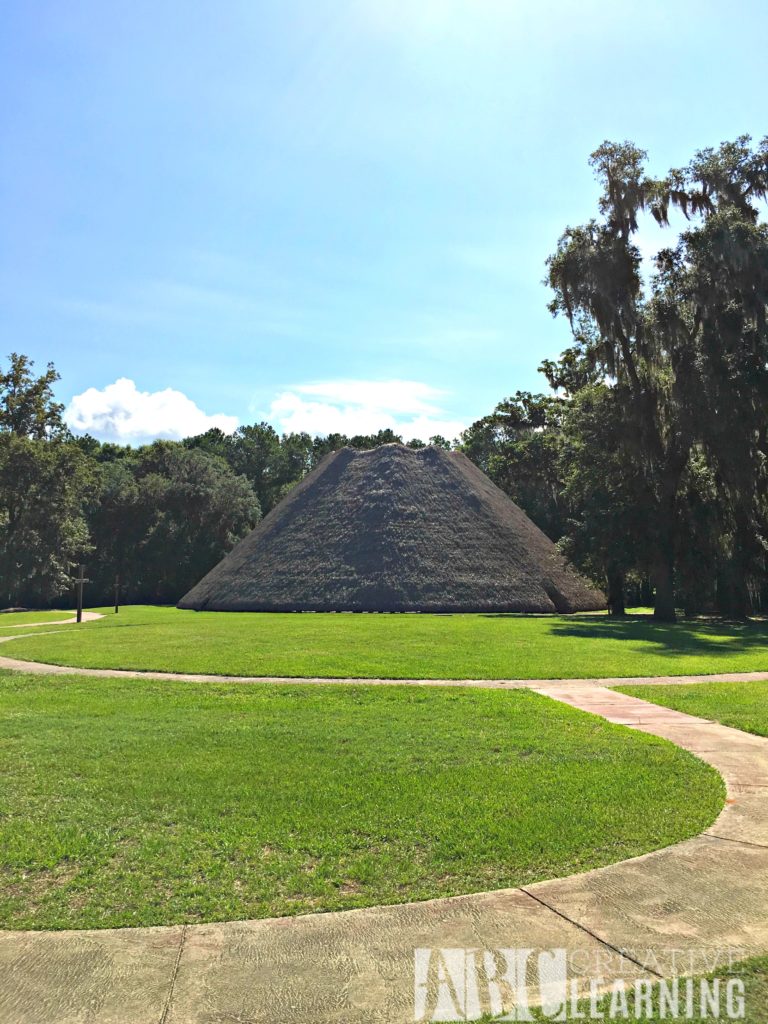 Inside the council house we were also able to meet with one of the Apalachee woman and a Spanish trader. He was bringing her some materials, supplies, weapons, and food he had brought on his journey from across the sea. The children were all able to touch, feel, and ask any questions they had.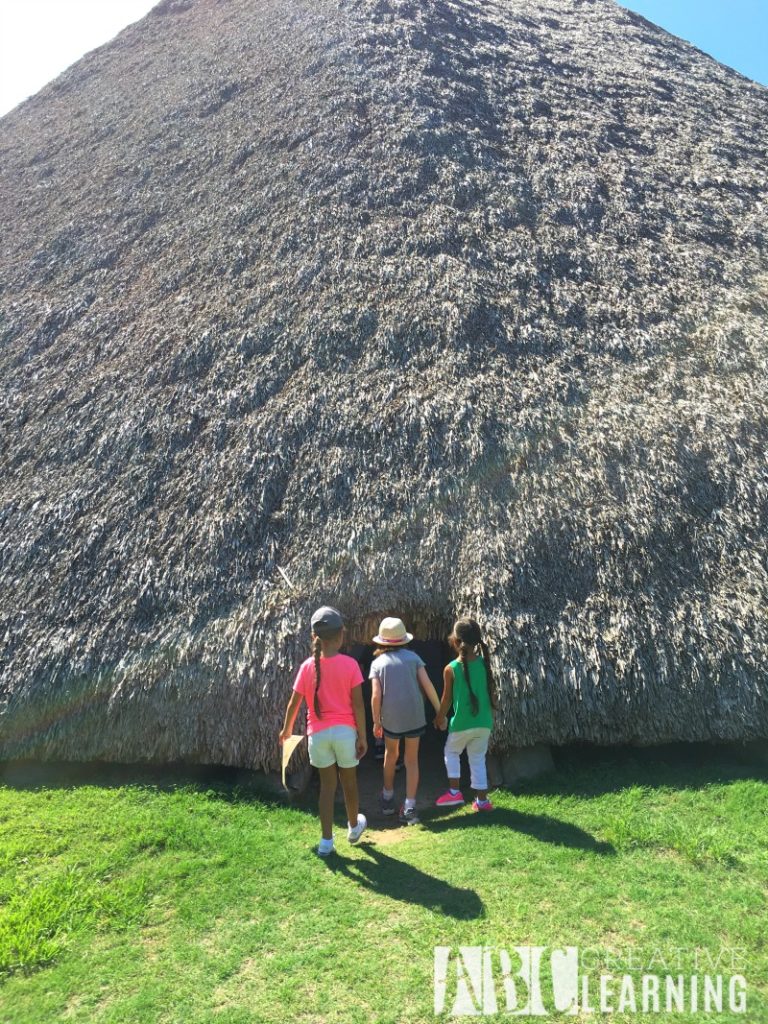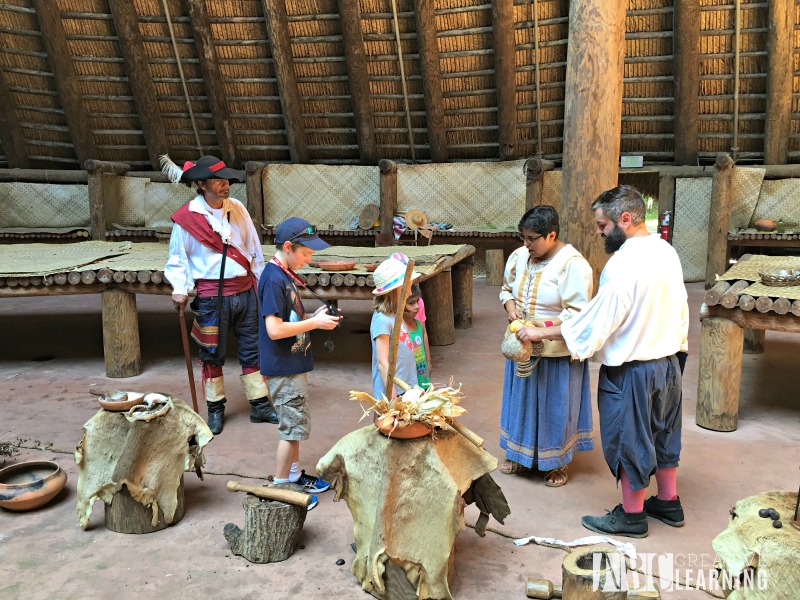 Spanish Family Life
Being able to see first hand how a Spaniard family lived back in 1702 was a rude awakening to my girls. They had no idea how many chores a child back in the 1700's would have to do in just one day and that's not including their schooling or daily lessons.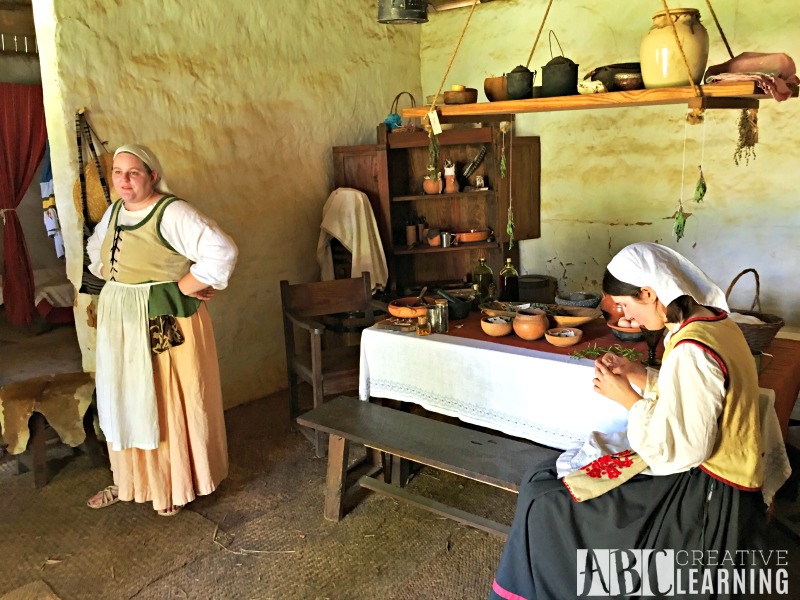 Being able to see inside the home and everyone going along with their everyday chores was a great way for my girls to learn first hand how a home was run and where they would sleep at the end of the night. Lets just say that they were a bit surprised that it wasn't on their own beds, if they even had a bed.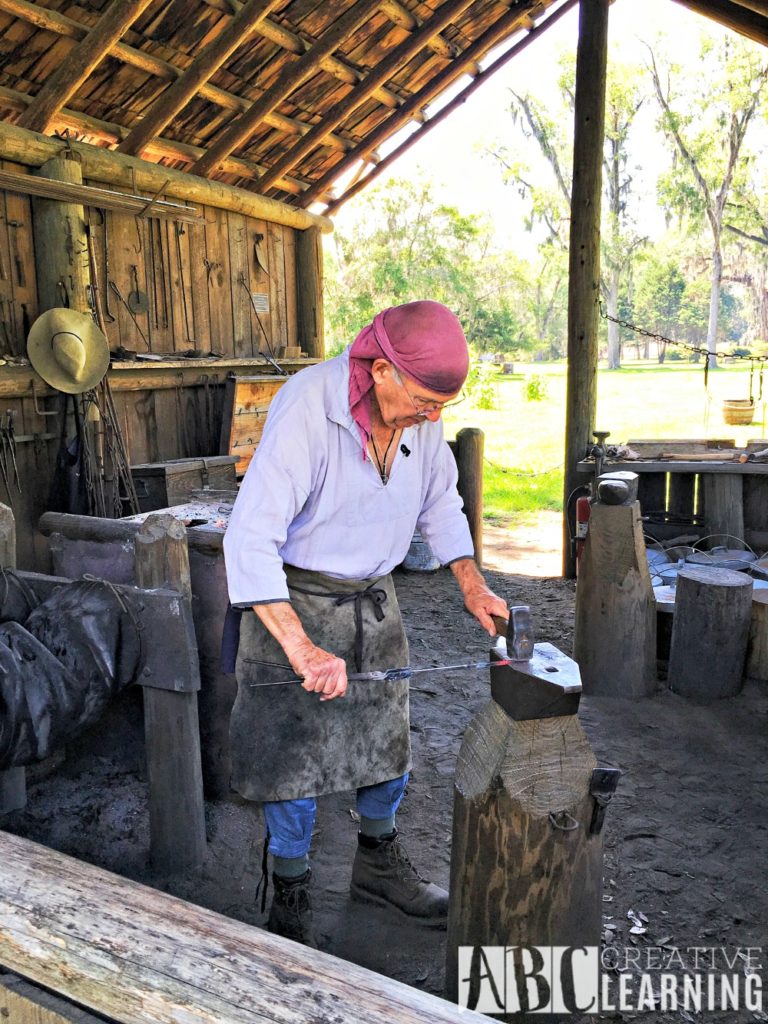 Agriculture in 1702
Life in the 1700's wasn't easy, families had to cultivate and crop their own gardens so that they could live. Below you can see some pictures of the families gardener, cook, and the local blacksmith on a usual working day.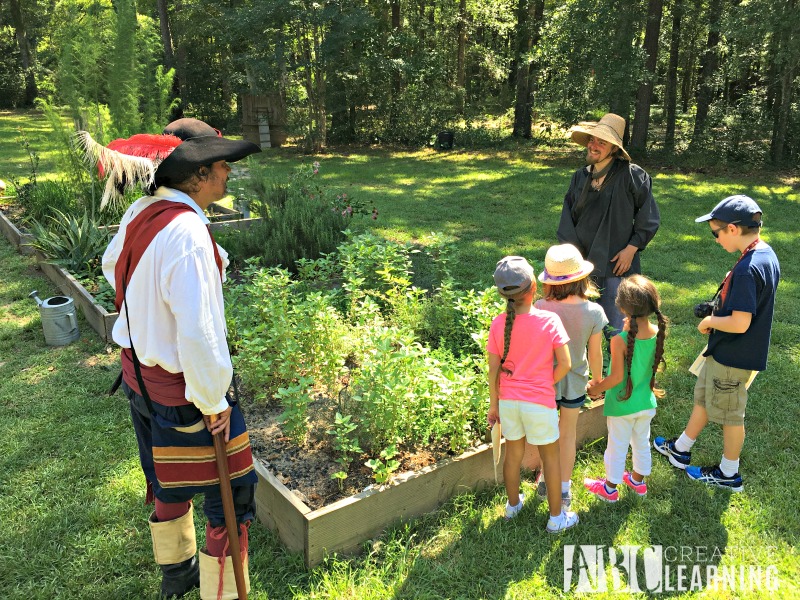 Families at Mission San Luis depended on everyone to do their jobs so that they could eat and live well. Being able to plant their own vegetables, fruits, and herbs was imperative for their survival at Mission San Luis.
The Spanish Fort
The Mission San Luis Spanish Fort was built to keep intruders out, while also keeping the peace inside among Apalachees and Spaniards. Everyone was at war and they needed to make sure that their community was safe and protected.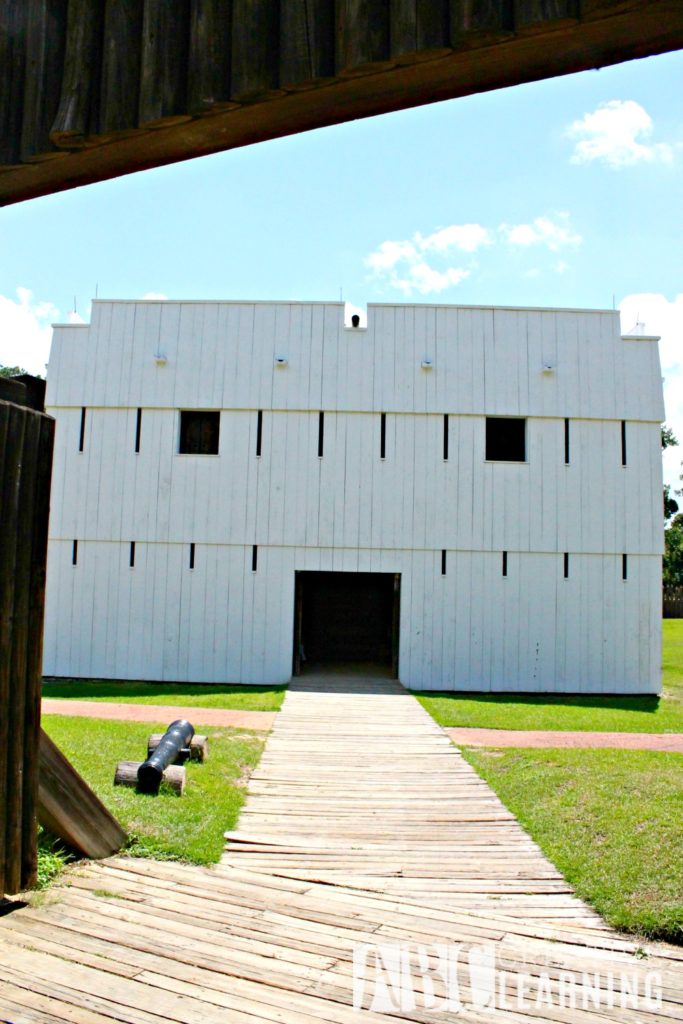 The military soldiers lived, ate, and trained at the Spanish fort. I think the kids really enjoyed being able to walk in a soldiers shoes for just a few minutes! Being able to learn hands on by touching maps, compasses, weapons, and even being apart of a simulation attack was a once in a lifetime experience.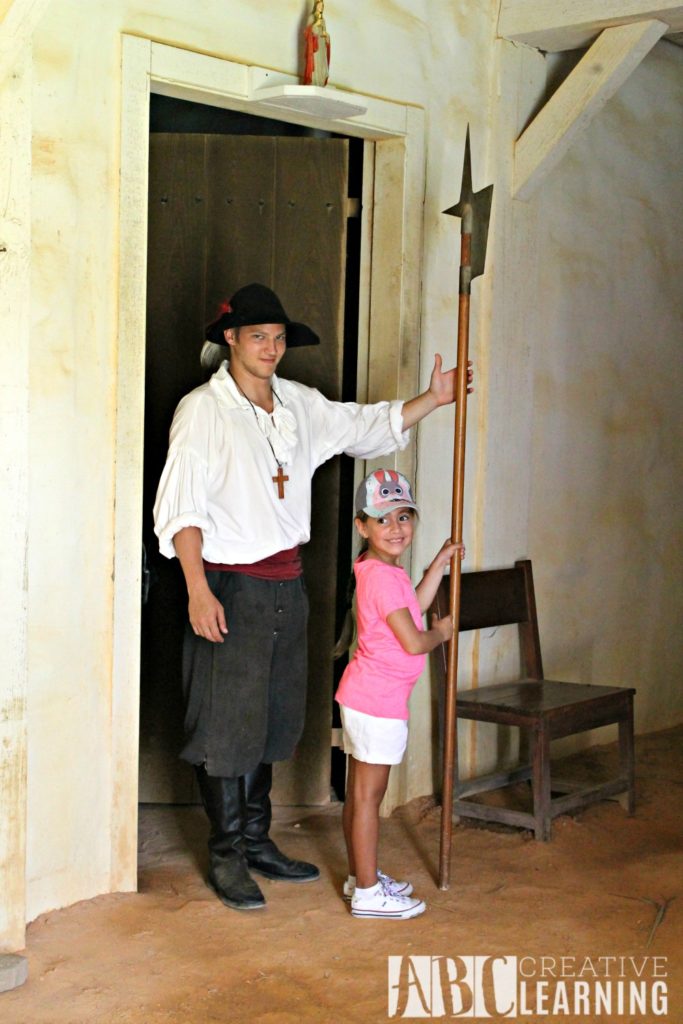 As you can see we had an amazing adventure going back in time at Mission San Luis!
If you are an educator or homeschooling family make sure to also check out their Resources for Teachers section on their site.
Check out our video below with a bit more details on our visit to Mission San Luis!
Mission San Luis also provides camps and workshops on site, such as soap making, historic gardening, pine needle basket making, and cord/rope making just to name a few.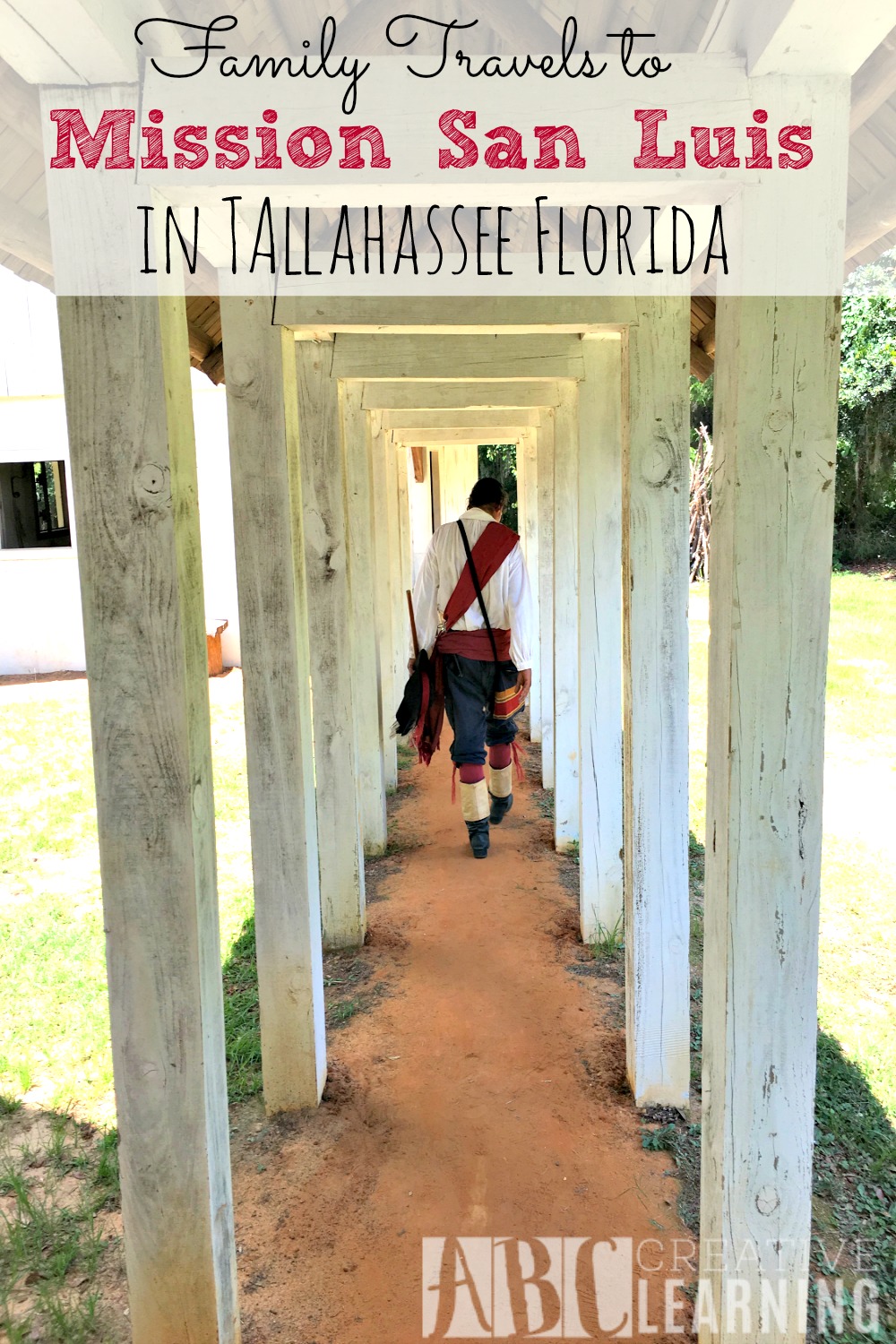 As I mentioned above they also provide amazing group tours where you can really go back in time to travel to La Florida like you can't do anywhere else. You can choose between the San Luis Highlights or the Journey to the Past.
For more information to visit Mission San Luis or to book one of their workshops or tours, visit their website at missionsanluis.org.

You Are Also Going To Love:
If you loved reading about our family travels to Visiting Mission San Luis in Tallahassee Florida, then you will also love the following Florida travel trips I have put together for you:
Have you ever visited Mission San Luis in Tallahassee Florida?

SaveSave
SaveSave
SaveSave
SaveSaveSaveSave