For the past few years during Halloween my girls and I have picked a Disney character to paint on a pumpkin. I'm not a big fan of pumpkin carving, you know! It's just so messy. This year we decided that we wanted a pumpkin inspired by MOANA and with my youngest has fallen in love with MOANA's sidekick, Pua. Here's an easy way to decorate your house with Halloween pumpkins that will last longer and are so much easier to make! Check out our Moana Pua Pumpkin Craft + New Movie Clips and Soundtrack.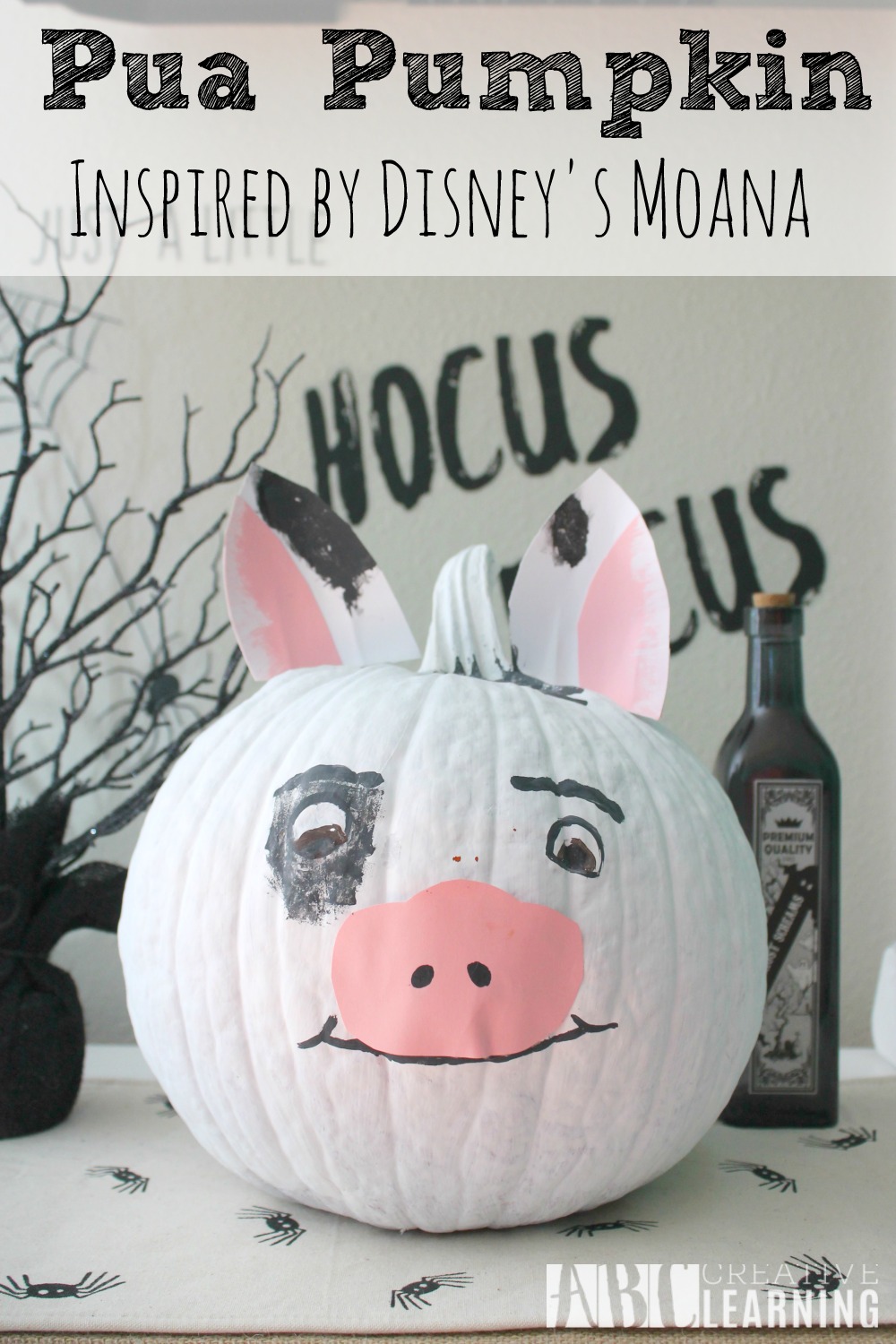 Moana Pua Pumpkin Craft + New Movie Clips and Soundtrack #Moana
Crafting with my girls is one of my most favorite things to do, especially if it's Disney themed! This year with Moana coming out next month it was definitely the perfect choice for our pumpkin this year! I just wish I was talented enough to actually paint Moana on a pumpkin, now that would be something!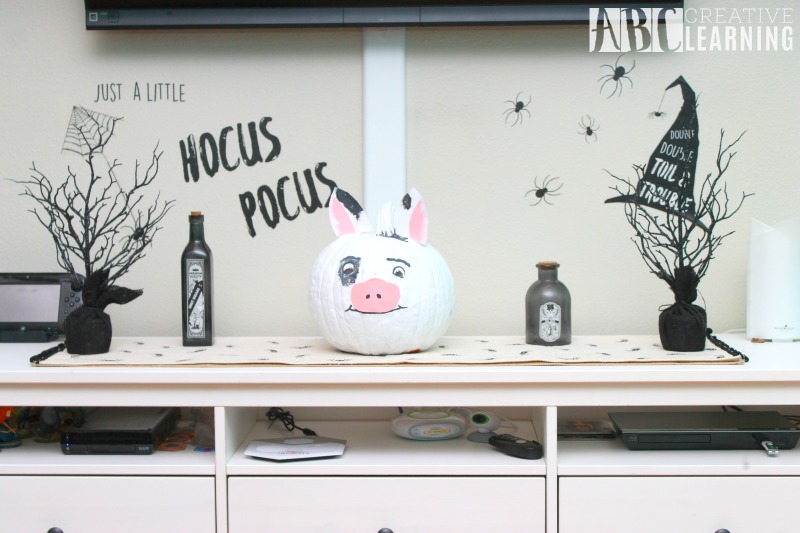 No Carve Pua Pumpkin Craft
Materials Needed
Pumpkin
White, pink, and black paint
Pink construction paper
White paper plate or construction paper
Black and brown sharpie
Small sponge
2 Toothpicks
Tape
This No Carve Pua Pumpkin Craft is super easy to make. Simply paint your entire pumpkin white and allow paint to dry.
While your paint is drying, begin cutting out Pua's nose and ears.
To create Pua's nose simply cut out an oval and using the black sharpie draw in two smal ovals. Once pumpkin is dried glue or tape on the front of your pumpkin.
For Pua's ears I used a small sponge to dab some black spots and add the pinks of his ears. Once those were dried I taped a toothpick on the back of each ear. That way it was easy to insert into the pumpkin.
For his eyes I used a black and brown sharpie to draw his mouth, eyes, and eyebrows. I then used the small sponge with a bit of black paint to add the spot around his eyes.
That's it! Super easy to make and perfect for all those Disney fans out there!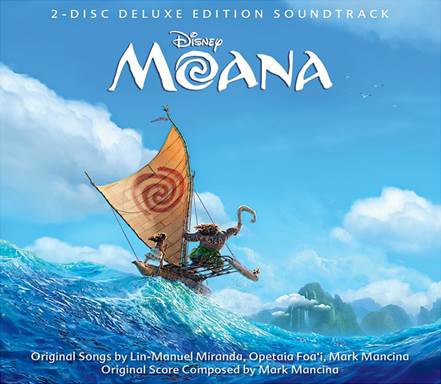 Soundtrack Details
Because Moana just couldn't get any better, the soundtrack is going to be just out of this world! With original songs by Lin-Manuel Miranda! Oh, I just can't wait to memorize each song with my girls so we can sing at the top of our lungs! So, if your are just as excited as I am make sure to pre-order your copy! Check out all the details below!
Also, set for release on November 18, the Moana original motion picture soundtrack features seven original songs and a full original score, plus two reprises as well as two end-credit versions of songs from the film. Walt Disney Animation Studios' "Moana" opens in U.S. theaters on Nov. 23, 2016.

The diverse and dynamic team behind the film's inspired music includes Tony®- and Grammy®-winning songwriter/composer Lin-Manuel Miranda, who counts among his credits Broadway's Pulitzer Prize-winning and multiple Tony-winning "Hamilton" and the Tony-winning "In the Heights." The creative team also includes three-time Grammy®-winning composer Mark Mancina ("Speed," "Tarzan" and the Oscar®-winning "Training Day") and Opetaia Foa'i, the founder and lead singer of Te Vaka, a winner of numerous world music awards.

"How Far I'll Go" is Moana's song written by Miranda and is performed in the film by newcomer Auli'i Cravalho. The end-credit version of the song is performed by Canadian singer/songwriter and Def Jam recording artist Alessia Cara. Her gold-certified album Know-It-All includes the multi-platinum singles "Here" and "Wild Things," plus the critically-acclaimed single "Scars to Your Beautiful." Cara is a Juno Award winner for Breakthrough Artist of the Year and is a 2016 America Music Award nominee for New Artist of the Year. She recently completed a tour with Coldplay.

Written by Miranda and performed by Dwayne Johnson in the film, "You're Welcome" showcases the colorful personality of Maui. Hollywood Records artist Jordan Fisher teams up with Miranda for the end-credit version of "You're Welcome." After a breakout performance in the Emmy® Award-winning production of Grease: Live, Jordan Fisher released his debut single, "All About Us," which soared to the top of the Billboard Pop charts. Fisher, who recently opened for Alicia Keys at this year's Apple Music Festival, has joined the Broadway cast of "Hamilton," and is set to release his full-length album in 2017.

For centuries, the greatest sailors in the world masterfully navigated the vast Pacific, discovering the many islands of Oceania. But then, 3,000 years ago, their voyages stopped for a millennium – and no one knows exactly why. From Walt Disney Animation Studios comes "Moana," a sweeping, CG-animated feature film about an adventurous teenager who is inspired to leave the safety and security of her island on a daring journey to save her people. Inexplicably drawn to the ocean, Moana (voice of Auliʻi Cravalho) convinces the mighty demigod Maui (voice of Dwayne Johnson) to join her mission, and he reluctantly helps her become a wayfinder like her ancestors who sailed before her. Together, they voyage across the open ocean on an action-packed adventure, encountering enormous monsters and impossible odds, and along the way, Moana fulfills her quest and discovers the one thing she's always sought: her own identity.

The Moana soundtrack can be pre-ordered today HERE and a digital pre-order will be available Friday, Oct. 28th. The Moana original motion picture soundtrack features 14 tracks and will be available wherever music is sold and streamed on Nov. 18, 2016. The Moana two-disc deluxe edition and the digital deluxe edition soundtrack, which are also available Nov. 18, feature additional tracks including demos, outtakes and instrumental karaoke tracks. For more information on Walt Disney Records' releases, like them on Facebook.com/ disneymusic or follow them at Twitter.com/disneymusic and Instagram.com/disneymusic/.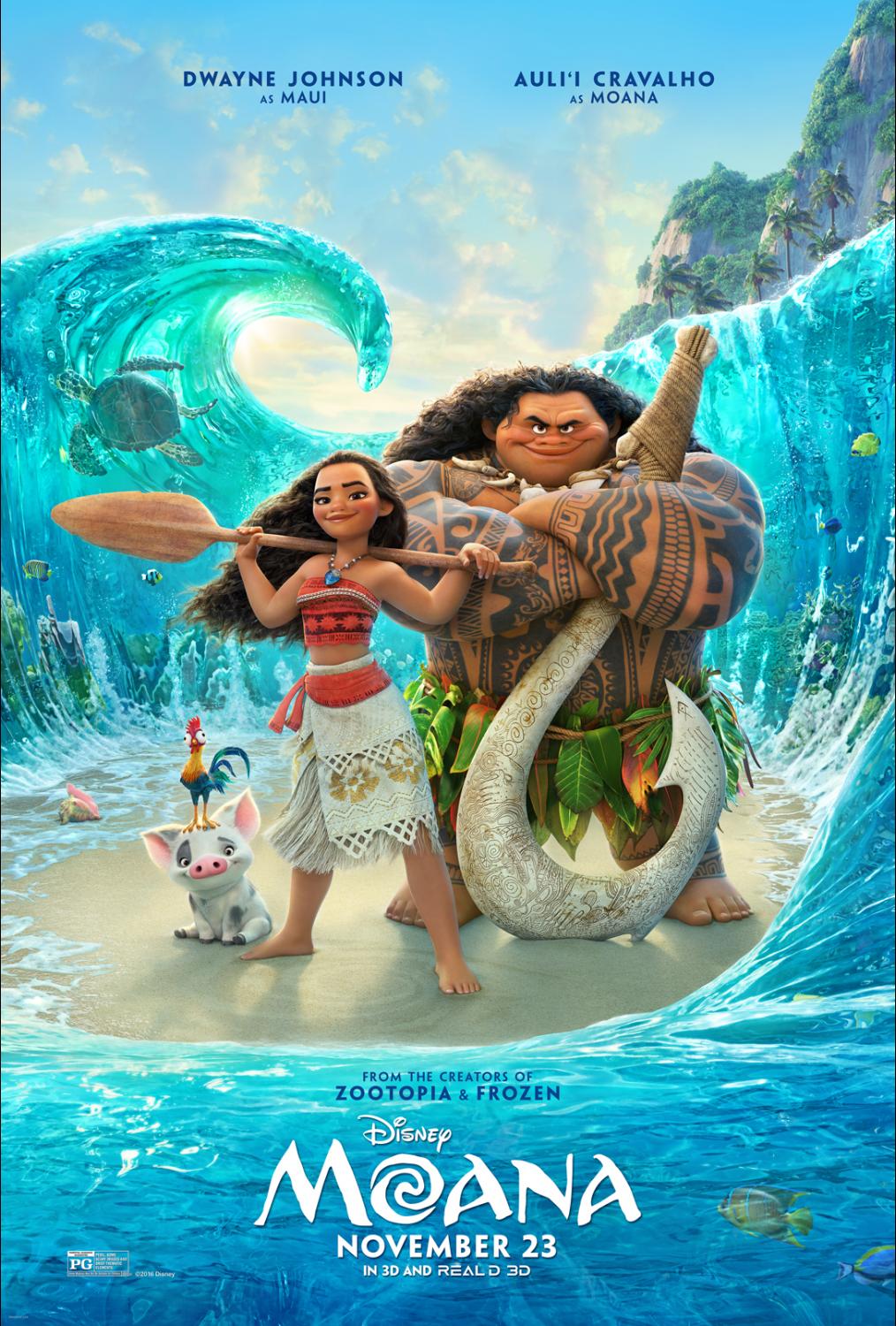 New Movie Clips:
Like MOANA on Facebook: https://www.facebook.com/disneymoana

Follow MOANA on Twitter: https://twitter.com/disneymoana

Follow Disney Animation on Instagram: https://www.instagram.com/disneyanimation/

Visit Disney Animation on Tumblr: http://disneyanimation.tumblr.com/

Visit the official MOANA website here: http://movies.disney.com/moana

MOANA arrives in theatres everywhere on November 23rd!
You Are Also Going To Love:
If you loved this No Carve Moana Inspired Pua Pumpking Craft, then you will also love the following Disney No Carve Pumpkin Crafts and Moana Coloring Sheets I have put together for you:
Who's your favorite Moana character?