Minion No-Carve Halloween Pumpkin Craft is perfect for decorating your home with the kids during Halloween.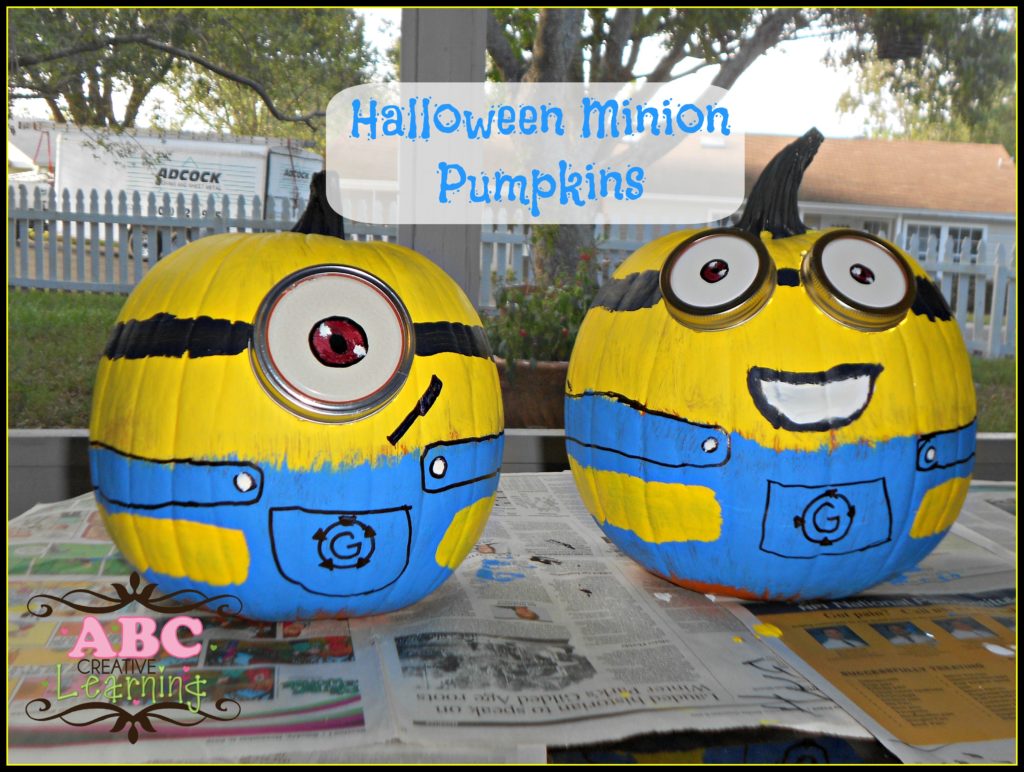 Minion No-Carve Halloween Pumpkin Craft
These were a lot of fun to make. They took a bit of time, but I had two wonderful little helpers eager to pitch in whenever they could.
Materials Needed For Your Minion Pumpkins
Acrylic paint(colors: blue, yellow, black, and white)
Brown and Black Sharpie
Pumpkins
Lids from Mason jars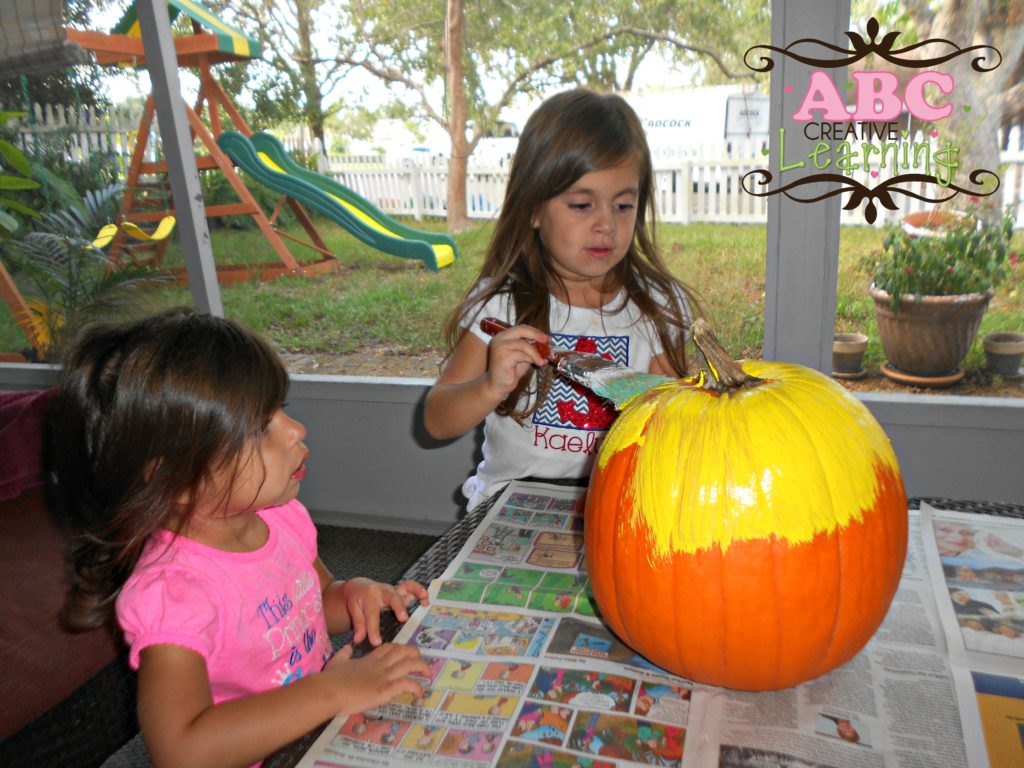 How To Make Minion No-Carve Halloween Pumpkins
Paint the top half of your pumpkin with yellow acrylic paint.
I used regular house paint brushes to paint the larger areas.
I would wait for it to dry and do a second coat so that the yellow is nice and bright (we only did one coat).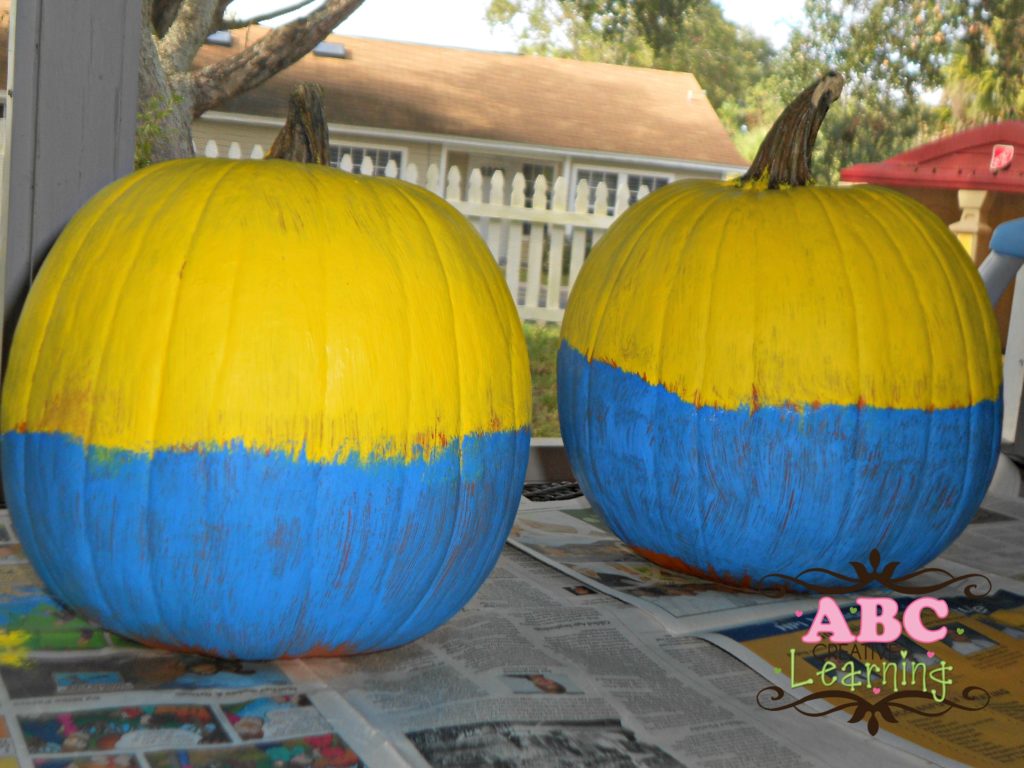 Paint the bottom half of your pumpkin with your blue acrylic paint.
Again, wait until it's dry and then apply a second coat (we only applied one coat).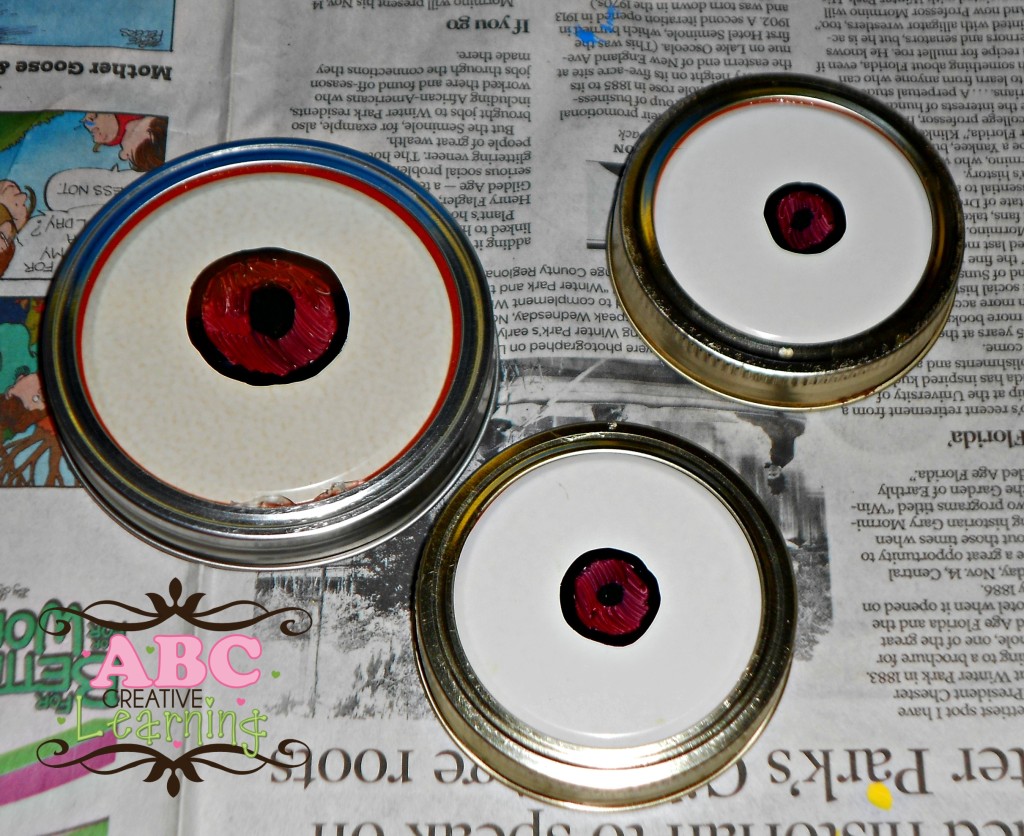 Acrylic paint dries quickly, so while your pumpkins dry, start creating your minion eyes.
The girls wanted a one eye minion and a two-eyed minion, so I used a larger mason jar lid for the one-eyed and then two small mason jar lids for the two-eyed minions.
To create the eyes, flip the mason jar inside lid inside out. You want the white side up so you can draw the eyes on them.
I then used a black and brown sharpie to draw the eyes. I also dotted a little bit of the white acrylic paint on the eyes to make them look more realistic (see the first picture at the top of the post).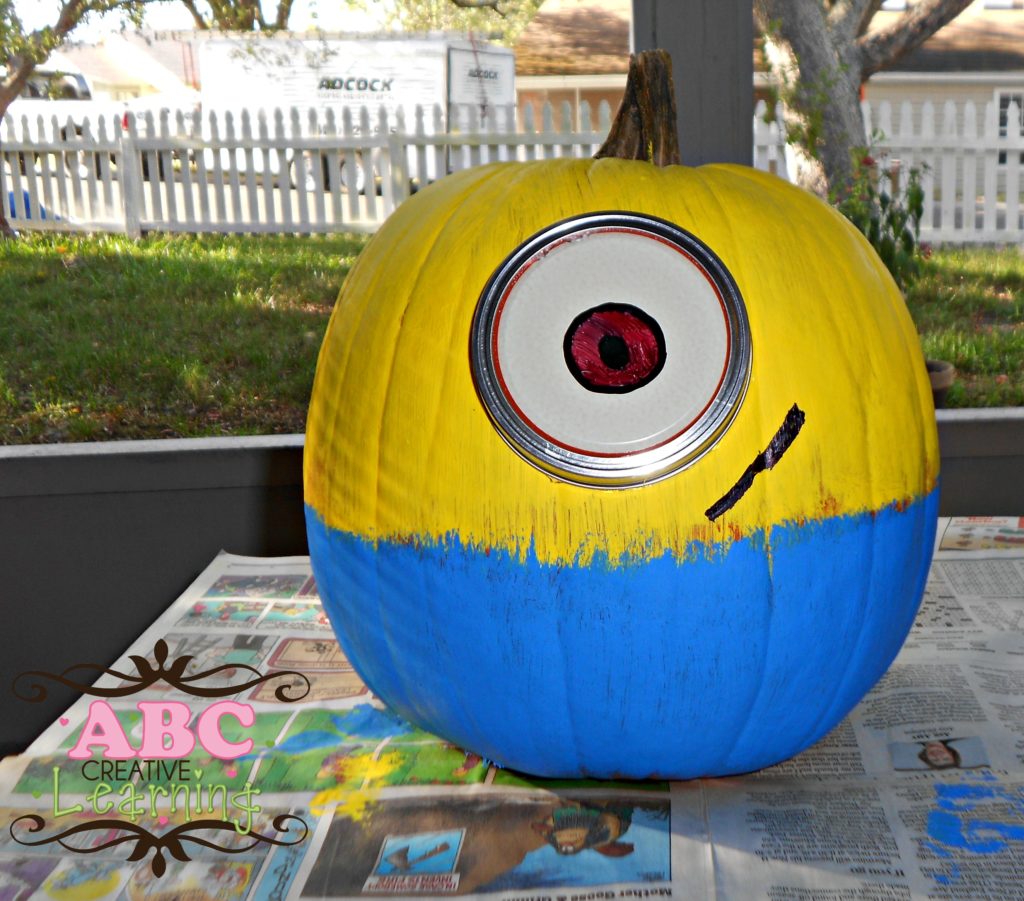 Using the hot glue gun, seal the white lid inside the silver rim and then glue on your minion.
With a black sharpie, you can also draw a mouth, or you can use some acrylic paint as we did for our two-eyed minions.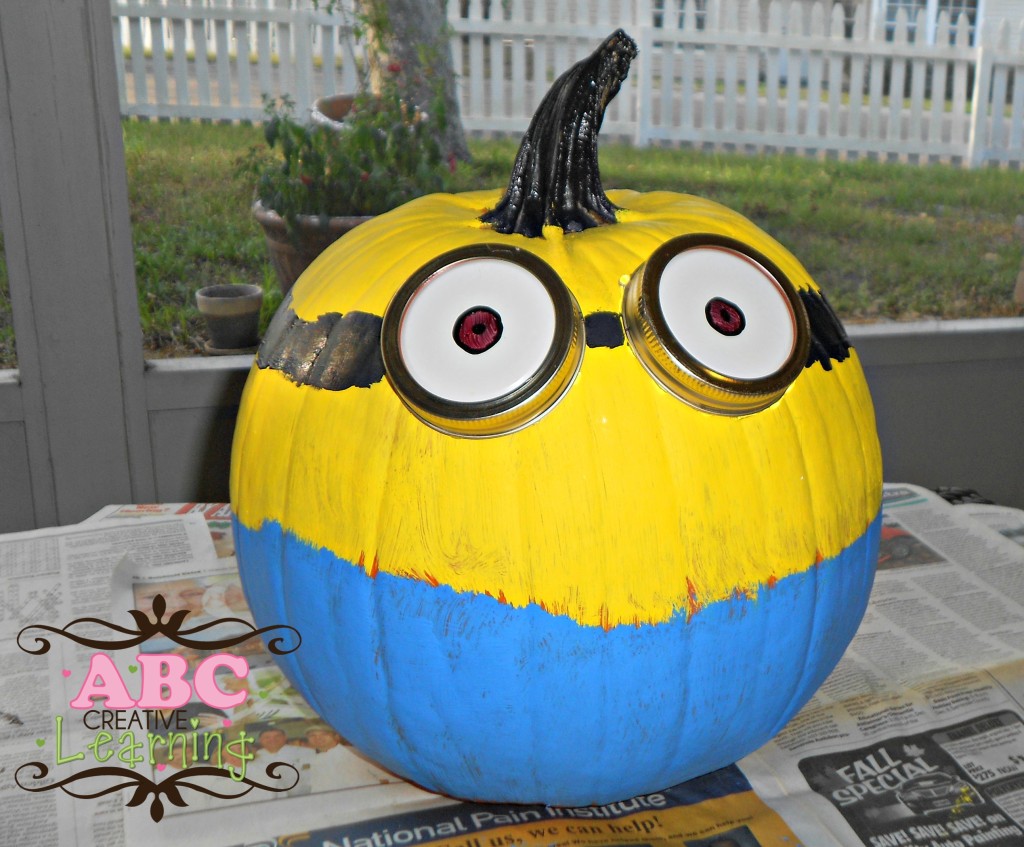 Using your black acrylic paint and a small brush, paint the stem of your pumpkin and draw a line about 2 inches wide around your pumpkin.
These are to simulate the minion's goggles. Also, make sure to add a little bit in between the goggles, or you can use a black sharpie to do this.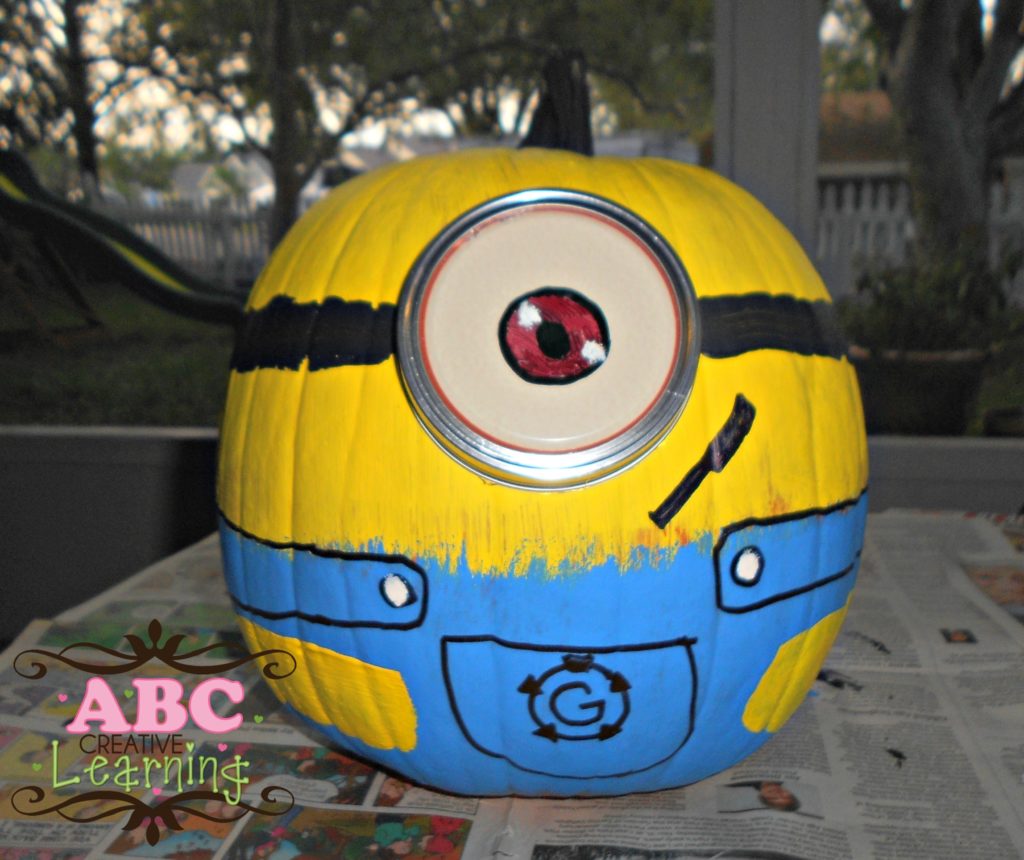 Using a black sharpie, draw your minion's overalls and pocket with Gru's infamous villain symbol.
Using a black sharpie, draw circles as buttons and dab a little bit of white acrylic paint right in the middle of the buttons.
With a smaller paint brush, paint some yellow on top of the blue overall area about 4 inches wide halfway on your pumpkin.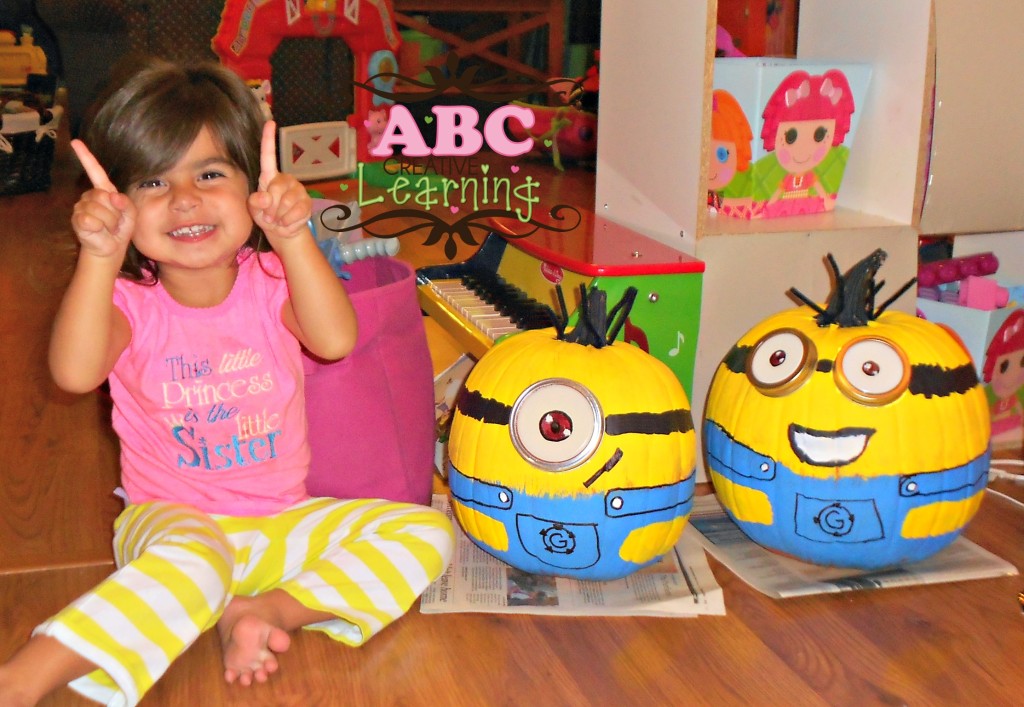 To create the minion's hair, you can either poke holes into your pumpkin and stick your pipe cleaners in, or you can glue them on.
We chose to glue them on because we want our pumpkins to last until next month for our youngest daughter's birthday party.

You Are Also Going To Love:
If you loved creating these No Carve Minion Halloween Pumpkins, then you will also love the following Halloween Pumpkin ideas I have put together for you:
Did you paint or carve your pumpkins this year?

*Originally Published October 29th, 2013*