It's no secret that parents and kids all around are loving the new Disney Pixar Animated Movie Inside Out, which was released in movies theaters this past Friday. Of course, my girls are all about the five emotions in Riley's head. so we just had to create some fun Inside Out Paper Plate Craft to go along with our love of the new movie! Check out more of our favorite Disney Paper Plate Crafts.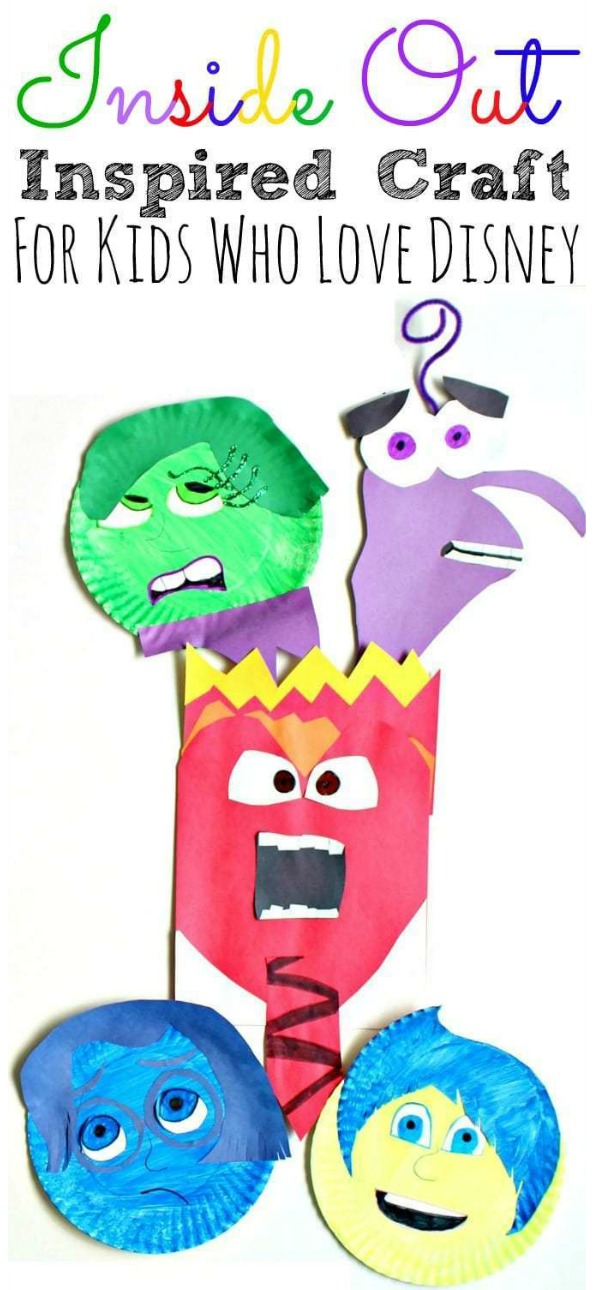 Inside Out Paper Plate Craft For Kids
I will admit that my girls helped me through when creating these fun Inside Out Inspired Kids Craft using paper plates, construction paper, and paint! Each emotion is so unique in color, but especially in facial expressions.
This post will be a little different than my regular step by step posts because instead of me coming up with an idea and seeing if it would work, my girls and I decided that we would work together in creating each character. Making sure to grasp each one's special characteristic.
This post contains affiliate links.
How To Make Inside Out Inspired Joy Craft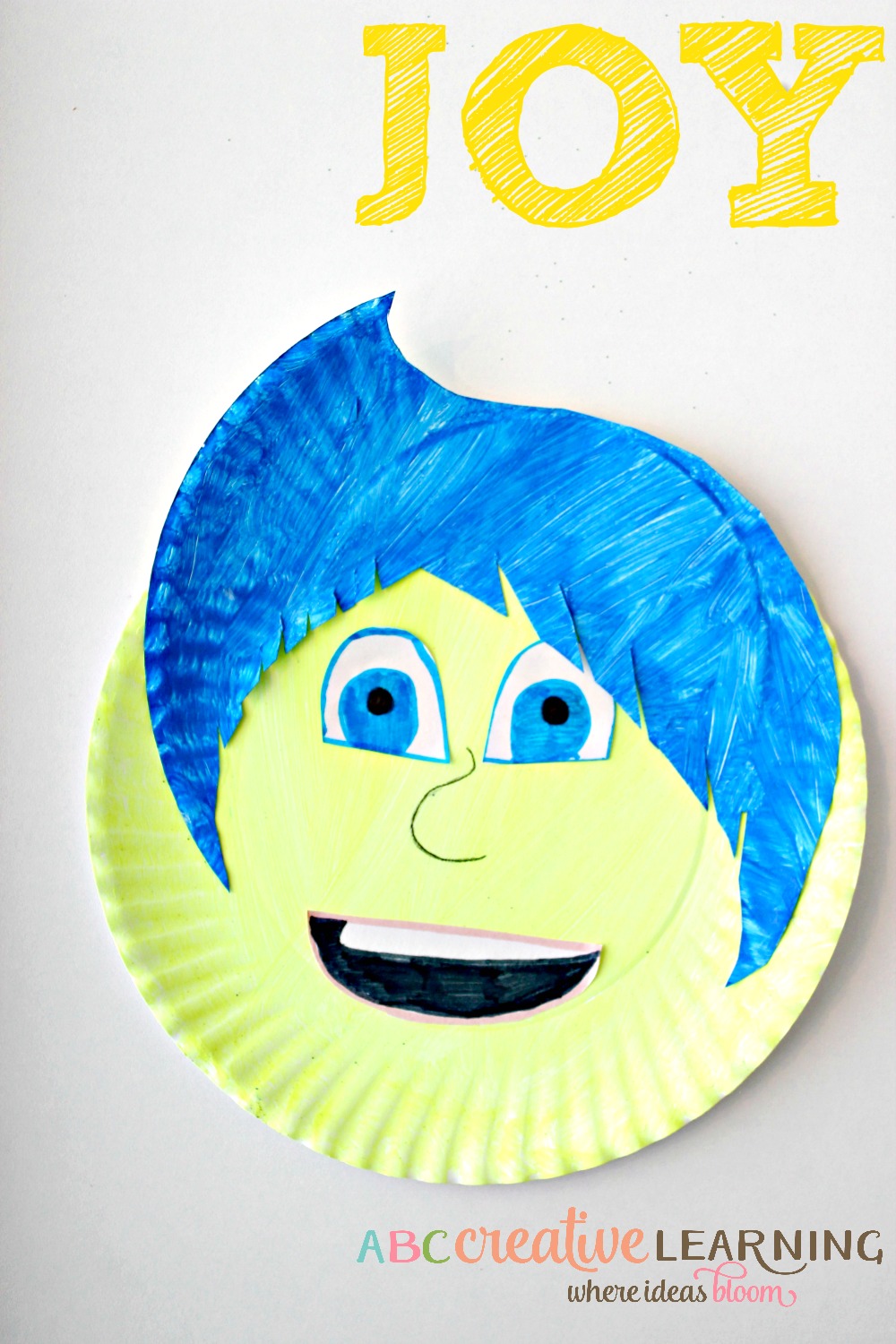 We created Joy using a paper plate for the face and hair. We then used white construction paper and markers to outline her eyes and mouth. She wasn't too bad until we got to her fun blue hair! We used a paper plate cut in half that we trimmed until we got the shape that we wanted.
I would suggest maybe using a large piece of blue construction paper if you want her hair to cover some more of her face.
How To Make Inside Out Inspired Sadness Craft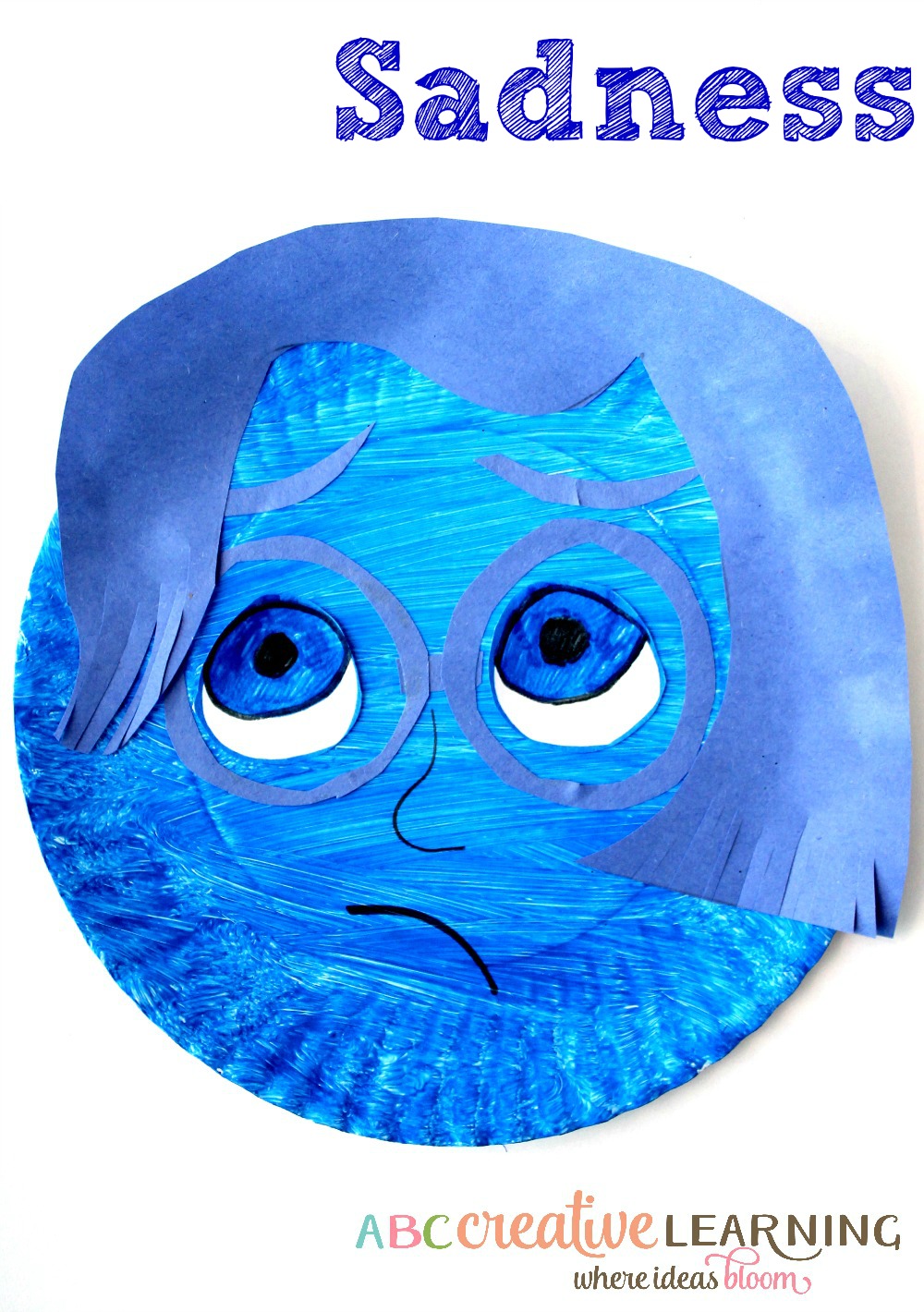 We created Sad using a paper plate which we painted blue. Using construction paper we created her hair, eyes, and glasses. Sad has a lot of details because of her glasses and the portraying her sad face was a bit difficult. We wanted her eyes to look sad just like she did in the movie.
How To Make Inside Out Inspired Anger Craft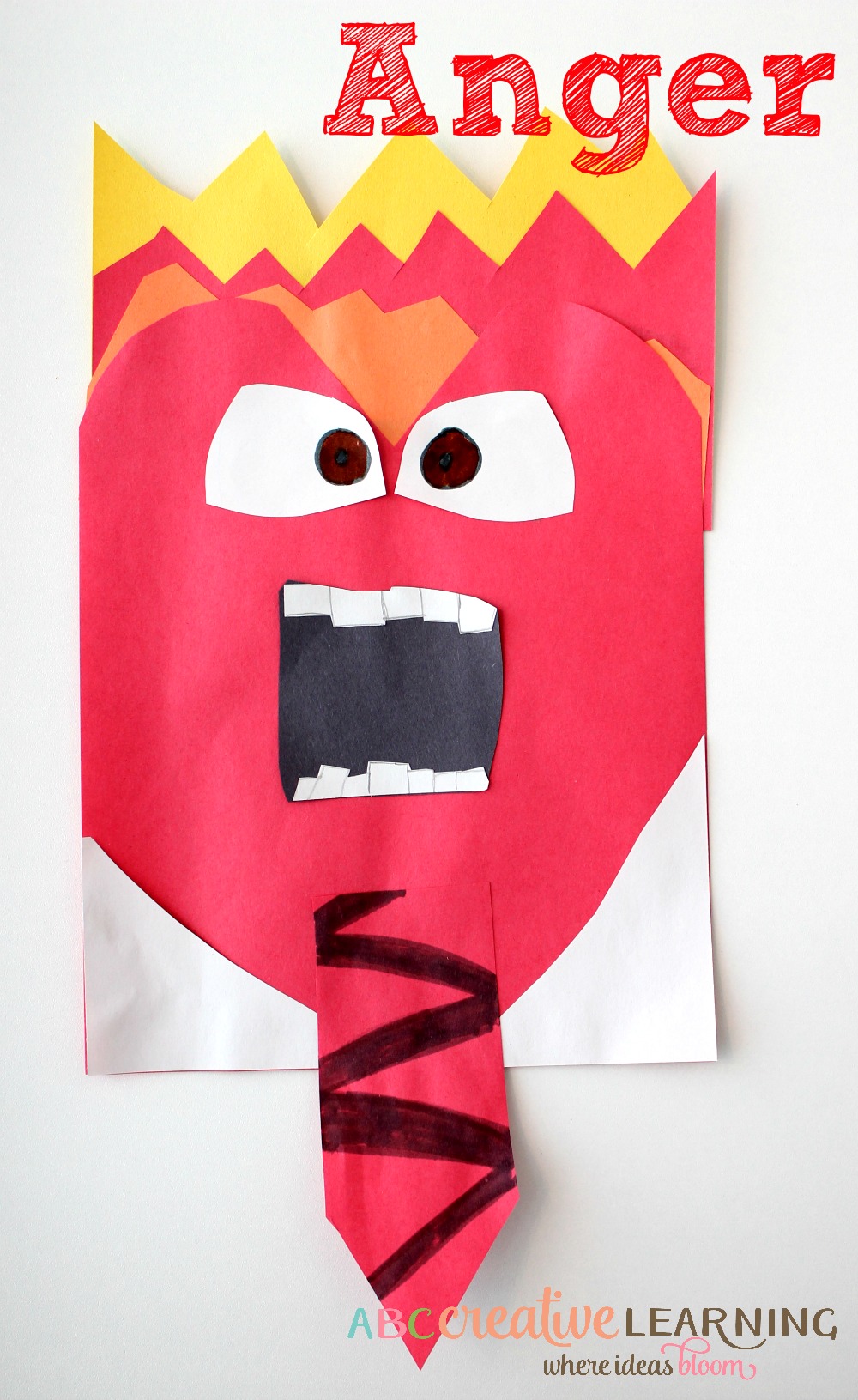 Mad was actually the easiest emotion for us to create! We loved the way he turned out! We created Mad using red, yellow, orange, black, and white contraction paper.
We layered yellow, orange, and red contraction paper to create flames coming out of his head. Using white construction paper we created a collard shirt and a red tie with stripes.
How To Make Inside Out Inspired Fear Craft

I loved the way fear turned out! While we were creating Fear we drew a what we thought his head would look like making lines and connecting them. I then cut out the shape that we came up with and I have to say that I was pretty impressed with the three of us!
We created our Fear inspired craft all out of construction paper. We sued white construction paper for the eyes and used markers to color in his pupils. We also used construction paper for his mouth and eyebrows. For his hair, we used a purple pipe cleaner and taped it from behind.
How To Make Inside Out Inspired Disgust Craft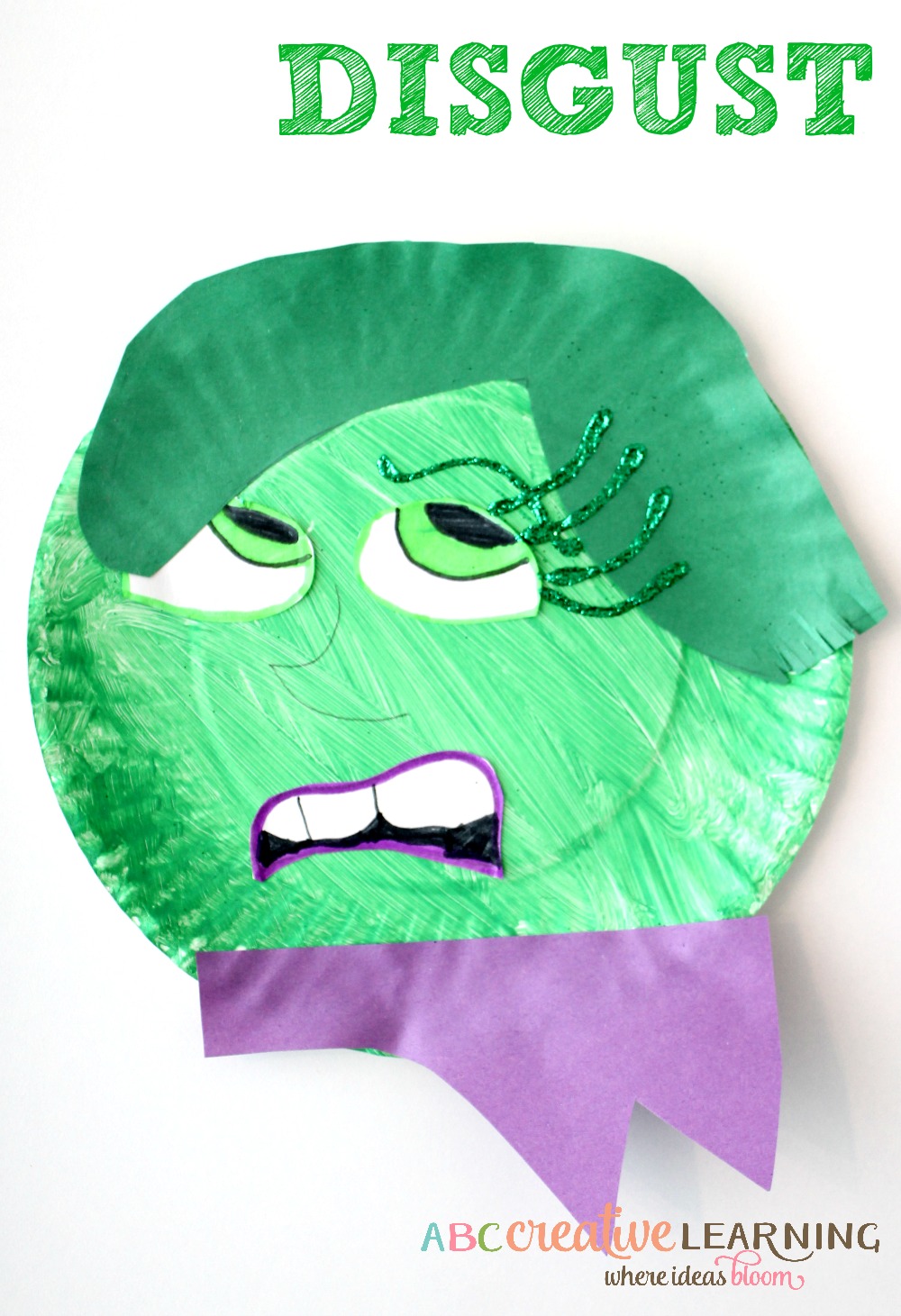 Disgust was so fun to create! My girls wanted every detail of her to be perfect! Especially her glittery green eyelashes and eyebrow. Creating her mouth took us a few tries. At the end, we used white construction paper and used markers to draw her teeth and mouth. We also used white construction paper for her eyes, purple construction paper for her card and free for her hair.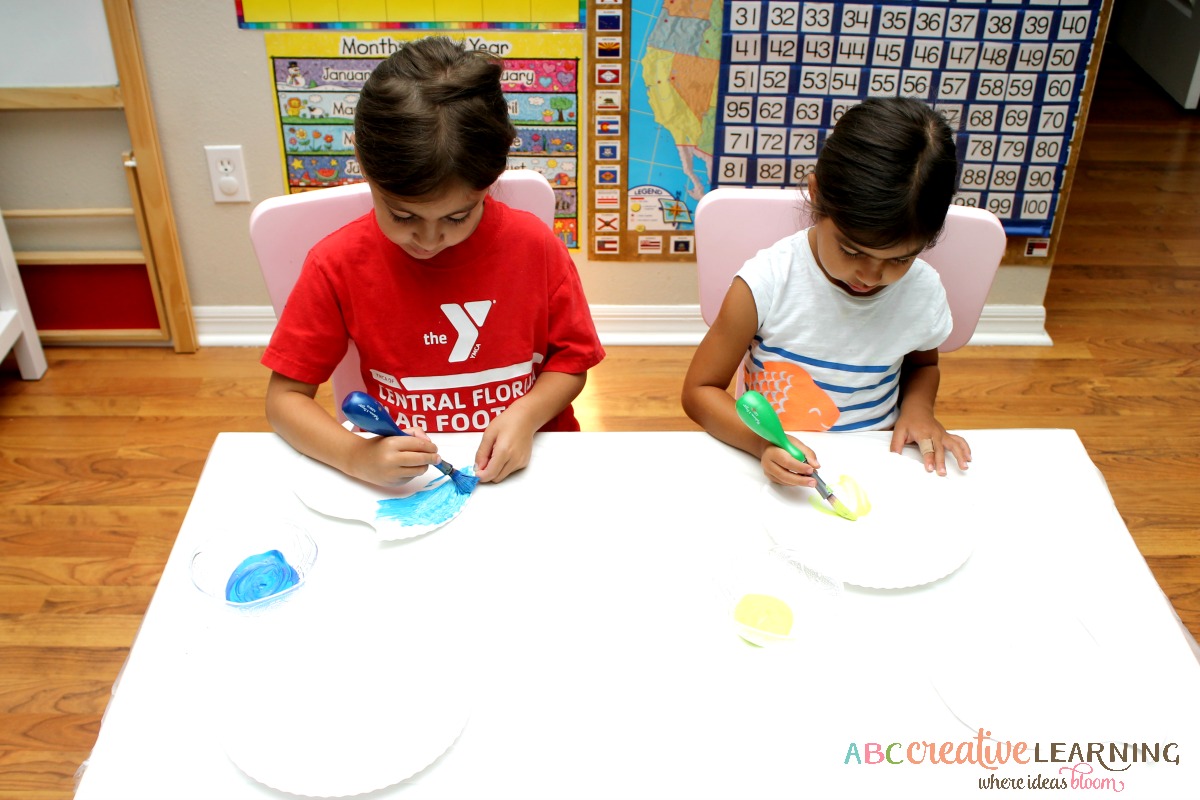 I absolutely loved that we decided to create all five emotions together as a team and I have to say that we probably went through every single emotion as we created our Inside Out Inspired Kids Craft.
Hope you love our Inside Out Inspired Craft as much as we do! My girls just absolutely love playing puppets with them and acting out parts of the movie!
Haven't seen the movie yet? Check out our Disney Pixar Inside Out Movie Review! Make sure to come back at the end of the week for a special Inside Out Inspired DIY!

You Are Also Going To Love:
If you love this Inside Out Movie Inspired Paper Plate Kids Craft, then you will also love the following Disney crafts I have put together for you:
Which emotion character was your child's favorite?