If you follow along here at the blog you all know how much we love Disney in our home and we can't wait to see Disney Pixar's newest movie The Good Dinosaur! Well, last week as we were brainstorming on what holiday crafts we wanted to do we decided that we would make The Good Dinosaur Arlo Paper Plate Craft instead of a holiday craft! I'm so glad that we did too! Check out some more of our favorite Disney movies Paper Plate Crafts.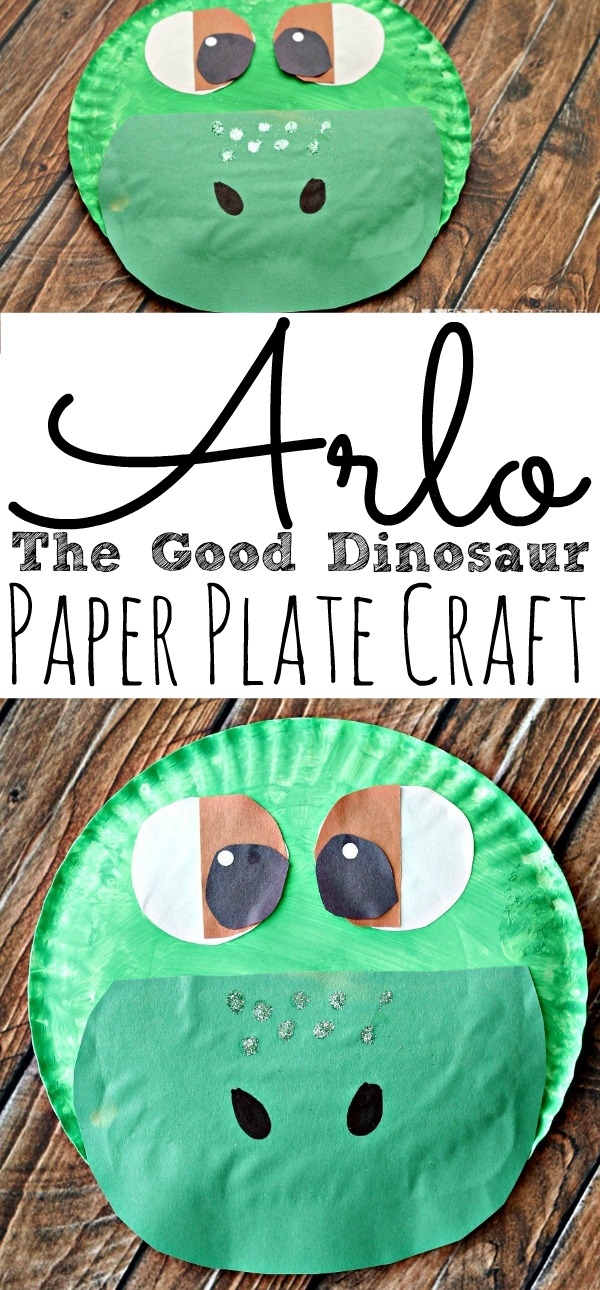 The Good Dinosaur Arlo Paper Plate Craft
My youngest is super excited that she gets to come with me next week to watch an early showing of Disney's The Good Dinosaur, especially because her birthday is on Tuesday! Disney movies are always a great way to create some fun kids crafts to share. Here is our paper plate Arlo craft.
Materials For Arlo
Paper plate
Green paint and brush
Green, brown, black, white construction paper
Black marker
Craft glue
Green glitter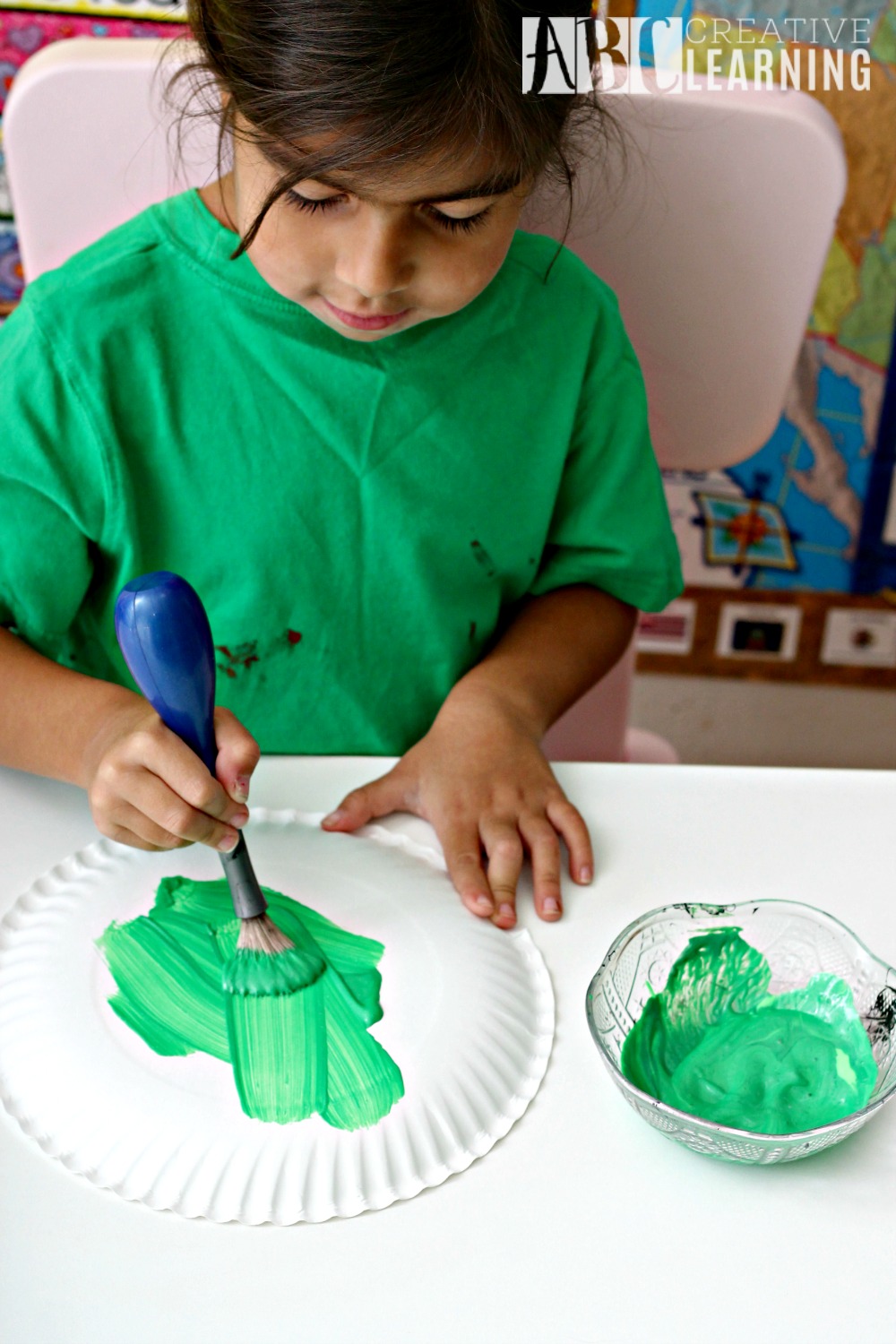 The Good Dinosaur Craft Instructions
My youngest absolutely loves painting, so she had to play with a few different green colors of paint until she found the perfect green for Arlo. She was very specific about it too. Not too light… Not too dark… But with a bit of shimmer in it! Seriously… where did she hear the word shimmer? She is just too funny!
So, sure enough, she mixed a dark green, neon green, and green paint that had glitter in it already to create this really pretty Arlo green, which is what she has named it. Did I mention that she turns only 4 next week?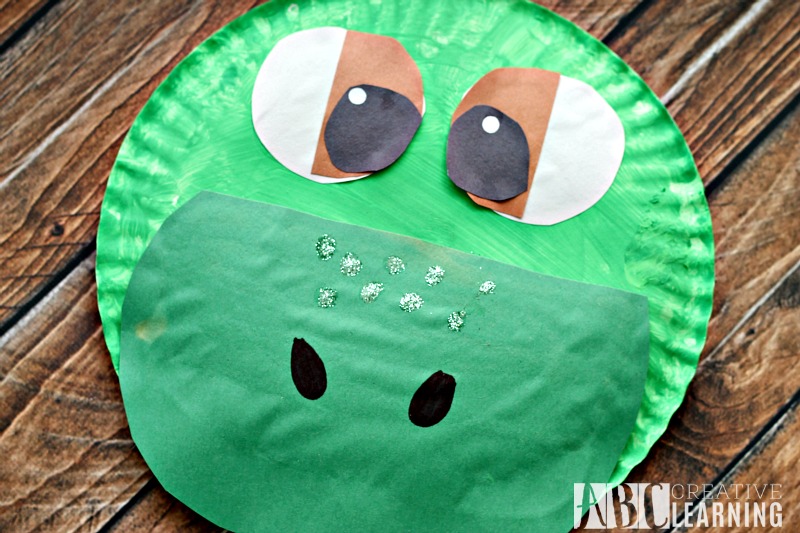 To make Arlo's mouth we cut out a piece of construction paper shaped kinda like a half watermelon and then glued it on the bottom half of the painted paper plate.
Using a black marker we added his nose and my daughter also decided that Arlo has shiny freckles, so we added a few dabs of glitter freckles on his face.
For his eyes, we just cut out 2 white large circles, 1 large brown circle, 2 medium black circles, and using a hole punch we made tiny white circles.
We cut the brown circle in half and glued them on the white circles to create his eyes. Added the black and the tiny whites to make them look more real.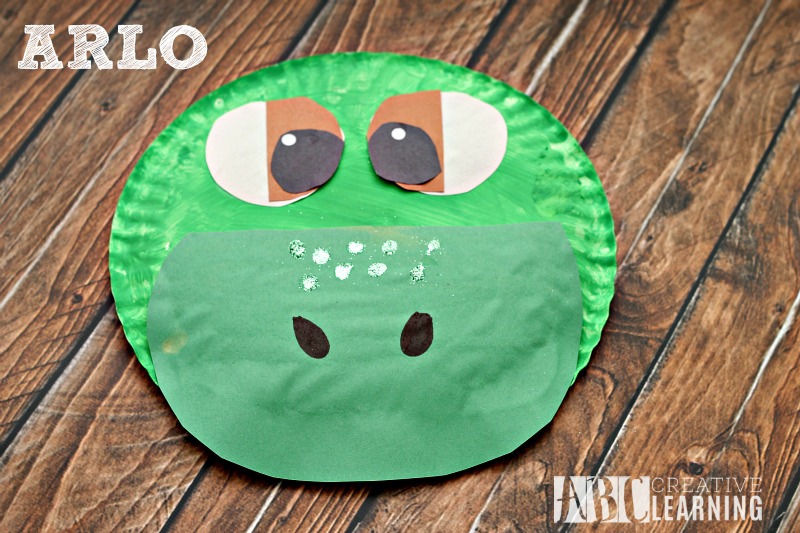 Such an easy but fun craft to make!
You can easily make these into face puppets as well by creating holes for eyes and tying a string around or adding a popsicle stick at the bottom.
Make sure to come back next week and check out our thoughts on the movie! Plus, don't forget to print out some of the fun FREE The Good Dinosaur Activities I have shared here on the blog here and here.
Who will you be going with to watch The Good Dinosaur?