As soon as my girls and I found out about the new Disney Descendants we added it to our calendar to make sure that we didn't miss the movie premiere on July 31st at 8 pm! Since that night I think we have watched it at least 20 times and that might even be a low number! I must admit that I was already planning on a fun craft for the girls to create after they watched the movie. So when we saw Evie and her friends make a love potion I knew my girls would love their own Potion Making with Disney Descendants!
This shop has been compensated by Collective Bias, Inc. and its advertiser. All opinions are mine alone. #Disney #VillainDescendants #CollectiveBias

Potion Making with Disney Descendants
We loved the movie so much that we just had to pick up The Disney Channel Original Movie, Descendants DVD at our local Walmart store along with the amazing soundtrack and of course some of the fashion character dolls. My girls absolutely love all the characters, but their favorites have to be Mal – Maleficent's daughter and Evie – daughter of the Evil Queen. Although, I think Carlos might be right behind! My oldest has decided that she is going to be a girl version of him for Halloween and already has her costume planned.
Walmart has several Disney Descendants character dolls, but my girls insisted on Mal and Evie dressed up for the coronation. They especially loved the beautiful dresses the dolls are wearing, plus they both bring a ring for them to wear! In all honesty, I need to find a way to keep those rings for myself! Too cute!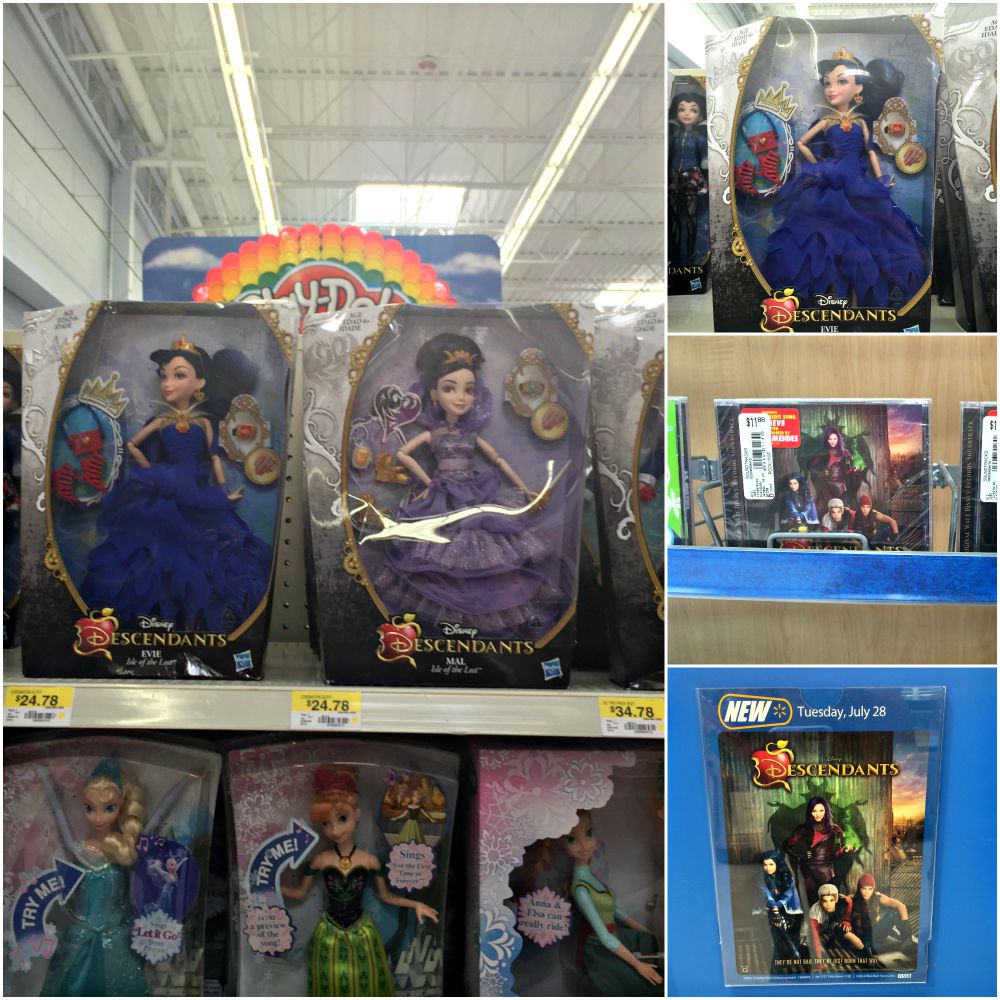 You can find the Disney Descendants dolls in the toy area at your local Walmart. Make sure that if you are wanting a specific doll you go as soon as possible! These dolls are selling like hot cakes and are becoming limited in many stores! To find the movie and soundtrack head on over to the in the electronics and movie department. Make sure to look towards the front where the new movies are kept.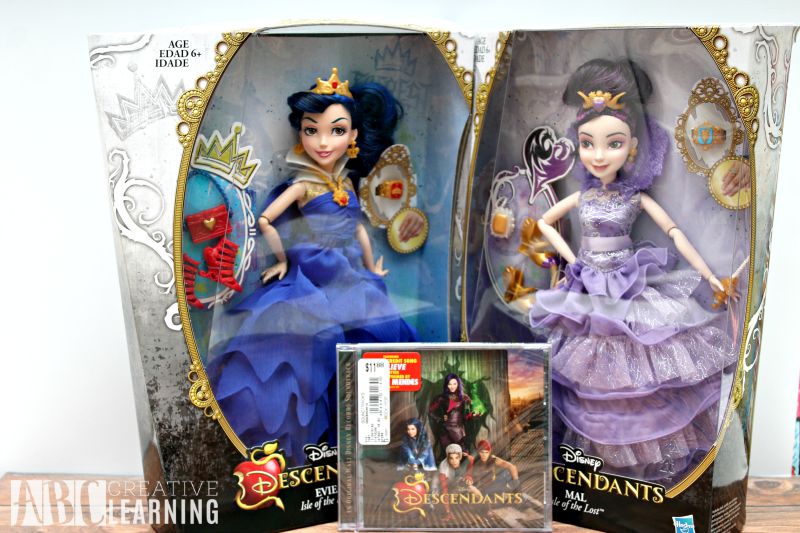 With such a fun movie, filled with dancing and electrifying music we just had to create a fun craft that would go perfectly with the move and our new Disney Descendants dolls as well.
Ingredients needed for your Potion Making – also known as DIY Disney Descendants Flubber craft for kids!
3/4 cups of cold water
1 cup of Elmer's glue (the white kind)
Food coloring to match the Descendants characters
1/2 cup of hot water
1 teaspoon of borax
2 bowls
spoon or hands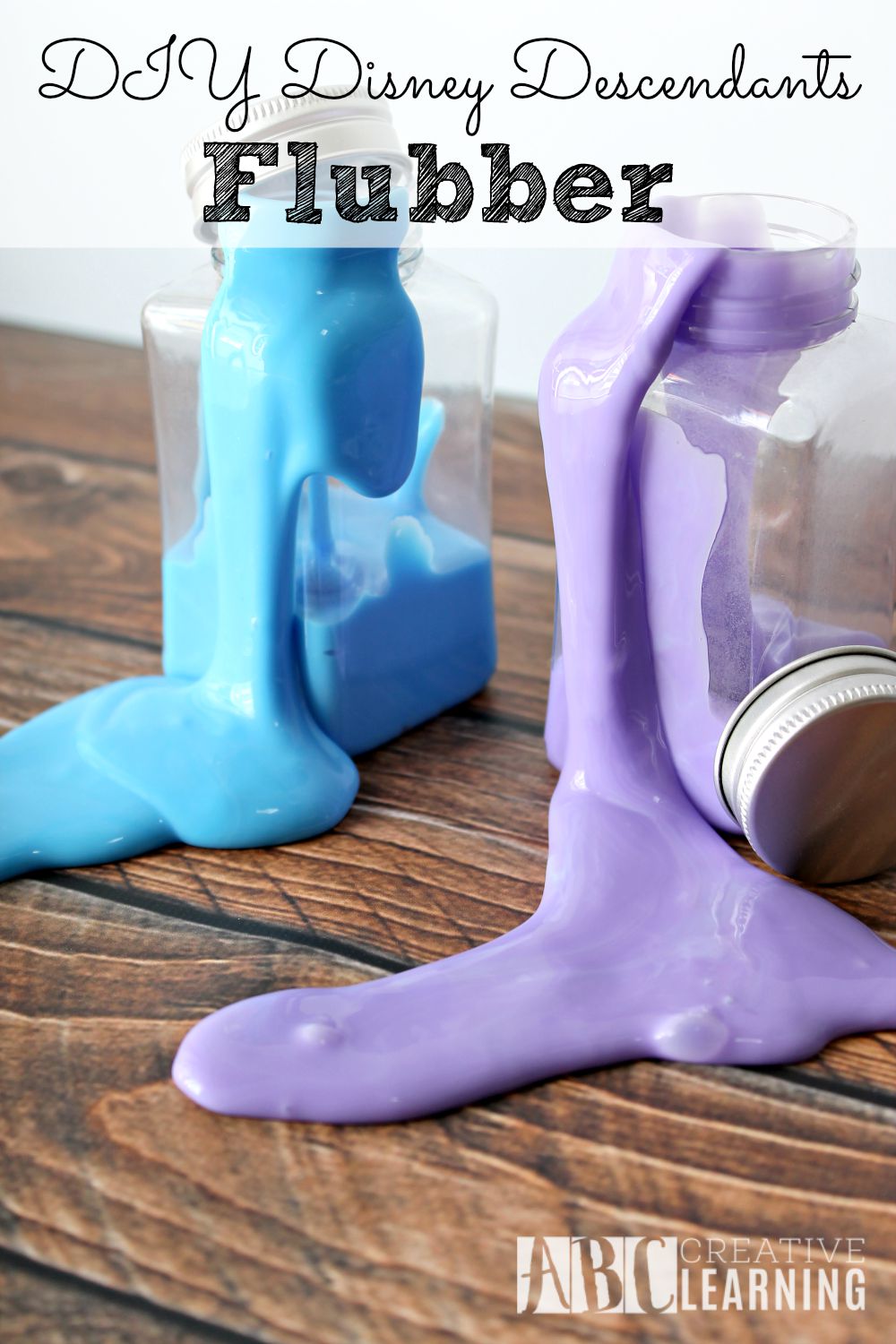 Creating your Disney Descendants Flubber
Step One: In your first bowl go ahead and mix together your cold water, Elmer's glue, and the food coloring. Let it sit while you do step two.
Step Two: Heat up your 1/2 cup of water in the microwave for about a minute. You want it hot not boiling. Go ahead and pour the hot water into your second bowl, along with your 1 teaspoon of borax. Let it sit until the borax is completely dissolved in the water.
Step Three: You are going to now slowly pour your glue dyed mixture into the bowl that has the borax. Using a spoon or hand go ahead and mix everything together. I personally prefer using my hands because I can feel when the mixture is done.
You want it slimy and a bit sticky. Only leave it in for about 30-40 seconds, but no more. It will make your Flubber mixture too hard and not stretchy.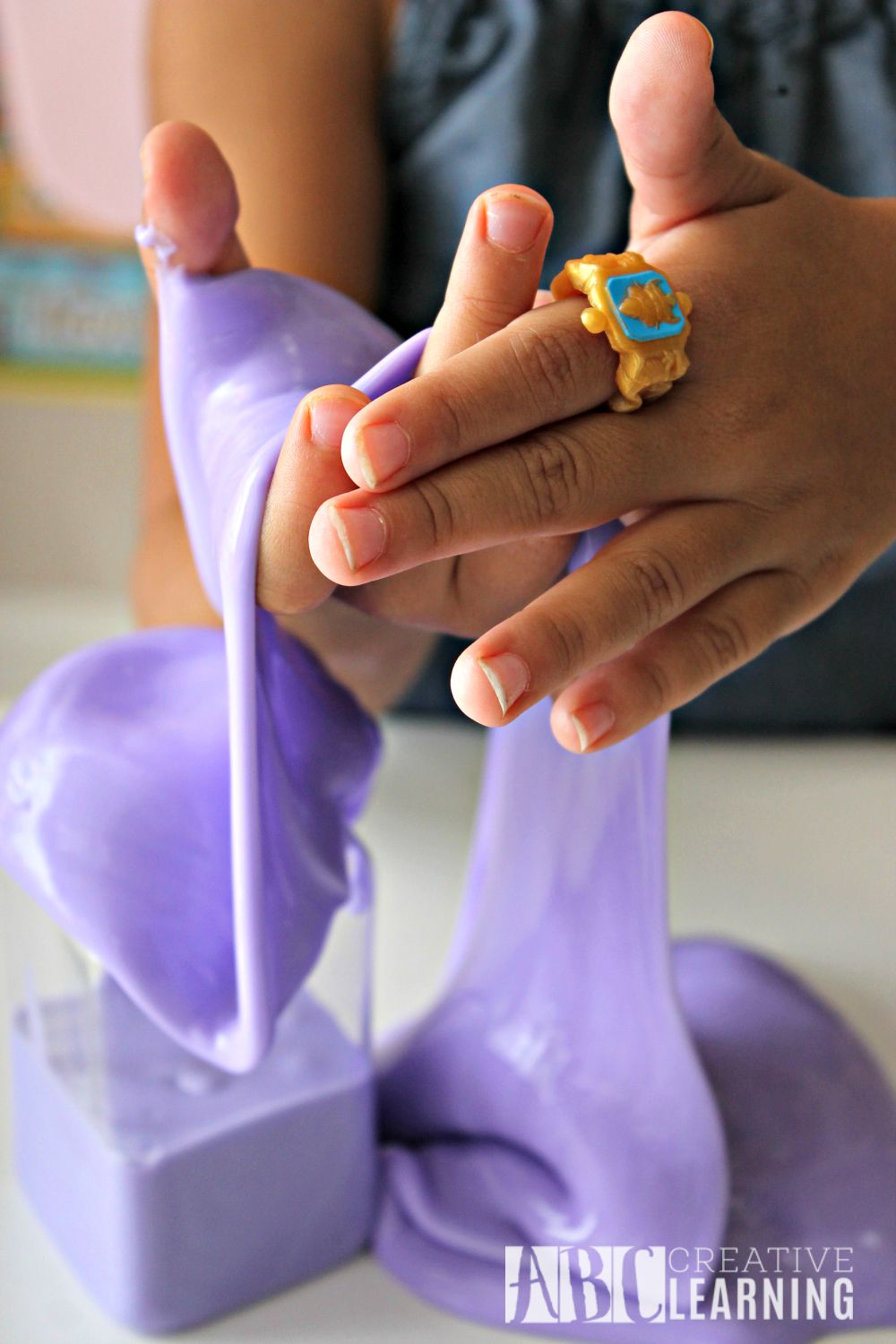 My girls have had so much fun watching, dancing, and singing along with the movie Descendants that at this point they have pretty much memorized all the songs! The music is so up beat and modern that I wouldn't be surprised if I hear it at this year's dance recitals! It really is that good! I mean come on – when you have amazing producers like Kenny Ortega you really can't expect any less!
Here's a little sample!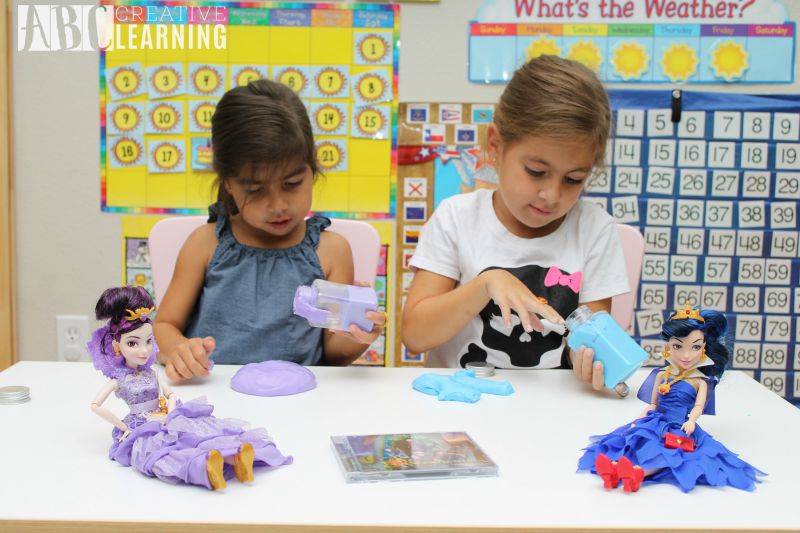 If you and your children love a fun Disney movie, then this is it! Now, if you have teenage children who normally would not sit and watch a movie with mom and dad because they are too cool, then put this movie on and watch your kiddos gravitate to the television! It really is a fun family movie! Who doesn't like watching villains do their thing? You never know what would happen in the end!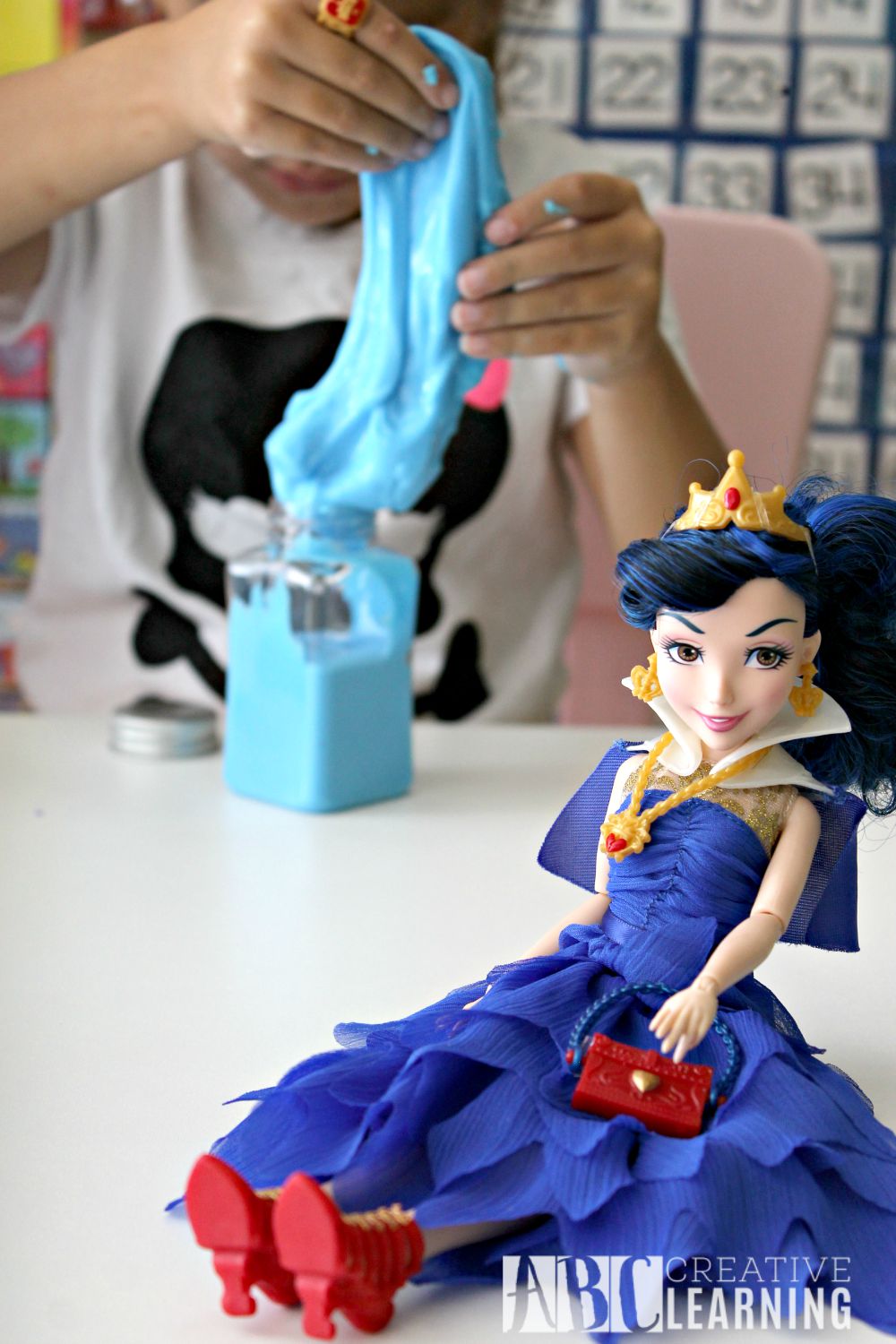 Have you watched Disney's Descendants? Who is your favorite character and why?

SaveSave
SaveSave
SaveSave