When you get the chance to sit down with such a latina powerhouse like Zoe Saldana, you can't but just get excited. During our Exclusive Interview with Zoe Saldana On Guardians of the Galaxy Vol 2, we talked to her about woman empowerment, being turned green, and doing her stunts.
I was invited by Disney to attend the Guardians of the Galaxy Vol 2 press event in LA. The trip included an Exclusive Interview with Gamora herself, Zoe Saldana. All galactic opinions are my own.
Exclusive Interview with Zoe Saldana On Guardians of the Galaxy Vol 2 #GotGVol2Event
As soon as Zoe Saldana entered the room, you instantly get her. She brought in such a positive energy into the room, that you couldn't but get excited along with her. Zoe got real with us quick, and I loved that about her! She was confident and loved being in a room filled with the woman who was ready to talk Gamora with her.
In the new Guardians of the Galaxy Vol 2, we get to see more of Gamora's relationship with her sister. Being able to bring those feelings on the big screen can't be easy, especially with Gamora's and Nebula's past.
Zoe shared with us that there are three female characters in the movie that provide essential storylines to the movie. She characterized Nebula as angry, Gamora as maternal, and Mantis at the innocent one. With three powerful entities in female roles, things will get interesting fast in the movie.
Zoe also shared with us that she is nothing like Gamora, her sister on the other hand is. She's the one who kept them focused and on task while growing up. Gamora's character has changed a bit in Vol 2. In Vol 1 she was too busy wanting to run away, and in Vol 2 she is more of the maternal figure, trying to keep the family together, Zoe explained.
Growing up when it came to action characters on television, it was mostly males. Zoe shared with us how she endlessly watched movies like Alien and Terminator because it showed strong female characters. Now, she is the one on the big screen playing strong female characters.
Although she has loved these past ten years playing kick ass science fiction females, she said that once her fulfillments are complete, she will be taking a break.
Maybe it is important that I'm a part of those women that are filling in that gap, so that women can have more options, more references to look into.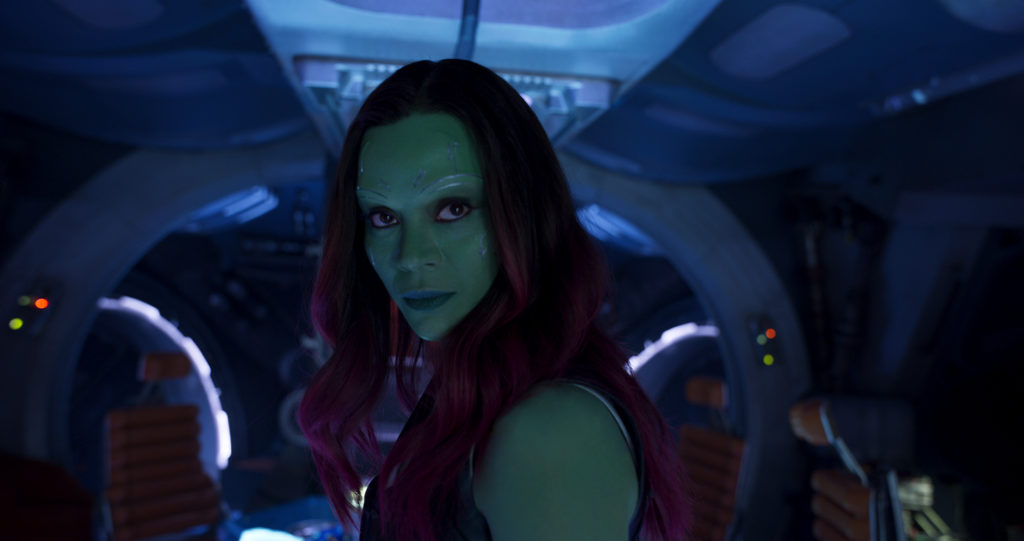 When it comes to young girls looking up to Zoe or Gamora, she feels that being vulnerable and strong is okay.
I think that vulnerability is strength, and being strong that means that you have to be vulnerable.
She would also like to see a storyline come about with Gamora and Nebula. Zoe is very close to her own sisters and no questions asked would drop everything if they were to call.
When it came to doing stunts she said she did the PG 13 versions of them. The more intense shots were done by her stunt double Leanne. Although Zoe is not to back away from any stunts, she needs to take safety precautions first. The movie needs to get finished. There is a great scene she did the stunt for on her Instagram page that you have to check out!
All the parts where I'm posing, and taking out my sword and stuff, that's me. But I did do a lot of those jumps. And I would do a lot of the stunts that she would do, but like the PG-13 version.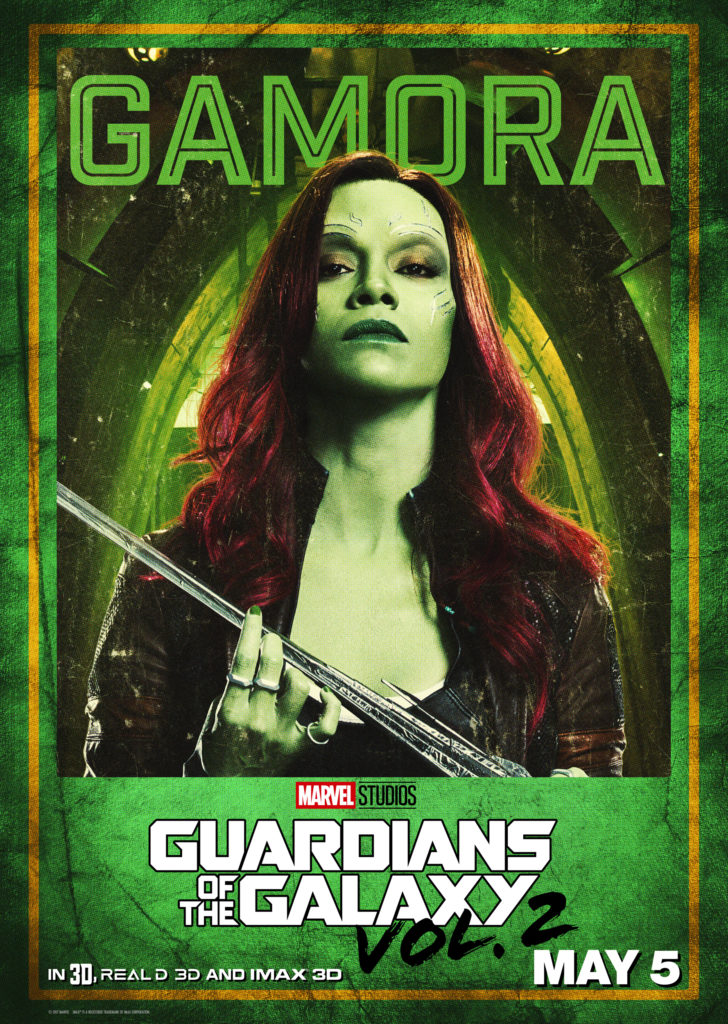 When it came to the makeup aspect of her character Gamora, she was in makeup for about 3 1/2 to 4 hours. She was on set at 2:30 in the morning to get transformed into the Galactic character. To pass the time she talked on the phone, listened to music, faced time family or friends, or just talk with whoever would listen..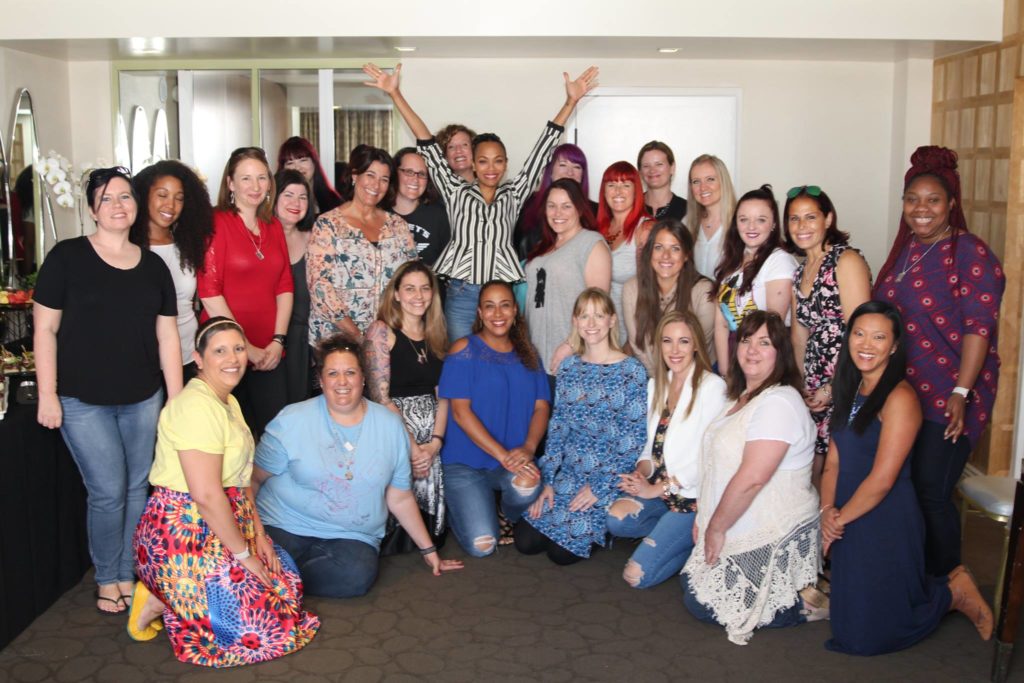 I will admit that I was a bit star struck with Zoe Saldana and didn't get up the courage to ask any of my questions. She spoke about paving the way for other young girls, but in my home, she has been a dominant Latina female, who has been an inspiration to women like me and young girls like my own.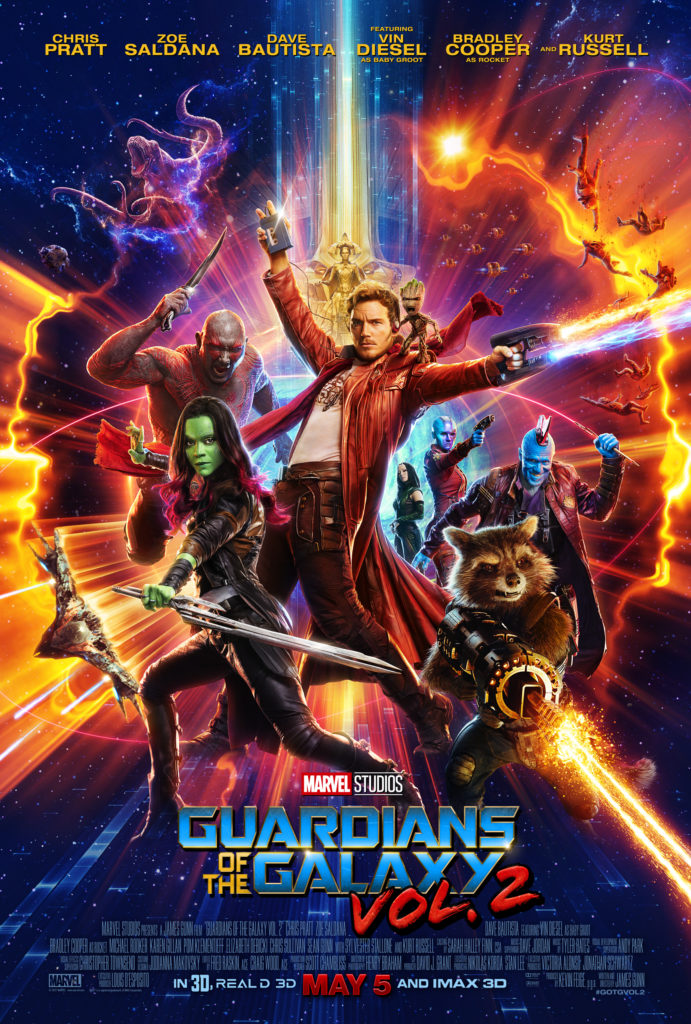 About Guardians of the Galaxy Vol. 2:
Set to the all-new sonic backdrop of Awesome Mixtape #2, Marvel Studios' "Guardians of the Galaxy Vol. 2" continues the team's adventures as they traverse the outer reaches of the cosmos. The Guardians must fight to keep their newfound family together as they unravel the mystery of Peter Quill's true parentage. Old foes become new allies and fan-favorite characters from the classic comics will come to our heroes' aid as the Marvel Cinematic Universe continues to expand. "Guardians of the Galaxy Vol. 2" blasts into theaters on May 5, 2017.
Like GUARDIANS OF THE GALAXY VOL. 2 on Facebook: https://www.facebook.com/guardiansofthegalaxy/
Follow GUARDIANS OF THE GALAXY VOL. 2 on Twitter:
https://twitter.com/Guardians
Follow GUARDIANS OF THE GALAXY VOL. 2 on Instagram:
https://www.instagram.com/guardiansofthegalaxy/
GUARDIANS OF THE GALAXY VOL. 2 is in theaters May 5th!
Your Are Also Going To Love:
If you loved reading this Exclusive Interview with Zoe Saldana and Guardians of the Galaxy Vol 2 then you will also love the following articles I have put together for you:
Have you bought your tickets for Guardians of the Galaxy Vol 2 this Friday?

SaveSave
SaveSave