When I found out that I would be in the same room as the Star-Lord himself, Chris Pratt I about lost it. Yes, you mostly hear about how good looking he is and about his body, but personally, I think he is hilarious. Yes, I'm not saying he isn't hot ladies because he REALLY is, but I believe that his personality really makes him this attractive and it comes off on the big screen! Want to know more? Then check out this Exclusive Interview with Chris Pratt On Guardians of the Galaxy Vol 2.
Thank you, Disney, for invited me to LA for the #GotGVol2Event. All Galactic opinions are my own.
Exclusive Interview with Chris Pratt On Guardians of the Galaxy Vol 2 #GotGVol2Event
If you have read my Guardians of the Galaxy Vol 2 World Premiere Experience, then you know that I have touched Chris Pratt! Yes, I have washed my hands, and yes I blushed! But, we're not here to talk about me high fiving Chris Pratt. Instead, I'm sharing how Chris Pratt found out about the Vol 2 storyline, how much he loves Kurt Russell, how he balances work and family, and how down to earth he is.
One of the things about Guardians of the Galaxy Vol 2 is the fact that it does touch on a very sensitive topic. A subject that many can relate to and it will draw in the audience to feel a part of it. I don't want to give away any spoilers, but Chris Pratt cried when he heard it, and we cried when we watched it.
It was so great when James told me that he had the whole script when we sat down a couple years ago. Maybe just a few weeks or a month after the first movie came out, he invited me to his house and told me the whole movie. I was the first person to hear it. And, I'm crying at the end.
We also tried to get him to tell us anything about Guardians of the Galaxy Vol 3. He doesn't know much of anything yet, but I bet if anyone is going to get it out of him, it would be the 25 of us!
We get star struck when we have the opportunity to meet or even just be in the same room of someone we admire. The same thing happens to the stars. They are regular people just like you and me. I can't even imagine working with someone who I have watched on television and have followed their career blossom, but that's exactly what happened to Chris Pratt.
He's a really cool guy. He's an open book. You definitely know where you stand with him. He tells it like it is. And, I really like that. And, obviously he's this iconic dude who I've known about for decades before he ever knew I existed. There's always that strange moment when you meet someone and you're a big fan. You feel like you have to tell him, because otherwise you try to build a friendship and it's a little inauthentic. You just say, "Listen, I have to get this part out of the way, but I love you so much. Oh, you're the best! You've always been the best!" And he says, "Yeah, I know. Thanks." And, all right, let's get to it!
If you follow Chris Pratt on Instagram, then you know that he has a segment that he does "What's My Snack." We wanted to know what Peter Quill's favorite snack is. Here where one of the Easter eggs comes into play. You will see it right on Peter's shirt in a few of the scenes.
Peter Quill's shirt in the movie, that's his favorite snack, because that's actually a label from, this little Easter egg, from the first movie, there was some candy on the table and I think I'm eating some of the candy. I don't know if that ever made it in the movie, but James really loved the label, the art department had gone the lengths of creating this language and created a label for some candy.
Actors, in general, are in the spotlight a lot, which means that they keep up with their fitness routines to make sure they are always looking good. But, Chris Pratt is on another level. Not only did he look amazing on Guardians of the Galaxy Vol 1, but even better in Vol 2. We wanted to know how he does it. His answer was so down to earth and real. I expected him just to tell us he works out all the time and he spends hours at the gym, but instead, he kept it real with us.
Well, if I'm gonna be fully authentic, I'm pretty careful about when I reveal myself to the public. So, I do it in a way to make you think that I've kept it off the entire time, but I haven't.

Seriously, I keep close to what I need to be, but I have to live my life as well. So, when I do a shirtless scene, or I do a magazine cover, or a photoshoot that I know is going to get a lot of press, I then dial it in so that I can take a good picture. So, all my eating habits and diet fitness habits are, it's very shallow of me, but they're very much based around how I'm going to put myself out there. So, don't be hard on yourself if you can't lose weight and can't keep it off. That's really natural. The best way to think about it is not to have like a weight goal.
Chris Pratt is a family man, and he is married to one of my most favorite actresses, Ana Farris. Like him, she looks so authentic and down to earth. At least that's what I saw during the world premiere, as she was sitting about six rows behind us. They do compliment each other, and you can see the love they have. Seriously, just check out some of the world premiere pictures of them together, and you can see how proud she is of him. Plus, he said that he was excited to answer this question because it's usually Ana Farris who gets them and not him.
It's really a lot of communication. We have help. You manage it by just making sure everyone is doing what they need to be doing. You check in with everyone. And I have a staff of people who work for me. I just focus on what I can do. But I think you don't have to be present to be a presence, and with technology now, Facetime, it's little tricks, little things like that. Checking in every day and nurturing your relationship with your spouse, and not making it just about the kids is important.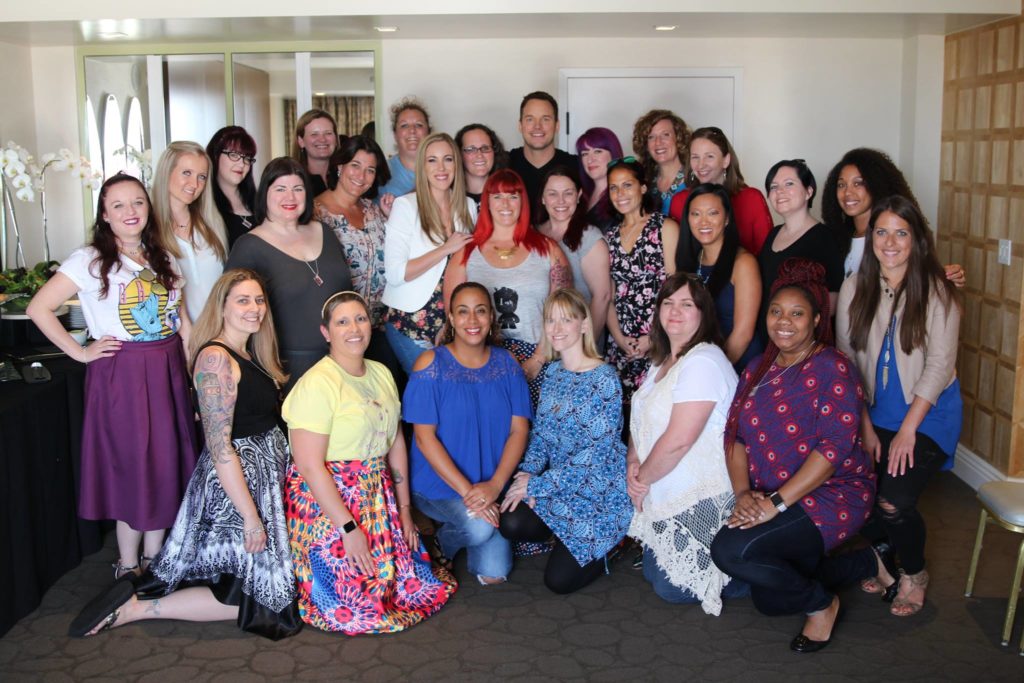 Now, if you don't love Chris Pratt even more now, then we've got a problem. So, make sure to catch the Star-Lord himself on the big screen next Friday, May 5th for Guardians of the Galaxy Vol 2!!!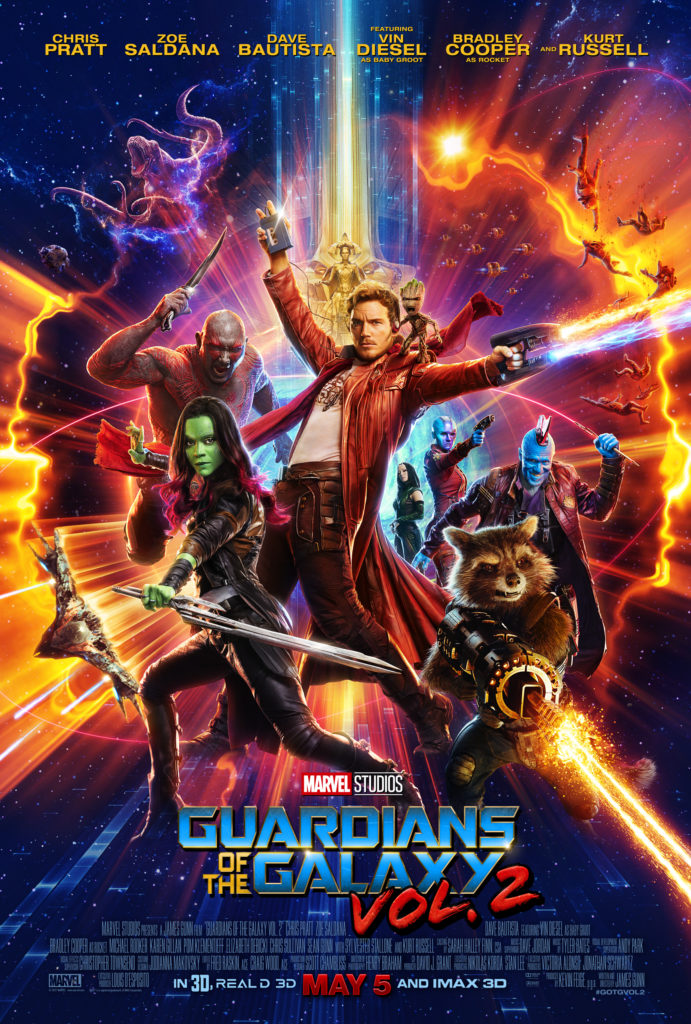 About Guardians of the Galaxy Vol 2:
Set to the all-new sonic backdrop of Awesome Mixtape #2, Marvel Studios' "Guardians of the Galaxy Vol. 2" continues the team's adventures as they traverse the outer reaches of the cosmos. The Guardians must fight to keep their newfound family together as they unravel the mystery of Peter Quill's true parentage. Old foes become new allies and fan-favorite characters from the classic comics will come to our heroes' aid as the Marvel Cinematic Universe continues to expand. "Guardians of the Galaxy Vol. 2" blasts into theaters on May 5, 2017.

Like GUARDIANS OF THE GALAXY VOL. 2 on Facebook:
https://www.facebook.com/guardiansofthegalaxy/
Follow GUARDIANS OF THE GALAXY VOL. 2 on Twitter:
https://twitter.com/Guardians
Follow GUARDIANS OF THE GALAXY VOL. 2 on Instagram:
https://www.instagram.com/guardiansofthegalaxy/
Go See GUARDIANS OF THE GALAXY VOL. 2 is in theaters May 5th!
Your Are Also Going To Love:
If you loved reading about our Chris Pratt exclusive interview for Guardians of the Galaxy Vol 2, then you will also love the following articles I have put together for you. Plus, stay tune for more interviews with the cast the upcoming weeks!
Do you love Chris Pratt as much as I do?

SaveSave
SaveSave