If you've ever been to a grocery store with kids, you know that shopping with kids can be tough. I hope these 10 Tips For Shopping With Kids will help every parent who has ever felt frantic while they struggle with the grocery list and active kids.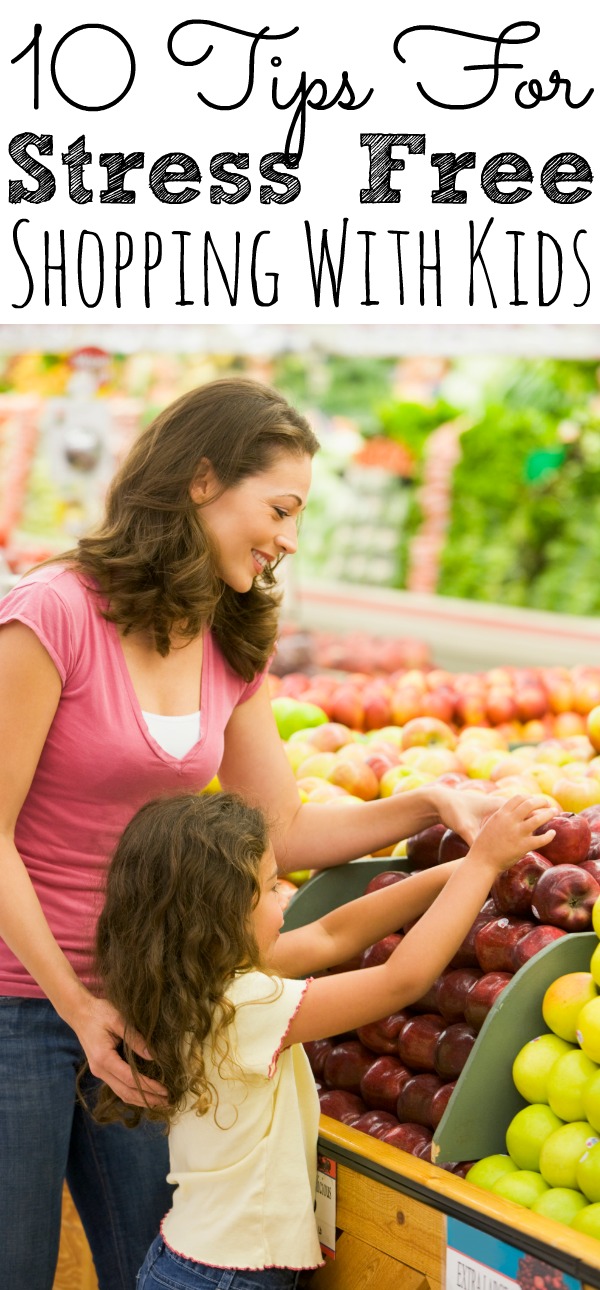 Tips For Shopping With Kids
I don't know about you, but if I can avoid heading to the grocery store with my girls do. It's way too much trouble than it is worth in my opinion, but when I use some of these tricks during our shopping time, things go so much smoother! I hope these tips will make your next shopping trip much easier with kids in tow!
This post contains affiliate links.
Give Them A List
Get the kids involved by dividing your grocery list up and giving them a list of items to find and put into the cart. This works best for older kids but can work for your younger kids also if they know exactly what to look for. Just make sure they stay close by and no leaving the aisle you are shopping on.
Feed Them (and you) Before You Arrive
Hungry kids (and adults) in a grocery store can lead to tons of frustration. Make sure to give your kids a snack before or on the way to the grocery store. This will keep the requests to a minimum.
You can even allow your kids to choose one healthy snack once they get to the store so they can munch on while you shop. This always works with my girls, especially when they were younger and sat in the grocery cart.
Bring Something To Distract Them With
For younger kids, a small toy is a great solution. Older kids might play a game on your phone or a tablet. Giving your kids something to distract them while you shop will keep them happy and occupied instead of asking when you can leave the store. This is one of those instances that I say bring on the electronics! Some grocery stores have large carts where kids can sit and play their games while you shop.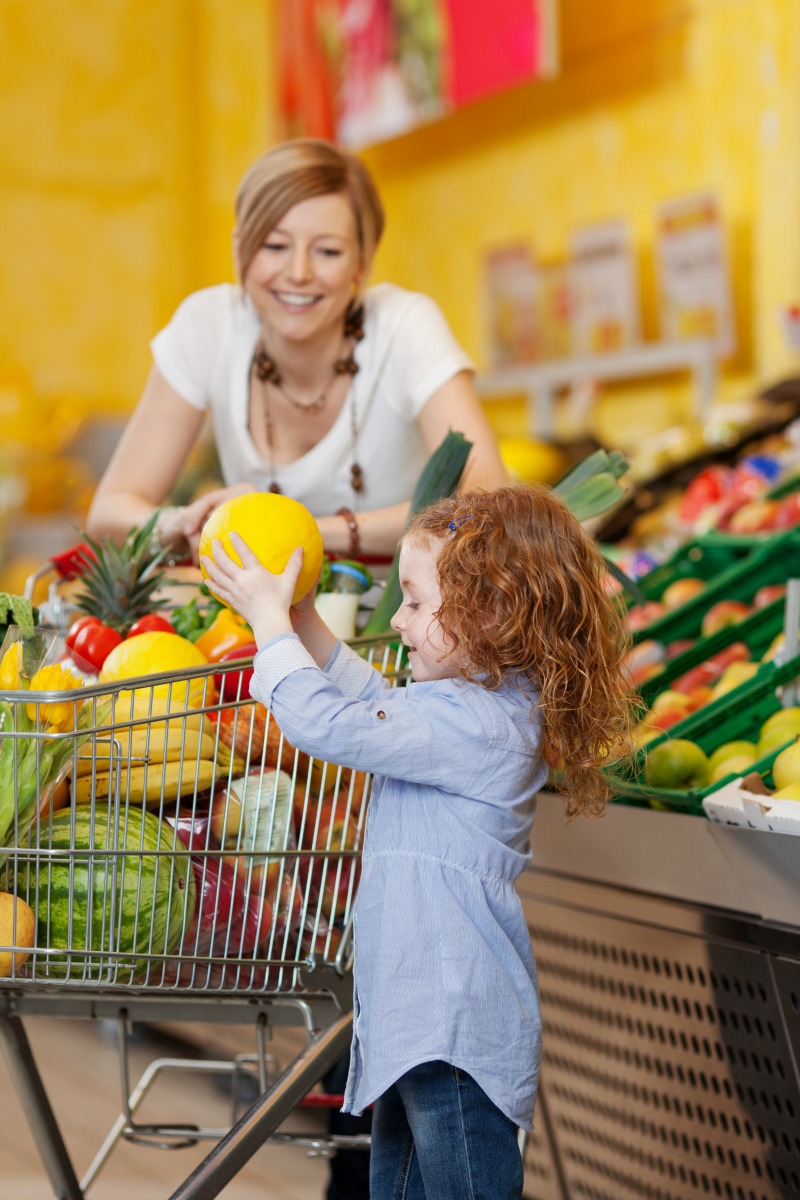 Make A List and Stick To It
It helps immensely if you have a solid list in hand before you enter the store and you stick to that list. This makes it easy to navigate the store quickly without wandering around without a clear direction of what you need. I like to create my list by aisle or product, so I know that I'm marking things as I go. The last thing you need with kids in tow is going back for items you have missed.
Go After Nap Time
Never try to shop right before your kid's nap time when they will be fussy and cranky. The best time to go is right after they have taken a nap and are alert, happy and in good spirits. Especially if you have younger kids on a schedule. Believe me, this is not the time you want to rush through the store because your little one is exhausted and ready for nap time.
Shop When The Store Isn't As Busy
A busy or crowded store can be not only louder but mean more people try to talk to your children. This can be overwhelming to them and can create problems. Shop during slower hours of the day so the store isn't as busy. When we homeschooled we try to go grocery shopping mid-week, we find that families tend to shop early and late in the week.
Don't Try To Shop All In One Day
The idea of a marathon shopping spree is just not good when you are shopping with kids. Instead, plan breaks between stores, or go shopping over a few days so your kids aren't exhausted from going to store after store. Creating a meal plan ahead of time will help with this a lot.
My tip is to shop for a few days at a time. Although you will be visiting the grocery store more times during the week, you will be in and out in just a few minutes! This has helped tons with us.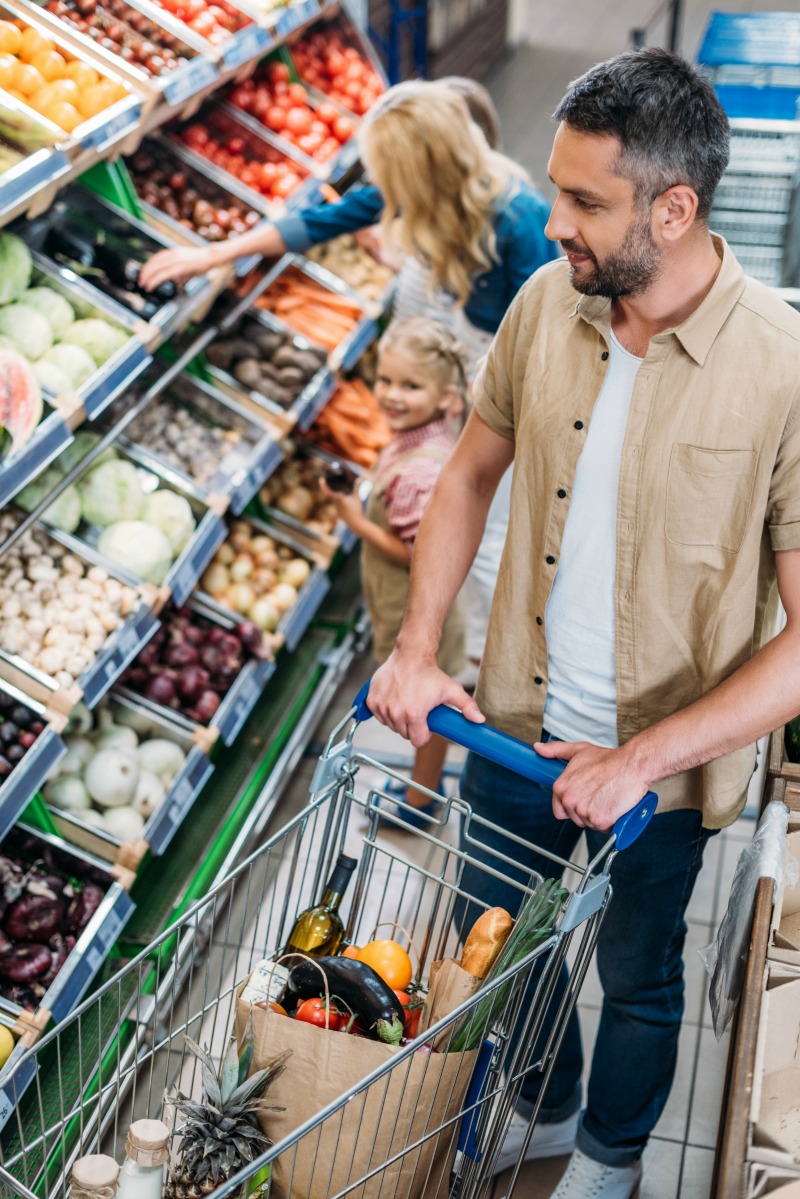 Bring Along A Helper
If you have several kids to take with you, a teenage helper, older sibling, or spouse can be a lifesaver. They can not only distract the kids, but they can also help you get through your list faster. Divide the list in half and together you will be out of the store in no time.
Make It A Game
Whether you talk in silly voices on certain aisles, make them be quiet on odd aisles and whisper on even aisles or make a game of them helping you find specific items on the list having fun is important. I Spy is another excellent grocery store game to play with your kids that help keep them occupied while you accomplish what you need on your list.
If you search Pinterest you will find some amazing grocery store free printables to take with you. My girls used to love these and a lot of them include items that you need to purchase anyway! So it's a win-win!
Reward Them For Good Behavior
A little reward at the end of a shopping trip is a great encouragement for good behavior in the future. Just make sure that your reward only comes after good behavior so they know it's not going to happen unless they behave. I know that Publix gives the kiddos a free cookie and with Target having such a great dollar section, it's perfect for rewards.

These are just some of the great tips I use during some of our shopping trips! One thing to remember is to plan ahead. When you plan ahead you won't be caught thinking of what you need next or forgetting an ingredient you might have needed for dinner. Shopping with kids isn't easy, but it most definitely can be done!
What's your best tip to keep kids occupied in the grocery store?
You Are Also Going To Love:
If you enjoyed these 10 Tips For Shopping With Kids, then you will also enjoy the following parenting articles I have put together for you: