As a parent, teaching our kids manners is important not only for how they interact at home but how they interact with everyone around them. This can become a bit of a stressful parenting task, especially when kids just want to live life at the moment. Following these manners every child should know are a way of life, it will take them far through adulthood.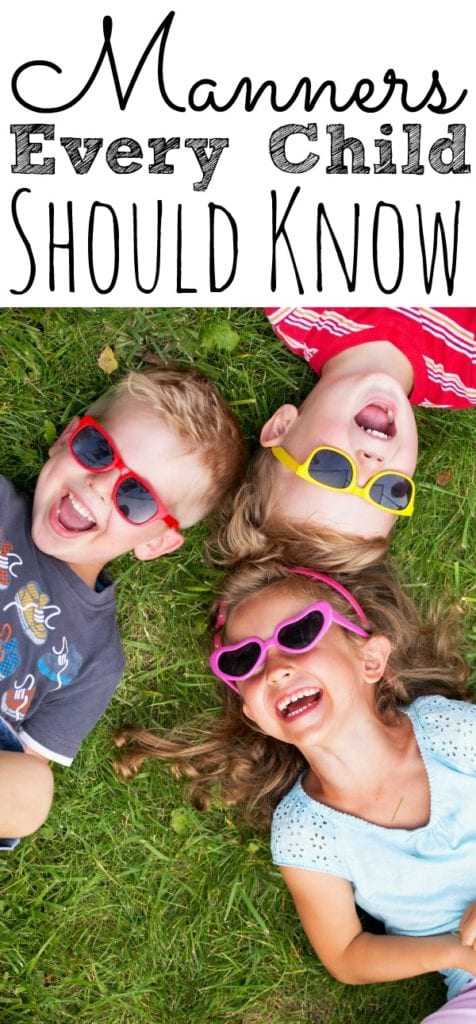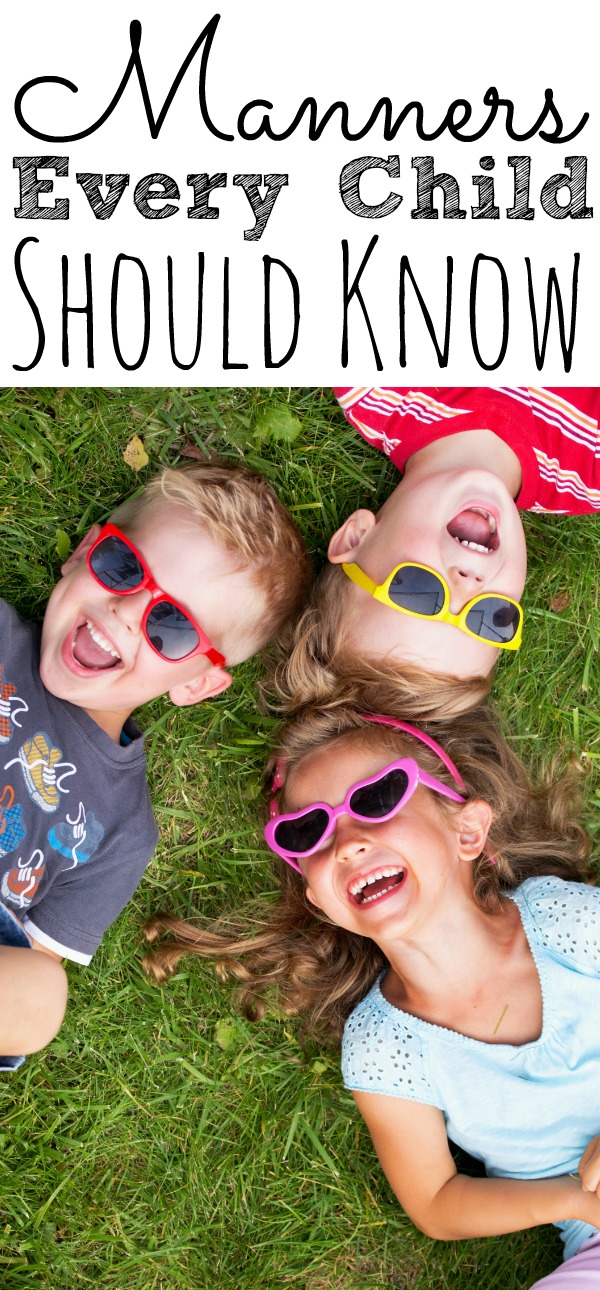 Manners Every Child Should Know
Respectful and polite manners go far beyond just keeping peace at home. They help our children present a great front every day in their lives, as well as in the future as adults. When they understand basic manners they can build on this level of respect for themselves and peers. Plus, they will become a well rounded and polite individual as adults.
This post contains affiliate links.
Respecting Their Elders
This is vital to not only their relationships inside their family but with those around them at school and even later on at work. Respecting elders is not something that should go away with modern times. The simple respect of saying, "Yes, Sir" or "Yes, Ma'am" is a very small and easy way to respect those around you. Children should also know that when referring to friends parents they should call them Mr. or Mrs. instead of by their first name. These basic manners every child should know to show those around them that they are respecting their authority in their life.
Saying Please and Thank You
This is something that we are hearing less and less from in our young children. Whether they are asking for a piece of candy or receiving a gift for a birthday, simply saying please and thank you can go a long way toward making sure your children are accepted as polite and respectful to those around them. This should apply to anyone, not just their parents or elders.
I've seen too many children now not using "please" or "thank you" when it comes to family members, especially parents. Children at a young age should be taught to use these two simple words. It will help them become better companions and friends.
Learning To Excuse Themselves Properly
Saying, "excuse me" is one of the first and most important manners every child should know. Using this when they bump into someone, enter a conversation, want to leave the room, or even accidentally burp in public is all part of showing respect for those around them.
The world "excuse me" is not something I hear very often. In fact, even my girls are very guilty of not saying the word when they most certainly should. So, reminding them when the moment arises is important to make sure this manner is installed in their daily life.
Handling Bodily Functions Away From Others
Burping and passing gas can both be amusing to young children. However, neither of these are things to do in front of others or to be noticed. They should be handled as quietly and politely as possible by leaving the room when possible. A burp can be stifled and should always be followed up with an, "excuse me" no matter where you are. This is not the time to embarrass your child, just a simple quiet reminder of their manners it's all it takes.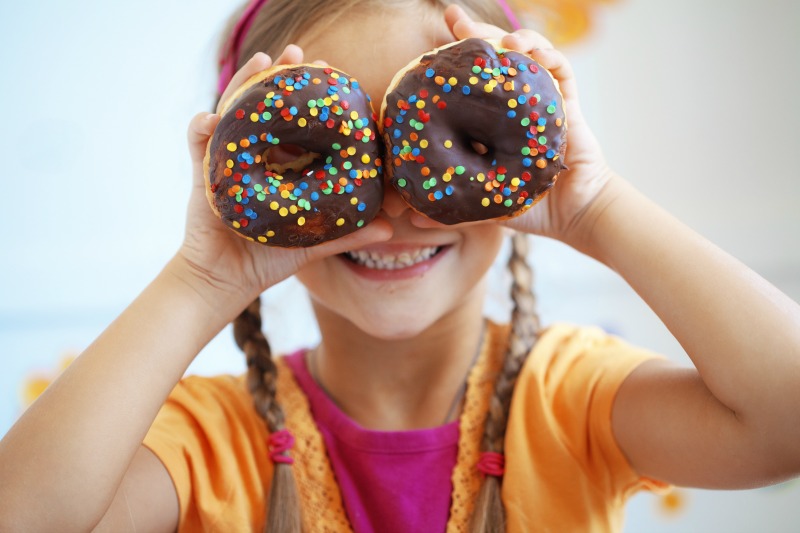 Chewing With Their Mouth Closed
Children and babies are often messy eaters, but even at a young age, you can teach your child to chew with their mouth closed. Nobody likes to see chewed up food, and especially from children. Simply reminding them when they are eating to chew with their mouths closed can go a long way and normal for parents of young children. The point is to remind and teach them.
Do Not Talk With Food In Their Mouths
Carrying on a conversation at the dinner table is a great way to connect and communicate with your children, but not when they are talking with food in their mouths. Not only is it unsightly, but it is rude to those around them if food should happen to fall out of their mouth in the process.
Opening Doors For Others
Whether it is a boy opening a door for a girl, or a woman opening a door for a child opening doors for others is always a kind gesture. This isn't a matter of feminism, but a matter of respect for anyone. My girls are big on opening doors for others, especially the elderly because they get so much praise for being kind.
Giving Others The Right Of Way
Along the same line as opening doors for others, as you are entering a building and reach the door at the same time as another person you should always allow them to go first. It's simply the polite thing to do and it also teaches young kids that stopping for others is a good gesture.
Plus, I truly believe that when kids learn to give others the right of way, it also teaches them to slow down in the future. Especially when they themselves become adult and are behind the wheel.
Picking Up After Themselves
You probably already have cleaning their room on their list of chores, but one of the manners every child should know is to always pick up after themselves. At the dinner table, this means clearing their plate. As they play, this means putting their toys away. If they are working on a project, it means cleaning up and putting away their tools. Picking up after themselves shows respect to those around them. Plus, when they visit friends this habit and manner will come in handy. No one wants to invite messy friends over or have a partner who cannot clean after themselves.

How To Teach Kids Manners
Show them by example.
Remind them gently of using their manners.
Make sure they say "please" and "thank you".
Teach them to be polite to everyone and especially their elders.
If your child forgets their manners, ask them what they could have done differently.
Children need to learn basic manners, and this list is a great place to begin! It not only will help parents daily with raising efficient, respectful, and loving children but it will also teach our young children how to take these manners with them into adulthood. Hopefully teaching their children as well.
You Are Also Going To Love:
If you love this list of Manners Every Child Should Know, then you will also love the following parenting articles I have put together for you:
What other manners would you add to this list?