If you're visiting Walt Disney World in Florida soon, it's most likely you will be visiting the most popular land in the parks. I have put together the Best Toy Story Land Experiences For Kids! Sharing my parent's guide to visiting the all-new Toy Story Land at Disney's Hollywood Studios.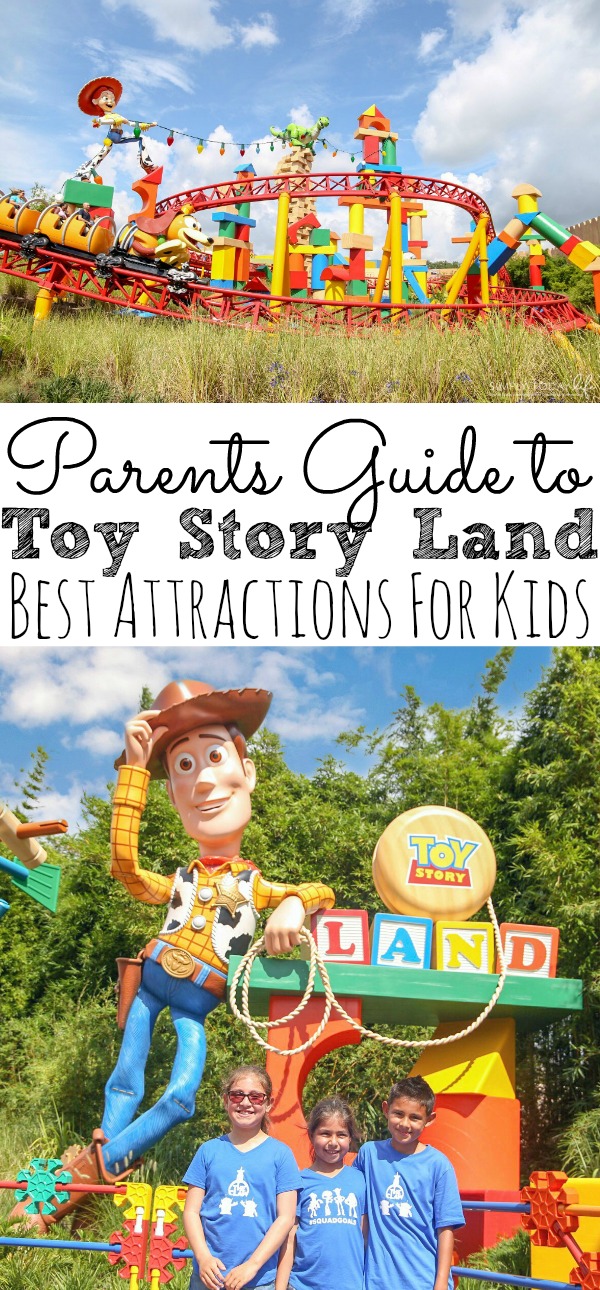 Best Toy Story Land Experiences For Kids | A Parents Guide #ToyStoryLand
No one does magical moments and new park experiences like Walt Disney World! Especially when it came to some of the most beloved characters from Disney and Pixar. Toy Story Land is everything my childhood heart could have imagined it to be! Whether, rain or shine, you cannot miss this spectacular bright world we all came to love back in 2005! Check out some of the things you must not miss while visiting Hollywood Studios new Toy Story Land!
Thank you, Disney, for inviting us to experience Toy Story Land. All magical toy-sized opinions are my own. This post contains affiliate links.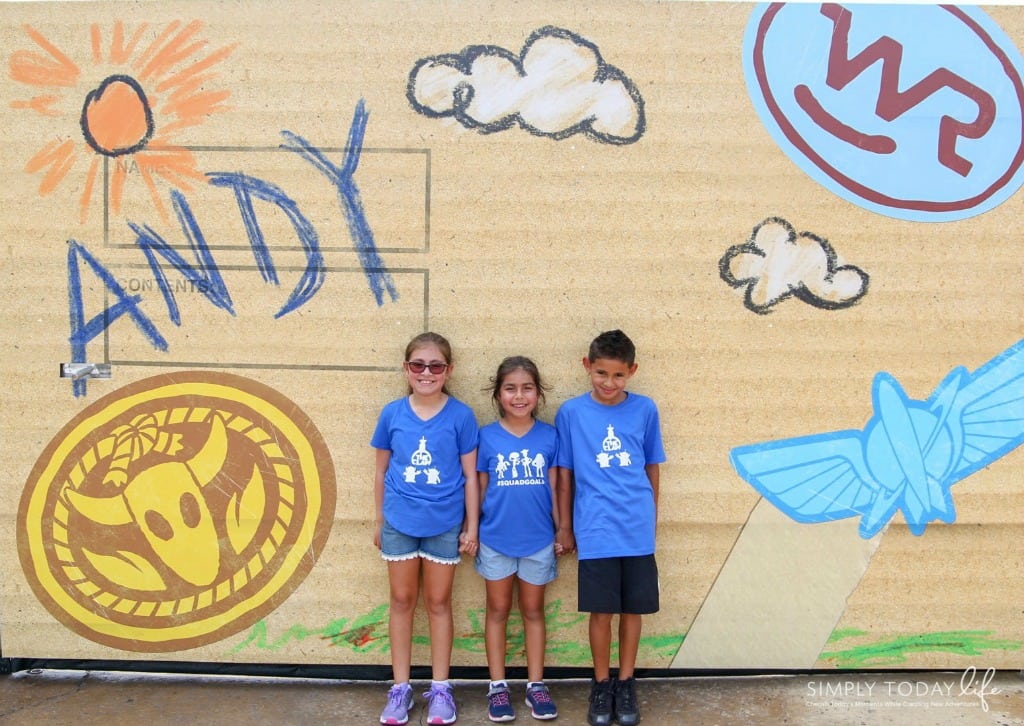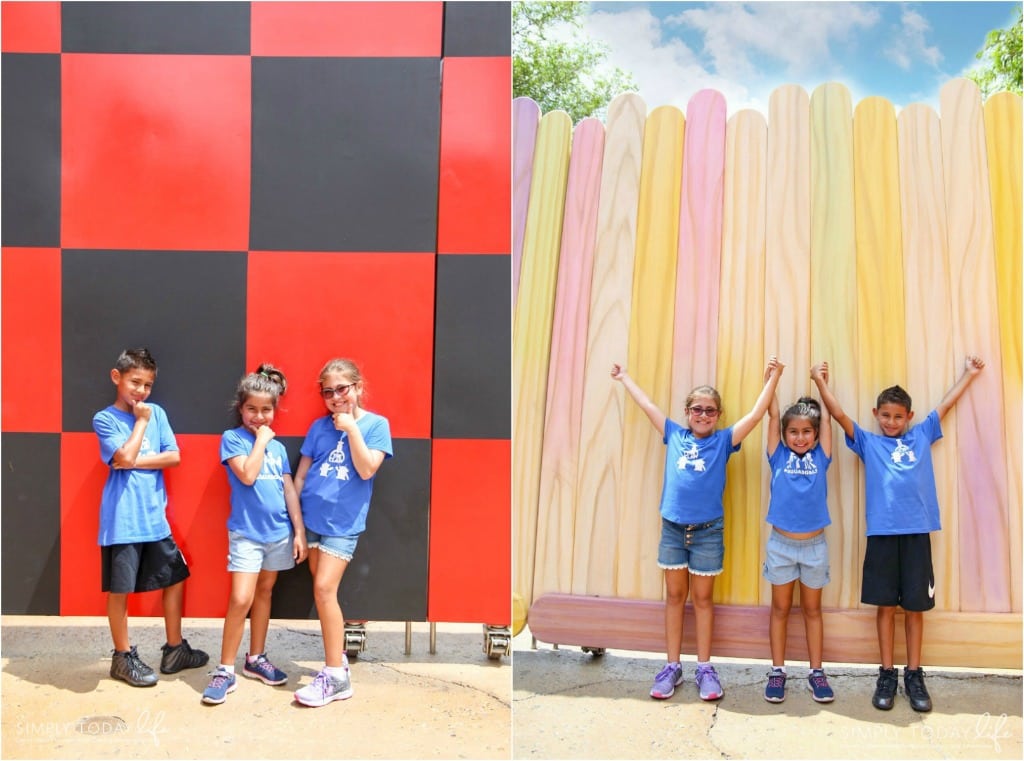 Framable Photo Spots
We all know that Walt Disney World is known for having some of the best photo spots, but I think they have outdone themselves in Toy Story Land! Every detail they thought of starting with the colors and making sure Andy's signature was everywhere throughout his backyard is phenomenal. Don't get too caught up on awe that you forget to take those amazing family shots!
Toy Story Land has the most framable photo shots at Hollywood Studios. Below are some of our favorite photo spots, just make sure to keep your eyes opened some of them are hidden.
Andy's Wall
Block Wall
Popsicle Wall
Checkered Board Wall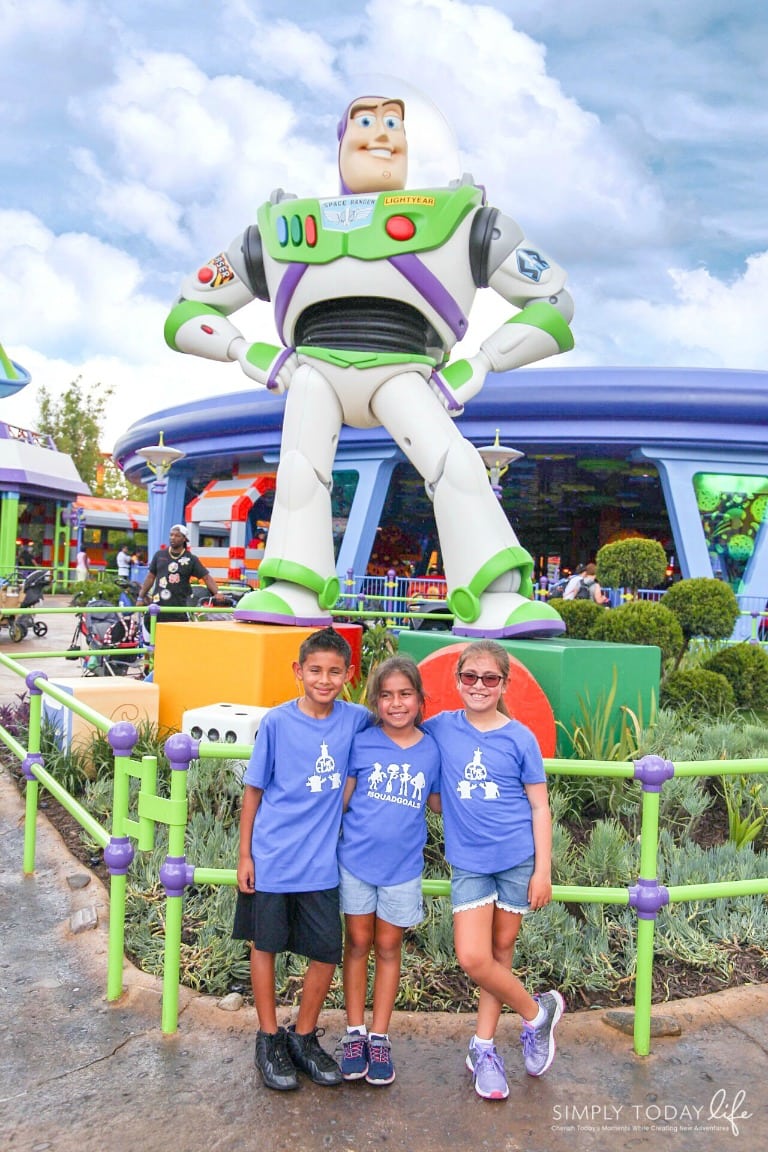 Then, of course, you need to take photos in front of the rides, on the rides, and around Toy Story Land!
A photo of Slinky Dash Dog when the coaster is coming down. This is an extra special photo is you can capture it as your family is on it.
In front of the large Buzz Light Year who's in front of the Alien Swirling Saucers.
Toy Story Mania has so many amazing photo opportunities as you walk the queue line. Plus, don't forget about the popsicle and checkered walls I mentioned above. These make great photos!
Alien Swirling Saucers make the perfect funny family video too.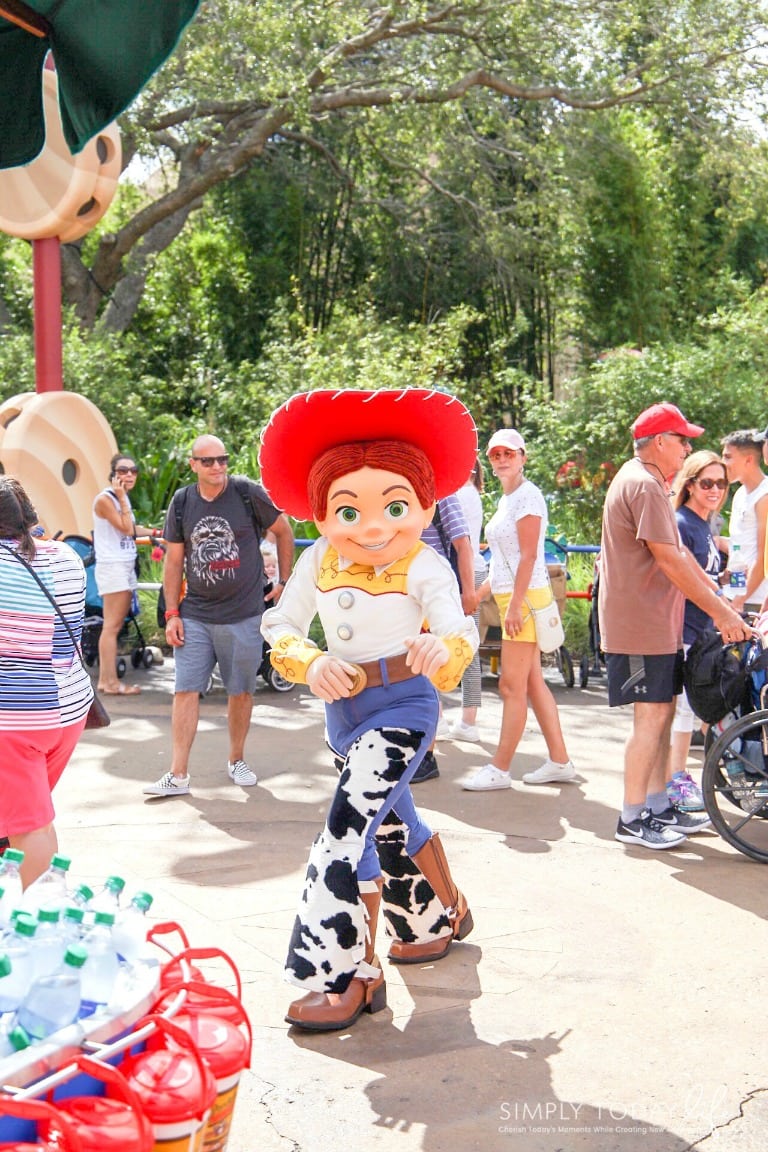 Toy Story Land Meet and Greet Characters
Kids are all about meeting their favorite Disney characters. Well, almost all the kids are! Meeting some of your favorite Toy Story friends is a highlight of visiting Toy Story Land! This gives your kiddos the chance to meet Jessie and Woody right in front of Midway Games. Which by the way gives you the best backdrop for these photos.
Oh, and don't forget the Toy Soldiers! There isn't a specific spot for photos with them, but they will be marching around Andy's backyard, so make sure to take a photo with them!
Woody
Jessie
Buzz Light Year
Bo Peep
Toy Soldiers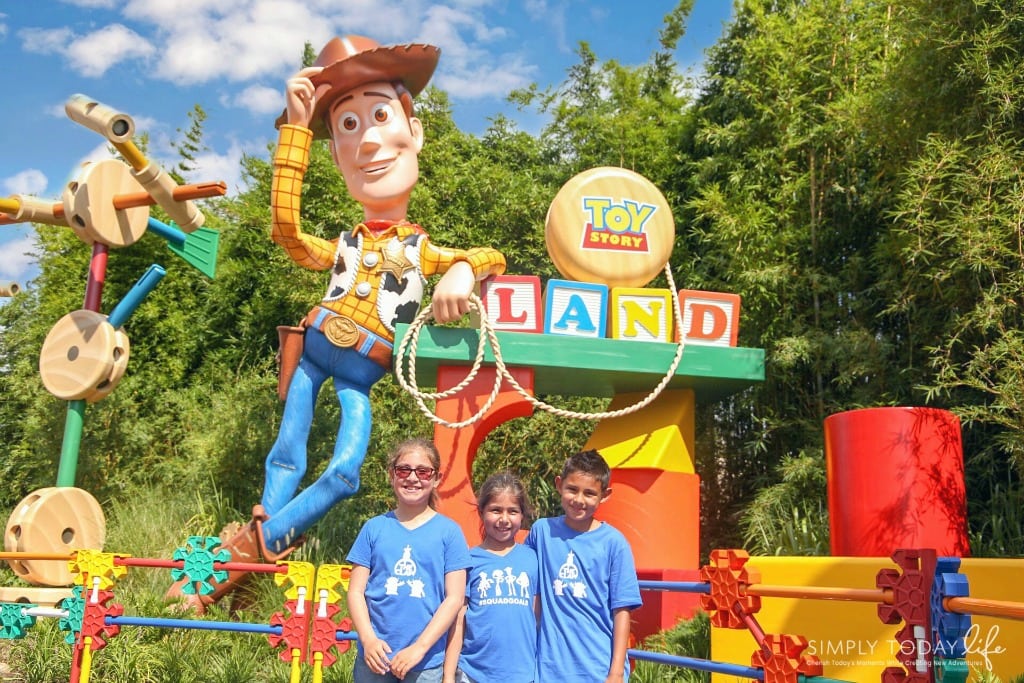 Okay, so let's talk about the rides now. I don't know about you, but when it comes to rides I have two different types of riders. My oldest is all about the coasters, while my youngest is all about the slower-paced rides. Thank goodness Toy Story Land has both!
Tip: Lines can get pretty long on Slinky Dog Dash so try to get a Fast Pass if possible for this ride. If you have family members who are doing the line for Slinky send on over the other adults and younger kids to ride the Alien Saucers. This will keep them busy and the kids happy!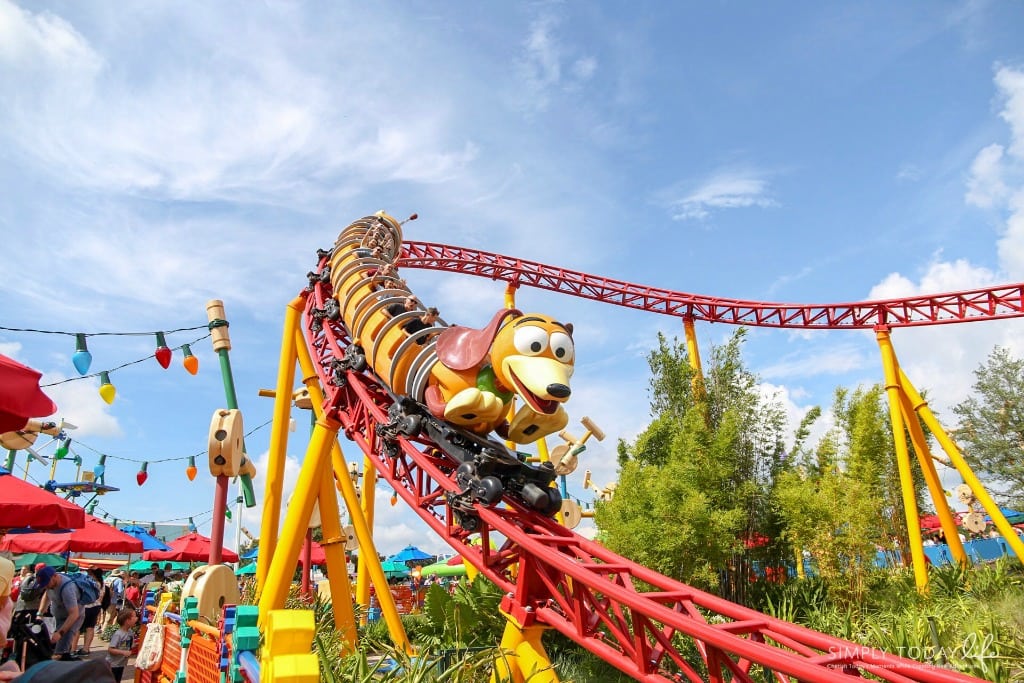 Slinky Dog Dash
My oldest daughter is all about the thrill rides and if your kids love the coasters, then make sure to ride Slinky Dog Dash a million times! We had the chance to ride it twice and each time it got better! Make sure to keep an eye out for easter eggs, details, and sounds. The ride has been nominated as my daughters favorite Disney ride and that says a lot!
Now, if you have children like my youngest who is not a fan of the thrill rides you may want to keep them to the side and just watch. Although I don't think the ride has any hard drops, it does have a few small ones that your not loving thrill seeker not approve of.
Overall, Slinky Dog Dash is a must ride! We didn't get a chance to ride it at night, but I heard it's even better with all the lights on!
Guest must be 38 in or taller to ride and 14+ to ride alone. The ride is about 2 minutes long.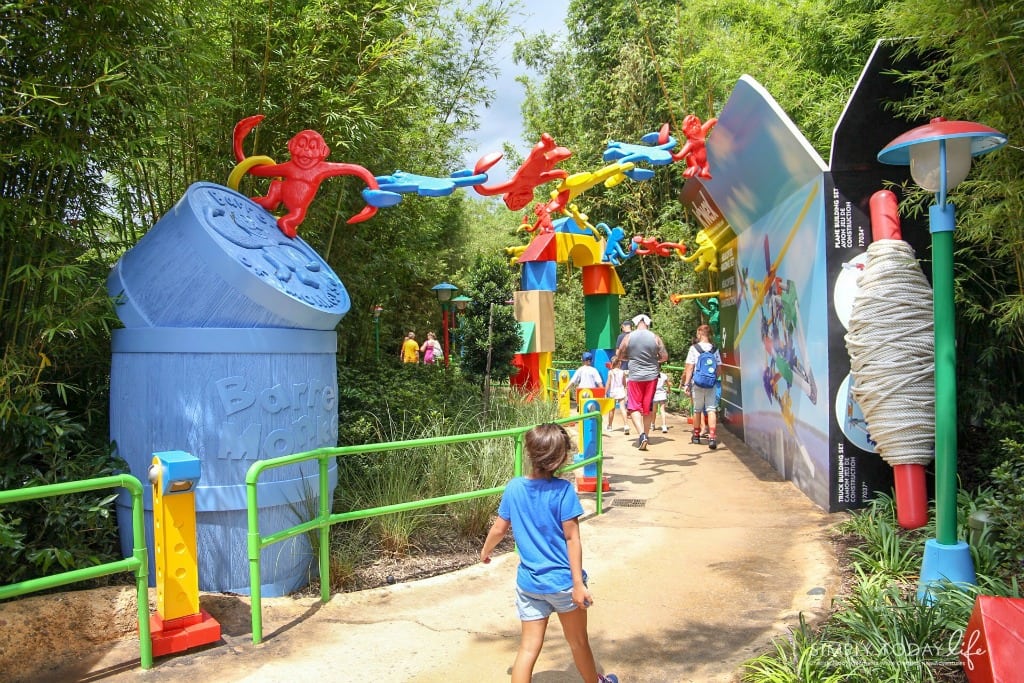 Toy Story Mania
Toy Story Mania is one of the rides that has been at Disney's Hollywood Studio for a long time! It's also one of the most popular rides at Disney. I mean, they are combining 4D video shootin' gaming with Toy Story! It doesn't get any better than that! If you have visited Toy Story Mania, make sure to visit again. They have revamped the entire inside and you don't want to miss the walkthrough after the ride is over!
Toy Story Mania is a glimpse into Andy's room and all of his toys! The Fast-Pass might get you through the lines quicker (so worth it), but you can take amazing photos and see more details of Andy's room doing the regular queue line.
There is no height requirement for this ride and it's perfect for the entire family. My youngest rode it twice because it's one of her favorite rides at Disney.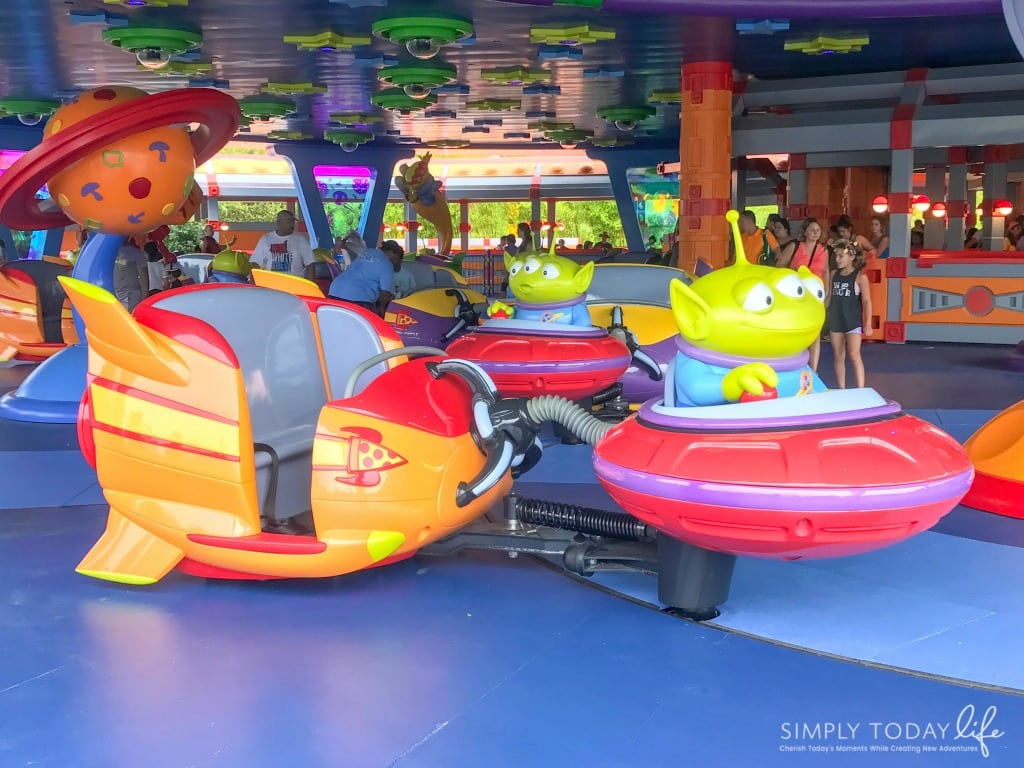 Alien Swirling Saucers
One of the newest rides at Toy Story Land filled with our favorite Pizza Planet green alien characters! Will the Claw choose you? Okay, so think Mad Tea Party at Disney's Magic Kingdom, but not as dizzy! I'm one who cannot by any means get on a ride that twirls, but I absolutely loved the Alien Swirling Saucers. It turns, but it's not like the Mad Tea Party where you have control of how fast you want to go.
This is another great family-friendly ride. My 6-year-old loved it and got on it twice! Again, she is very sensitive to fast and thrill rides, but she loved getting picked by the claw!
Riders need to be at least 32 inches and 14 to ride alone. The ride is about 90 seconds long.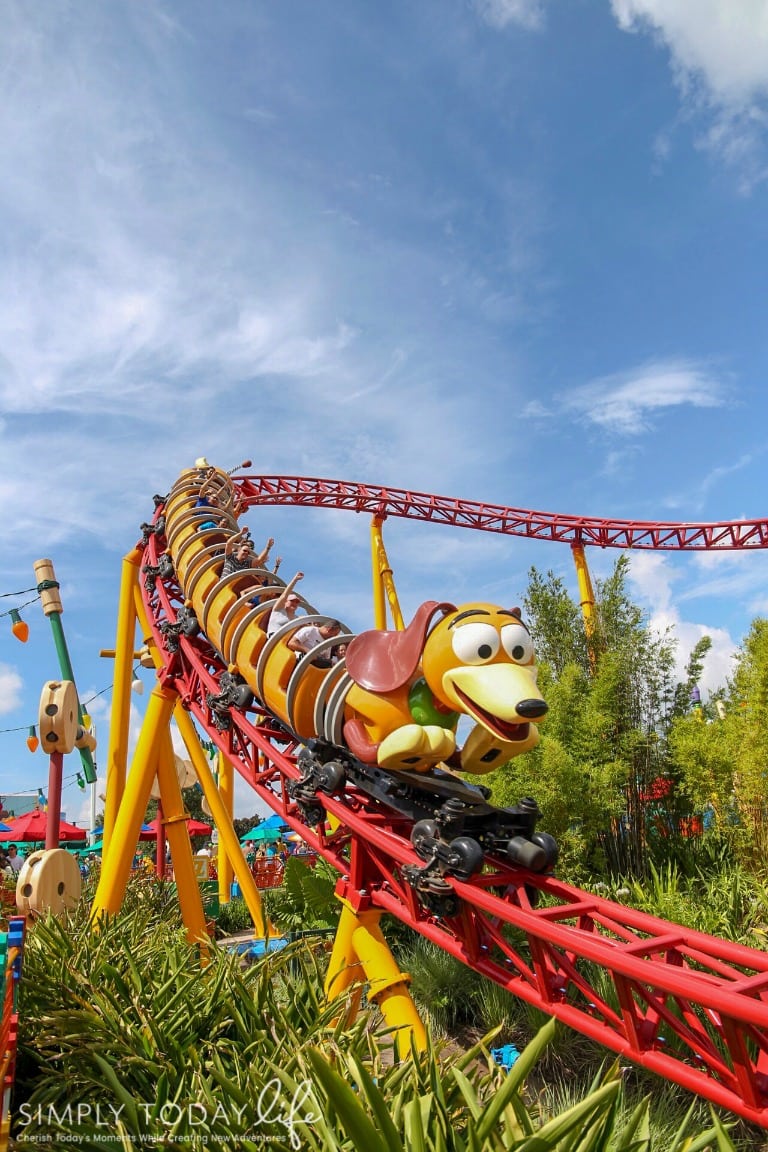 Toy Story Land at Disney's Hollywood Studios was everything I could have imagined it would be! I most definitely didn't disappoint and I cannot wait to go back for another visit! For more information visit the Walt Disney World Resorts website.
Make sure and visit my Instagram account at @simplytodaylife to catch all of the Instagram Stories I've shared of our Toy Story Land adventures!

You Are Also Going To Love:
If you loved learning about the Best Toy Story Land Experiences For Kids and this Parents Guide, then you will also love the following articles I have put together for you:
Have you visited Disney's Hollywood Studios Toy Story Land?

SaveSave