I hope you joined us this month for Beyond Our Planet Poppins Book Nook Book Activity! I don't know about your kiddos, but my love learning about space and our planets. Even in the classroom, as soon as I began our space unit my student's faces would just light up and I knew that I had their attention the entire time! For this months book, my girls chose There's No Place Like Space Storybook Activity! by Trish Rabe from The Cat in the Hat's Learning Library collection. This post may contain affiliate links.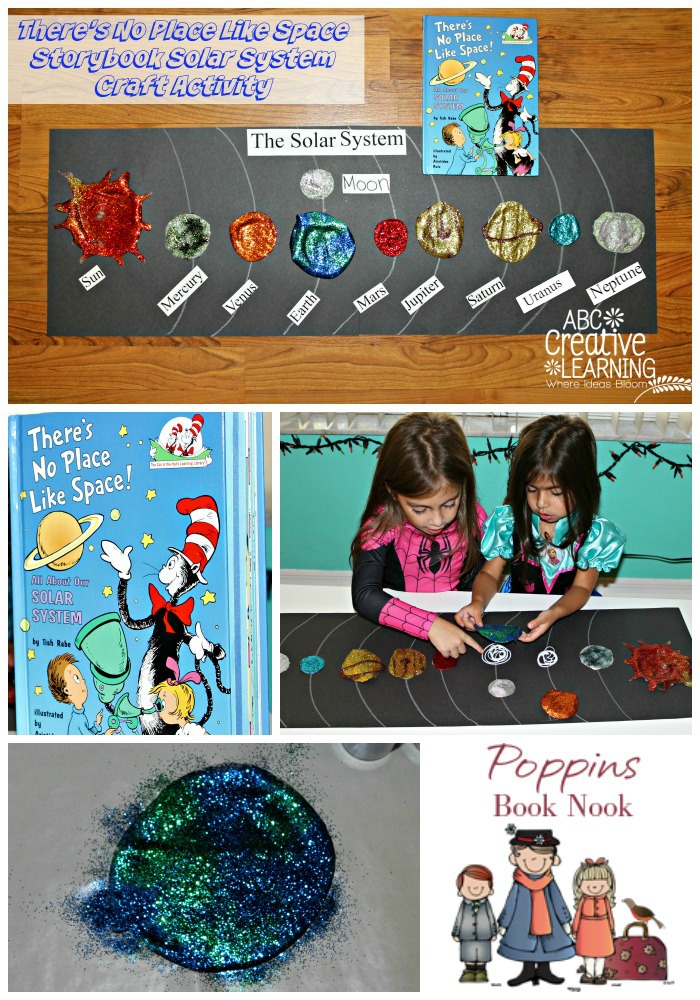 There's No Place Like Space Storybook Activity
We love There's No Place Like Space! It's the perfect book to teach about the Solar System. The book takes the readers into an adventure to visit the planets, the starts, and the sun! Giving important details of each planet individually.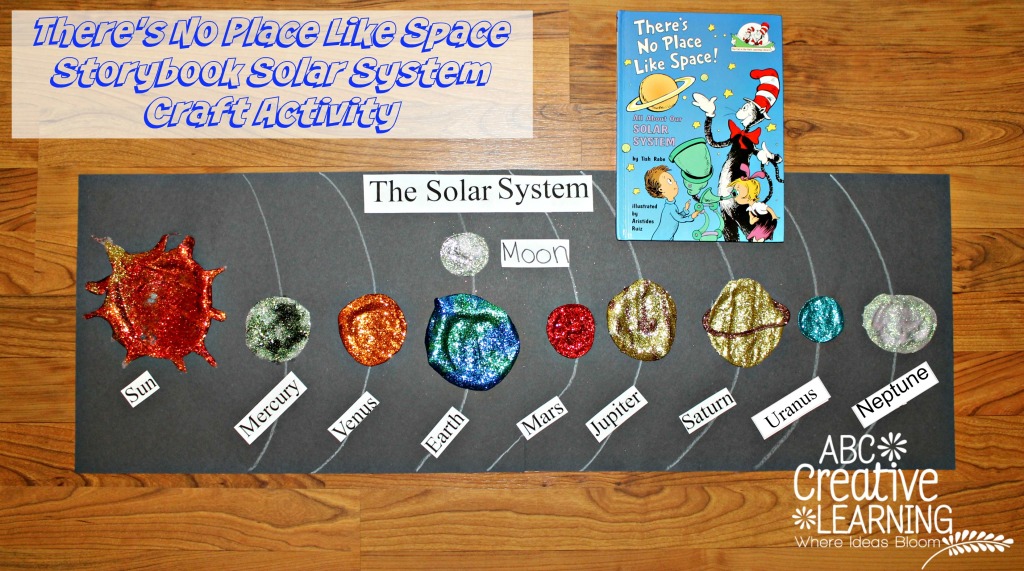 For our storybook activity, we decided that we wanted to recreate the solar system using glue and glitter! Yes, you heard me! GLITTER! My girls love glitter and who am I kidding, so do I!
Materials Needed
Elmer's glue
Wax paper
Glitter (to match each individual planets)
A black long piece of construction paper (tape two large pieces together)
White crayon or silver Sharpie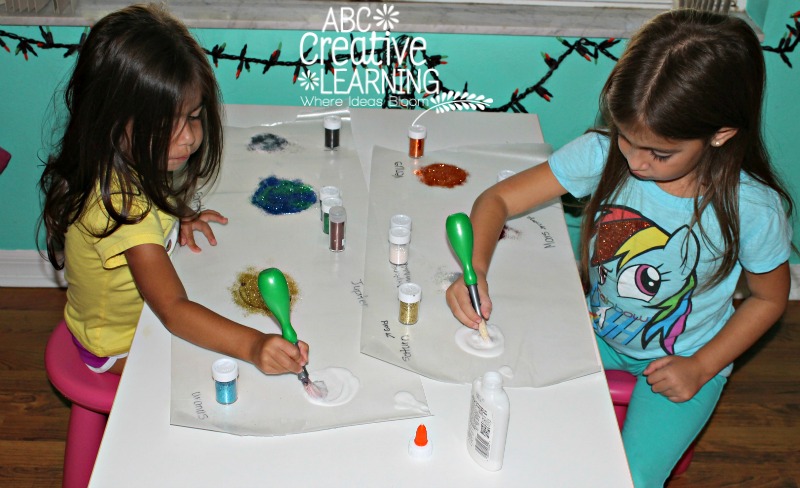 Instructions
To create our planets we use glue and glitter. On a sheet of wax paper, we poured craft glue and the girls used brushes to make their planets according to the size they thought they were.
They then poured glitter on each planet, using colors that they think would match the best to the planets of our solar system. I think we all enjoyed this part very much. Matching glitter to our planets and mixing together colors to try to recreate the closest match we could to each individual planet.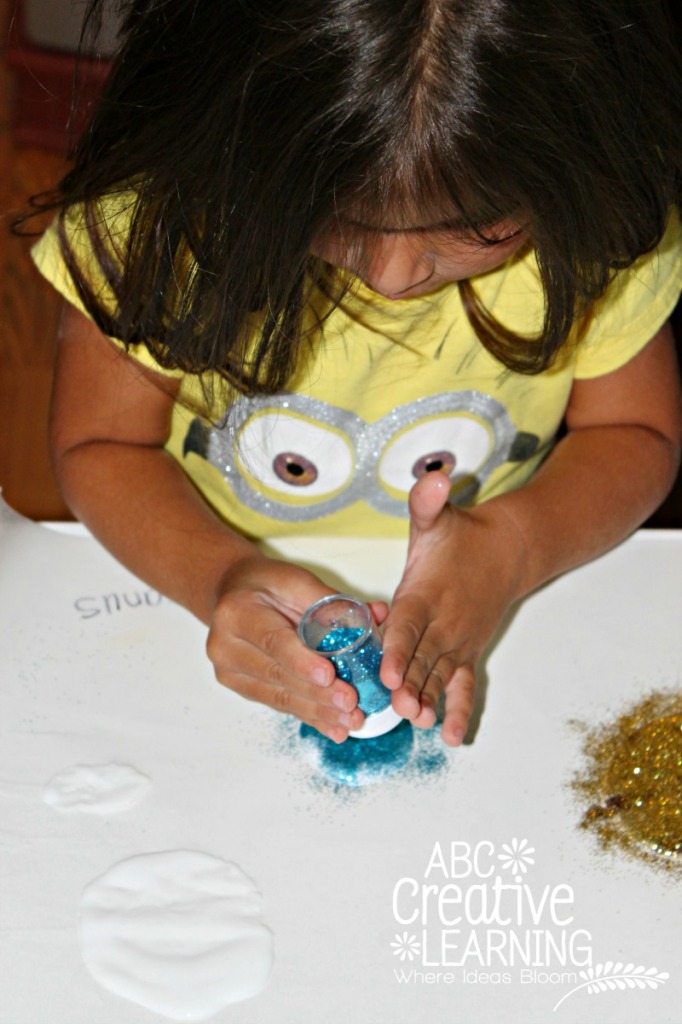 Leave your planets over a period of two nights to dry. You want to make sure that they are fully dried before peeling off the paper. If they are still wet, they will tear. When planets are dried slowly and carefully peel them off the wax paper.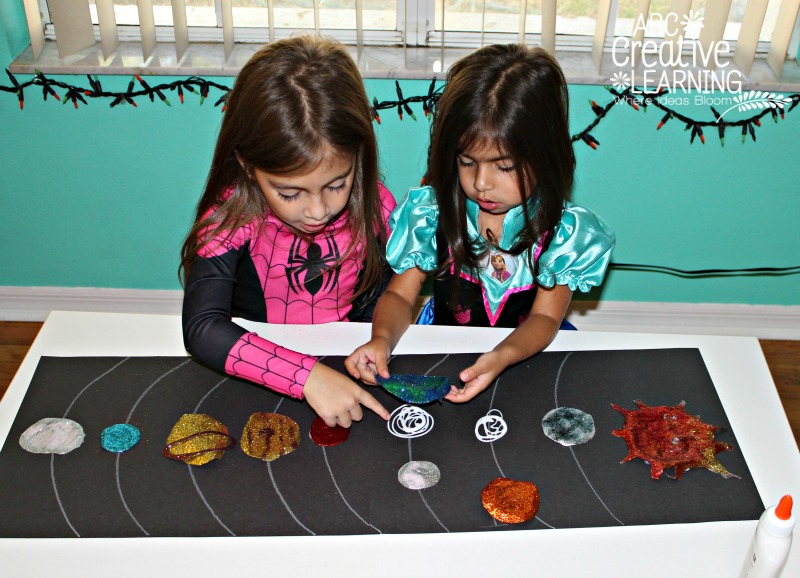 Once we had all of our pieces pulled off the wax paper we created the solar system on black construction paper. Using our iPad I pulled up a picture of the solar systems and let the girls glue on their planets following the picture chart I gave them.
I also printed up all the planets names, cut them out, and then let them label each one. I loved watching Kaelyn help her little sister find the correct label for each planet. It really showed me that she understood and enjoyed the lessons we did.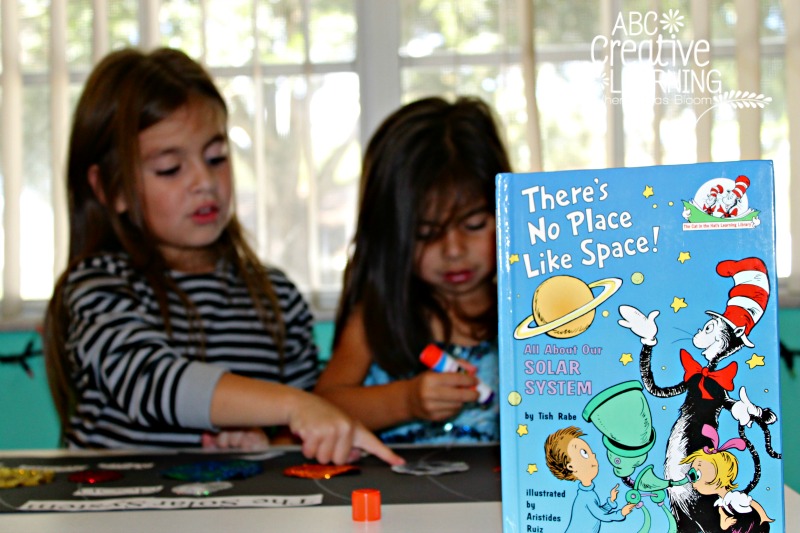 I'm pretty sure the girls really enjoyed and learned a lot about our solar system! I hoped you joined in on all the fun!

You Are Also Going To Love:
If you loved this Space Storybook Activity, then you will also love the following crafts I have put together for you:
Have you checked out all the other amazing storybook ideas shared?