I want to say that it's a bit too early to be thinking Christmas and Winter events, but once Halloween rolls on by at the end of this week the holidays will be upon us! As much as my family and I love Fall, we love Christmas even more and SeaWorld is one of those places we love visiting during SeaWorld's Christmas Celebration!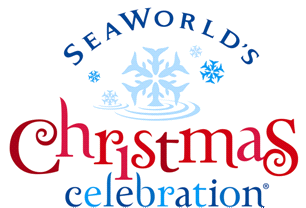 One of our favorite things is the Polar Express and visiting Santa Clause! We have taken our picture with Santa at SeaWorld for the past 3 years now, instead of visiting the mall. My girls love the experience and I have to admit… so does this mama!
New for 2014 at SeaWorld's Christmas Celebration:
Christmas Show Seating Packages
Christmas Signature Show Seating and Dine with Shamu – Guests will enjoy reserved seating at our most popular Christmas shows and enjoy Orlando's most immersive and memorable family dining experience – Dine With Shamu® at SeaWorld® Orlando. A complimentary family photo is also included to remember the night.
Christmas Signature Show Seating and Santa's Fireside Feast — Enjoy reserved seating at our most popular Christmas shows, a warm-hearted holiday experience and meet Santa and Mrs. Claus at Santa's Fireside Feast.
Christmas Signature Show Seating and Dining Certificate and Family Photo — Enjoy reserved seating at our most popular Christmas shows and a dining certificate to use that evening at any participating restaurant. Dining Certificate includes an entrée with its accompanying side, an additional side item and a non-alcoholic beverage.
Christmas Show Seating provides guests with reserved seating at Shamu® Christmas Miracles, O Wondrous Night, and Winter Wonderland on Ice, plus front-of-the-line access to THE POLAR EXPRESS Experience.
Christmas Family Fun Tour
Experience the favorite attractions for children at SeaWorld's Christmas Celebration™ during this 3-hour walking tour. Highlights include: a penguin meet and greet, reserved seating at the Elmo's Christmas Wish show, a warm-hearted meal at Santa's Fireside Feast with an exclusive visit with Santa and front-of-the-line access to THE POLAR EXPRESS Experience.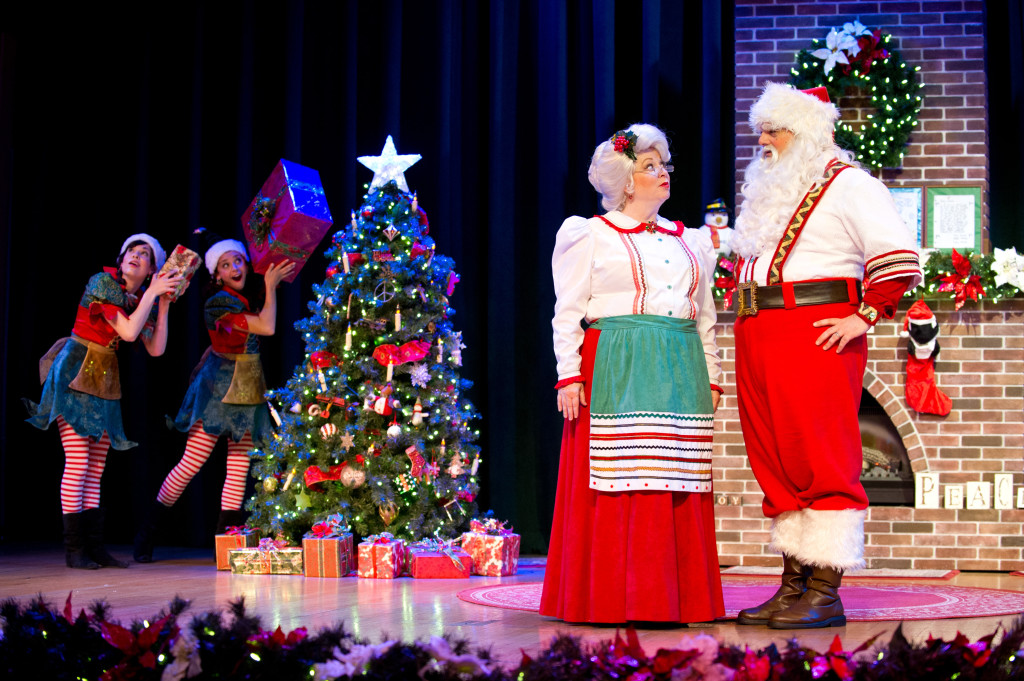 Families and friends can once again enjoy the spirit of Christmas during SeaWorld's holiday-themed shows and festivities:
Shamu® Christmas Miracles — SeaWorld invites guests to experience the grace and beauty of our Shamu family at our nighttime holiday show, Shamu Christmas Miracles. Thrilling seasonal music rings out as whales soar through the air in a story of reflection and understanding … of peace and friendship … of the everyday miracles that surround us all year long.
O Wondrous Night — Shares the greatest story never told, with more than 30 carols, based upon The Christmas Story and told through the eyes of a variety of live animals. Everyone will be entertained by this touching, light-hearted and glorious celebration featuring a host of angels, animals and the true wonder of Christmas. It's a live nativity that only SeaWorld can bring to life.
Winter Wonderland on Ice – Delight in the magic of Christmas on a stage of ice, jewels and light as skaters dazzle and delight in this show-stopping, ice skating extravaganza. The other stars of the show are the towering fountains of water dancing on the lake and fireworks that light up the night sky after the last ice show of the evening. It's a don't-miss experience for the holidays that will take your breath away.
The holidays have arrived, and everybody's Sesame Street® friends have come to SeaWorld® Orlando for a festive and fun musical celebration! Elmo's Christmas Wish will soon become your child's favorite show. Join Rosita, Grover, Zoe and Cookie Monster as they work together to help Elmo find his Christmas wish!
SeaWorld® celebrates the season during Holiday Reflections: Fireworks and Fountains Finale, featuring soaring fountains, dazzling lights, and festive fireworks, choreographed to joyous holiday musical favorites. Experience an amazing SeaWorld Christmas connection that illuminates the night sky.
At the Wild Arctic® attraction, guests embark on an extraordinary journey to the North Pole aboard THE POLAR EXPRESS Experience. The beloved holiday classic comes to life as you and your family are immersed in the heart-warming story of a young boy's thrilling ride into an enchanted world. The sights, sounds, and scents of the season surround you. From the moment the conductor calls "all aboard" to your arrival at the North Pole (where you'll meet Santa Claus himself), THE POLAR EXPRESS Experience promises to create an unforgettable holiday memory.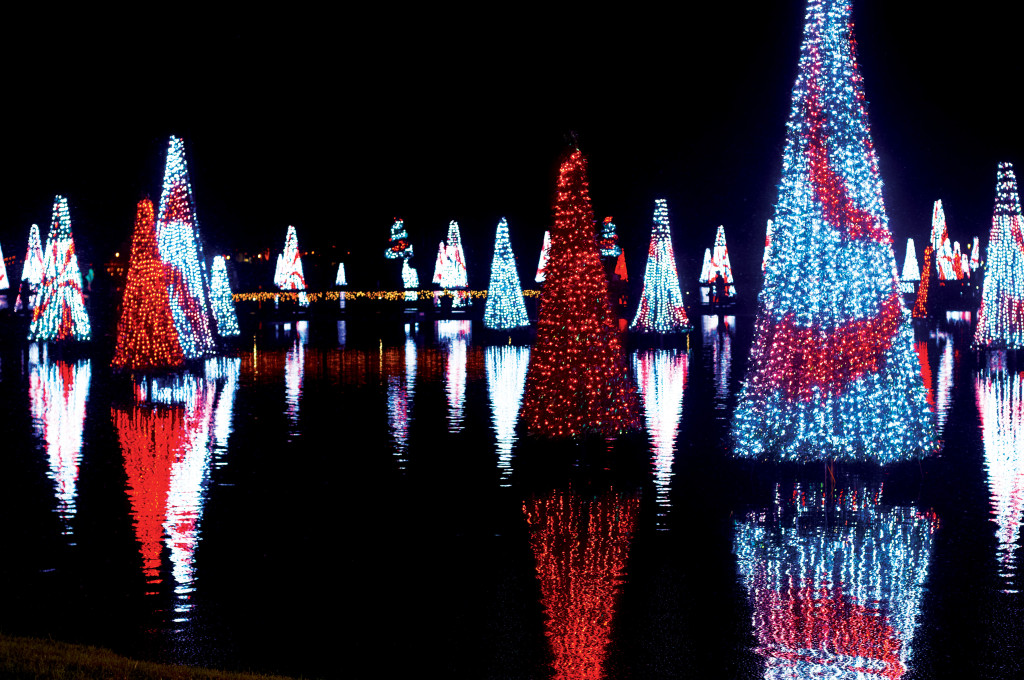 In addition to the incredible seasonal shows and attractions, the amazing Sea of Trees includes more than 100 massive trees, each sparkling, lighted and choreographed to classic holiday tunes, making a dramatic display around SeaWorld's center lake. Guests can enjoy this amazing light show at various times throughout the night beginning at 6 p.m.
The Christmas Market, located on the park's Bayside Pathway, features unique artisans and culinary delights. At this festive, bustling market, guests can find one-of-a-kind gifts and dine on scrumptious holiday delights, such as hot chocolate, s'mores and freshly made donuts.
Plus, enjoy a delicious dinner of Christmas favorites with Santa and Mrs. Claus during Santa's Fireside Feast, a charming, warm-hearted holiday experience. This sumptuous, all-you-care-to-eat menu of holiday favorites and delicious desserts takes place on select days during SeaWorld's Christmas Celebration and provides an exclusive time to meet Santa. Reservations are required, and include a complimentary family photo. To book your reservation, visit SeaWorldOrlando.com.
The best way to experience SeaWorld's Christmas Celebration is with a Kids Free Ticket – get a free ticket for kids 3-9 with each paid adult ticket. Advance purchase only, not available at the front gate. All ticket offers can be found at SeaWorldOrlando.com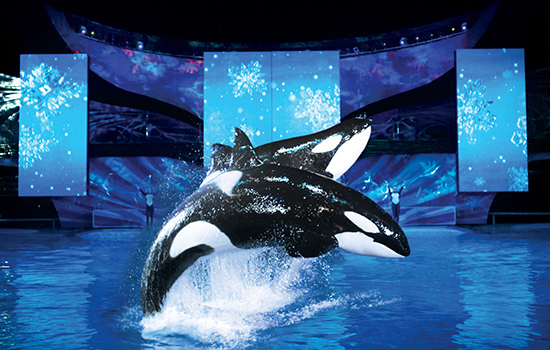 Kids Free Ticket Offer:
Consider this an early Christmas gift! Get one free child's admission to SeaWorld with each paid adult (a savings of up to $95.00 per child). Limit 2 free kids per package. Also, reserve your package by December 1 (for any 2014 travel date, ending 12/24) and qualify for Free child's admission to Santa's Fireside Feast (one child with each paying adult).
Add Aquatica, SeaWorld's Waterpark™ Orlando to your SeaWorld Vacation Package and kids can visit for free there as well (limit two FREE child's admission tickets).
By adding Aquatica, SeaWorld's Waterpark™ Orlando, your admission tickets are automatically upgraded to allow unlimited visits to each park for the length of your stay.
Additional child admissions may be purchased if necessary.
Admission is not required for children under 3. Other restrictions apply.
Book Now and Save from September 15 through November 30th for select visit dates through December 24th. Select dates for SeaWorld's Christmas Celebration includes 11/28 -11/30, 12/5 – 12/7, 12/12 – 12/14, 12/19 -12/24.
Make sure to visit SeaWorldOrlando.com and follow them on Facebook, Twitter, and Instagram for the latest details about SeaWorld's Christmas Celebration. Join the conversation and share your experience by using the hashtag #SeaWorldChristmas.
Will you and your family be visiting SeaWorld this Christmas?