Last week I received several emails asking if I would be sharing my Disney's The Nutcracker and the Four Realms Movie Review, so here it is. As a parent, I like to know if a movie is going to be appropriate for my kids to watch. I've added all the details of my thoughts on the film and as always no spoilers!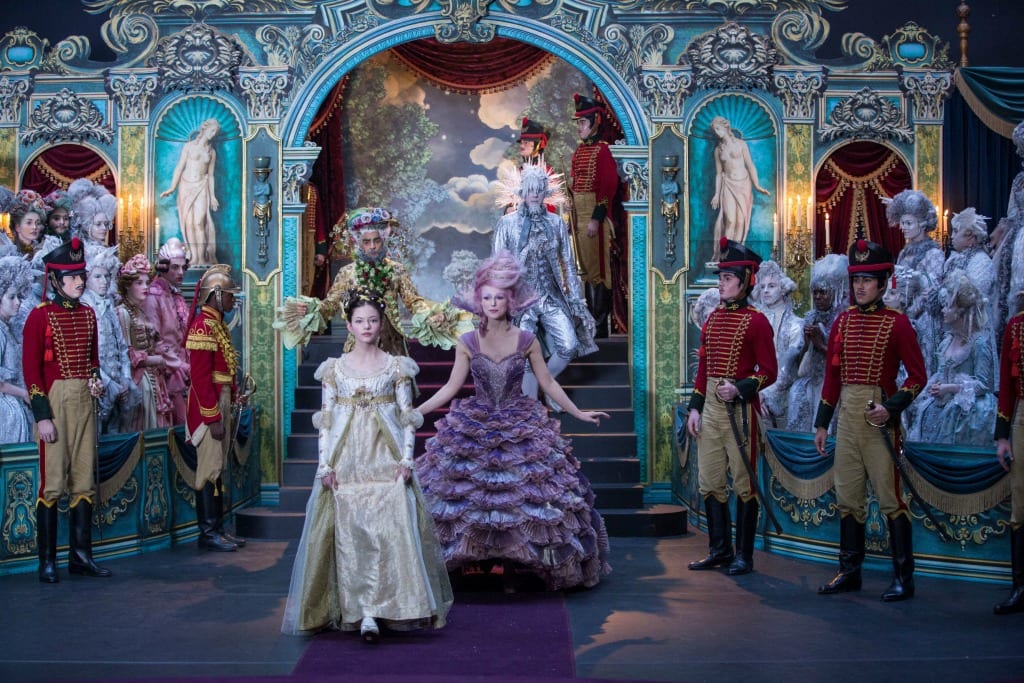 The Nutcracker and the Four Realms Movie Review | Is It Appropriate For Kids?
As a mom of a daughter who dances and also is a fan of The Nutcracker story, I knew that both of my girls were going to be excited to see the film. I hope you're not all expecting to see the ballet dancing version of the story. Disney decided to go with the book version of The Nutcracker when creating their newest live-action film The Nutcracker and the Four Realms. Although there is an incredible ballet scene with Misty Copeland, that is a must see. Especially for aspiring dancers, but is the film safe for kids to watch?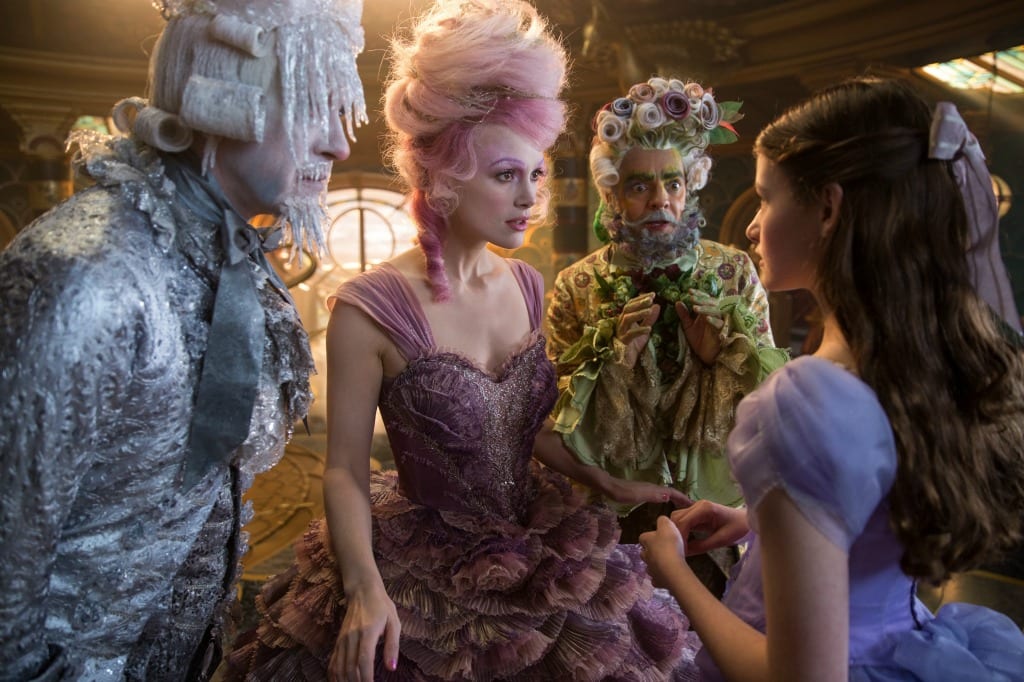 The Magic Of The Four Realms
When we think of the Nutcracker story, we dream up this magical Christmas background we all have come to love. The Nutcracker and the Four Realms is no difference. The magic of the four realms is brought to life in the film as soon as the movie begins. From snowy flakes, cotton candy, a magical castle, and fabulous costumes. The Nutcracker and the Four Realms will have us all dreaming of sugar plums and fairies.
The CGI in the film was exceptional, and I will admit that I was a bit hesitant about it. Disney always does such a fantastic job, but would they miss the mark on this one? The details are spectacular, the colors are bright, and the attention to details in every realm is breathtaking.
During our interview with Mackenzie Foy, she shared with us that most of the sets were real. Disney recreated all of the details, down to flowers even mechanically opening up, rather than using CGI technology to create them.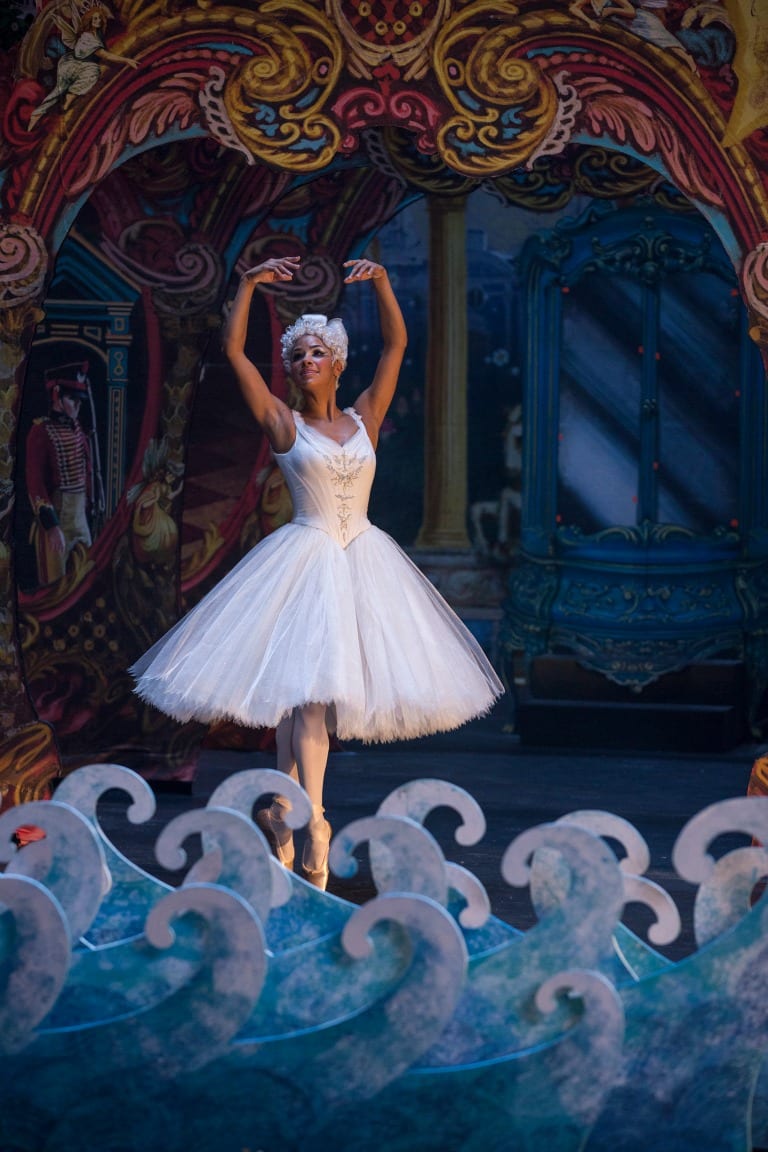 Inspirational Scene For All Dancers
As a former dancer and mom of a company dancer, watching Misty Copeland performed her ballet choreography was breathtaking. I honestly didn't want it to end. I do wish that there was more dancing in the film, but I can see why Disney went in another direction for the film. Not everyone is a fan of dance or ballet for that matter. So, I think they did a fantastic job adding Misty Copeland as The Ballerina in the film with an exceptional choreography. I just wished they would have added a bit more of her in the movie.
Also, don't miss her again during the end credits of the film. The dance is just as magical, if not more because you can genuinely see Misty's love for dancing.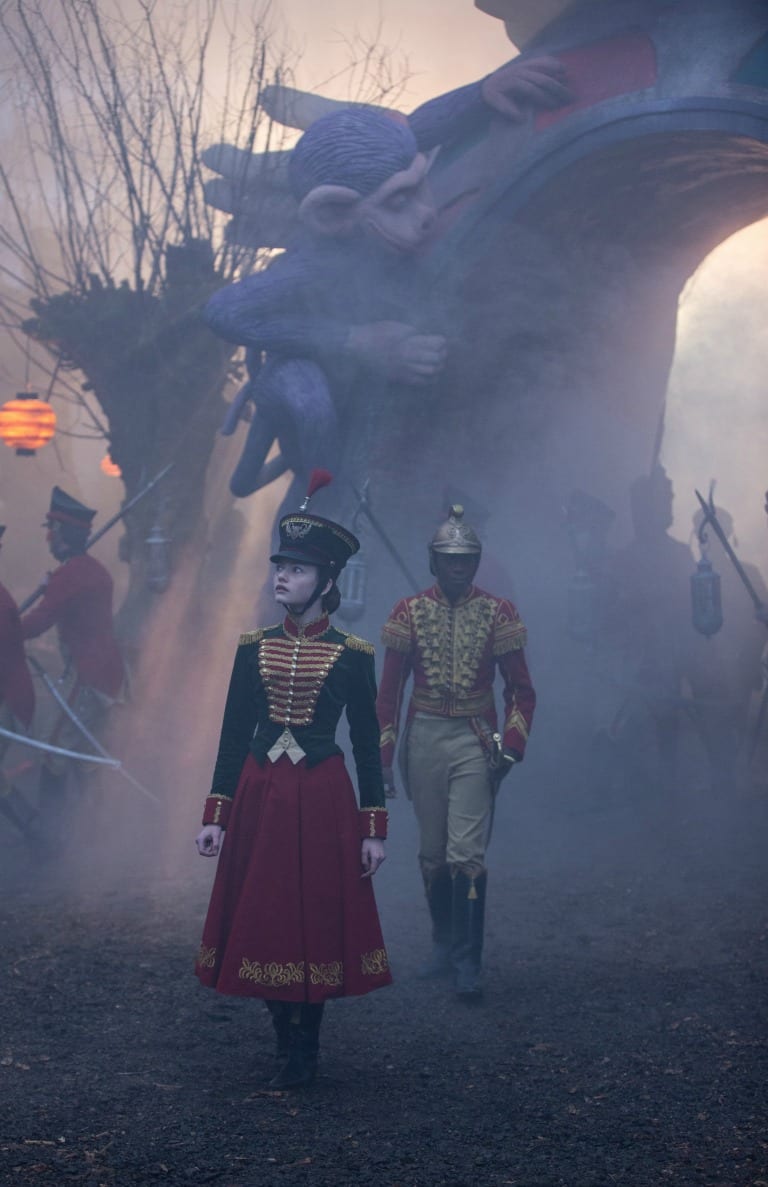 It's Not All Sugar Plums and Ballerinas
I wanted to make sure that parents of boys knew that it's not all sugarplums and ballerinas in this Disney version of the Nutcracker. In the film, Clara has a love for invention and science with a strong encouragement on STEM. I always love when films add that touch of educational aspect to a movie. As a former educator this just tugs at my heart. Showing girls and boys that they can be smart is a fantastic gift, and they should share it with the world.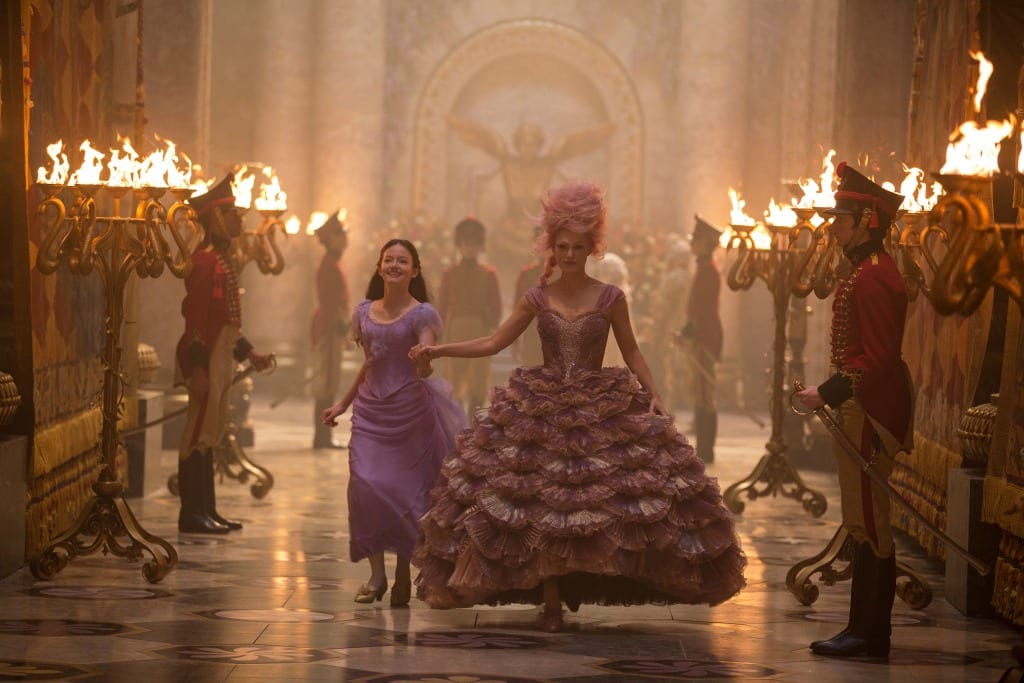 Is It Appropriate For Kids?
This is the part where I won't sugar coat my review, no pun intended, if the film is appropriate for kids. My personal opinion is that it's perfect for kids ages 8 and up. Why? Well, as magical and beautiful as the realms are, there are also a few scenes where I knew my 6-year-old loving dancing daughter would most definitely close her eyes or would want to leave the theater.
There's a scene towards the beginning of the film when Clara enters the other realm, where the Mouse King attacks her. The Mouse King has a dark figure look that might scare most young kids. In all honesty, I thought it was quite creepy looking, and because of the way the body is composed of hundreds of tiny mice and the way it moved.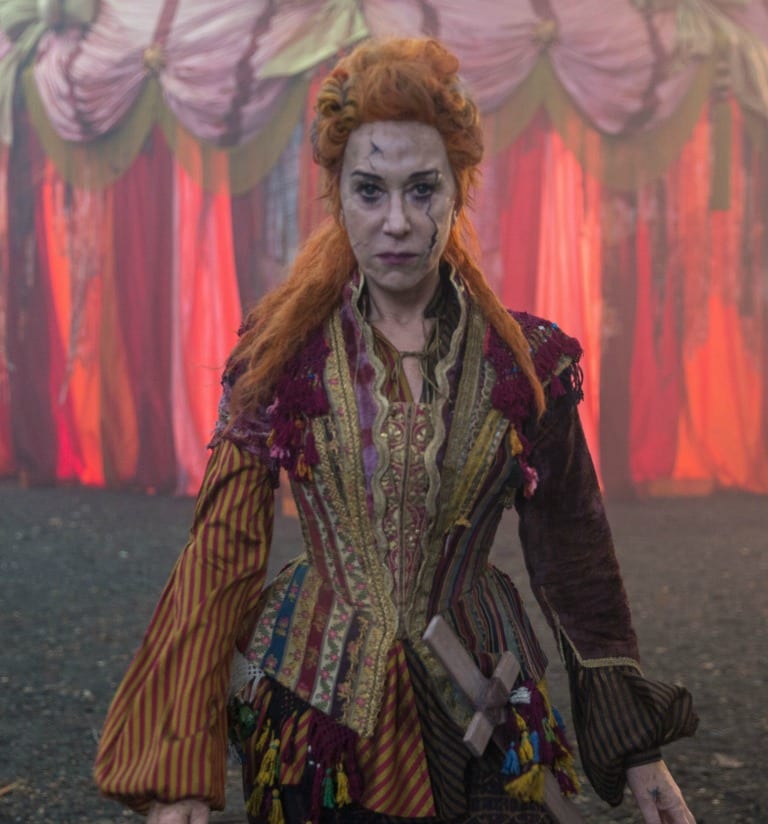 In another scene, Clara enters Mother Ginger's realm, where she encounters her protected, but very unsettling clowns. Anyone who is not a fan of clowns is not going to be happy during this scene. I even heard a few surprise gasps during the movie premiere when the clowns appeared on the screen. I think they used way too much CGI to create this clownish illusion and I know it is something my 6-year-old would not like at all.
If your child is sensitive to action and suspense, then this might be a bit too much for the kiddos. Plus, there is a surprise twist to the film that the kids will probably not be happy knowing. Especially little girls. Parents get ready to explain why the sweetest of them all is the villain in this storybook.
The last thing I wanted to share is how Clara and her family are mourning the death of their mother. Although they do not show a death scene or anything to that degree, the talk of their mother's death is the entire reason why everything is happening in the storyline. Showing sadness and mourning through the film. I'm still contemplating if my six years old should wait until the film is on Blu-ray for her to watch.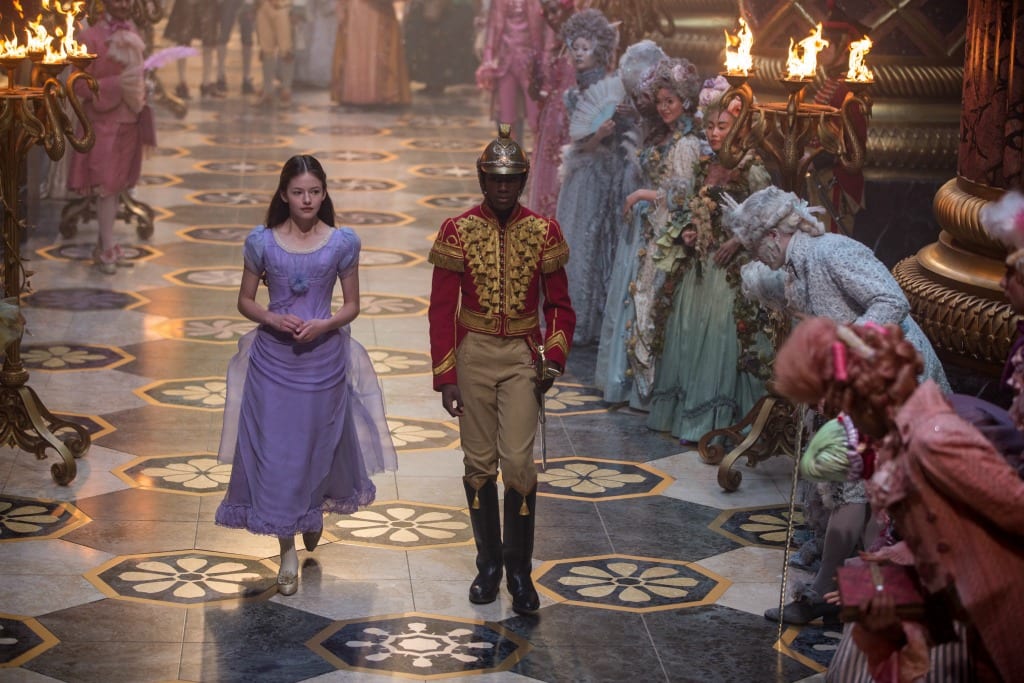 Will It Become A Christmas Family Tradition?
As much as I wish that it would be, I don't see families adding it to their yearly Christmas family traditions. Who knows, I might be wrong. Although the film was beautiful, I feel like it was just missing something throughout the film. There were some confusing parts during the movie and some questions that we never got answered. I still very much enjoyed the film, but I wouldn't say it was my favorite Disney movie of the year! It sure did get me into the Christmas spirit though!
I would love to hear your thoughts on the film and if your kids liked it or not.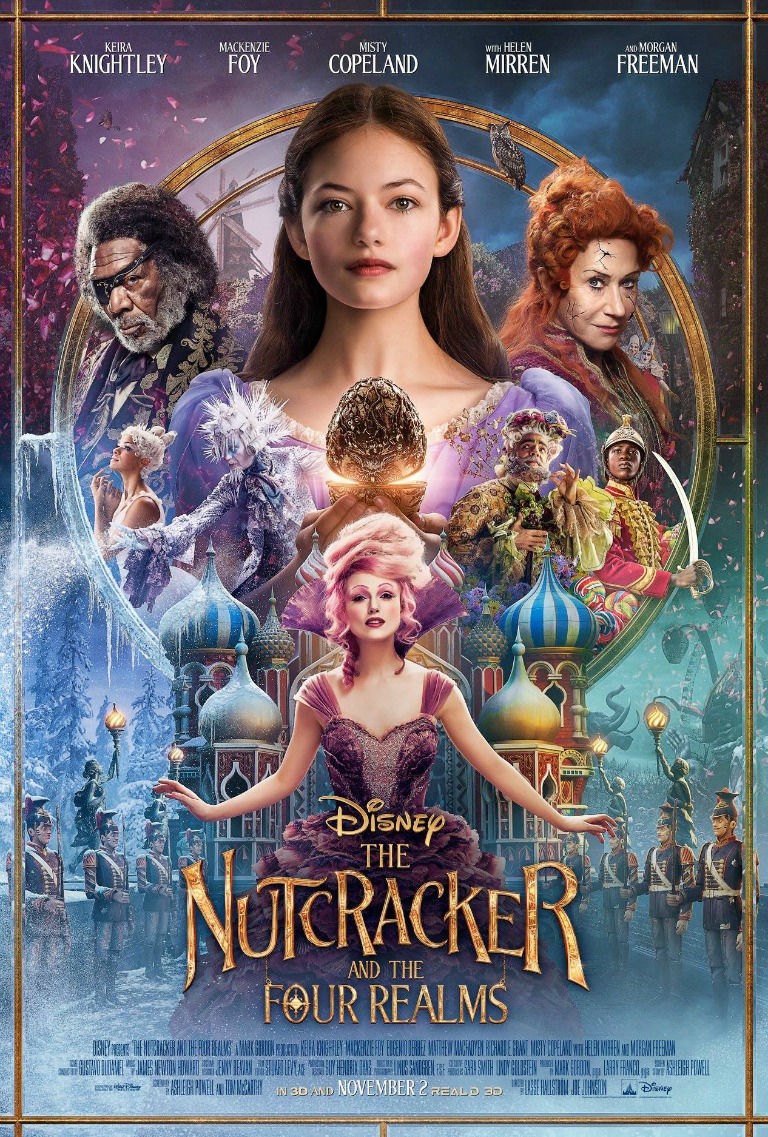 About The Nutcracker and the Four Realms
All Clara (Mackenzie Foy) wants is a key – a one-of-a-kind key that will unlock a box that holds a priceless gift. A golden thread, presented to her at godfather Drosselmeyer's (Morgan Freeman) annual holiday party, leads her to the coveted key—which promptly disappears into a strange and mysterious parallel world. It's there that Clara encounters a soldier named Phillip (Jayden Fowora-Knight), a gang of mice and the regents who preside over three Realms: Land of Snowflakes, Land of Flowers and Land of Sweets. Clara and Phillip must brave the ominous Fourth Realm, home to the tyrant Mother Ginger (Helen Mirren), to retrieve Clara's key and hopefully return harmony to the unstable world. Starring Keira Knightley as the Sugar Plum Fairy, Disney's new holiday feature film "The Nutcracker and the Four Realms" is directed by Lasse Hallström and Joe Johnston, and inspired by E.T.A. Hoffmann's classic tale.
The Nutcracker and the Four Realms Now In Theaters!!

You Are Also Going To Love:
If you enjoyed reading my Movie Review of Disney's The Nutcracker and the Four Realms, then you will also love the following Nutcracker and Movie Reviews I have put together for you:
Will you be taking your family to see Disney's The Nutcracker and the Four Realms?

Thank you, Disney, for flying me out to LA and allowing me to be apart of the press event for The Nutcracker and the Four Realms. All magical opinions are my own. Post also contains commissioned affiliate links.