This list of Positive Affirmations For Kids can help your child feel more confident, at ease with themselves, and create a mindset of achieving.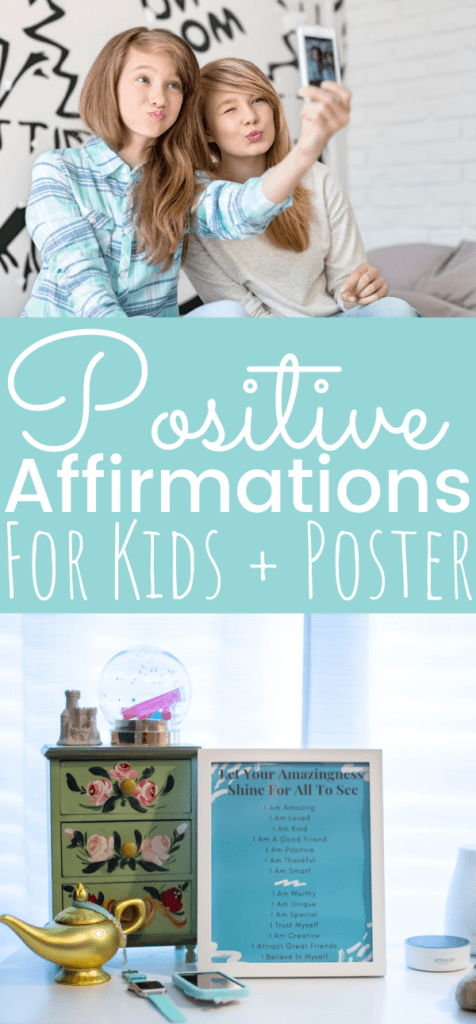 Positive Affirmations For Kids
When it comes to affirmations, there are so many opinions about them but do we truly know what they are and how to use them in our life.
The truth is we say affirmations daily, but we don't realize that's what they are.
Have you ever told yourself that you're not enough or put yourself down because you made a mistake?
Has your child said things like I'm stupid, I'm dumb, or I can't do that?
I hate to be the one to tell you this, but all of those thoughts and words you tell yourself are affirmations. It's what we call negative affirmations.
Our children are beginning to tell themselves the wrong types of affirmation, and it's our job to give them the tools to help them flip the negative affirmations into positive thoughts.
This post contains affiliate links.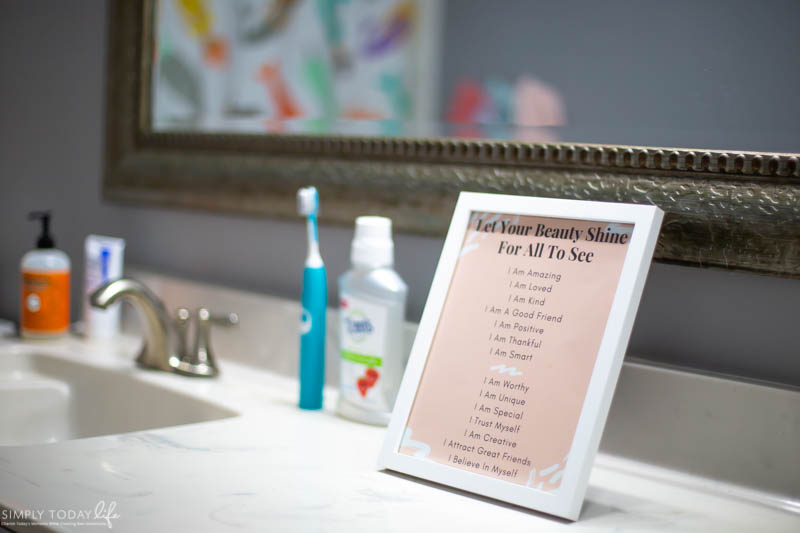 What Are Affirmations
First of all, we need to know what an affirmation is.
An affirmation is a statement or a group of words we tell ourselves.
Whether we say them out loud or in our heads.
It doesn't matter if these statements are positive or negative. If we say them to ourselves long enough, we begin to bring those thoughts to fruition.
We are believing them, whether they are true or not.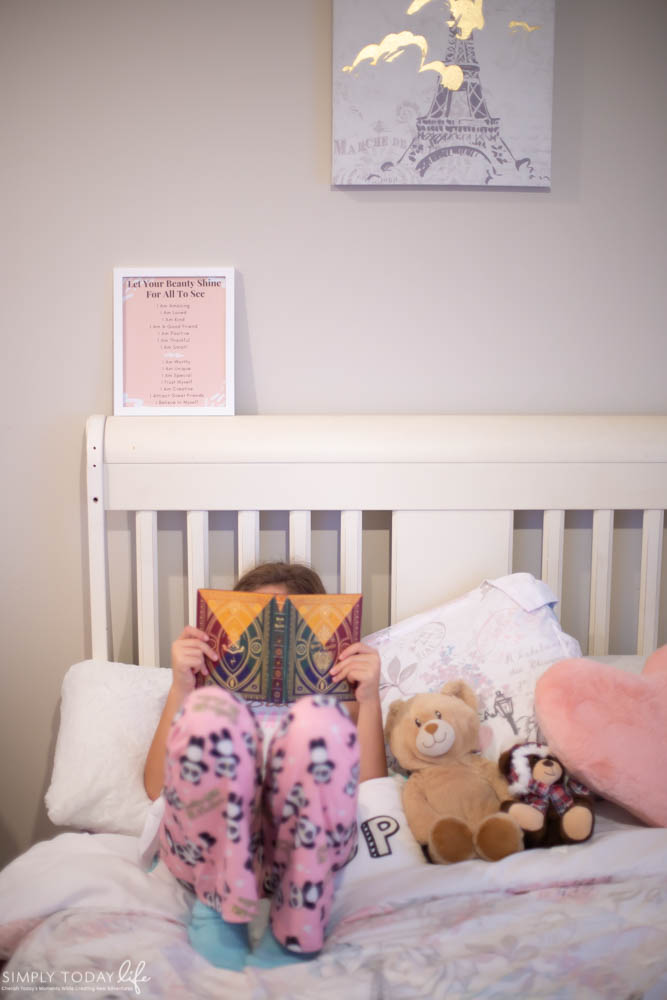 How Positive Affirmations Boost Confidence In Kids
Positive affirmations for kids work the same way they would for an adult or the same way as a negative affirmation.
When you say something to yourself over and over again, your brain begins to believe what you are telling yourself.
So, if your child is telling themselves they are stupid or not worth it, then they will believe this, whether it is true or not. Which we all know is not valid.
Positive affirmations work the same way. When kids recite and write down positive affirmations daily, they are rewiring their brains to say something kind even when they are struggling.
My oldest daughter is hard on herself when it comes to school grades and puts herself down a lot. A lot of times, she will tell herself that she can't do a task. My goal is to flip that negative affirmation to something positive like, "The more I practice, the better I will understand this subject" or "I don't understand this know, but I will keep trying until I do."
By my daughter simply switching the words of affirmations, we were using her confidence raises rather than making her feel worthless. Even though she still doesn't understand the lesson, her goal is to keep trying. Giving her the courage to try again rather than get upset and angry.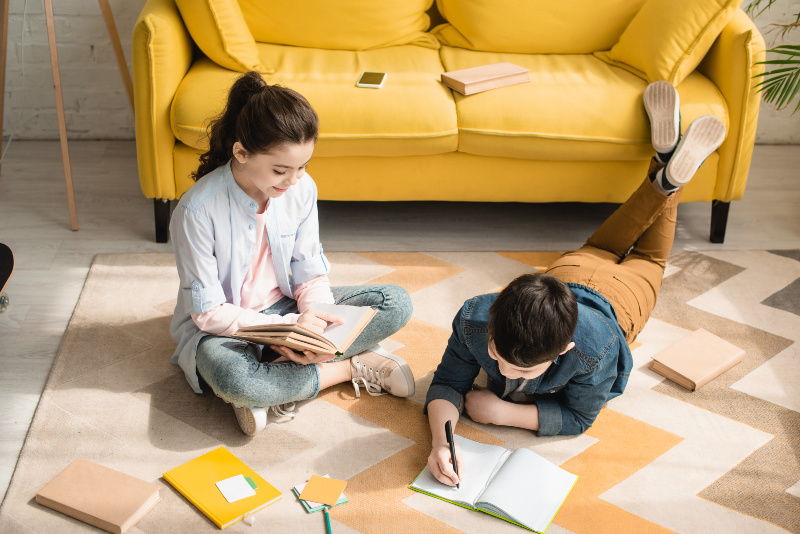 Resources To Help You Get Started With Affirmations In Your Home
Here are a few Amazon affiliate links of some of our favorite resources when it comes to positive affirmations and kids.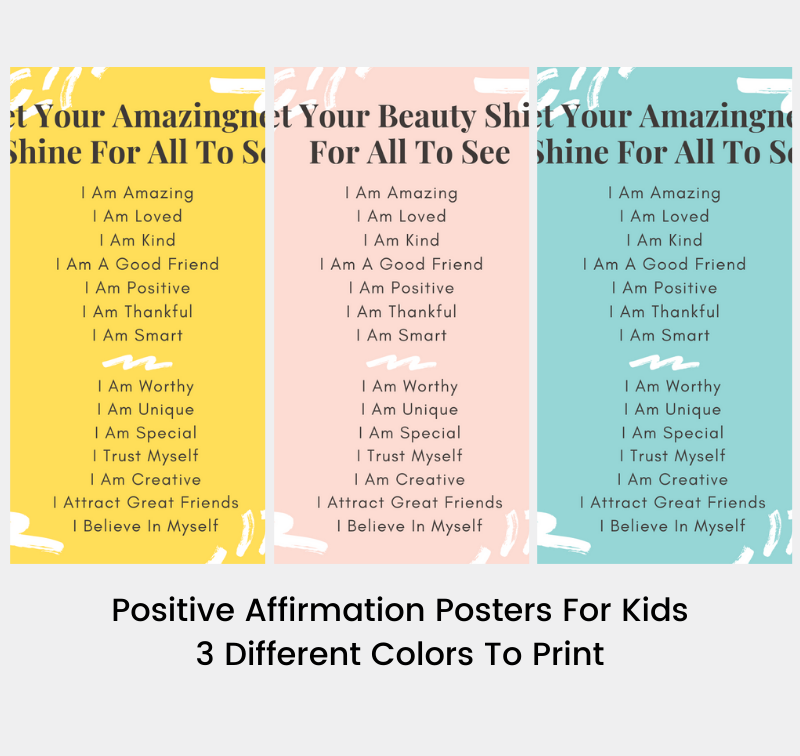 List Of Kid-Friendly Affirmations
To help you get your child started, I've put together a list of 50 inspiring positive affirmations for kids.
I am amazing
I am loved
Today will be a fantastic day
I am kind
I am a good friend
Today I will try my best
I am positive
I know I can do this
Today will be a great day at school
I am thankful
I am smart
Learning will allow me to grow
I will try my best, and that will be good enough today
I aim to do my best not for perfection
Today I will be kind to myself
I am worthy
I am unique
My challenges help me grow
I am special
I trust myself
I'm choosing to have a fantastic day
I am creative
I attract great friends
When I don't succeed I try again
My mom and dad love me
I'm becoming the best version of myself
Every day I learn something new
I love myself with all of my heart
I am one lucky kid
I'm grateful for my family
I am in charge of my happiness
I make a difference in this world
My ideas are important
My voice matters
I love myself exactly how I am
My body is strong
I am my favorite person
Today I choose to be happy
Making mistakes allows me to learn
I can do difficult things
I can do anything I set out to do
Trying new things allows me to grow
I choose to be calm and relax
There is no one in the world like me
I am a kind person
My future is bright
I am free to be myself
Mistakes are a chance for me to grow
I believe in myself
I am perfect just as I am
Free Affirmation Posters For Kids
I've created a free printable poster with positive affirmations for kids that your child can hang in their room or bathroom to help them repeat the affirmations daily.

Encourage your child to hang this poster somewhere visible they can read to themselves or out loud every day.
Kids Yellow Affirmations Poster
Teal Affirmations Poster For Kids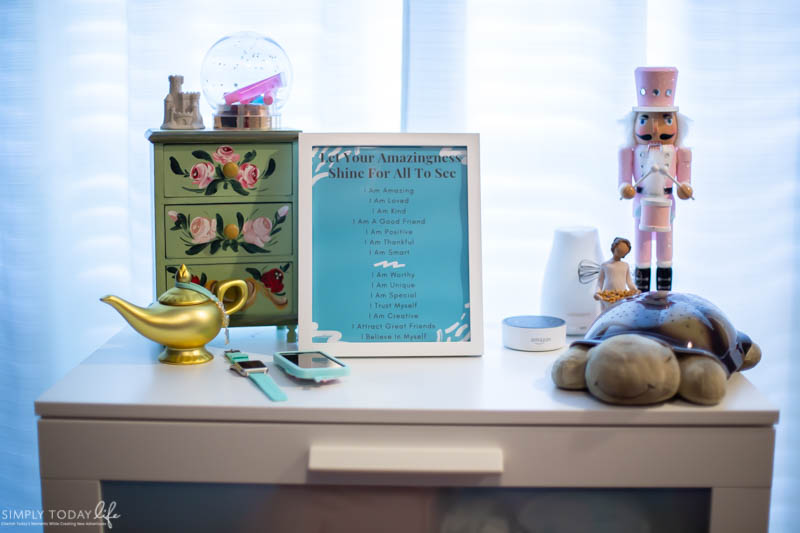 How To Encourage Kids To Do Daily Affirmations
There are so many different ways you can encourage your child to practice positive affirmations daily.
One way is printing out something visible for them to see. Like my free affirmation posters above.
Allowing children to see the affirmations every day and allowing them to read and repeat them.
Another great way to encourage positive affirmations in kids, tweens, and teens is to journal.
Journaling is a private space where they can write down their positive affirmations, thoughts, emotions, and dreams.
No matter which way your child chooses to practice positive affirmations, just make sure to encourage them daily.
Tell them out loud how amazing they are and affirm their belief in themselves.
You Might Also Enjoy These Articles