My daughter and I had the opportunity to explore the New Interactive Play Park At The Florida Mall. I grew up visiting the Florida Mall on a weekly basis, especially when we had family come from out of town. I can definitely say that the Florida Mall has stepped it up and has a beautiful facility.
Thank you to The Florida Mall for hosting us on Thursday to check out their newest interactive Play Park.

New Interactive Play Park At The Florida Mall | Grand Opening May 20th #PlayPark #ShopFloridaMall
Their new interactive Play Park is definitely unique and filled with hands on activities. Not only for the kids but for the parents as well. I loved that it really allowed my daughter and I to actually spend the time together rather then her playing and me on the sideline watching.
The Florida Mall's Play Park is definitely a family friendly experience for all! So, make sure to check it out this summer where you can play indoors!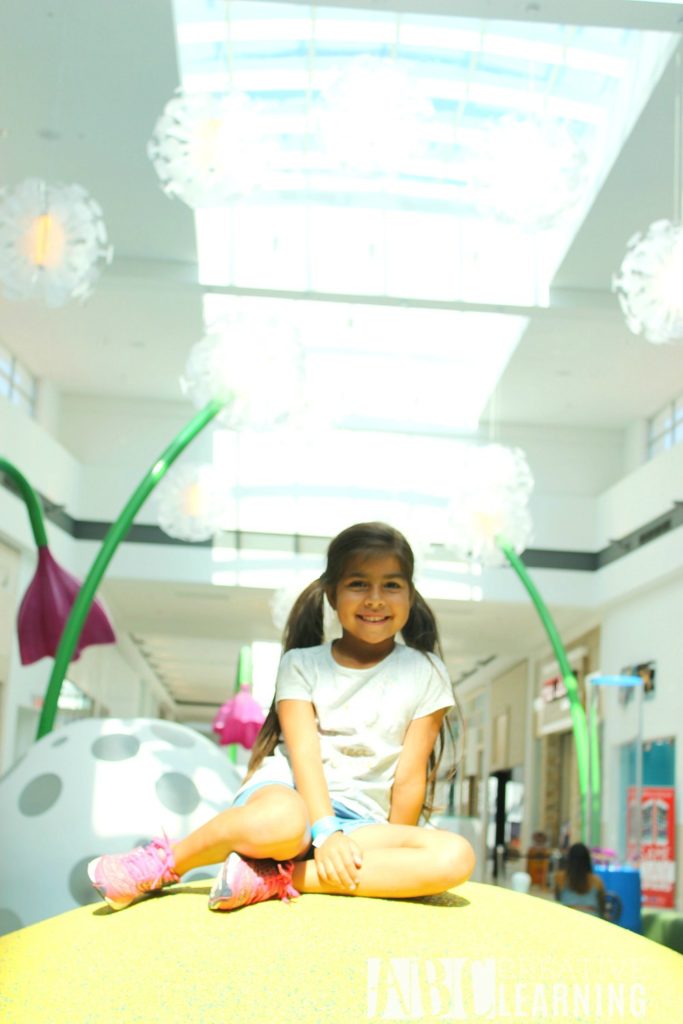 Activities at the Play Park
The Story Tunnel – (Zone: 6 months to 2 years)
As kids crawl through the interactive 8-foot tunnel, the floor beneath lights up and reacts to their every move. At the same time, invisible speakers tell the story of Duncan The Troll and how he looks after The Play Park.
Piano Patio – (Zone: 6 months to 2 years)
The Piano Patio lights up and plays magical musical notes when stepped upon.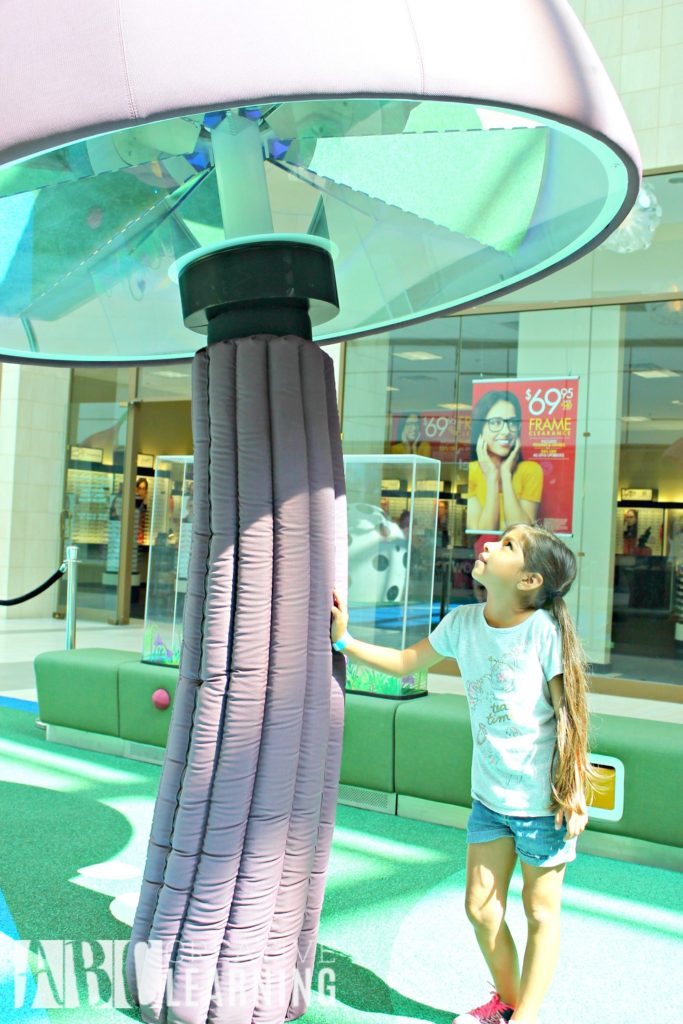 Kaleidoscope Mushroom – (Zone: 6 months to 2 years)
Designed for little ones, the larger-than-life mushroom reveals its hidden beauty when kids crawl underneath and view the rotating mirror kaleidoscope. As they look up and see their changing reflection, they also hear a beautiful lullaby coupled with troll and fairy voices.
Magic Doors – (Zone: 6 months to 2 years)
In The Play Park, there is a surprise behind every door. As kids push open the low doors, they see themselves reflected in digital magic mirrors. The Magic Mirrors warp the kids' reflections into weird and wonderfully funny shapes.
Windy Wall – (Zone: 6 months to 2 years)
The Wind Wall invites kids to push one of three oversized buttons. The Wind Wall then whooshes into life, blowing tiny butterflies into flight.
Chasing Game – (Zone: 3 years to 6 years)
Kids play a game of chase with a playful troll that lives under the stones. To play, kids simply jump onto the lit stone before the troll moves to the next one.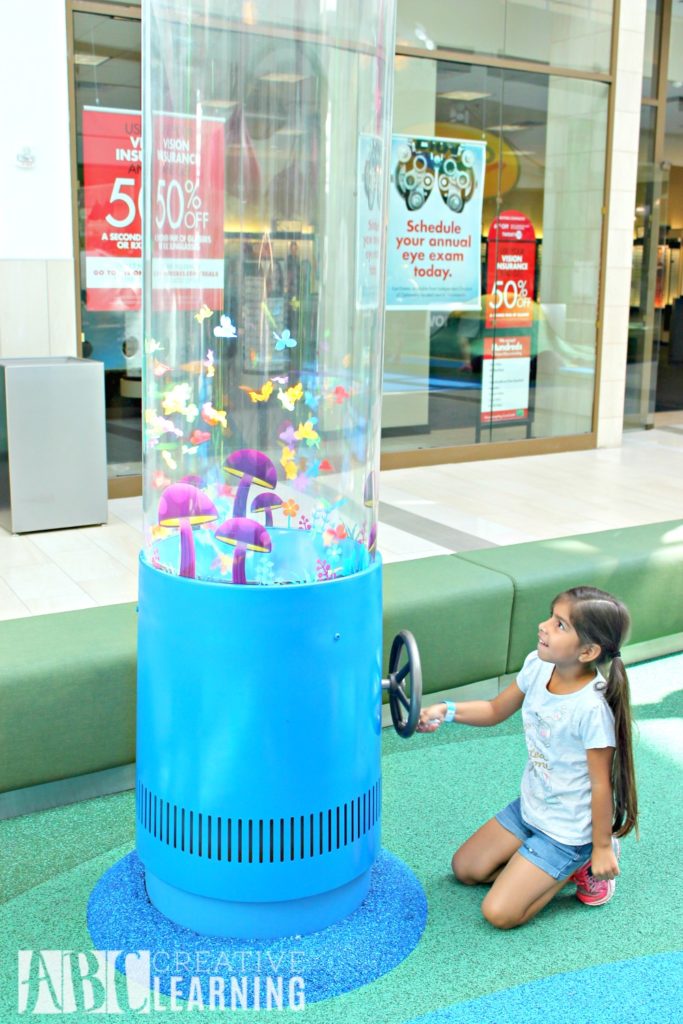 Wind Tube – (Zone: 3 years to 6 years)
Mixing old-fashioned analog with digital, the Wind Tube allows kids to crank a lever, which spins internal fans. As they spin, the flowing air lifts bubbles into the tube creating an underwater cauldron.
The Egg – (Zone: 3 years to 6 years)
Standing over 6–foot tall, the white egg is a quiet space designed for creative play. A small door on the side of the egg invites kids inside where they can relax and enjoy the ever-changing color of the interior walls.
Spinning Top – (Zone: 3 years to 6 years)
The oversized Spinning Top nods to vintage toys while also giving kids something fun and physical to do. As kids sit on the spin top, internal lights illuminate, making a wonderful color spectrum.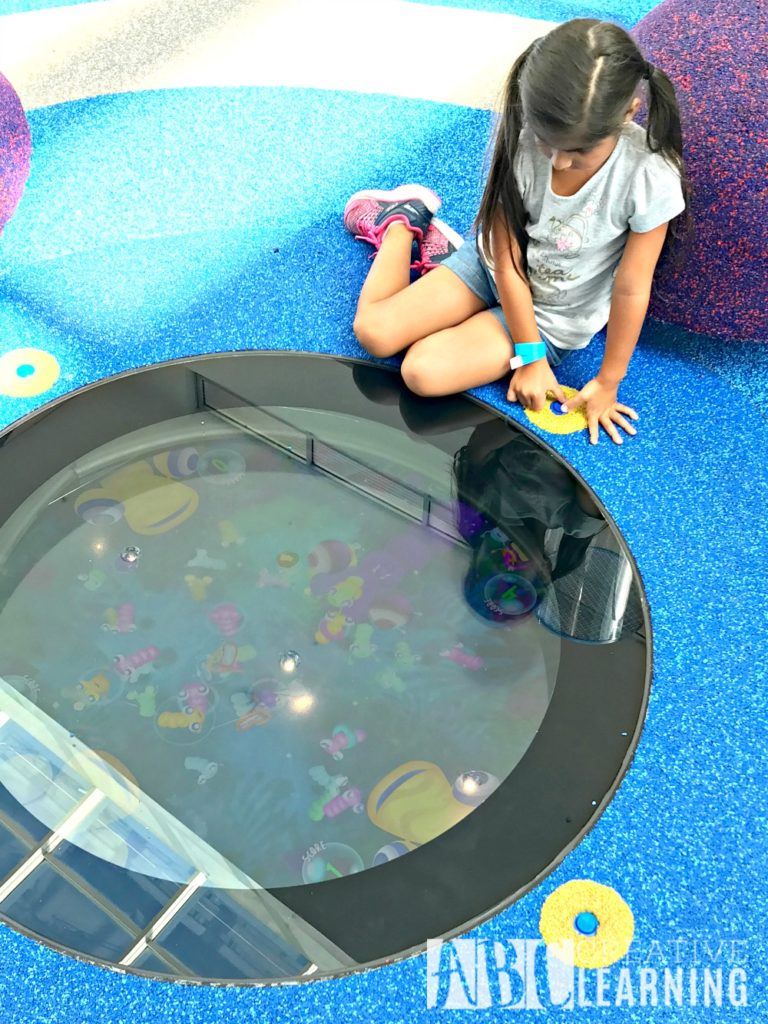 Digital Pond – (Zone: 3 years to 6 years)
In the Digital Pond, kids catch digital worms in a wacky game called Wiggly Worms.
Talking Flower – (Zone: 3 years to 6 years and 7 years to 10 years)
Talking Flowers are a digital twist on classic playground talking tubes. As kids talk back and forth from one flower to the other, a microphone captures their voice and changes it to sound like pixies and elves. At the same time, intelligent bright lights in the flower head and base react to every word.
Memory Game – (Zone: 7 years to 10 years)
In this incarnation of the Stepping Stones, kids are put to the test in a memory game. Once they stand on the start stone, they see a path of light to follow before the path goes dark. Step on the correct stones and Duncan The Troll cheers you on, step on the wrong one and, BUZZZZZZ! back to the start again.
Pixel Wall – (Zone: 7 years to 10 years)
At first glance, the Pixel Wall looks like a plain white wall, but run your fingers along it and interactive lights appear from behind the solid surface. Throughout the day, kids can interact with the Pixel Wall in several different creative ways.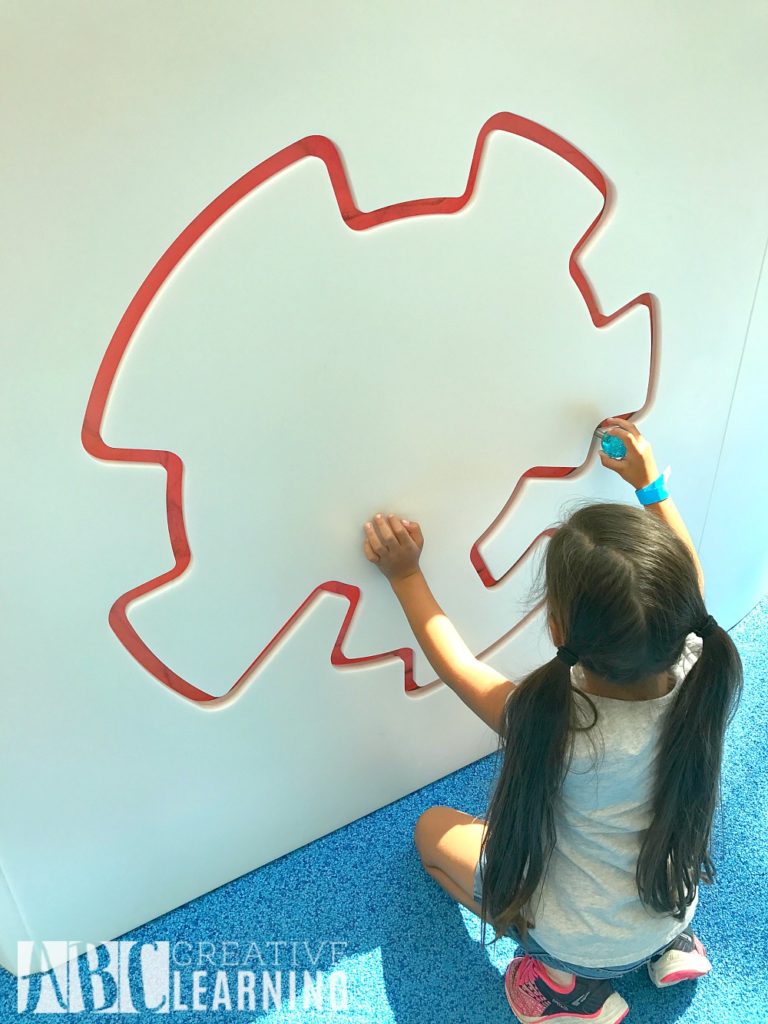 Electric Maze – (Zone: 7 years to 10 years)
Inspired by the frustratingly fun Wire Buzz game, the Electric Maze adds a new level of interactivity. The object of the game is to move the maze puck from one end of the track to the other without touching the sides. As you move, light tracks your progress, but make a mistake and, BUZZZZZZ! the track flashes red and progress is lost.
Mushroom Run Interactive Game – (Zone: 7 years to 10 years)
Mushroom Run is a one to a four-person game that kids play on a huge 75" touchscreen. The aim is to collect as many coins as possible while avoiding screaming snails, ducking under rainbow doughnuts and jumping over bottomless pits.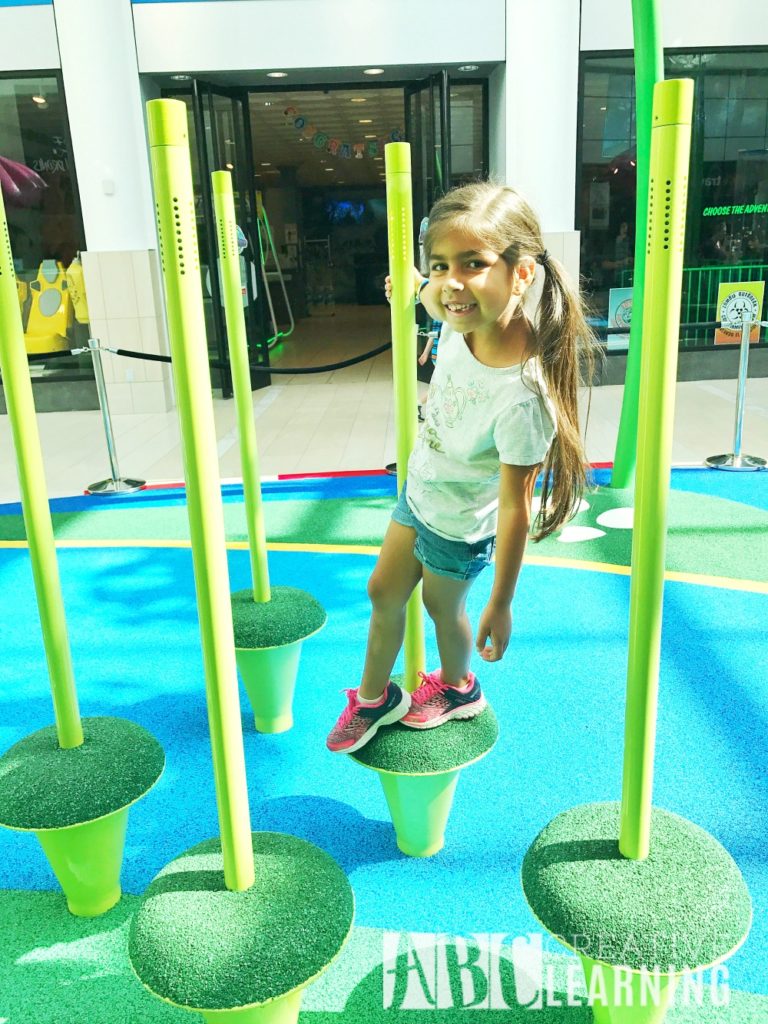 Glowing Grass – (Zone: 7 years to 10 years)
Mixing music, light, and coordination, the Glowing Grass reacts to kids as they stand on the blades of grass. Stepping from blade to blade creates a beautiful and bright symphony of light and sound.
Stepping Stones – (Zone: All zones)
Each of the three age zones features interactive Stepping Stones.
Sound Flower – (Zone: All zones)
Above each set of Stepping Stones are huge 14-foot tall Sound Flowers. These tulip-shaped flowers house directional speakers and colored SMART LED lights that react to any sound played through the flower.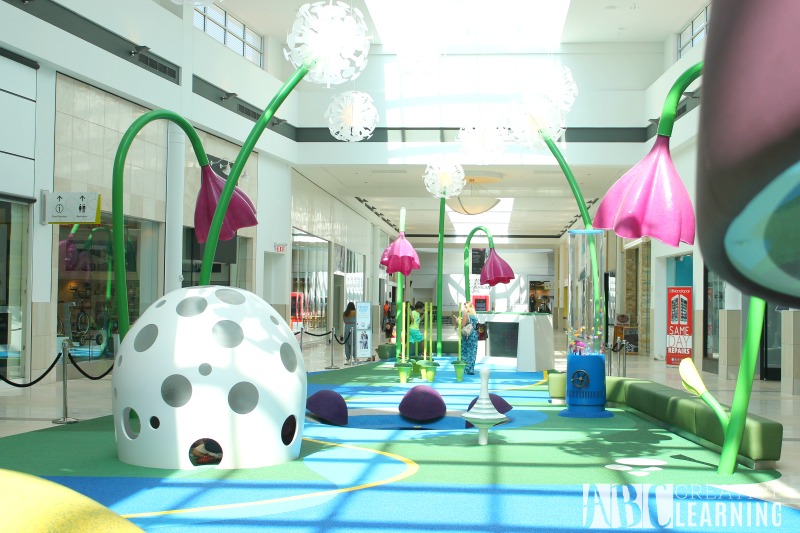 Florida Mall Play Park Grand Opening Details
On Saturday, May 20, the public is invited to explore The Play Park and enjoy free grand opening festivities beginning with a ribbon cutting ceremony at 11:30 a.m. Immediately after, The Play Park will host a variety of family-friendly activities from Noon until 3 p.m., including:
Thomas the Tank Engine™ Meet and Greet (adjacent to The Play Park near Dick's Sporting Goods)

Live DJ featuring kids' games, entertainment and a photo booth

Face painters, balloon artists, strolling entertainers and stilt walkers

Popular costumed characters including Beauty and the Beast, The Trolls and Snow White will be available for photos throughout the day

Crayola Experience will be offering an exclusive bag and a personalized crayon to the first 250 event attendees as well as character appearances throughout the day. Plus star in your own coloring page when you stop in to the Crayola Store and enter for your chance to WIN annual passes

Craft stations and mad science experiments

Food sampling from select Dining Pavilion Retailers

A scavenger hunt

Exclusive complimentary offer booklet from kids' retailers offering exclusive weekend savings

Gift bags and exclusive swag for the first 250 children

2 grand prize 'shop and stay' giveaways

Dance, karate and gymnastics performances by local youth groups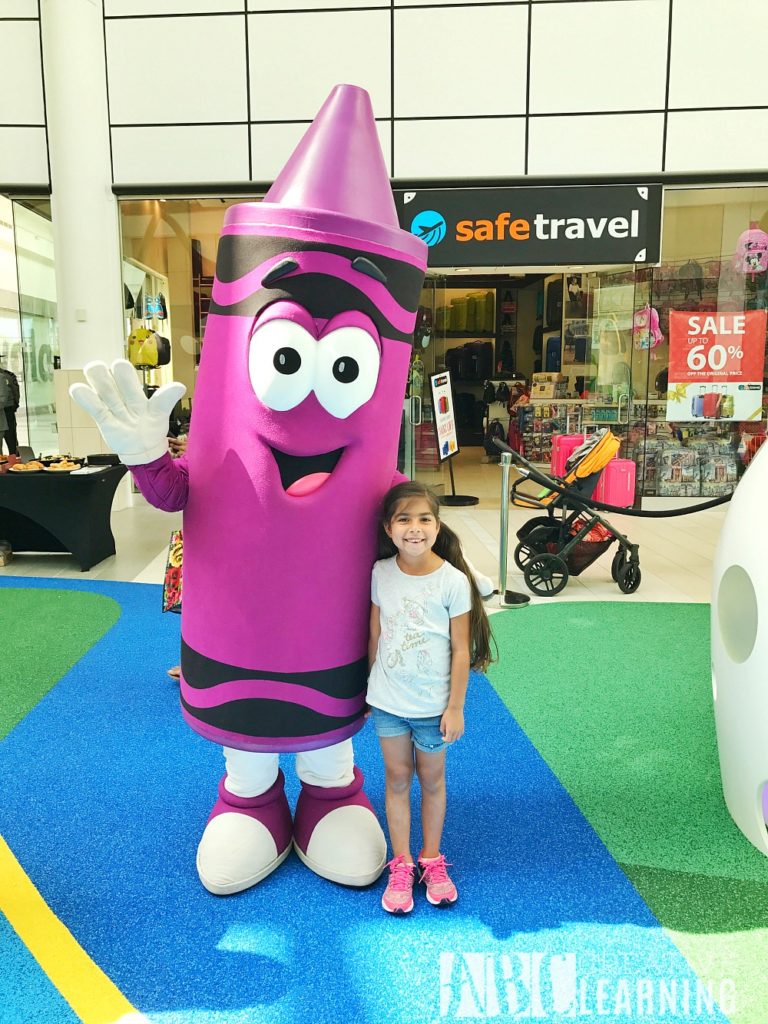 For more information and updates about The Play Park, please visit shopfloridamall.com and follow us on social media. Share the fun using hashtag #PlayPark.
You Are Also Going To Love:
If you loved this Interactive Play Park Florida Mall information, then you will also love the following Florida posts I have put together for you:
Will you be attending the grand opening of the Play Park today?

SaveSave
SaveSave