Our Interview with Kelly Marie Tran On Her Role As Rose Tico In Star Wars: The Last Jedi was the most sincere interview I have sat in. You can see her vulnerability and emotions in her sincerity, which is why I probably loved talking to her so much. As the newcomer in the new Star Wars movie, The Last Jedi, Kelly Marie Tran had lots to share with us about her first major role.
Thank you, Disney, for the invitation to attend the Star Wars: The Last Jedi Press Conference and Interviews in LA. #TheLastJediEvent
Interview with Kelly Marie Tran On Her Role As Rose Tico In Star Wars: The Last Jedi #TheLastJediEvent
As soon as Kelly Marie Tran entered the interview room you could tell that she was overwhelmed with emotions. "I'm just trying to take in every moment, and really be present here", she said to us. I can see how grateful she was to be apart of such an amazing moment and life-changing experience for her. She is humble, sweet, and most of all present in the moment.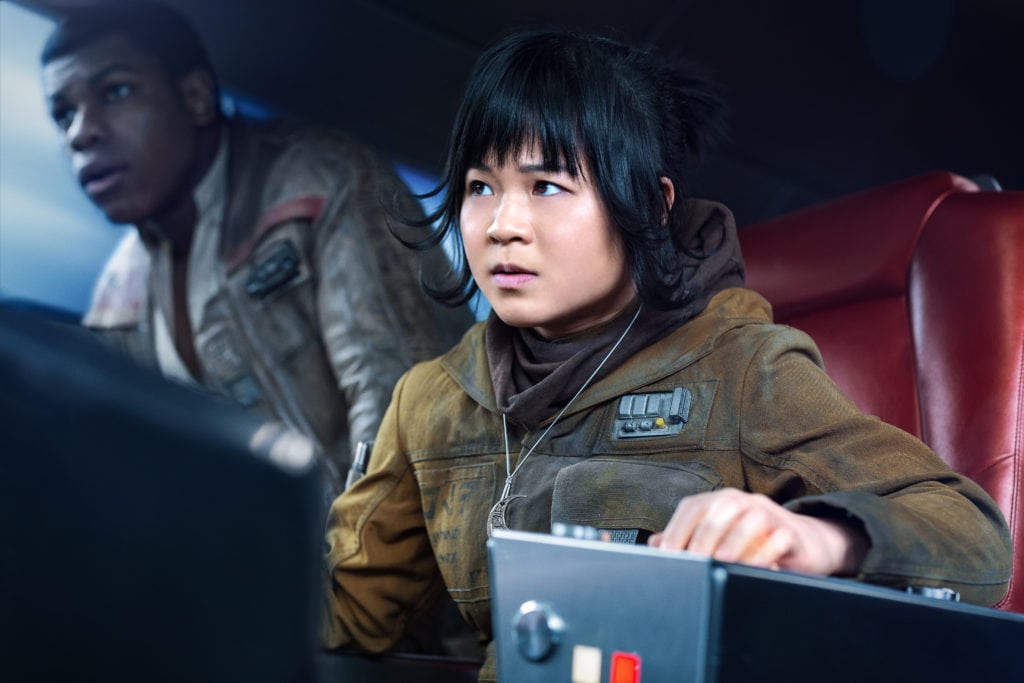 Getting The Role As Rose In Star Wars: The Last Jedi
"The first audition I had was back in 2015. And at this point, I had been pursuing acting for about seven years. I was so sure in my mind and in my heart, that I wasn't going to get it, that I was free to be present and have fun. It was a five-month audition process. And it included a surprise chemistry with John Boyega. then the final test was in London in full hair and makeup".
"I was still working my day job. I was working at an office. I was an assistant. I got this email from my agent, or a call from my agent saying that Rian wanted to meet with me before the Thanksgiving break. This is November of 2015. I was like either he's gonna be 'you have it', or it's gonna be 'look, nice try kid. Just wanted to say, good job.' At first, there's a little small talk. Then he says, I want to offer you this role. I had imagined this moment".
Kelly, was very emotional during the interview, especially when sharing with us when Rian offered her the role. It makes me want to cheer for her even more now! Not only because she is one of the females in the movie, but because it shows young children that dreams do come true!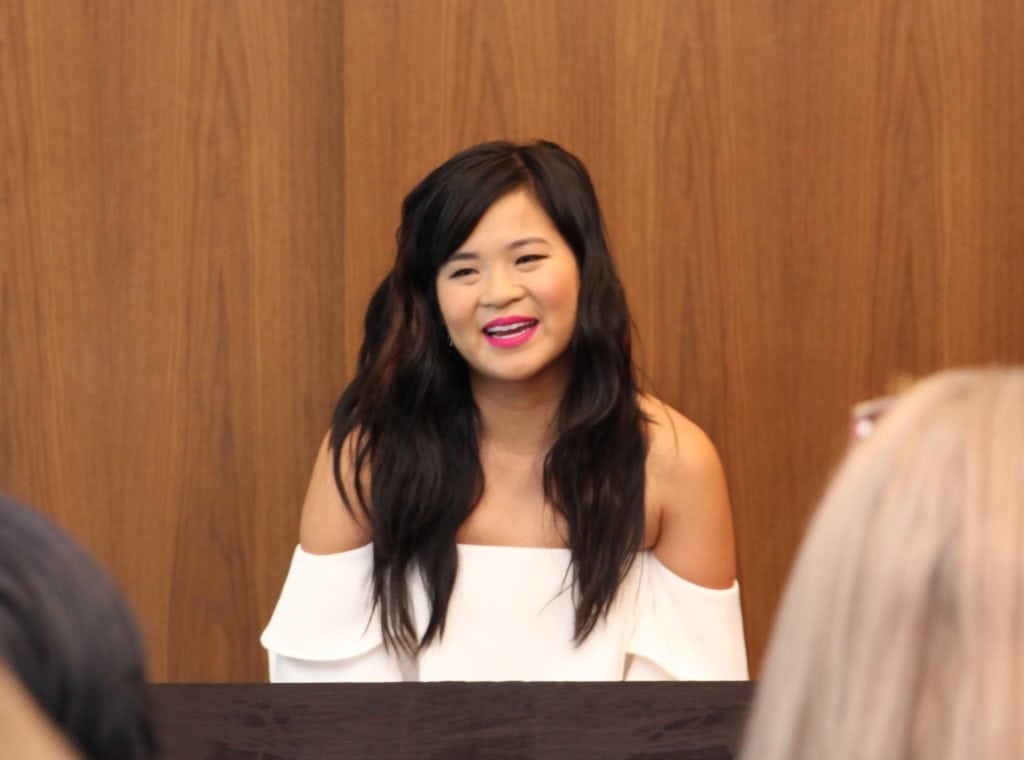 Bringing Diversity and A Strong Asian Female Role To Star Wars
I loved her answer so much that I just had to share with you all what she said verbatim!
"I thought about that a lot. And it feels like such an honor, but also a lot of pressure. I knew what it was like to grow up in a world where I never saw myself in anything. I would like to hope that in some way, this character is such an example of someone who doesn't necessarily belong in this world. She works in maintenance. She works behind pipes all day. She's not a star pilot. She doesn't have magical powers. She's not a princess. She's someone who is just in every woman, essentially".
"If this character could mean anything, I really hope that she portrays the idea that even if you are someone who's kind of in the background, who's not in the spotlight, who's not a princess you can still make a difference. You can still rise up to any challenge that comes to you".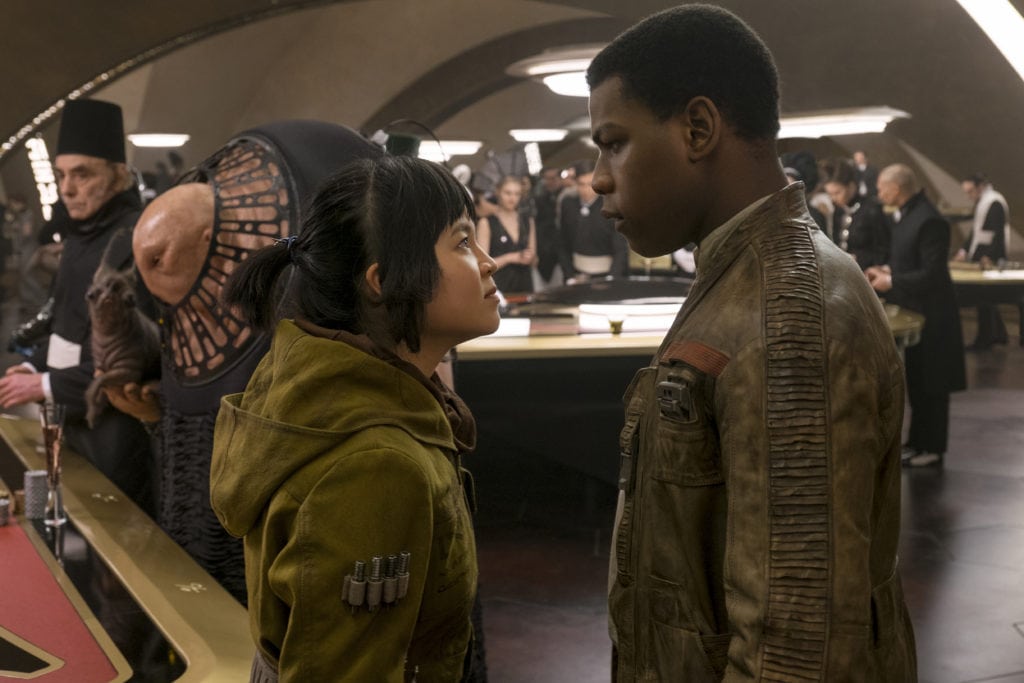 Sharing Herself With The World
"When I finished the movie, I ran away. For seven months I went to travel by myself. I really wanted to center myself, and really think about why I got into this in the first place. I tend to overanalyze everything, but I do think it's important to consider what you put out in there into the world. There's so much noise now. There's so much of 'look at me! Look at me!' And I didn't want to be part of that noise if that's possible. I think that Carrie was such a great example of that, of just being seen always openly, honestly… unapologetically. And not being ashamed of who she was, and I think that I want to try as much as I can to be that way".
"I think that we live in a world where we tend to hide a lot of our flaws, and we try to put on makeup and dresses, and all these things. And I'm just, like…if we all just were okay and open with all of our insecurities, 'cause we all have them, and we're all not perfect, then maybe the world will be better. So I'm trying to do that, and I'll let you know how it goes"!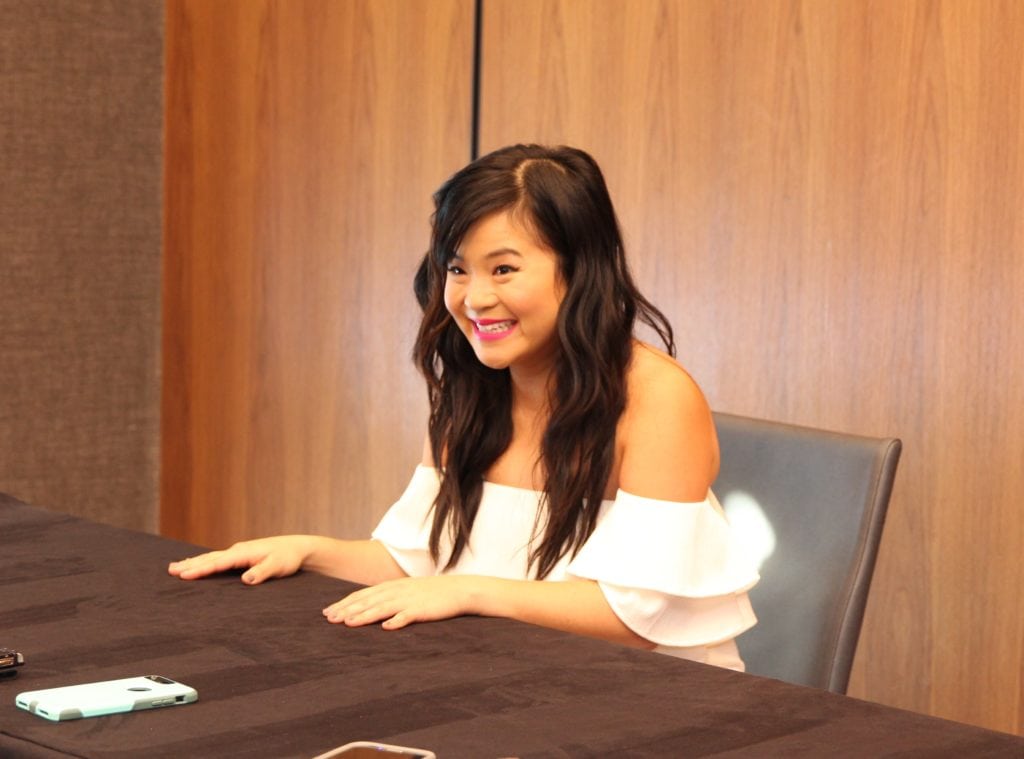 I simply loved not only being in the same room with Kelly Marie Tran but reading back and listening to our interview with her made realize that this may be one of the best interviews I will be apart of. Not only because it's Star Wars, but because she is a newcomer to such a huge legacy. Her honesty and sincerity with us were mind-blowing. Not something you see very often when sitting down with a celebrity. Which I can totally see her laughing if she were to read that I called her a celebrity. That's exactly what she is now.
I truly wish her the best in her career and hope that she stays as grounded as she is right now! We're cheering you on Kelly!!
I wanted to share one last quote that I absolutely loved reading over and over again as I wrote this post for all of you. I loved it so much that I printed it out and I'm framing it for my daughter to hang in her room. Maybe, just maybe if she were to read it from someone else she would believe it herself!
"I always believed that if you work hard and you're a good person, you will get where you want to go. I always believed that. But experiencing it is a whole different thing. I think if you're talking to me, personally, spiritually, it's really changed the way I look at the world. I really want people to know that if your parents are not in this world, if you have no connection to it, if it seems impossible, if you're working four jobs to support it, you can't pay off your student loan bill, if you're worried about all that stuff and you still want to do this, and if you keep going, and you put your head down, you just ignore the parties, and ignore all the people that don't believe in you, I just think it's possible, and I always have".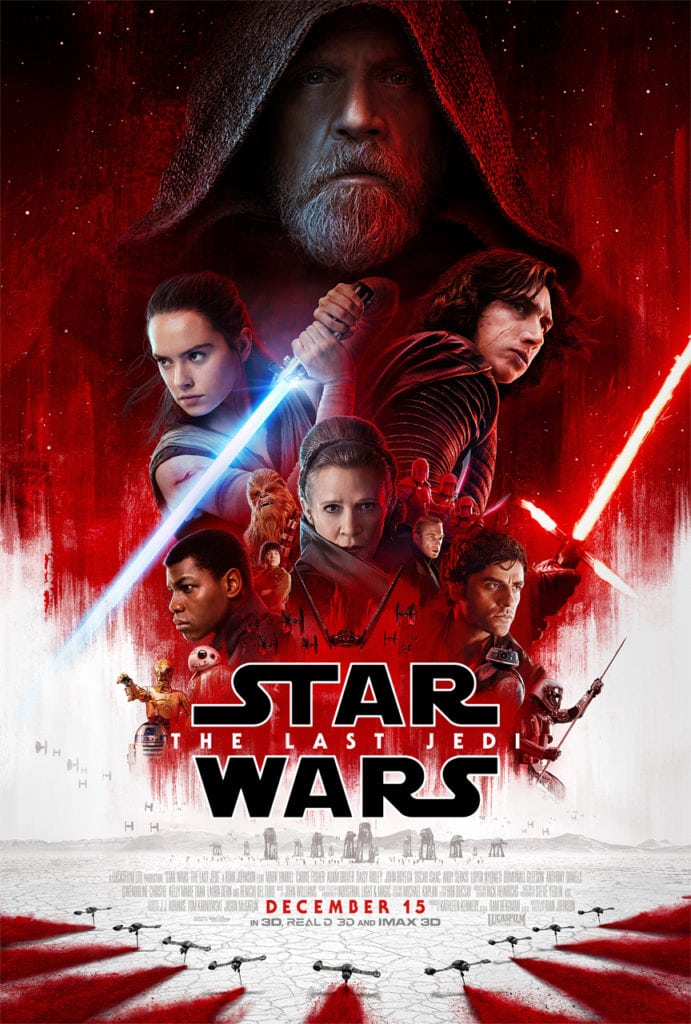 Star Wars: The Last Jedi is NOW Playing In Theaters!!!!!!!
Follow Star Wars: The Last Jedi
Facebook * Instagram * Twitter * Youtube * Official Website

You Are Also Going To Love:
If you loved this interview with Kelly Marie Tran, then you will also love the following Star Wars: The Last Jedi articles I have put together for you:
Who's going to go see the movie this weekend?

SaveSave