Today I have your Family Guide To Celebrating the Holidays at Universal Orlando Resort! Last week our family went on an amazing adventure visiting Who-ville, flying on broomsticks, and watching Minions fly in the sky! Minions? Flying? I told you we had an adventure! Here's everything you must see and do before 2017 is over!
Thank you, Universal Orlando Resort for hosting our family. All grinchmas opinions are our own.
Family Guide To Celebrating the Holidays at Universal Orlando Resort
If you haven't had a chance to experience the holidays at Universal Orlando Resort, we highly suggest planning a family day or even a weekend! We hadn't visited Universal Studios or Islands of Adventure during the holidays since we had to cancel our annual passes last year after I got sick. Before that we had visited during the holidays every year. We have made so many memories throughout the years and we were happy to be back to create new ones!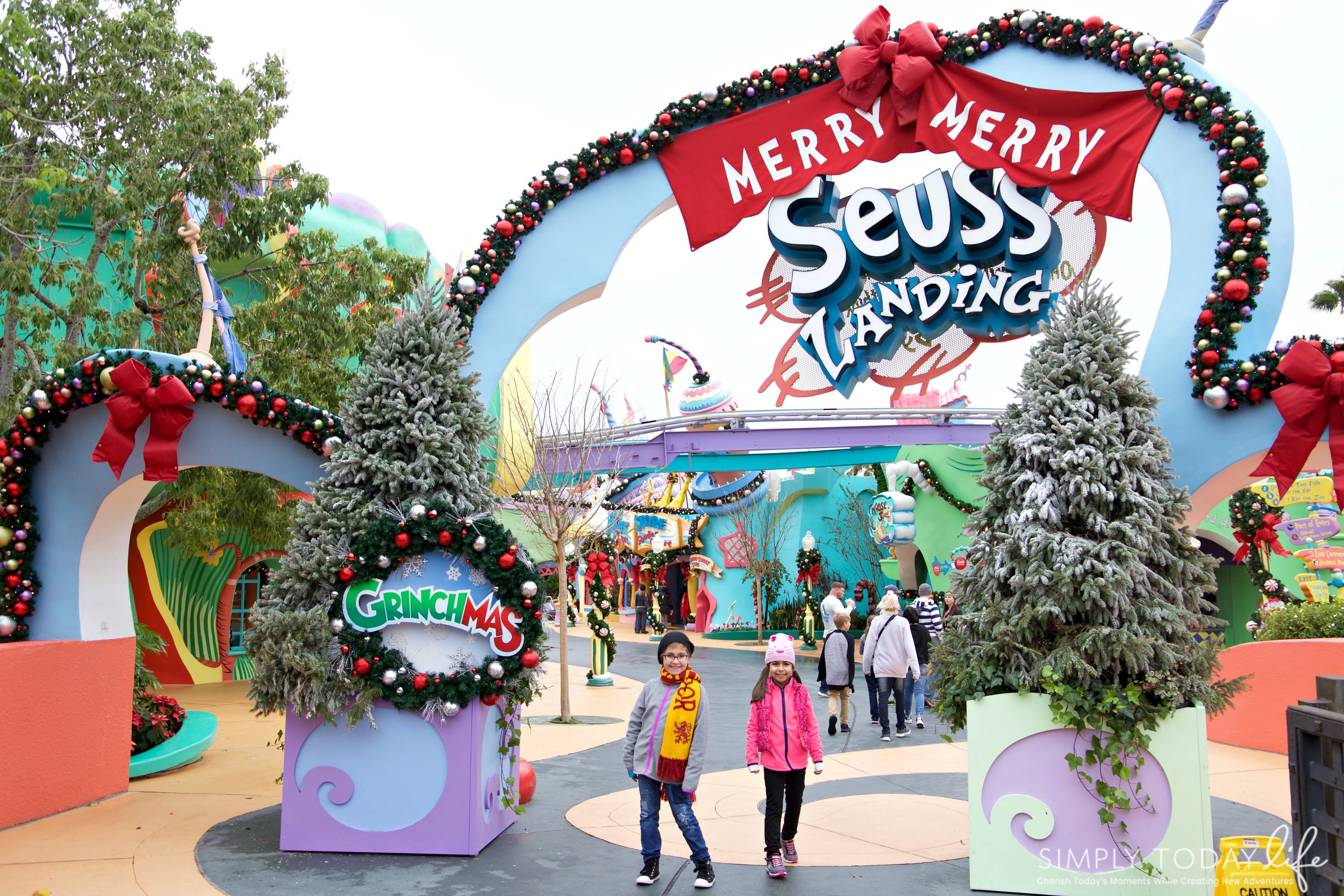 Grinchmas At Seuss Landing
Seuss Landing is by far my daughters favorite part of Islands of Adventure, simply because it's catered perfectly for them! My youngest one is still a little bit timid when it comes to fast rides, so these rides in Seuss Landing are right up her alley!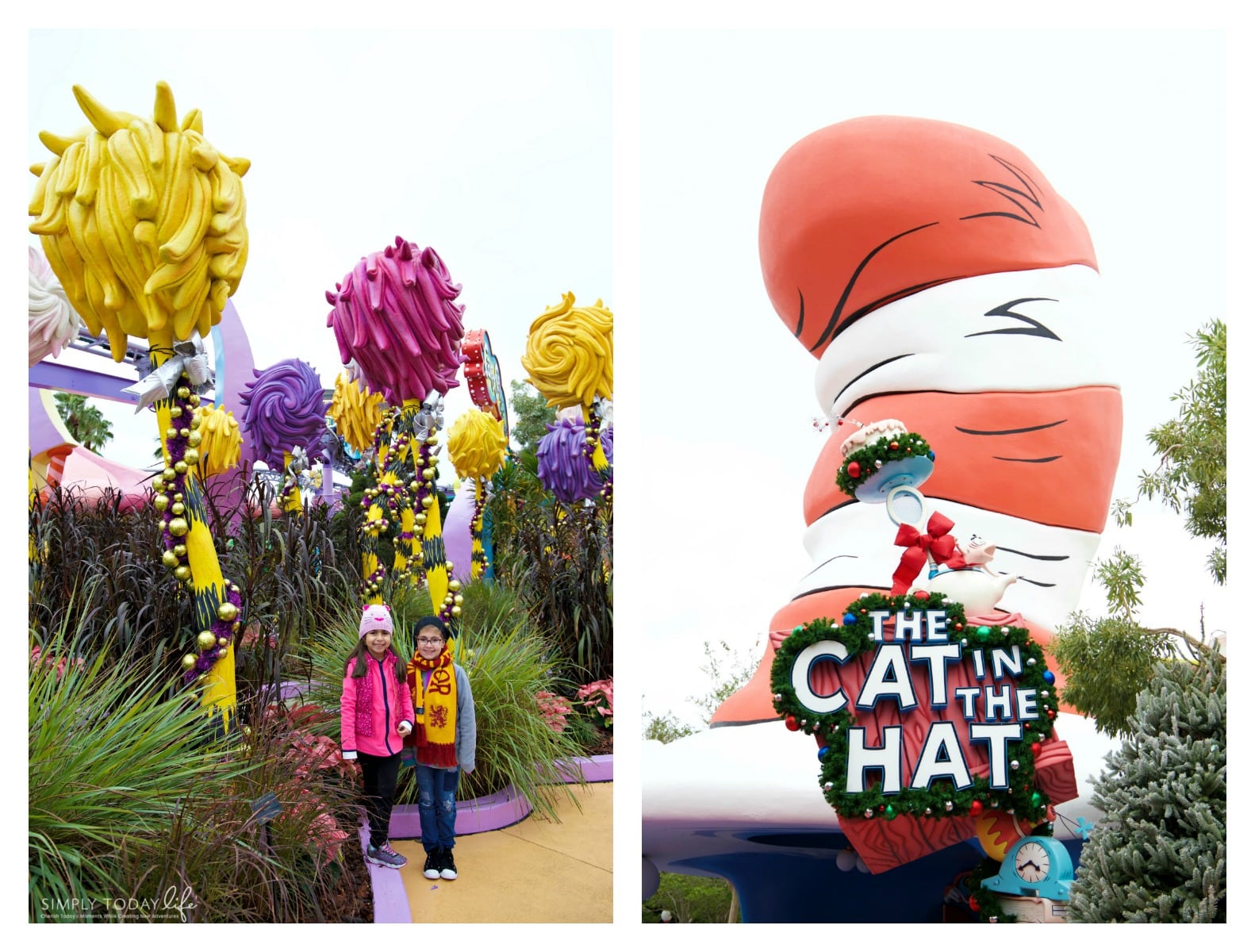 During the holiday season the entire town of Who-ville is transformed into the merriest of places! The perfect location to take a few great photos with the kiddos and your favorite Dr. Seuss characters like The Cat in the Hat, The Grinch, Thing 1 and Thing 2, and Sam I Am!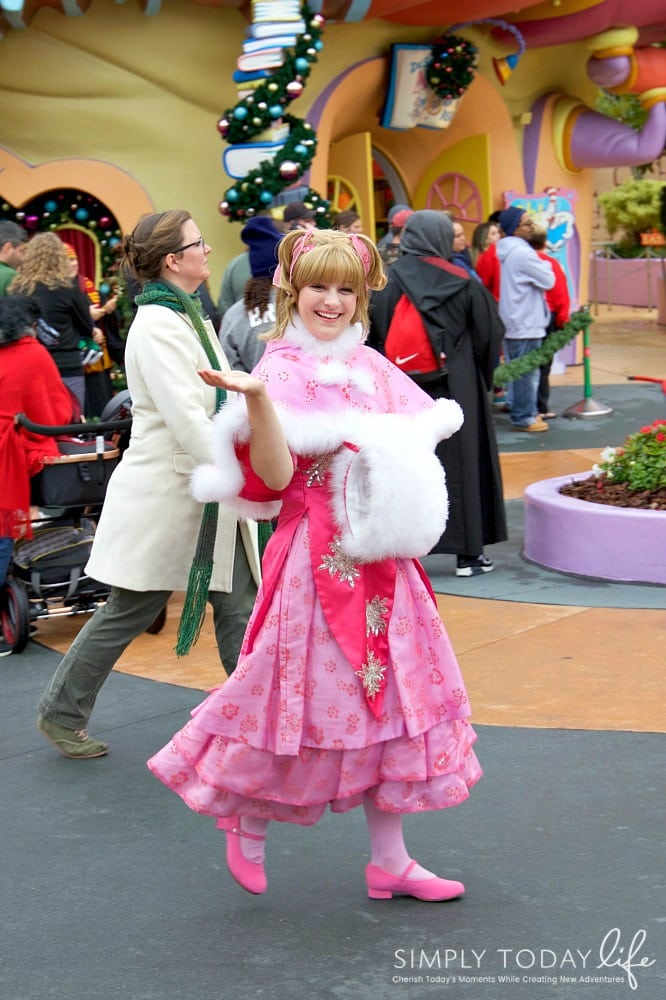 If you plan it perfectly right before show time, you might even bump into some Who's on the way to their Grinchmas Who-liday Spectacular!
*Tip:A long line will form right after the show ends because everyone wants to take a photo with the Grinch. The trick is to get in line before the show ends. So plan your time where you are taking photos with the Grinch, then get on rides in Seuss Landing, and then get in line for the show.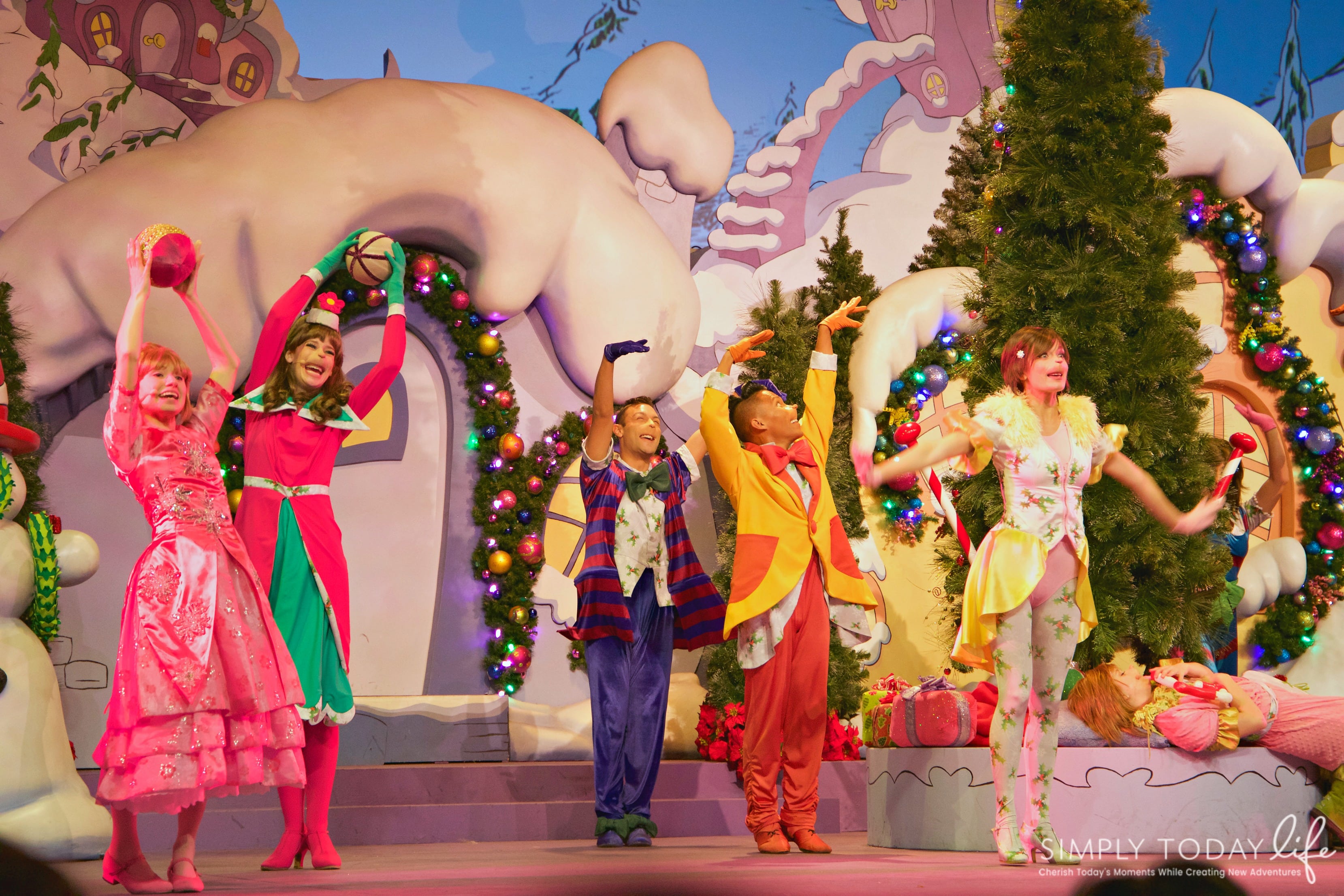 Grinchmas Who-liday Spectacular
"You're a mean one, Mr. Grinch!" Do not forget to check out show times for the Grinchmas Who-liday Spectacular in Seuss Landing either!
Grinchmas in Seuss Landing is not to be missed! Especially if you have young children who are a fan of The Grinch Who Stole Christmas! Is a fun, bright, and upbeat show that will have you laughing and singing along to some of your favorite Who-ville songs.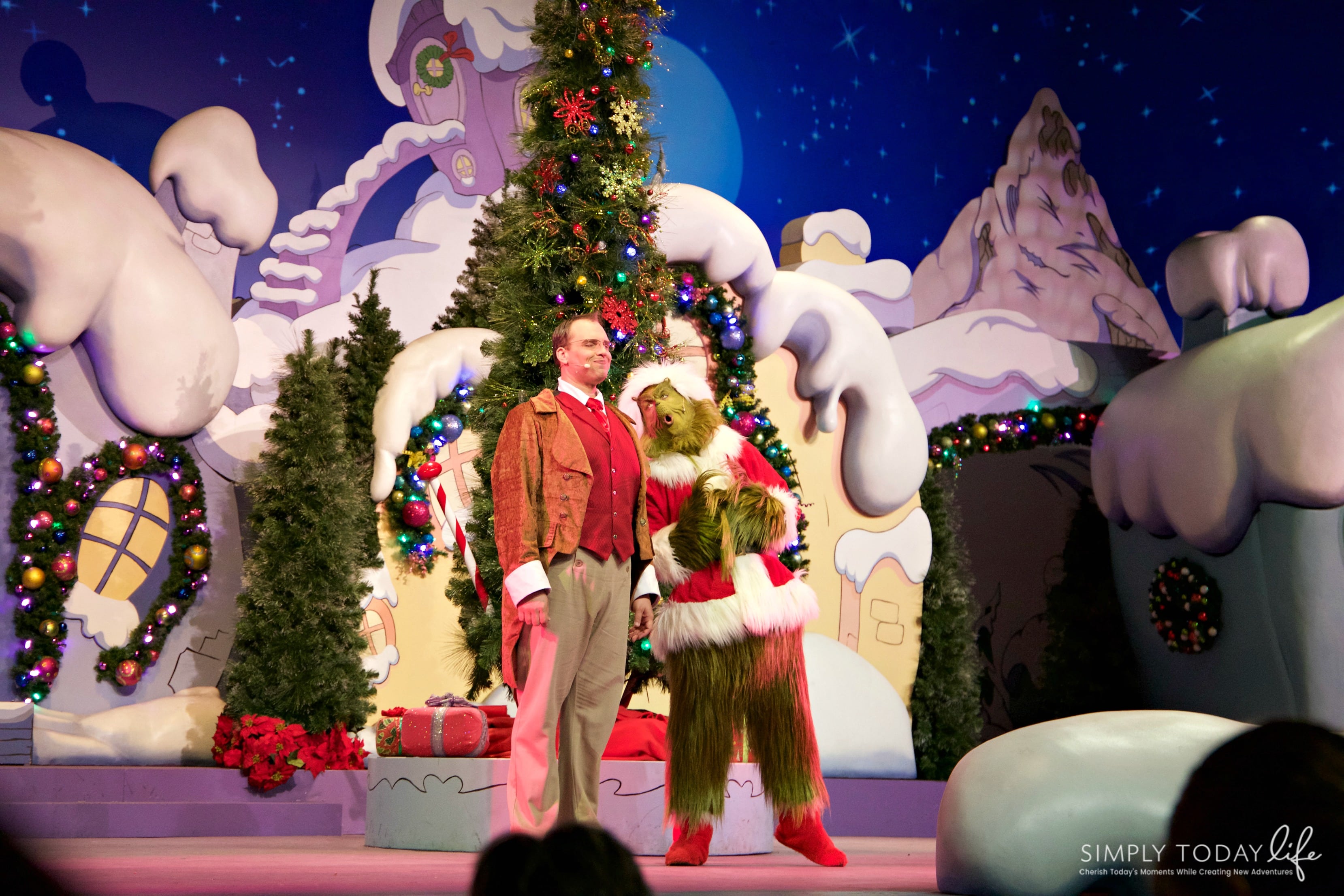 * Tip: Any seat during the show is a good seat, but to get an upfront view you need to get in line as soon as they open up the ropes. You will wait in line for about 30 minutes, but as soon as the previous show ends, they begin seating for the next one. It's worth the wait!
Shows usually begin around 10:45 am and run every hour. Double check times when arriving.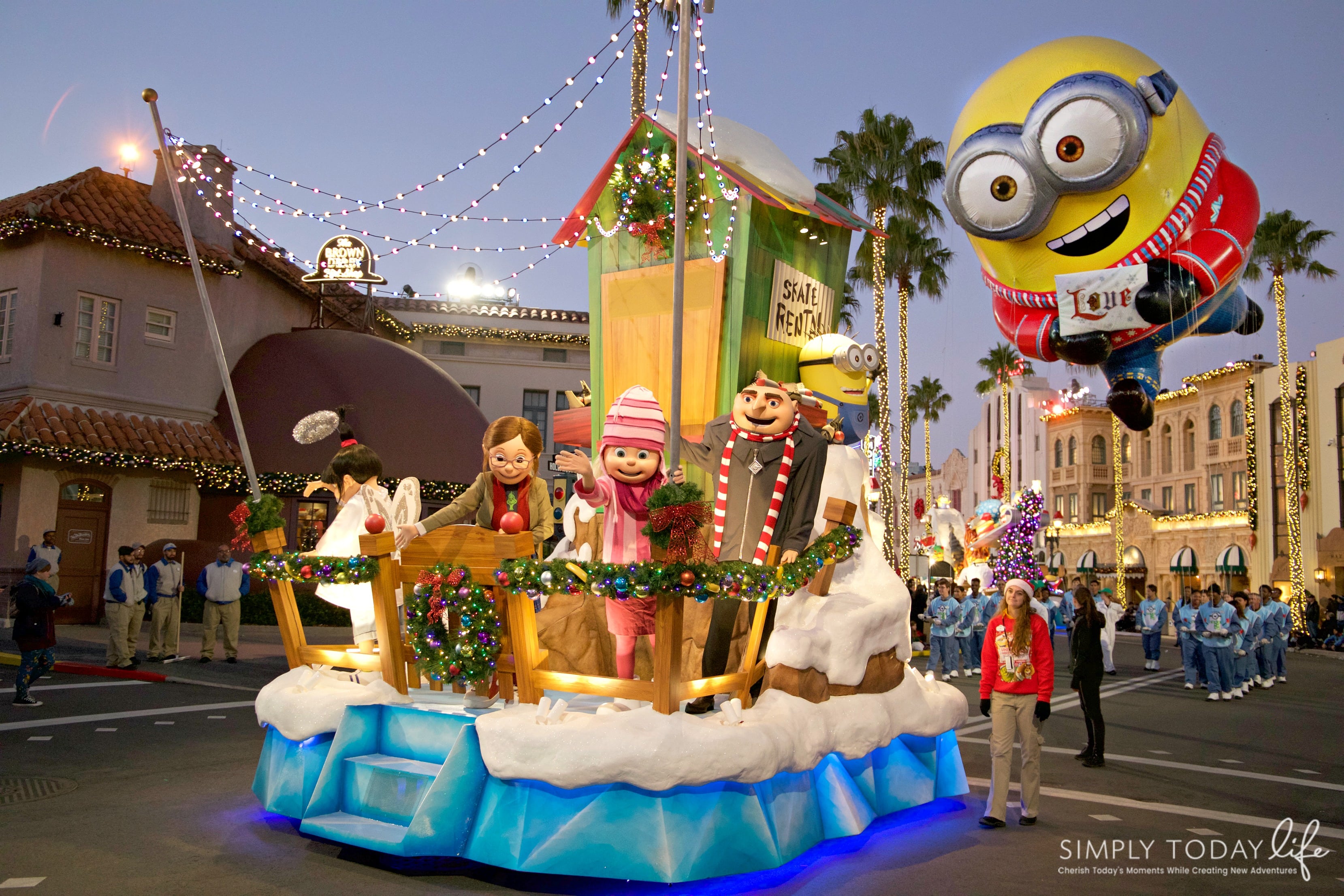 Universal's Holiday Parade Featuring Macy's
One of our favorite things to do during the holidays at Universal Orlando Resort as a family is to watch the holiday parade. We've always been a fan of the holiday parade, but this years Universal's Holiday Parade featuring Macy's was incredible. They have added some of our all time favorite characters to the parade and finished off with some of Macy's most popular floats! I will admit that this was my favorite holiday parade this year!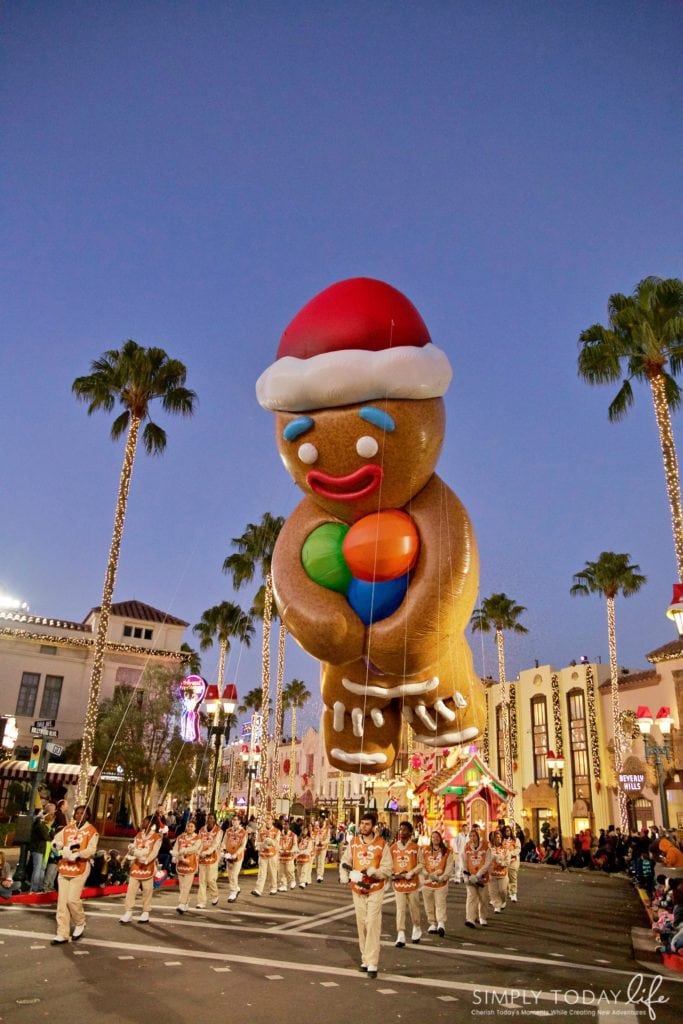 You can't celebrate the holidays at Universal Orlando Resort without experiencing the holiday parade! You will love it and the kids will love it! You will spot some of your favorite characters such as Shrek and Fionna, Gingie, the Madagascar gang, Minions, Gru with Margo, Edith, and Agnes. Plus so many more characters!
Don't forget that the parade also includes some of the most popular floats from the Thanksgiving Macy's Day Parade!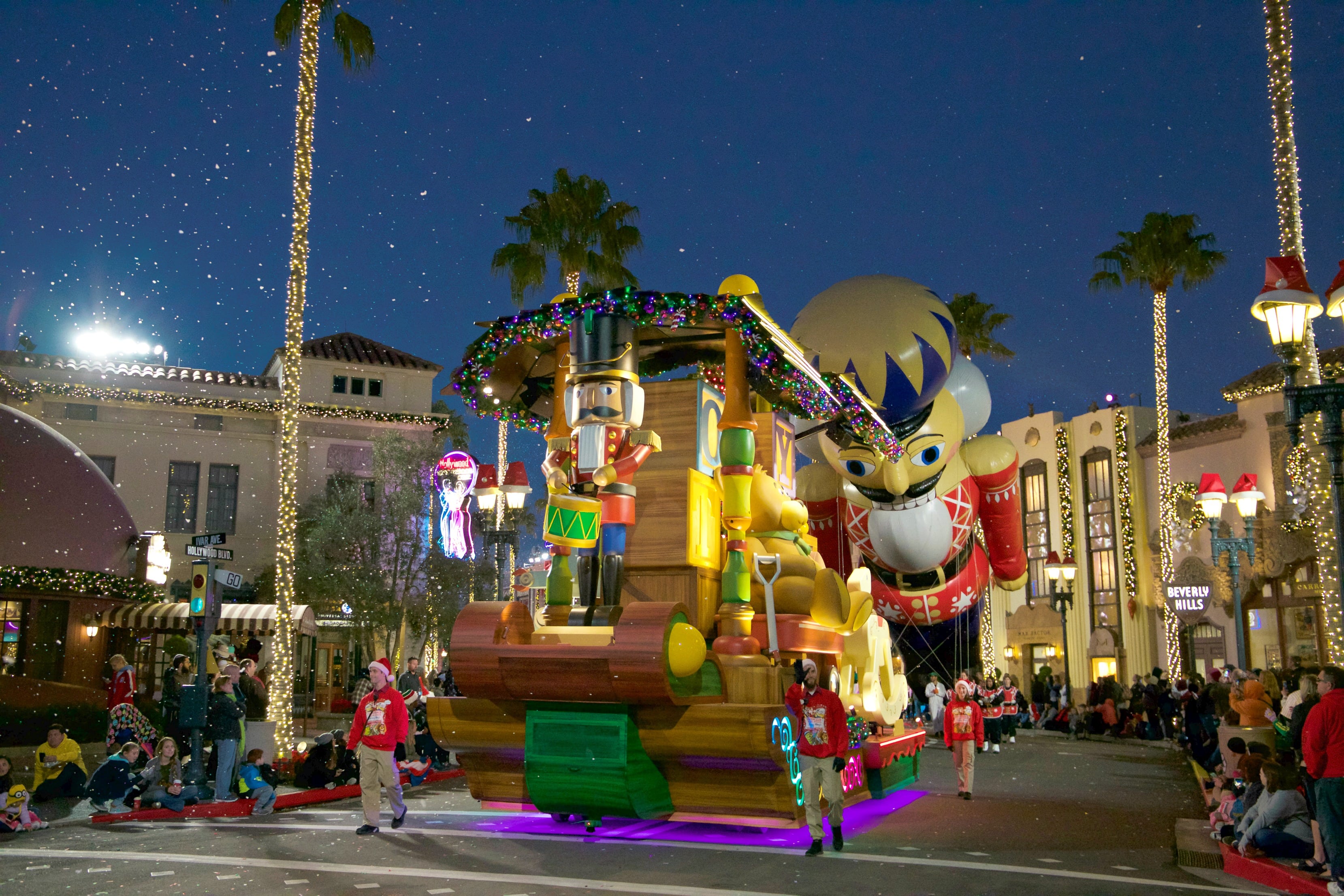 Tip: There are so many areas where you can watch Universal's Holiday Parade featuring Macy's, but our favorite location is accross from the Hello Kitty store. Right in the corner so that no one blocks the girls view, there's a bathroom right behind us, and the exit is right there as well.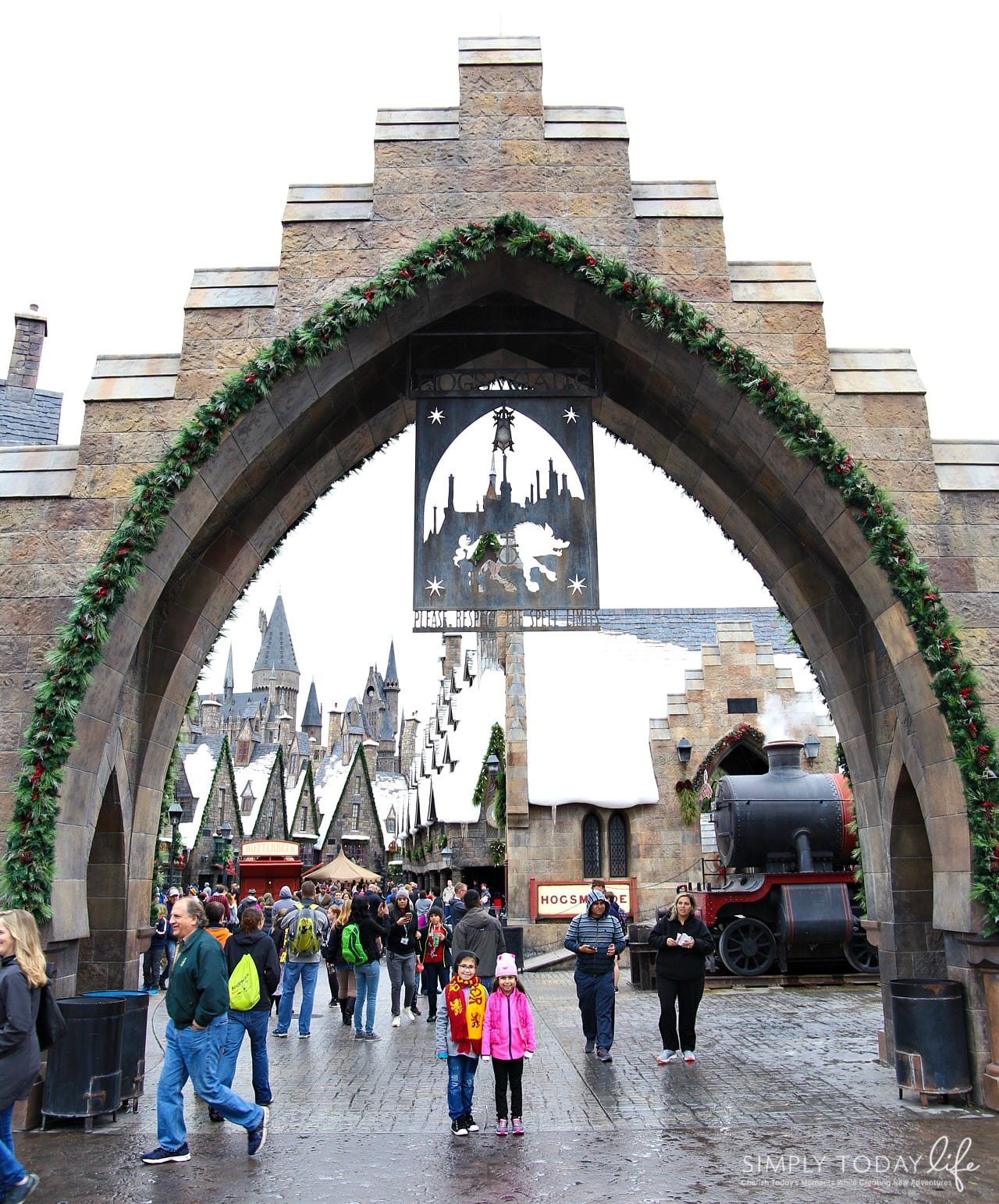 Christmas at The Wizarding World of Harry Potter
Those who know me know that I'm one of the biggest Harry Potter fans and the main reason we had annual passes to Universal Orlando for so many years. Hubby knows I always go decked out in my Gryfindor essentials and I was so happy I was able to wear some of my winter accesories! Which my girls kept taking away from me. I guess I better get them their own scarves! These little ones are no Gryfindors! I definitely have a Slytherin and a Ravenclaw on my hands!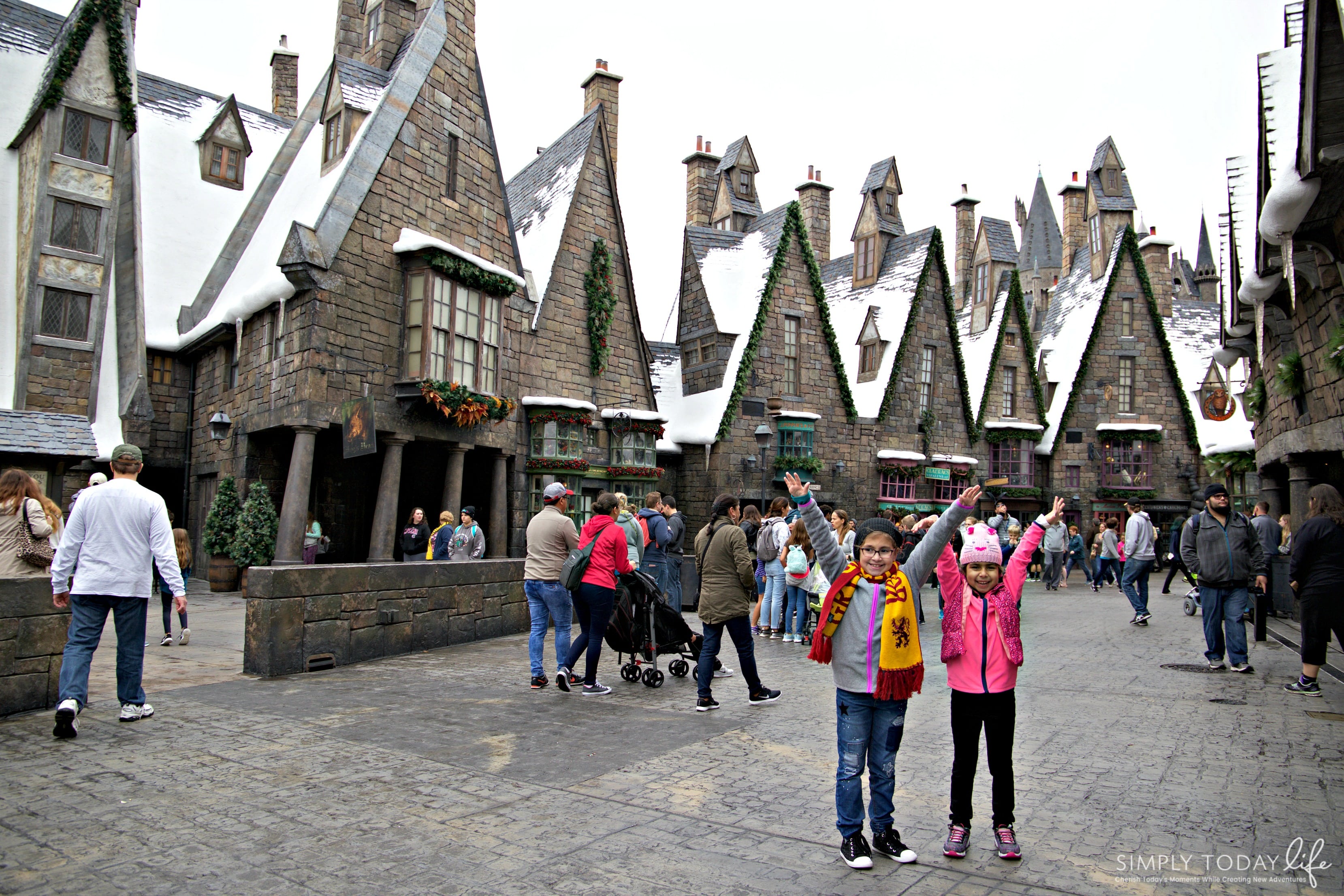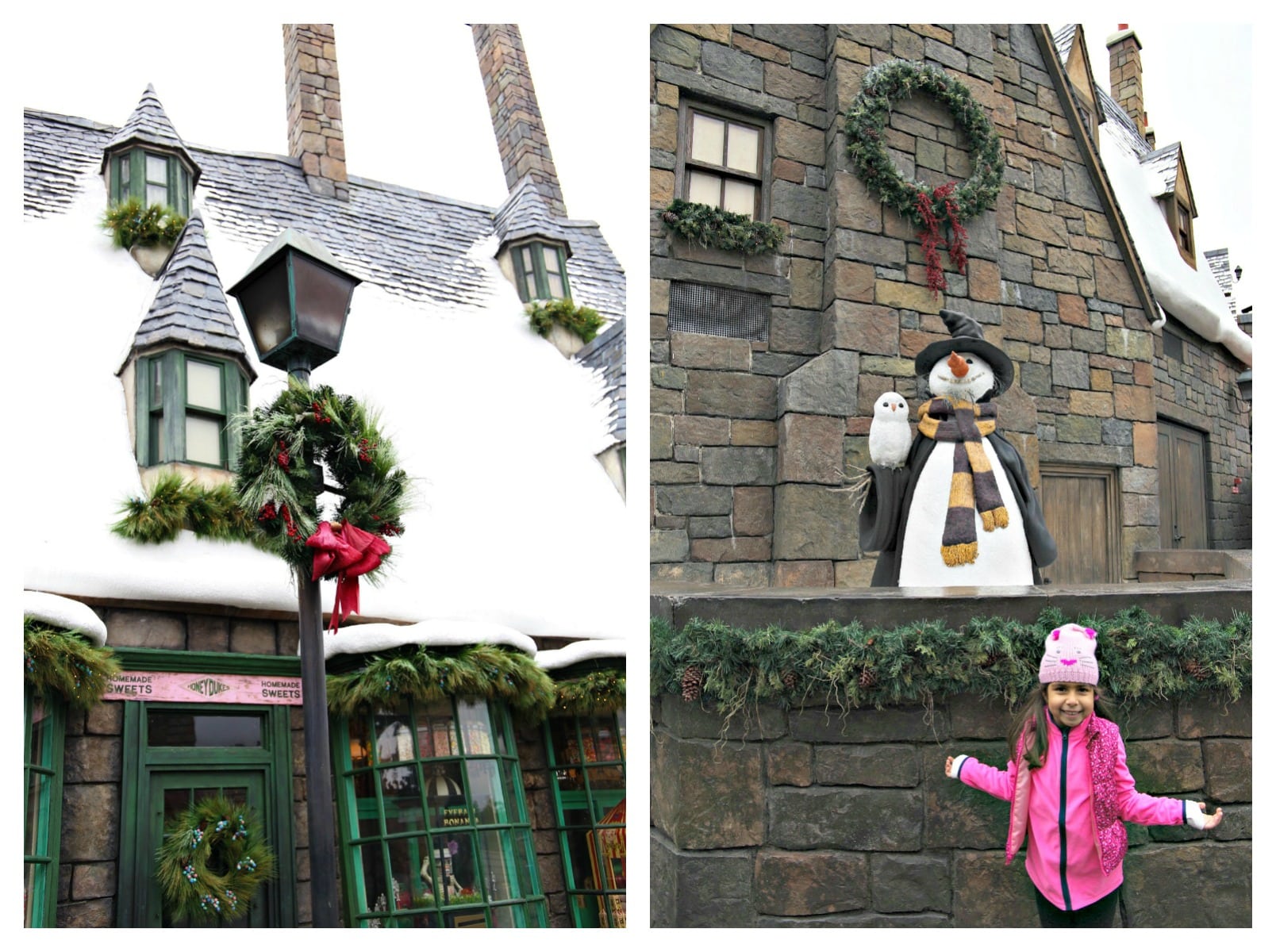 If you have never visited The Wizarding World of Harry Potter then you have been missing on so much! It is by far my favorite part of Universal Orlando Resort and I can spend hours exploring, but the Christmas decorations makes it that much more special.
Christmas in the Wizarding World of Harry Potter has been transformed with festive decor and holiday shows in Hogsmeade, Diagon Alley, and London. Make sure to ride the Hogwarts Express if you have a two park pass. You don't want to miss any of the holiday fun!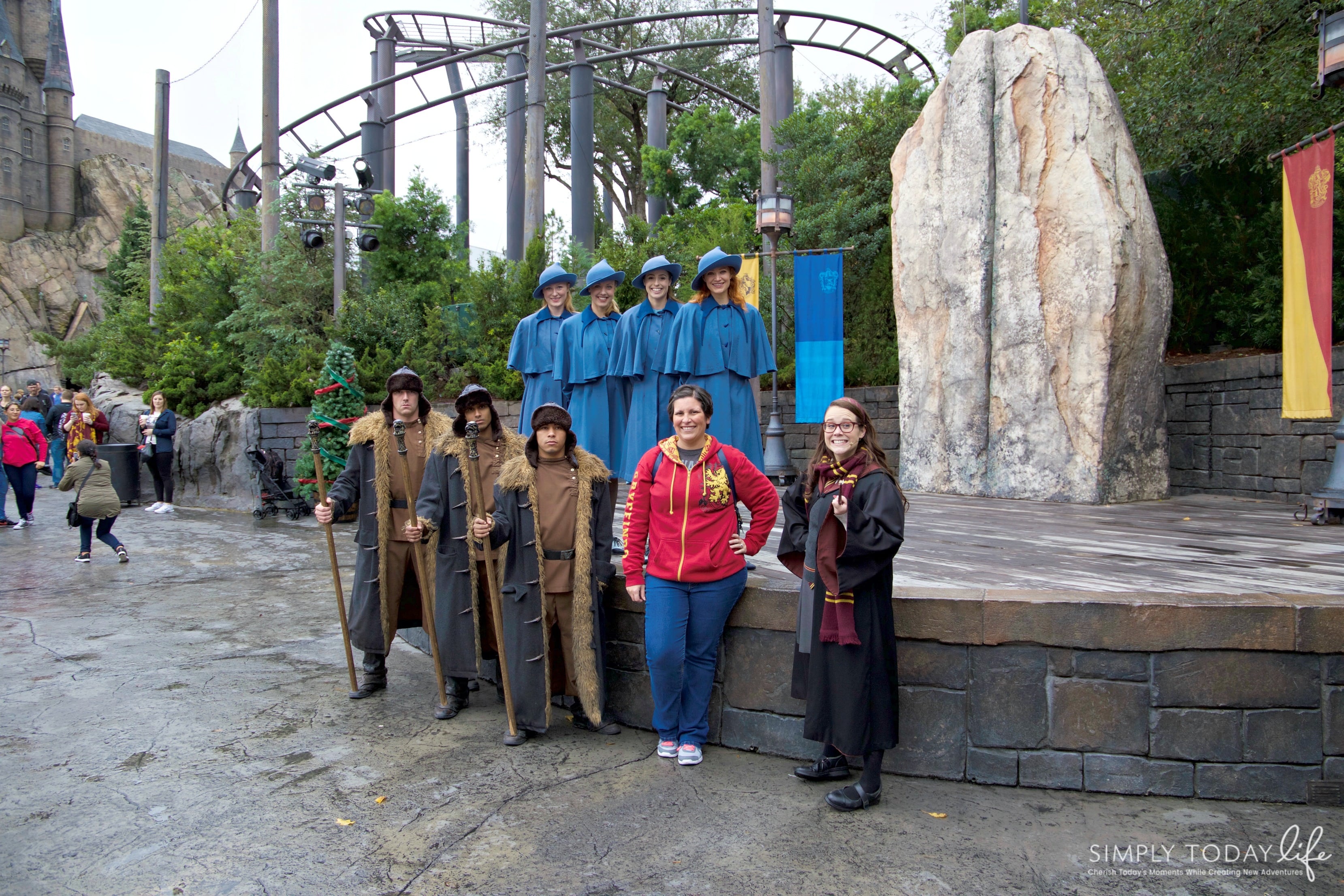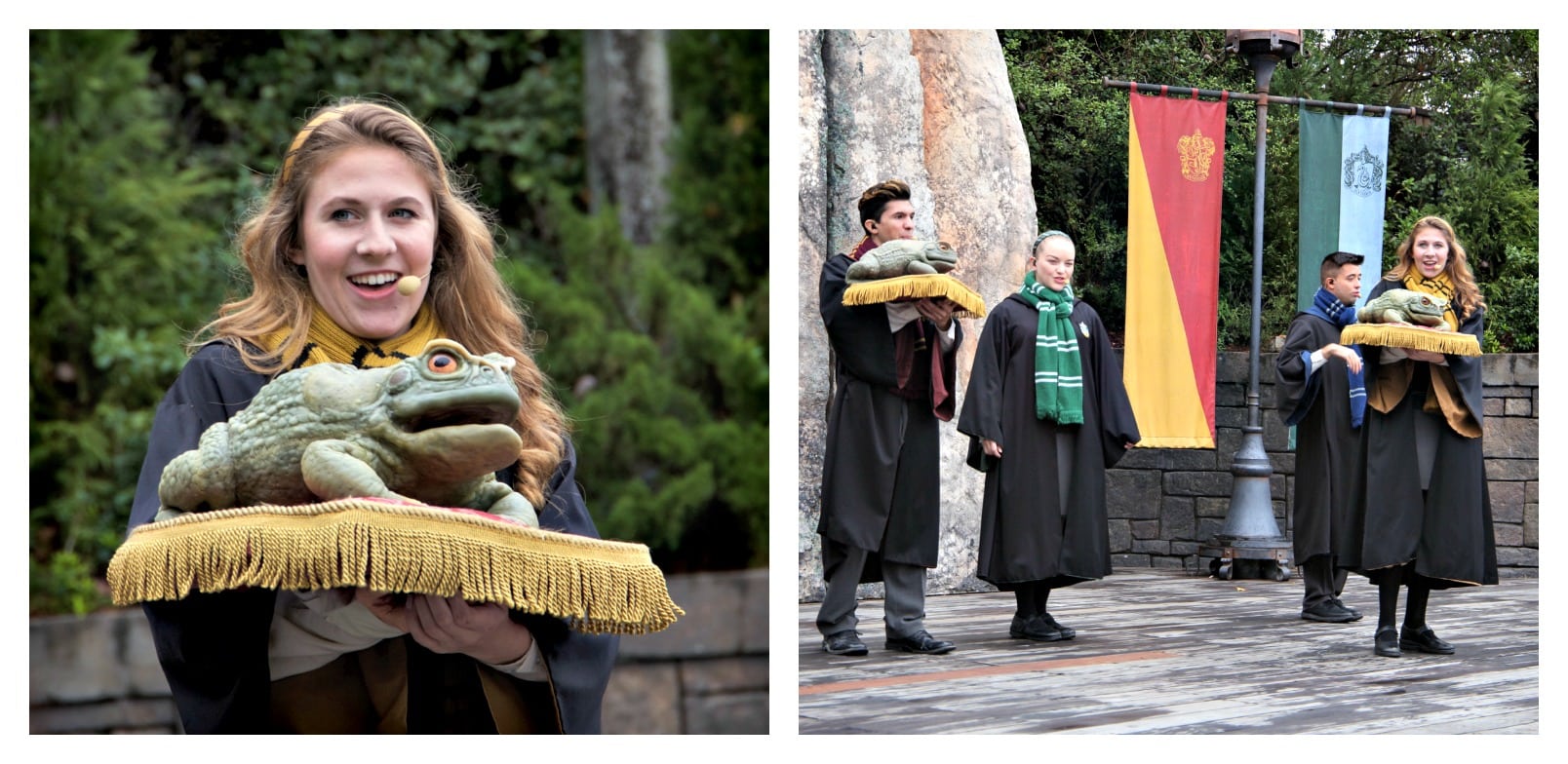 In Hogsmeade you will find that the entire town has been tranformed with holiday decor and lights! The Frog Choir still does their performance throughout the day, but instead they have revamped it with some holiday tunes! Such a fun treat!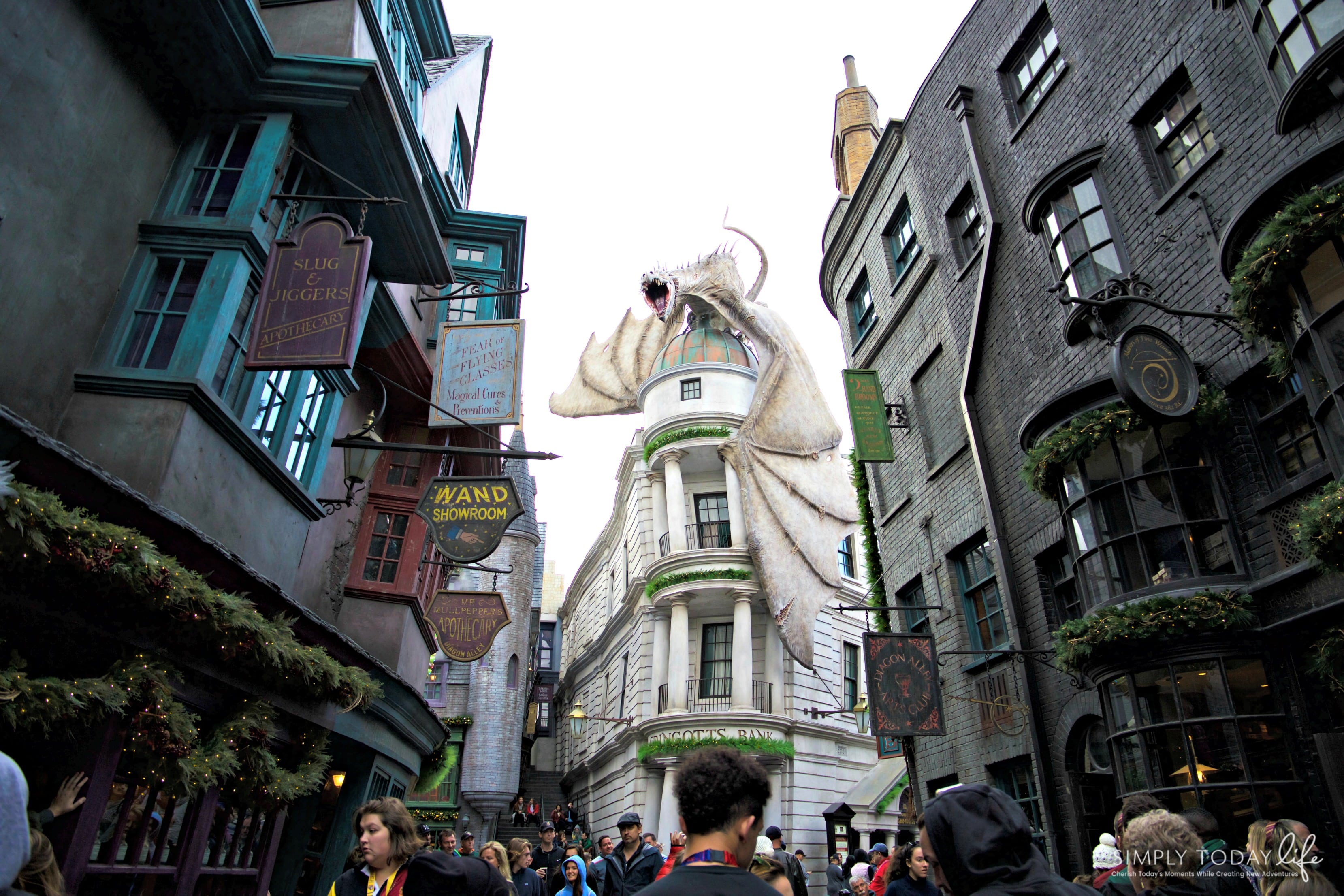 Both London and Diagon Alley have also been decorated in festive holiday lights and decor. Don't miss Gringott's Bank all decorated in festive greenery.
Over in Diagon Alley Celestina Warbesck and the Banshees are debutings songs just for the holiday season. We didn't get a chance to watch the show, but just like the Frog Choir I'm sure it's a must see!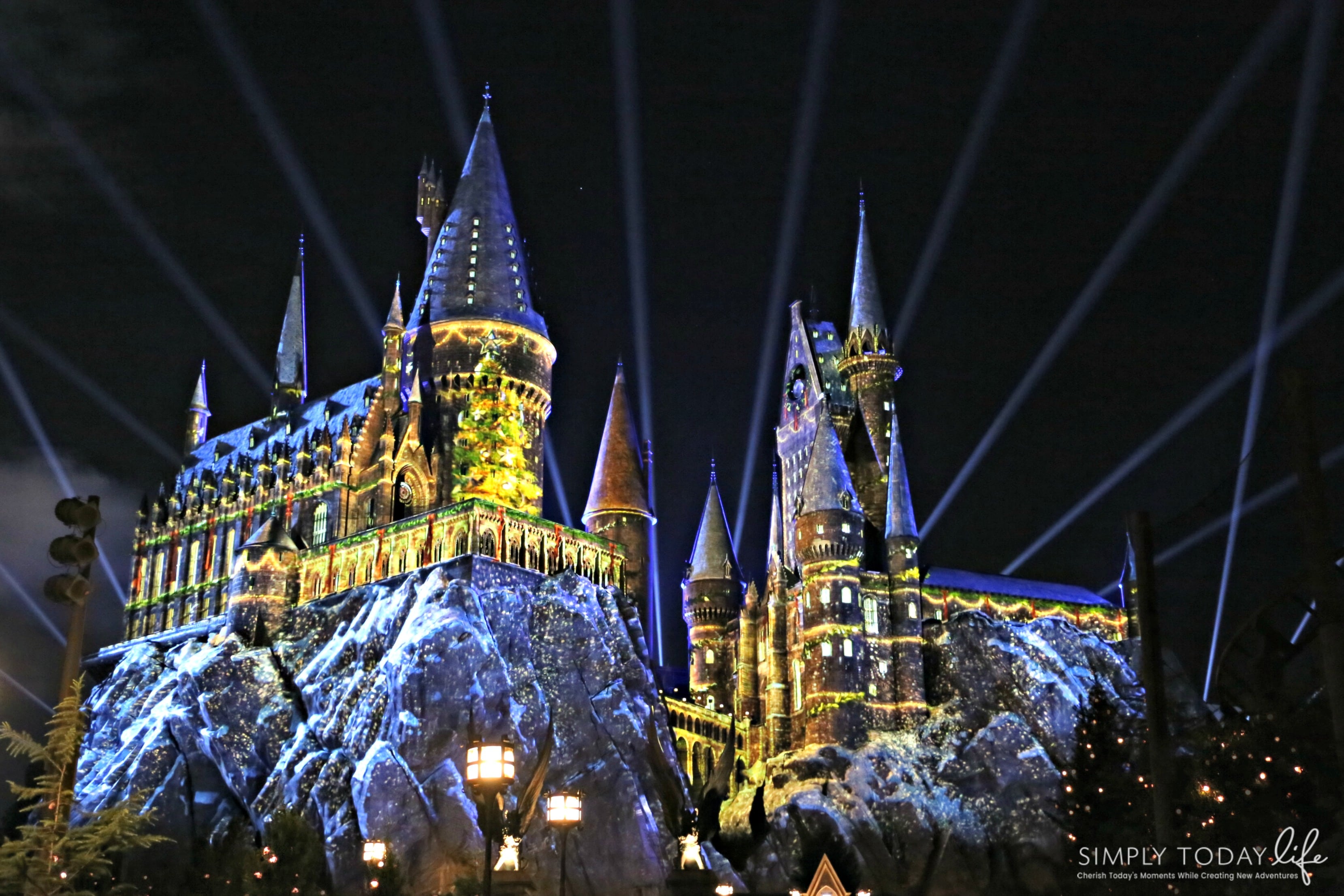 The Magic of Christmas at Hogwarts Castle
If you do only one thing this year when Celebrating the Holidays at Universal Orlando Resort, please make sure to see The Magic of Christmas at Hogwarts Castle. If you are a fan of the books or even the movie, then you must NOT miss this new holiday addition at Universal's Islands of Adventure.
The projection light show begins around 6:15 pm and is ongoing about every 20 minutes or so.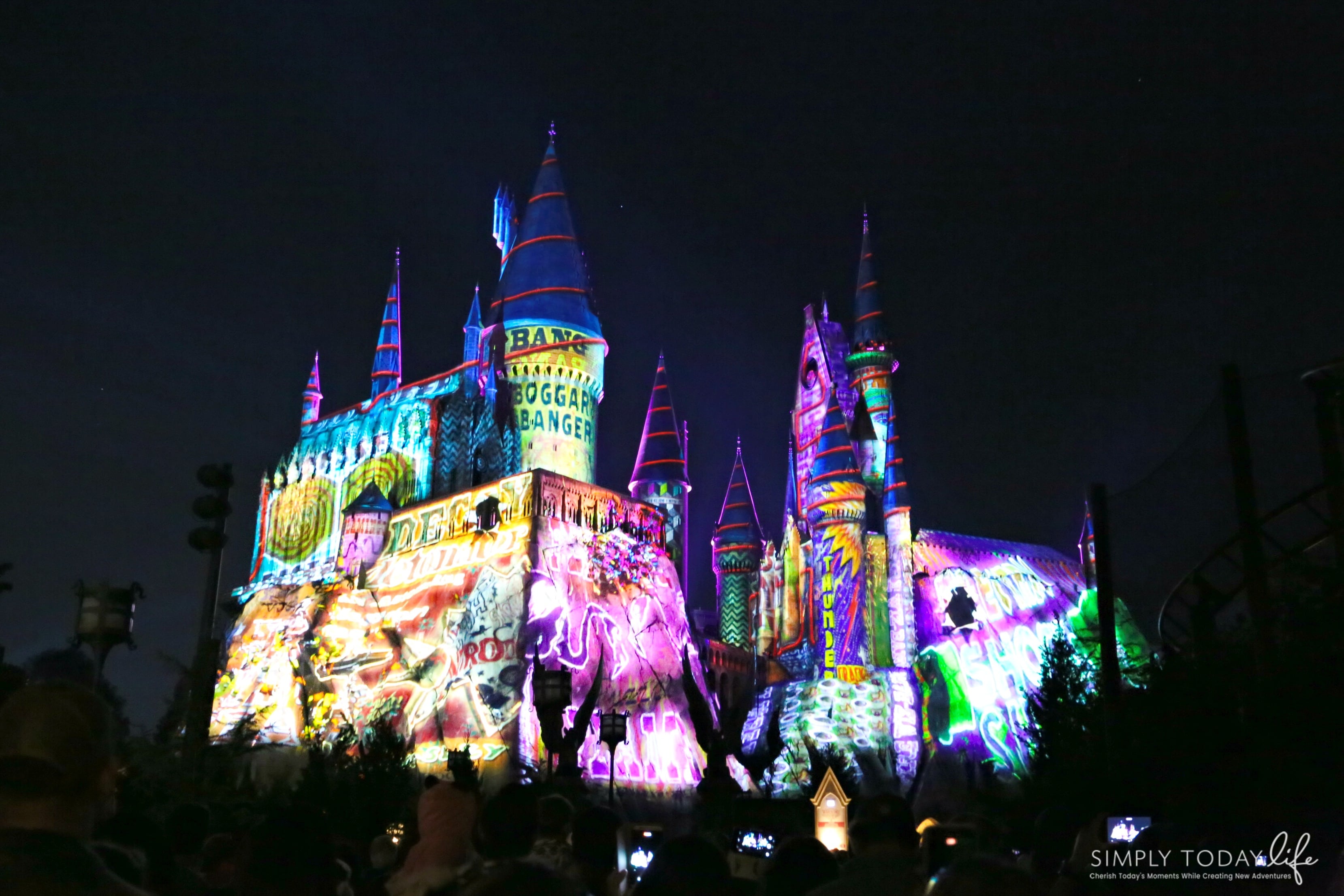 Tip: The biggest advice I can give any family wanting to see The Magic of Christmas at Hogwarts Castle when finding a location to watch is to make your way behind Ollivanders Wand store. You will be walking between Ollivander's and the wall that separates what used to be Dragon Challenge. This will allow you to find an area by the stage and the wand wagon. Believe me, this area is less congested and the kiddos will be able to see more than if they were right up front the castle.
Here's a small sneak peek of some of the fun we got to experience! Don't worry, we don't give too much away!
As you can see, Universal Orlando Resort Holiday festivities are not to be missed this year! Make sure to check out all the fun going on now until January 6th, 2018! There is still time, so plan your vacation by visiting the Universal Orlando Resort for tickets, pricing, hotels, and activities.

We hope that our Family Guide To Celebrating the Holidays at Universal Orlando Resort helps in providing your family the best holiday experience!
You Are Also Going To Love:
If you loved reading our Family Guide to Celebrating the Holidays at Universal Orlando Resort, then you will also love the following Universal Orlando Resort posts I have put together for you:
SaveSave
SaveSave
Have you visited Universal Orlando Resort this year during the holidays?

SaveSave
SaveSave