It's no secret that my family and I are theme park fanatics! I mean how could you not be? But visiting theme parks can be exhausting, so this is when their property resorts come in handy! If you are looking to staying on property and are looking for some awesome rates I suggest you check out our 5 Reasons To Stay At Cabana Bay Beach Resort At Universal Orlando Resorts!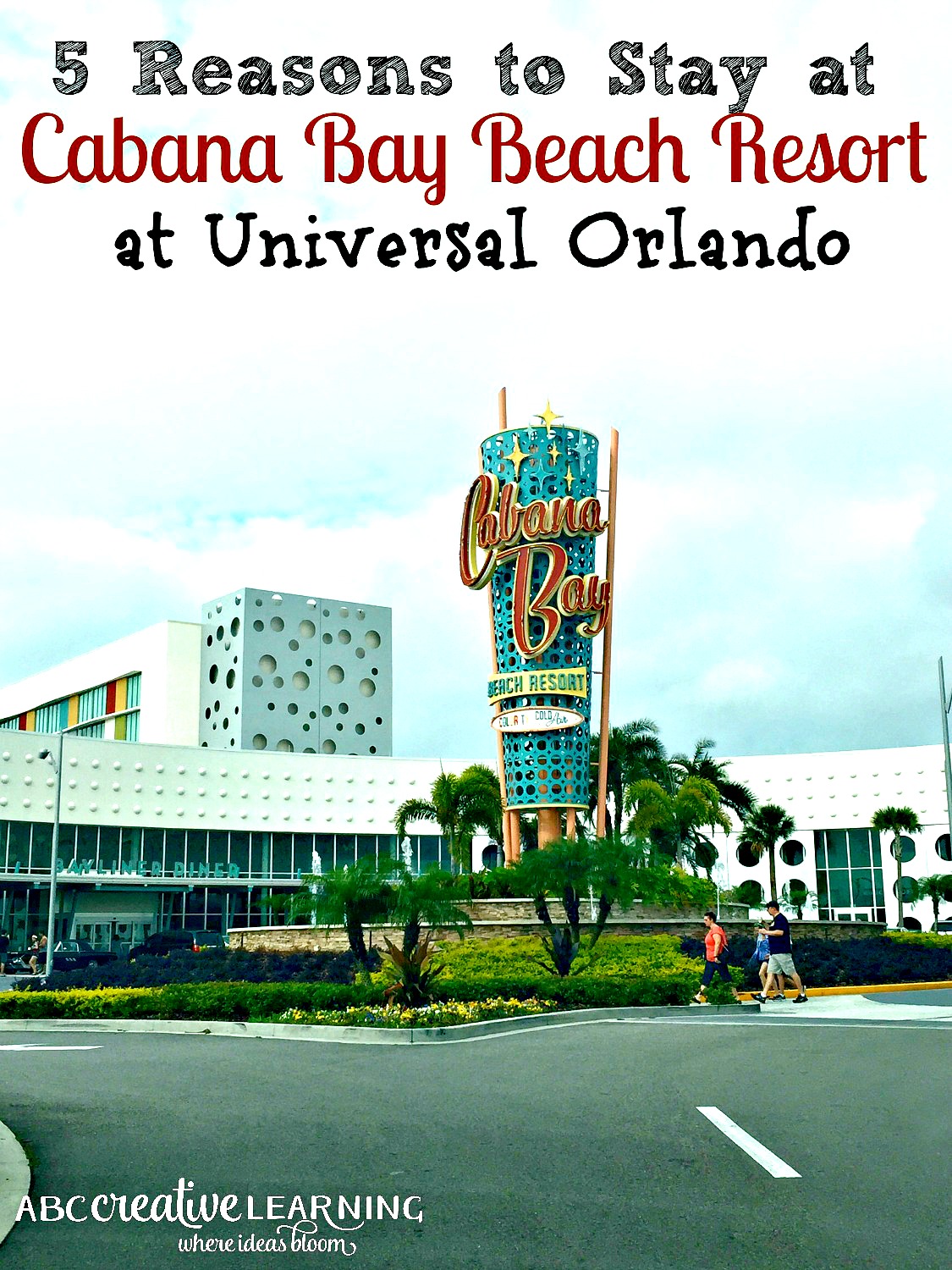 5 Reasons to Stay at Cabana Bay Beach Resort at Universal Orlando Resorts
A month ago I decided that we needed a last minute family staycation and being Universal Studios Annual Pass Holders I decided to take advantage of their Spring deals and book a night at the newest Universal Orlando Moderate/Value property the Cabana Bay Beach Resort! The girls and the hubby have been really wanting to check it out, so I thought it was a perfect time. We had such an amazing time that I wanted to share why we think you should stay at the Cabana Bay if visiting Orlando, Florida!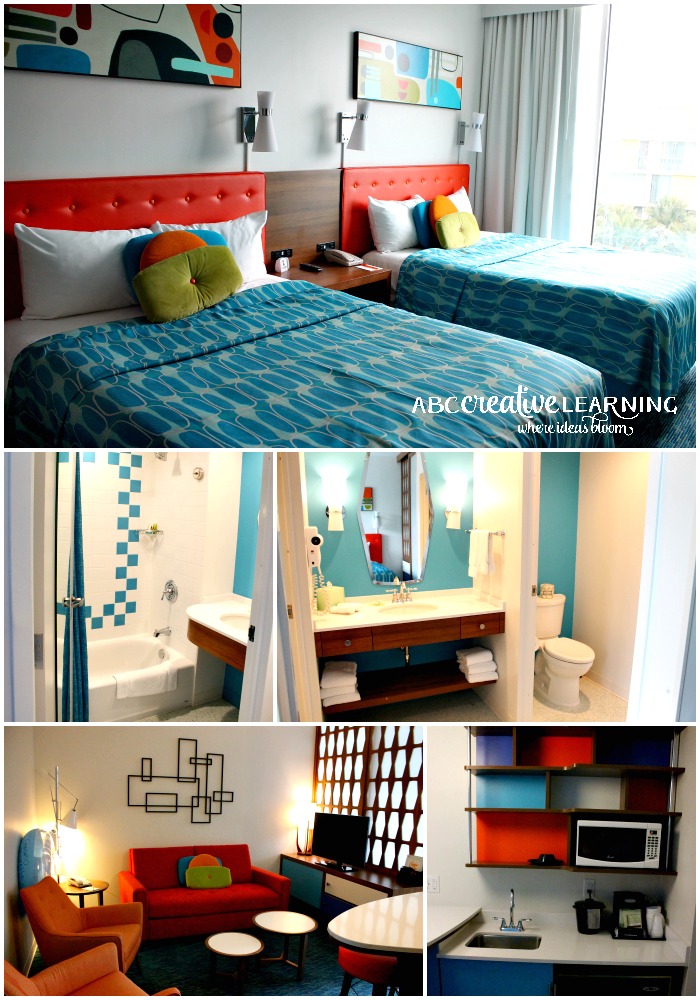 Spacious Rooms
Using my annual pass holder I ended up getting a really good deal for Cabana Bay's Family Suites which includes a small kitchenette. The room is a bit larger than the standard room and I love that it had a refrigerator so that we could keep snacks and any allergy-friendly food we needed for our daughter.
If you're looking for extra bathroom space than the Cabana Bay is perfect, because it provides a sink outside of the bathrooms and separate rooms with a toilet and another with a tub and sink. So 3 people can really be getting ready at the same time. This was great with my two girls when changing and going potty.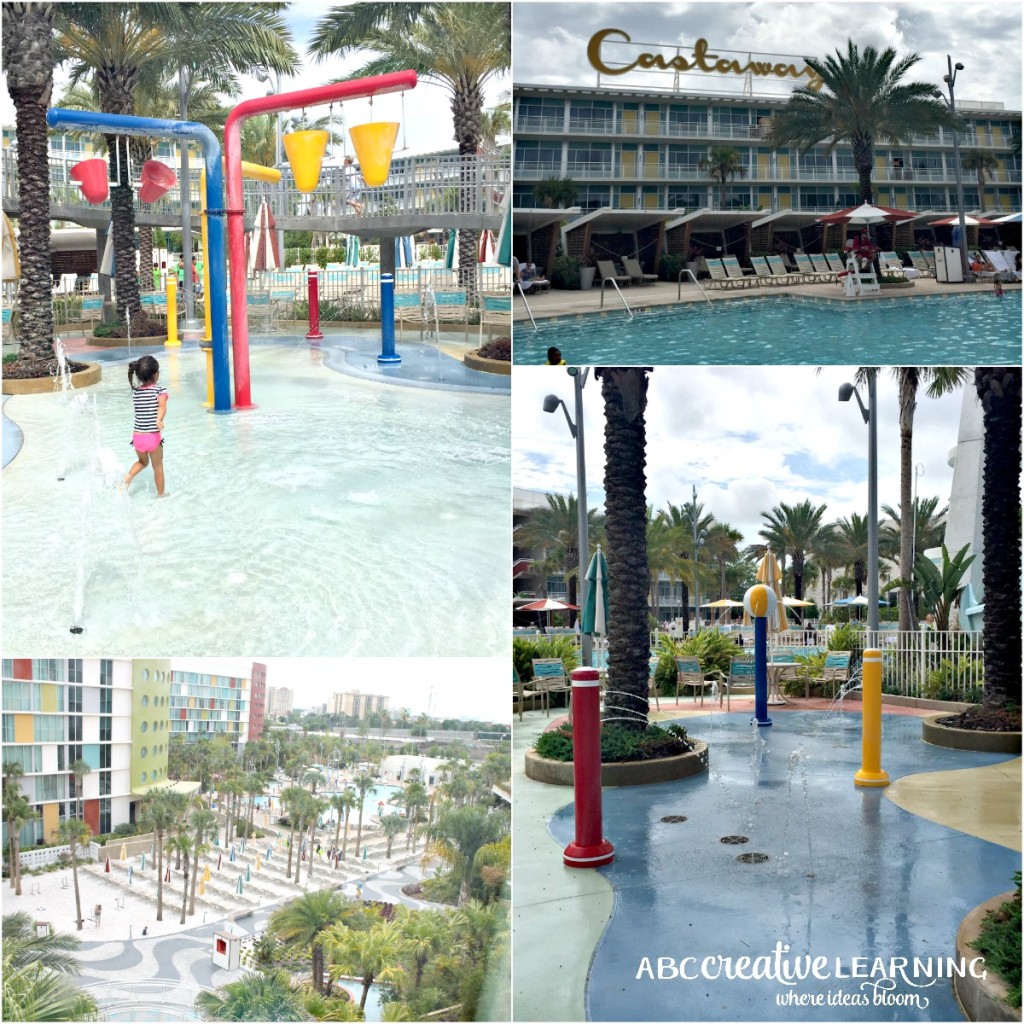 Amazing Pools, Activities, and Cabanas
Yes, I said Pools! There are two different sides of the hotel that have pools. The pool that overlooked our room had a pool and a lazy river. This side had a live DJ playing and they were having games for the kids. On this side, you will also find a bar, volleyball, and sand area.
The second pool has a water slide and a kiddie area. My youngest is not a strong swimmer yet so she absolutely loved the kiddie splash area where she was able to play around and even meet new friends. My husband and oldest daughter who is 5 years old loved the waterslide! If you have a child who doesn't know how to swim the hotel provides life vest for the kids to go down the slide. That was a big plus for us too. On this area, you will also find Cabanas that you can rent for the day (check below for more info.)
They also have the Tonic Bar where you can purchase drinks, snacks, and frozen treats for the kids. With poolside movies at night.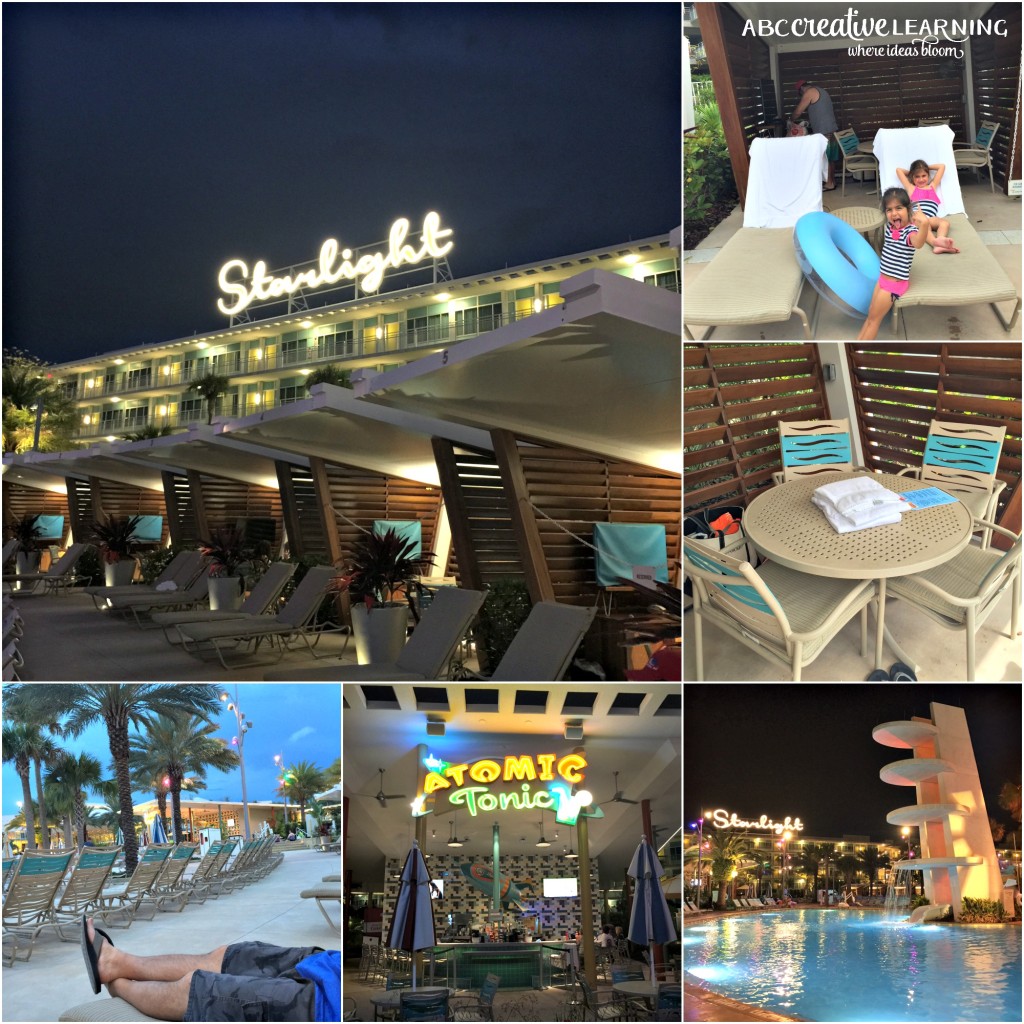 Poolside Cabanas
Normally I would not go with renting a cabana for the day at a hotel, but with two small kids, I thought I would give it a try. I have to say that for $100 a day to rent the cabana it was worth it for us.
Each cabana comes with a flat screen tv, table with chairs, reclining beach chairs, cover from sun or rain, safe, and you can order pizza to your cabana. My favorite part was not having to hunt for chairs or umbrellas with the girls. Having a safe in the cabana was also a big, big plus! We locked our items away like cameras and wallet while we went to the pool. It also had a mini fridge that was stocked with waters and it was a great place to store our daughter's allergy safe foods.
The cabana is yours from the moment the pool opens until it closes.
Tip: If you are going to leave for a long period of time make sure to let one the attendants know. You don't want them cleaning your items from the cabana if you are gone. Yes, it happened to us. But that's why I love the Loews Hotels, they make sure to always make it right! They restocked us with safe snacks and the water bottles they had thrown away.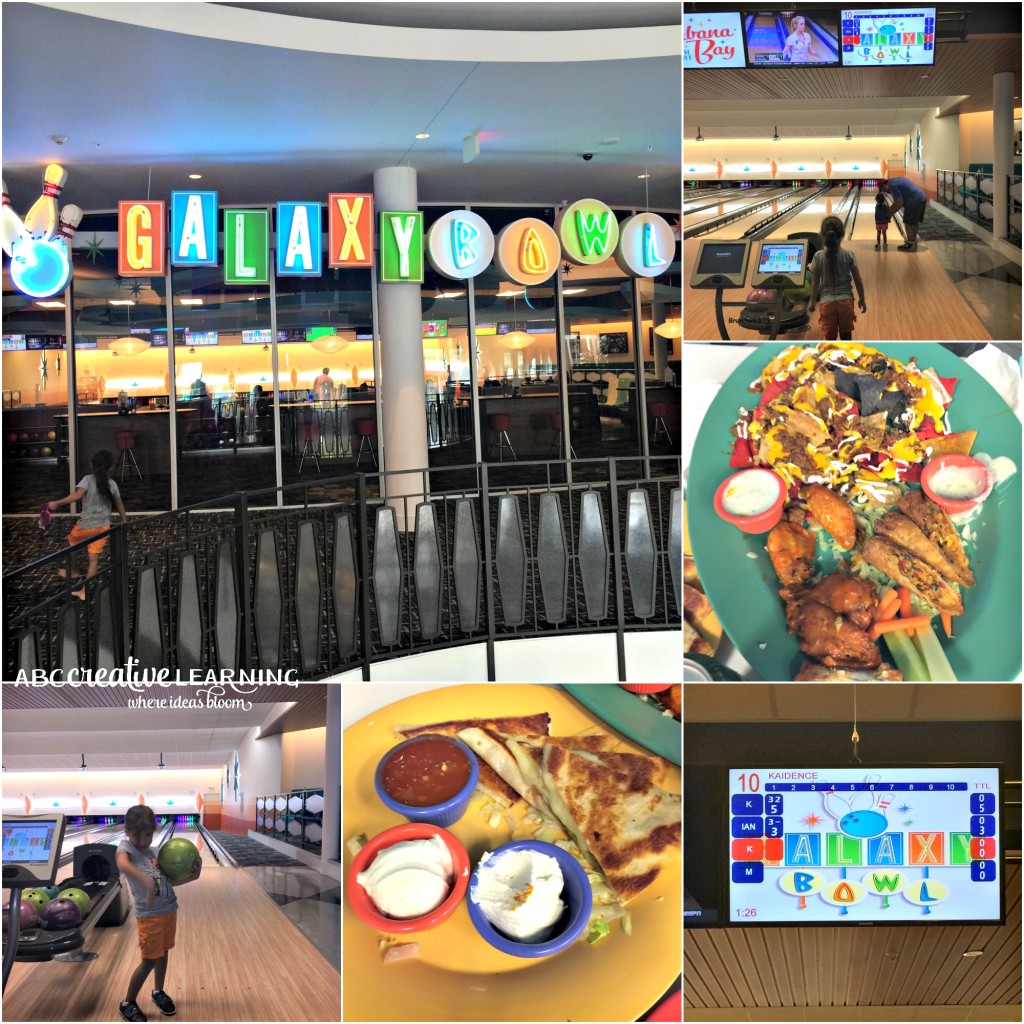 Bowling Alley
If you think that the pool was enough, you need to check out the Galaxy Bowling Alley on the second floor of the Cabana Bay Beach Resort. It's the perfect way to end a fun day! They have drinks and food you can order which is brought straight to your lane. They had everything my girls needed to bowl and have a great time! You are given two hours to bowl and enjoy yourselves.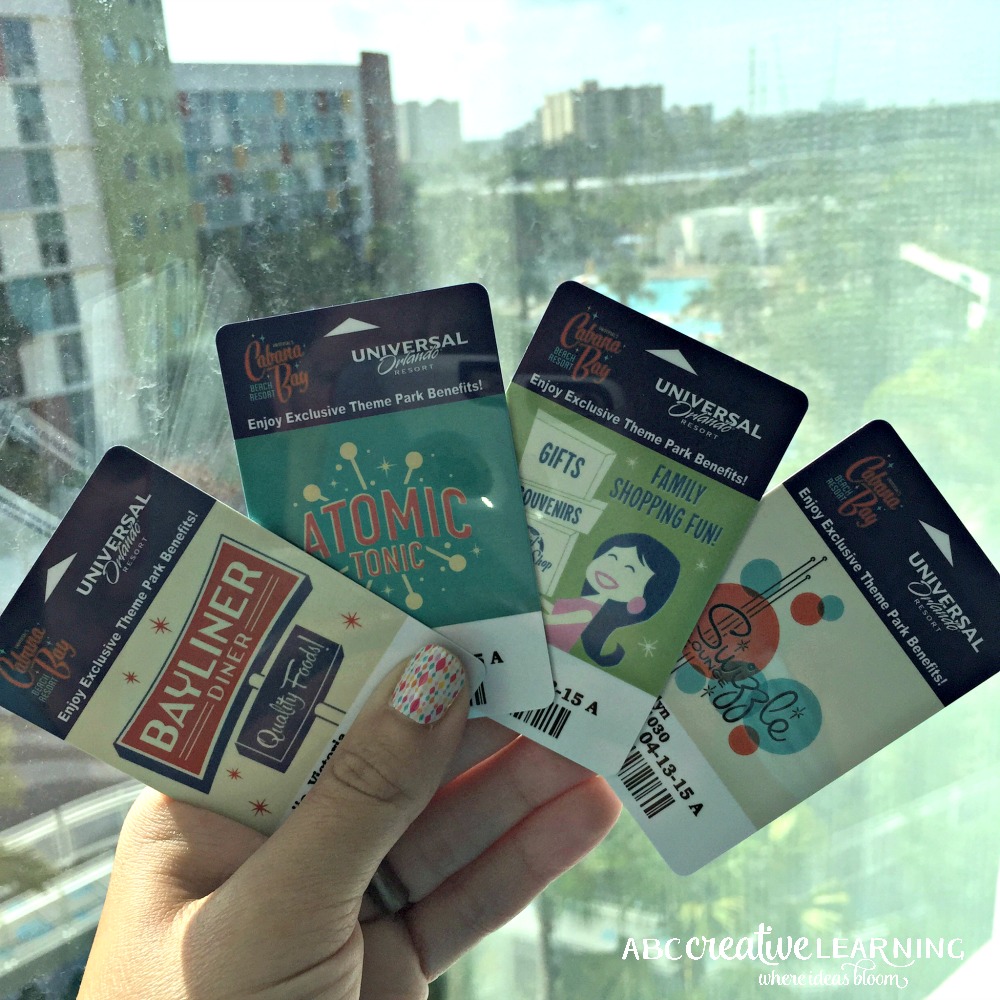 Free Transportation and Early Admission to Universal Orlando Resorts
One of the best things about staying at a Resort on Universal Orlando property is the free transportation to the parks and the early admission. Now, because the Cabana Bay Beach Resort is considered one of their moderate resorts you do NOT get a Skip the Line pass. You do get early admission to the Wizarding World of Harry Potter. Make sure that when checking in you double check which park is offering early admission.
Travel in retro style to the theme park on one of their Retro Busses! They run every 15 minutes I believe, so you will not be waiting around long at all.
A Fun Retro Style
Lastly, we recommend the Cabana Bay because it's retro fun style! Seriously, who wouldn't enjoy a day back in the time of the groovy era! This place makes the perfect picture spot. There's fun to be found in just about every corner of the hotel, but with a Starbucks! Did they even have Starbucks back then? Well, if they didn't they missed out!
Make sure to also head outside for pictures with some awesome Retro Cars! This is one thing I wished we had done.

If you love visiting Florida and are looking to stay in a fun, but affordable hotel. We highly recommend checking out Cabana Bay!
You Are Also Going To Love:
If you enjoyed reading about Cabana Bay at Universal Orlando Resorts, then you will also love the following Universal Orlando travel articles I have put together for you:
Will you be visiting Cabana Bay Beach Resort with the family soon?

SaveSave
SaveSave
SaveSave
SaveSave
SaveSave
SaveSave