Last fall I was invited to attend a secret Disney+ Lady and the Tramp Set Visit. The newest live action remake of a Disney Classic.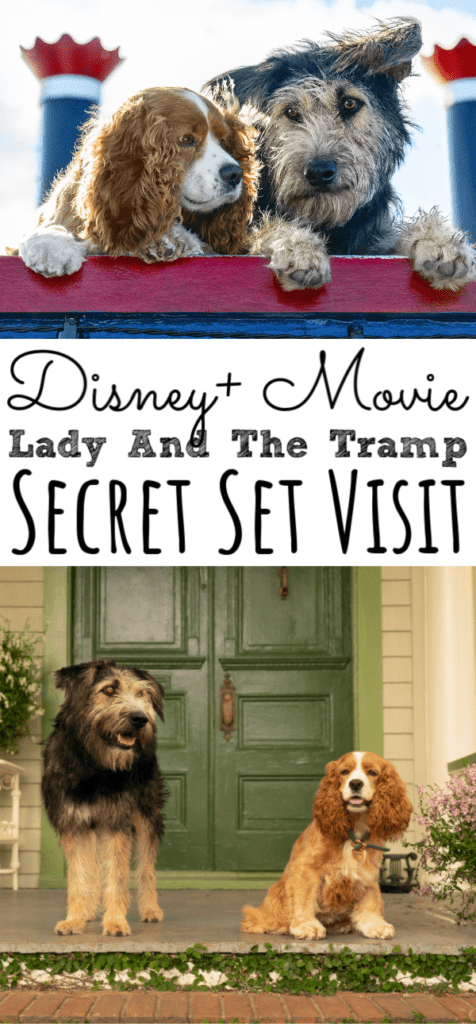 Disney+ Lady And The Tramp Set Visit
Keeping this secret for so long has been hard, especially when I got to watch first hand some of the filming being done.
Lady and the Tramp is one of those classic films that I remember watching as a little girl.
To be able to sit on set and watch how this old classic turn into a new live-action film was a fantastic experience.
Thank you, Disney, for allowing me to attend on set filming of Disney+ Lady And The Tramp. All opinions are my own.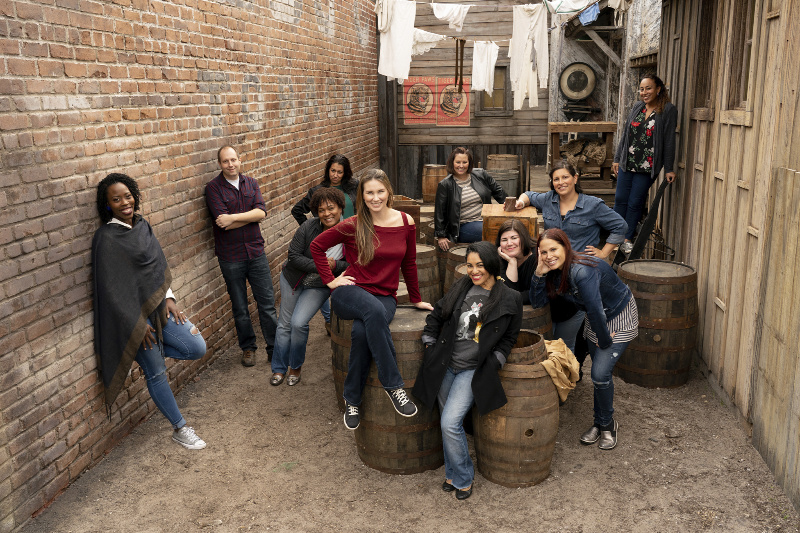 Experiencing Filming On Set For Lady And The Tramp
I'm one of the lucky ones to say that I've had the opportunity to walk on a movie and television show set many times now.
Every set visit is different and movie sets tend to be a little bit more unique. Especially when you watch them from the big screen.
It's such an amazingly overwhelming experience to be able to watch the actors, cast, and production team come together and create such a beautiful story we all love.
During our set visit for Disney+ Lady And The Tramp film, we got to watch as one of the newer scenes to the movie was filmed. Don't worry, I won't give anything away.
Watching the interaction between the actors and the crew is incredible. Especially when you are talking about adding dog actors into the mix who are the central part of the film.
There's nothing like being able to experience first hand. I'm very grateful for this experience Disney has magically allowed me to be apart of.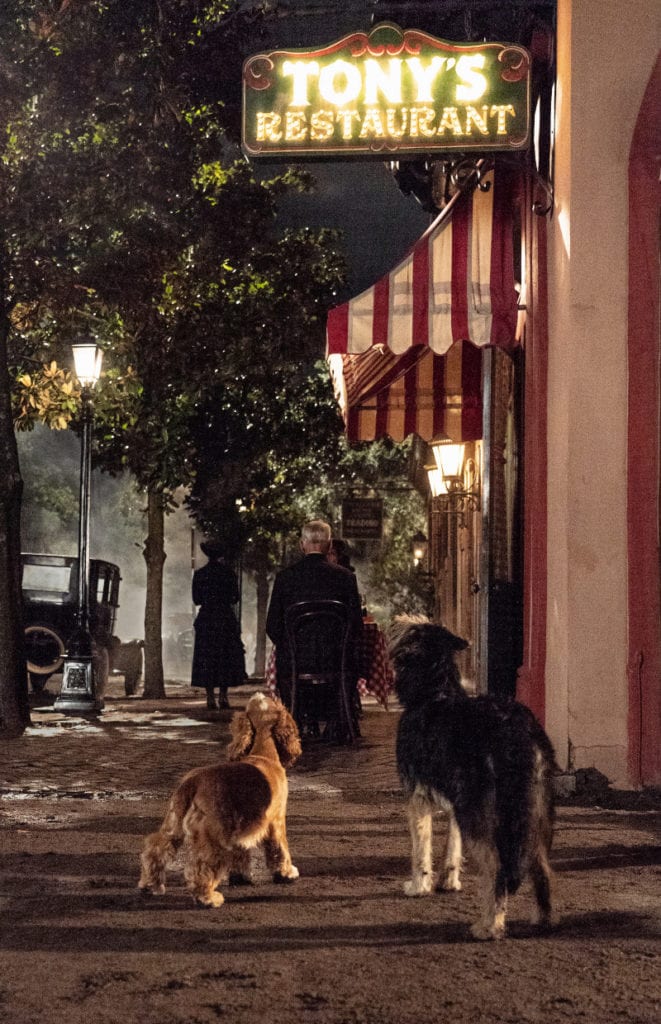 Interview with Production Designer John Myhre
John Myhre is a phenomenal production designer who brought us Mary Poppins Returns and now Lady And The Tramp.
He received his first Academy Award nomination, for Best Art Direction, in 1998, for Shekhar Kapur's Elizabeth
It was a pleasure being able to speak to John Myhre about how he recreated some of the original Lady And The Tramp scenes. Especially since the original is an animated version.
Especially since we were standing in baby Lulu's nursery room recreated from the animated version where the big action scene towards the end of the movie with the rat was filmed.
How did John Myhre recreate scenes from an animated film?
Georgia was a great place to make the movie and our set decorator, Gordon Sim, went to every city within five hours and went to every antique store and swap meet and found all of this. We painted everything, so all the white wicker furniture we've painted. We've reupholstered. All the curtains and draperies we made, but even the fireplaces are real. That's a real fire place I found believe it or not on eBay.
What time period is the movie based on?
So our film is set in nineteen ten and it's at a time period that we feel that Walt Disney really loved, because a lot of his live-action films from the Fifties set, were kind of American Victorian times.

And the Disneyland that we all love, the first thing you see when you walk in, is Main Street USA which is this kind of nineteen ten periods.

So we've been using Walt Disney's love of the period and how he used it in live-action films in the Fifties and Disneyland as sort of a little bit of an inspiration for our design.

We've actually taken some of the things that were at Disneyland like the riverboat and the streetcars and worked them into the script.
How long did the whole process take?
Both sets took twelve weeks to build. They were built at the same time and the Gord Sim, our set decorator probably spent two and a half months finding all these things.

We'll walk into another room and then we have the ground floor of the house is an entryway, a front room, kitchen, which are always fun to do. And we're doing a bunch of other sets as well.
Was any one room harder than the others?
Probably this (the nursery). Not so much getting the idea together, but to find the perfect pieces.

Something that's also interesting about our movie is that this room needs to look great for us standing here, but it needs to look even better for dogs that are two-foot-tall.

There's a lot of detail down low. If you look like even legs of the wicker and something I'm particularly proud of is this molding detail which is a made-up thing.

It's a complete fantasy, but I thought if we're gonna have detail, why put it up in the ceiling? Why not put it down low and so we've run that all through the house, so every place we go, you'll see in the house particularly in the front room really beautiful carved legs, but finding the right pieces.
What happens to all the furniture after the film?
With Disney, I work a lot with Disney. They're a great company. They keep it in the archives. They keep literally everything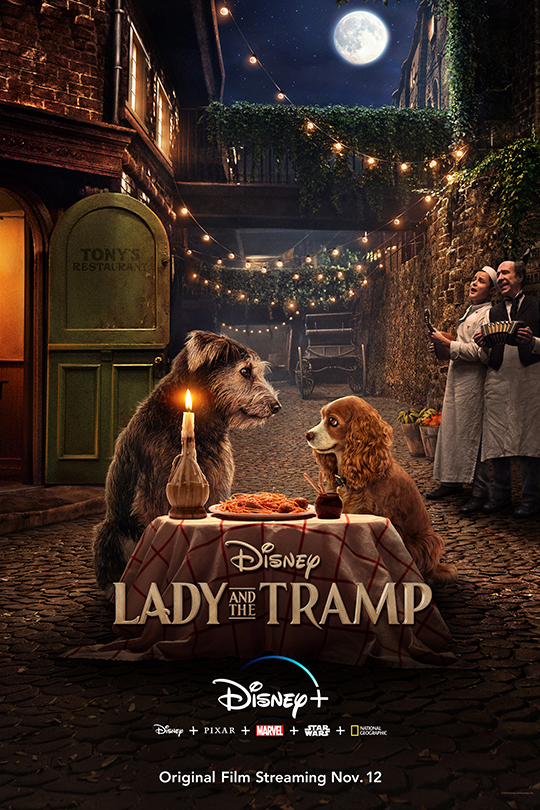 About Lady And The Tramp
In Disney+'s "Lady and the Tramp," a timeless re-telling of the 1955 animated classic, a pampered house dog and a tough but lovable stray embark on an unexpected adventure and, despite their differences, grow closer and come to understand the value of home.

Disney+
Follow Lady And The Tramp On Social Facebook
You Are Also Going To Love:
Who's excited about watching Lady And The Tramp on Disney+ on November 12th?