Toy Story 4 opens up in theaters today, so make sure to check out my Toy Story 4 movie review! Plus, check out our one on one Annie Potts Interview on her role returning as Bo Peep in Toy Story 4.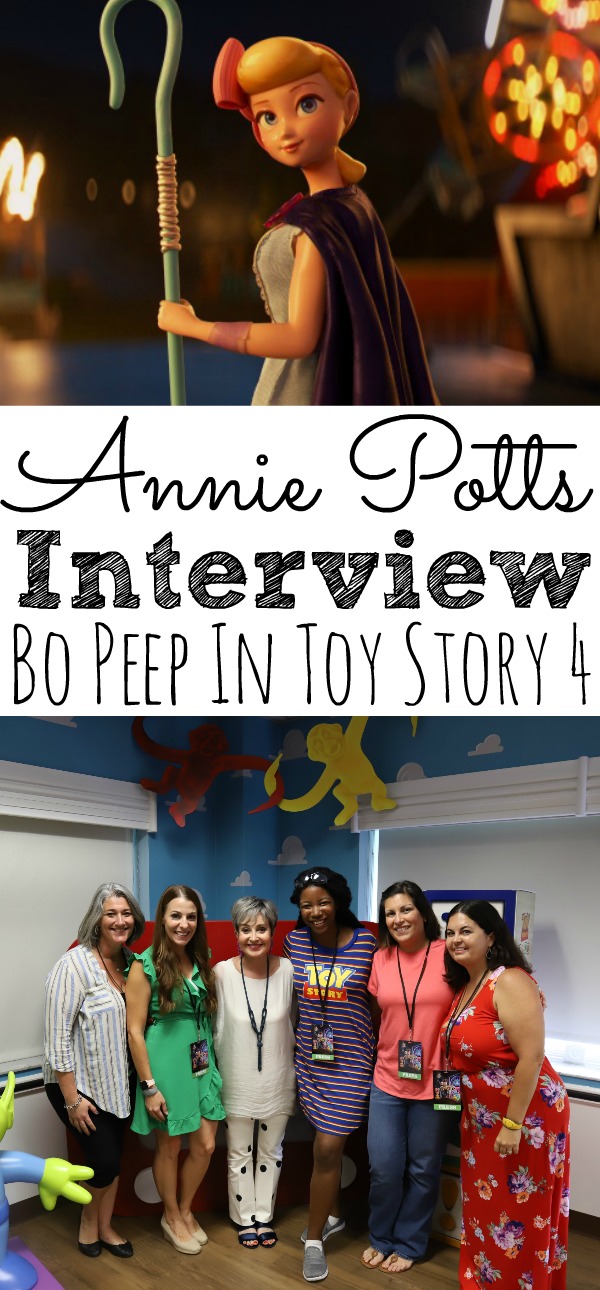 Annie Potts Interview On Her Role As Bo Beep In Toys Story 4
If you're a Toy Story film fan as much as we are then you know that Annie Potts plays Bo Peep in the Toy Story franchise. But you would also know that Bo Peep hasn't made an appearance since Toy Story 2. Which she only appeared at the beginning and at the end of the film. That's 20 years since Annie Potts been apart of the Toy Story films. I don't know about you, but I was over the moon excited when I found out she would be back playing Bo Peep in her appearance in Toy Story 4! Check out our interview below and my full Toy Story cast interview on the blog!
Thank you, Disney, for inviting my family and me to attend the Toy Story 4 Press Event. All opinions are my own.
How did you feel when you saw the script?
We never saw the script. It was like going on a scavenger hunt and Easter Egg hunt but with a guide, you know. It was a revelation each time I came back in. And not really until about 6 months ago I think I started to understand how big the role was because the piecemeal fashion in which we had built it.

Sometimes there would be 6 months lag time before I came back again and sometimes I would forget so I've been working on this for over 4 years so I wasn't quite sure what to expect when I saw it. I was sort of knocked out when I saw how what they had created of off her and they had introduced me. There was a whole team of people who were called Team Bo, and they were in touch of defining everything about her. How she might move, how she would move her eyes, what she would think. Everything about these is so carefully considered. I mean, that's why they're masterpieces. But that kind of care and consideration, I just, I mean, it would be nice to take it, complete credit for who she is but I'm so thrilled to just have been her voice. It's pretty nice.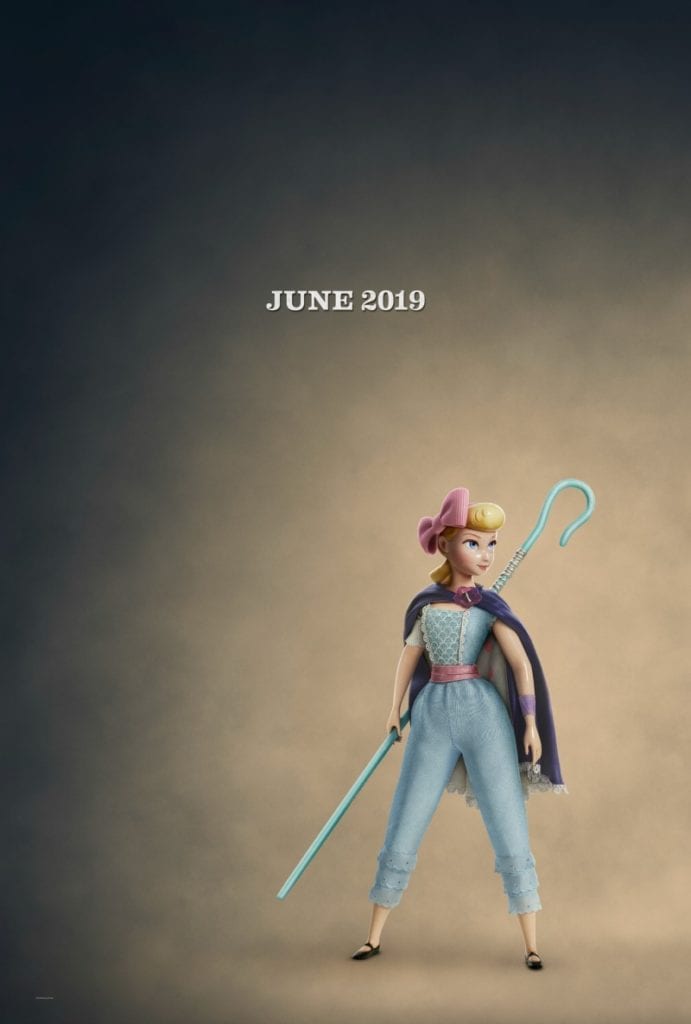 She is the strong independent woman, is that the message you're hoping we're getting or is there more to it?
I have the privilege of presenting those qualities that are so admirable and inspiring and everything. She's been knocked around quite a bit and she's, you know, just kept on going and in a cheerful inventive way. I mean, this girl drives a Skunk Mobile. No one is going to screw with her. She's figured out a way to make it happen. think it's fantastic for young women and young boys to see this.

Yes, this is what a woman is and to young girls, this is what a woman can be, and is. I'm just thrilled to voice those qualities. It is such a privilege when you're giving positive messages to, especially children.
How did you feel about getting the call to come back?
Did you even have to think about it?

Oh God No. Oh No, when Pixar calls, you say Yes.
How early in the process did you get to look at that new look and what did you think of it?
Oh pretty early on actually.Oh, I thought it was great.I mean, she'd had some limitations before being a lamp.Once they got her off the base, all bets were off.But as Josh was saying, they did all these tests, seeing what porcelain looked like when it broke and filming that and then trying to recreate that with their computer magic and everything.I was very pleased.She's very sassy, ripped off her skirt, uses it as a cape.Even though this isn't a Superhero Movie, her super powers are her heart and her courage, you know. And I think that's the greatest Super powers of all.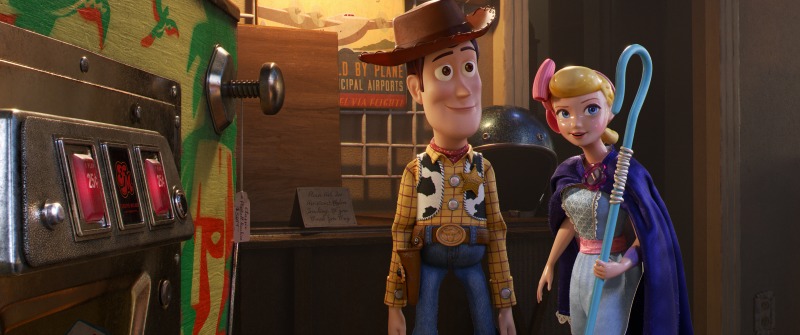 What was the first session that you recorded for this film and how did it feel to be back playing Bo after that first recording session?
It felt great. They're the most wonderful people to work for. They are as smart and kind and inventive as their films would suggest that they are. So it's always nice, it's about the best working environment you can imagine. Their excitement about coming back and of course, for Josh, wearing the mantle of carrying that forward, I know he was terrified and as I became more aware of the size and possibilities of Bo's role in this, about 2 months ago, I was like Oh, I had no idea.

Oh, it's too much. And then all the way on the drive to the studio to screen the film, I was convinced that just prepare yourself. You're gonna be the first actor that completely screwed up a Pixar Movie. Just accept it now before you go in, that could be you. So I sort of watched through my fingers like Ah! But I'm pretty sure I didn't screw it up. I think they're too good to have let that happen. But it's a big responsibility.
What do you think about Bo Peep's friendship with Giggle?
What do you think that that relationship did for the both of you?
Oh, what all our best friends do to us. You know, the one you tell your troubles to, the one. I mean, it's a metaphor for your bestie who's always right there to hear the best and the worst of what's going on with you. She's adorable too, Ally Maki who's playing that. She's about that big too.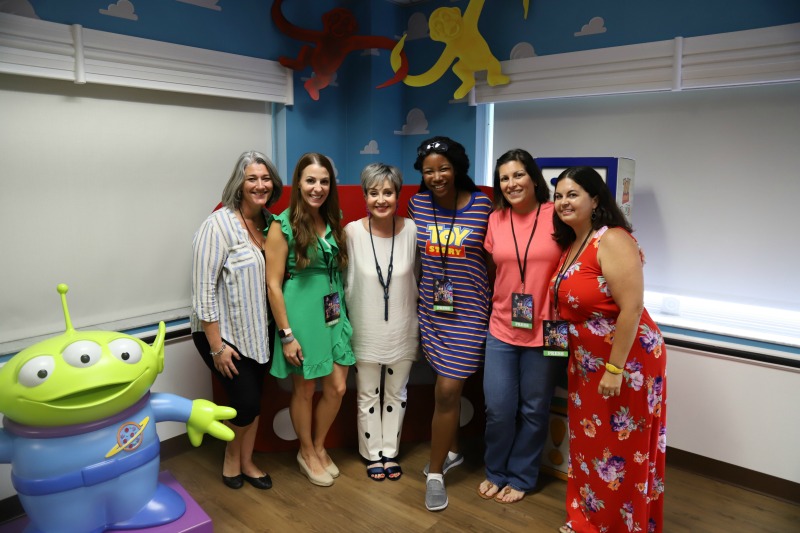 I hope you enjoyed this inside scoop on Bo Peep in Toy Story 4 and the wonderful Annie Potts interview. There's so much that does on in the background while creating a film of this magnitude and heart. I'm just lucky that I was able to be in a room where these amazing actors and filmmakers share of there stories with us!
Now Go See Toy Story 4 In Theaters Today!!!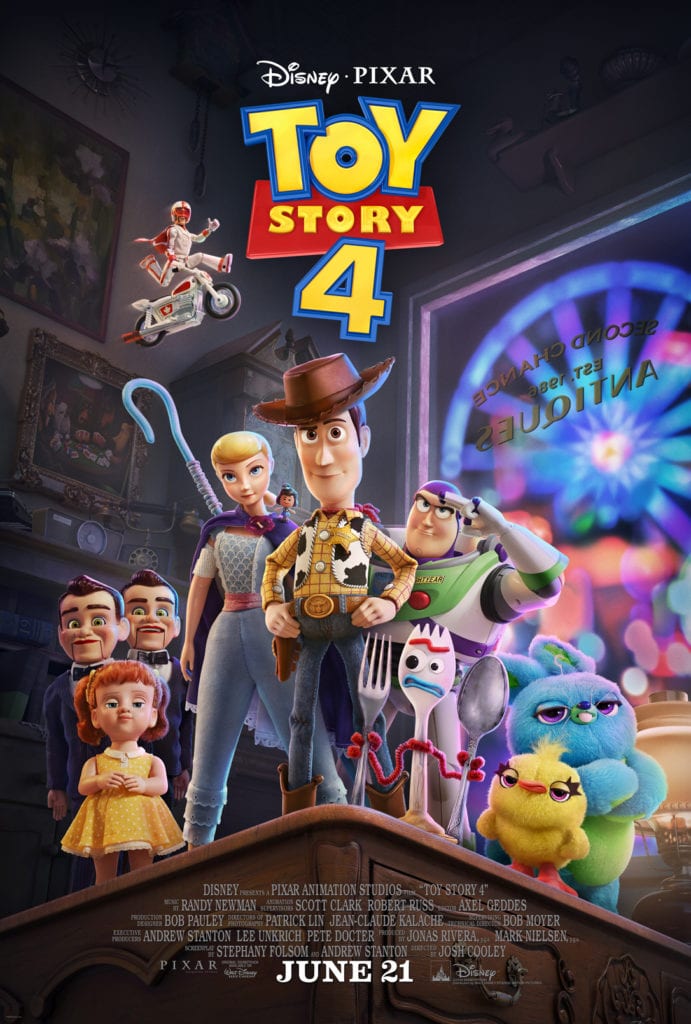 About Toy Story 4
Woody (voice of Tom Hanks) has always been confident about his place in the world, and that his priority is taking care of his kid, whether that's Andy or Bonnie. So, when Bonnie's beloved new craft-project-turned-toy, Forky (voice of Tony Hale), declares himself as "trash" and not a toy, Woody takes it upon himself to show Forky why he should embrace being a toy. But when Bonnie takes the whole gang on her family's road trip excursion, Woody ends up on an unexpected detour that includes a reunion with his long-lost friend Bo Peep (voice of Annie Potts). After years of being on her own, Bo's adventurous spirit and life on the road belie her delicate porcelain exterior. As Woody and Bo realize they're worlds apart when it comes to life as a toy, they soon come to find that's the least of their worries.
Go See Toy Story 4 In Theaters On June 20th!
Have you purchased your tickets to go see Toy Story 4 today?