Today I'm sharing all of the Toy Story 4 Press Event details! Never in my wildest dreams would I have thought that I would be sitting in the same room as Tom Hanks and Keanu Reeves.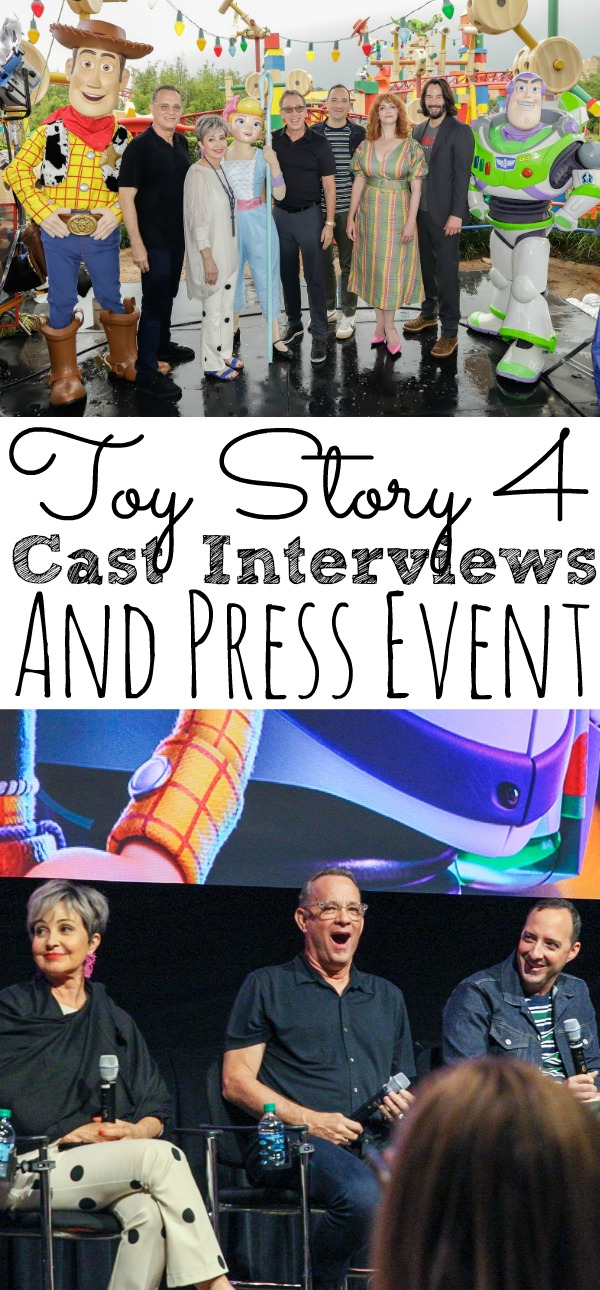 Toy Story 4 Press Event Details
A few weeks ago if you followed in Instagram Stories you know that I was at Hollywood Studios getting ready to interview the Toy Story 4 cast. Which includes some of the most talented actors we have in Hollywood right now. This cast together has created one of the most popular Disney and Pixar animated movies ever! Make sure to check out my no-spoiler parent Toy Story 4 movie review!
Thank you to Walt Disney Studios for the invitation to the Toy Story 4 Press Event in Orlando, Florida.
Toy Story 4 Cast
Here's a list of the Toy Story 4 cast that we had the pleasure with sitting down for interviews with.
Tom Hanks as Sheriff Woody
Tim Allen as Buzz Lightyear
Keanu Reeves as Duke Caboom (new character)
Tony Hale as Forky
Annie Potts as Bo Peep (returning)
Christina Hendricks as Gabby Gabby (new character)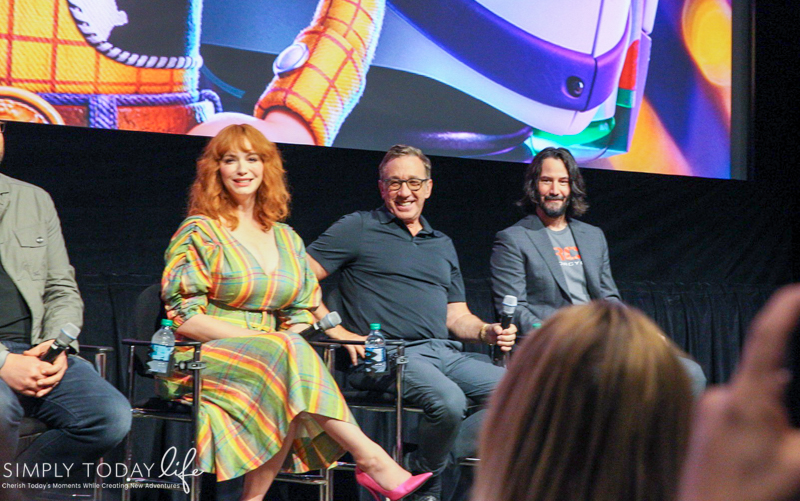 Keanu Reeves and Christina Hendricks share what it was like joining the Toy Story 4 cast
Keanu Reeves
It was a great honor to be invited. For me, I was really excited. I knew I wasn't going to be able to work with Tim and with Tom. But I knew that working with Pixar and being with these characters and these performers, that I was getting a chance to be a part of something that's legendary. Pixar gave me a great character with Duke Caboom. It was really fun to be a part of this story.
Christina Hendricks
I think when children see this movie, Gabby Gabby comes across as sort of like the villain at first. And then you realize that she's coming from a very loving place. And I think that's important to sort of say maybe you don't like someone at first. But how did they get there and why are they there and understanding their story. So I think she's very special in that way. And then she sort of gets embraced by the group. And then it's about support and I honestly thought it was a joke that they asked me. I kept thinking there were like three other people up for the same thing.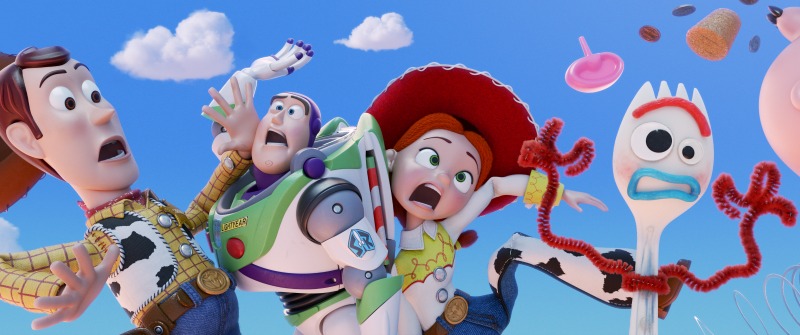 Director Josh Cooley and Producer Shared Why Toy Story 4 Was Created
Josh Cooley
We had the same questions everybody else has right now. I thought you guys were done. But we had those questions five years ago when we started. Your question was like the responsibility. Yeah. Tons of responsibility, tons of pressure. A lot of sleepless nights knowing that we were going to attempt this. Because we love the end of Toy Story 3. And feel like that's the completion of Woody and Andy's story. But there was more Woody story to tell. So that's how we approached it.
Jonas Rivera
Well, we sort of joked that we thought Toy Story 2 was the last one. When we finished that one, we thought that one was the end of the story. And how we approached this was, to echo Josh, the end of Andy's story and Woody's story, but Woody is the protagonist. This was the final chapter. And as filmmakers, to be honest, we feel satisfied that this is where you can end it. Now there's an implied future to all these films and we sort of never say never at Pixar. But as storytellers, we're satisfied with this as the closing of the chapter.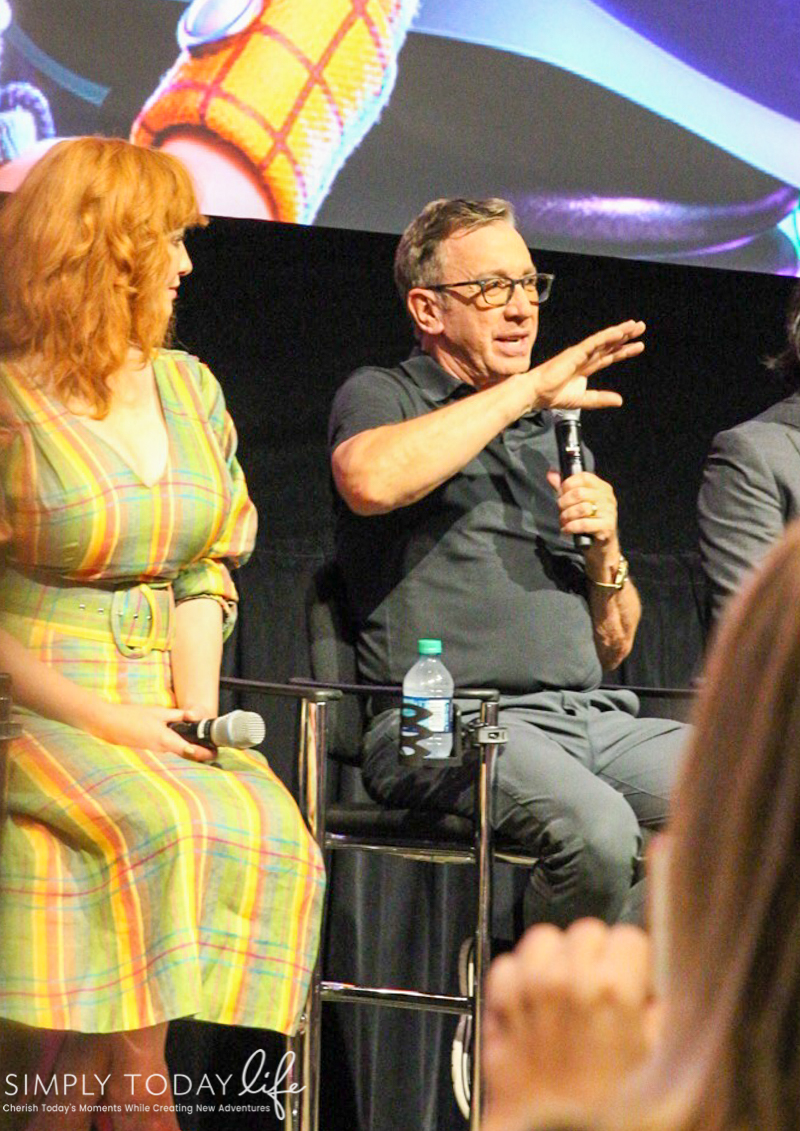 Producer Mark Nielsen Shares The Creation of Duke Caboom
There's a lot of great Canadians that work at Pixar, too. And they all volunteered to animate all of the Duke Caboom shots. So he's mostly animated by Canadian animators. Almost 100%.
Tim Allen Shares His Reaction After Watching The Film
I'm too close to it. I said this is, through the process. And then I'm always, because I'm an old filmmaker. I love the computer generated part of this. It gets better and better and better. Just the look of it was stunning. And then as I've said many times, I read through it. And the end kind of was mercurial. Then I read it and it was so bold and I wrestle with loss in my family and loss in my life. I'm an old philosophy major in college. Losing this kind of stuff, losing and gaining. It's like the sadness. Number four was like a daughter getting married perhaps. There's great sadness because she's leaving, but great sadness because she's also gaining something. And that's what this is about. And I told Tom the same thing. He hadn't read it and I had finished it, I had a real tough time. But I have a lot of other baggage about losing things and how this world is. I just loved how they filmed it. The beginning is emotional. Then they trick you with this little emotion thing at the beginning. So you get sucked into it. Then Caboom is so funny. These guys. Everybody knew it's so wonderful to watch. And part of me is going when do I ever show up? Does Buzz ever say anything? It's back to the same beauty of the way these monstrously idiotic great writers come up with this story. It's so wonderful.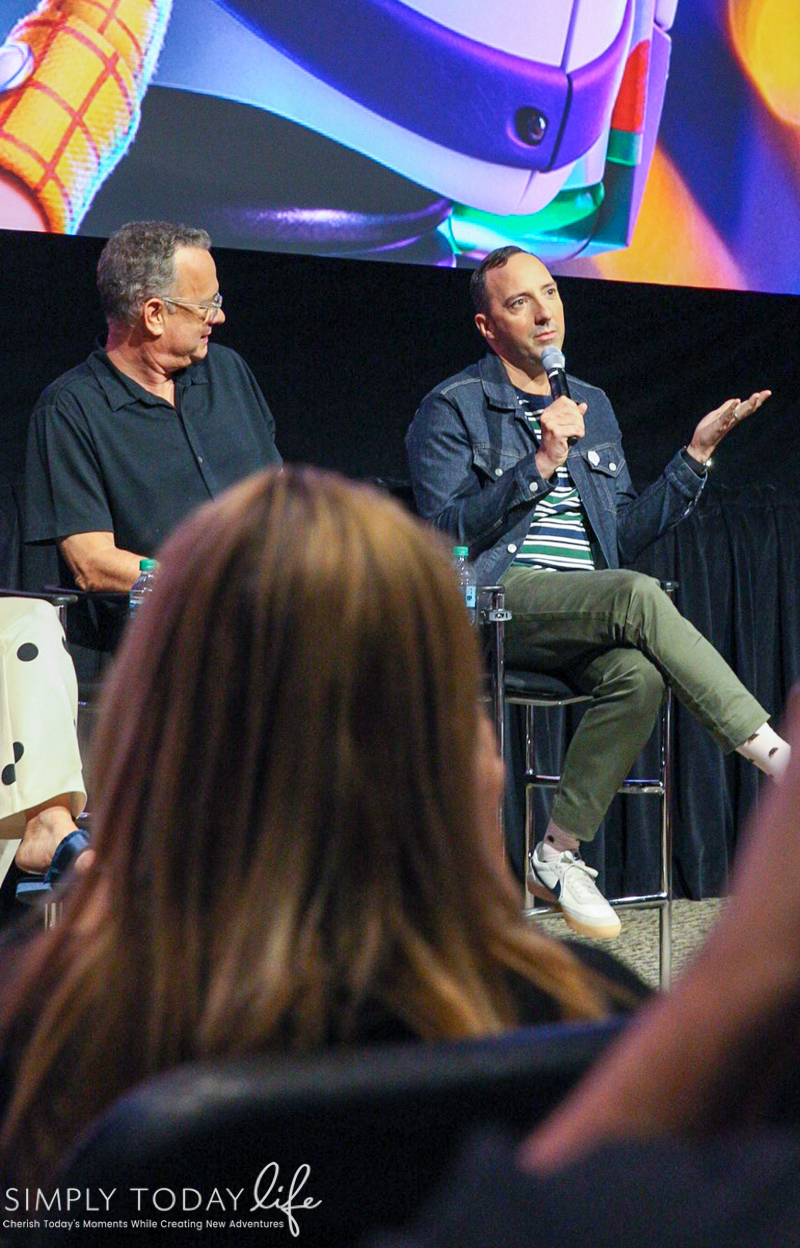 Tony Hale Shares What It Was Like Joining The Toy Story 4 Cast
It's overwhelming. Which helps because Forky is very overwhelmed. But I remember when they brought me up to Pixar and they kind of described him as he's kind of nervous. I was like check. He asked a lot of questions. Check. And he's kind of gullible to a fault now. It's like bingo. I'm in. So I just love that he sees everything as new. And mainly I love that he's a character that his home place is trash. That's all he knows is to help people eat soup. And then Woody comes along and shares that he has a greater purpose. I think just in life, anybody who might see themselves that way and they have worth. They have purpose. That's just a beautiful message that Toy Story is giving us.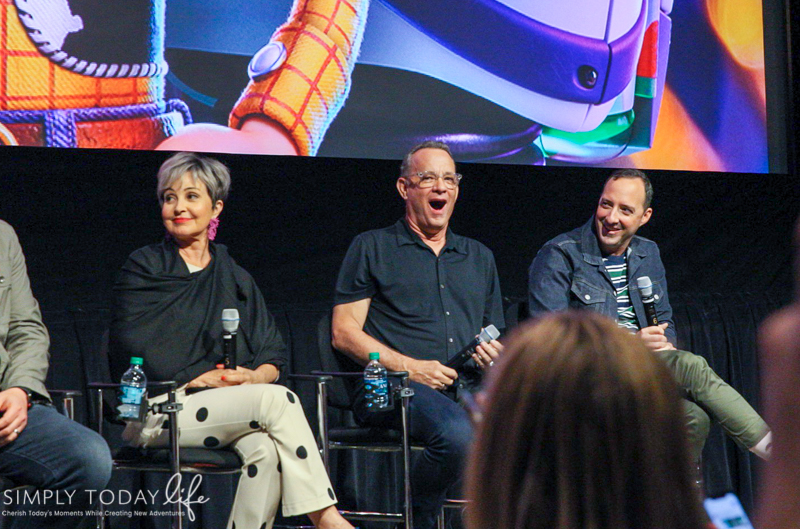 Tom Hanks Thoughts And Emotions When He First Read The Script For Toy Story 4
Haha, reading the script. That's hilarious. The way this has worked, and the first one, and this is now 24 years ago, we actually did read a script. There was a screenplay that looked like every other screenplay. You read that and then you saw every storyboard animatic of the entire film. The second movie, there was a script. But we had made, when we had the understanding of it, we realized there's no real way you can appreciate the weaving of imagery and character that Pixar did on the paper. So we really did wait to see the sequences put together. The third one, they didn't even bother doing anything other than showing us the movie in animatic form before we began recording. And on this one, I never read a complete script. I don't think anybody did. But we read the sequences that we were in. And it had a continuous running dialogue of what was going on. These movies are made with a great flexibility of it. They work on it. We record it. They start off with the storyboards and words that you say. Then you record them. Then they go away for six months and refine and alter and change and test what we have done up to that point. And so every time we would show up to work, there would be some new iteration of this idea that had been presented to us at the beginning of what everybody is going through. What was brand new on this one was that Annie and I got to record together at the same time. And that never happens. You're always in a sound stage by yourself, not being able to move off mic. And we got to actually relate with this vast history between the two of us. You leave a recording studio, the session thinking wow, we took it pretty far there. But every time we showed up for the next one, something was revealed to us in the pages that they had for us. So we always knew what territory we were going into, but never the specific route.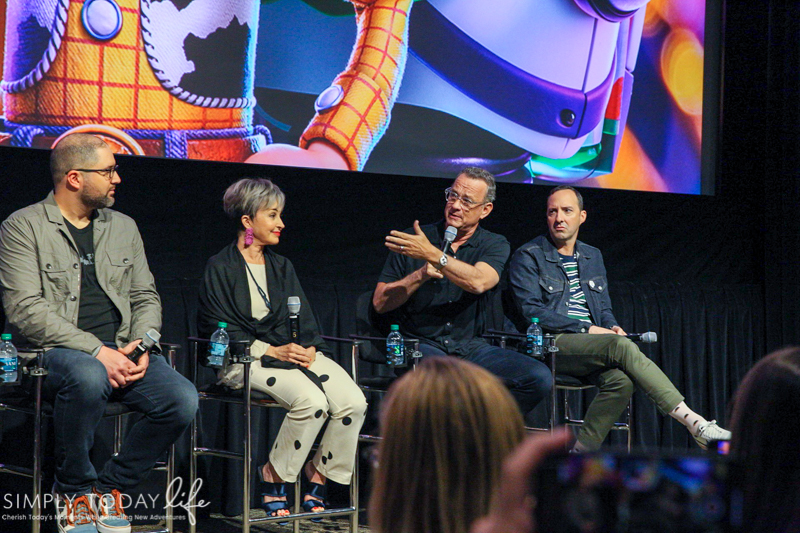 Annie Potts Reaction When Asked If She Would Portray Another Toy Story Character Who Would It Be?
I don't know. I'm so happy with what I play. I never have thought about that. It's like asking who else you would like to be in life. I don't know.
Make sure to come back on Friday for a more detailed interview with Annie Potts and her role as Bo Peep in Toy Story 4!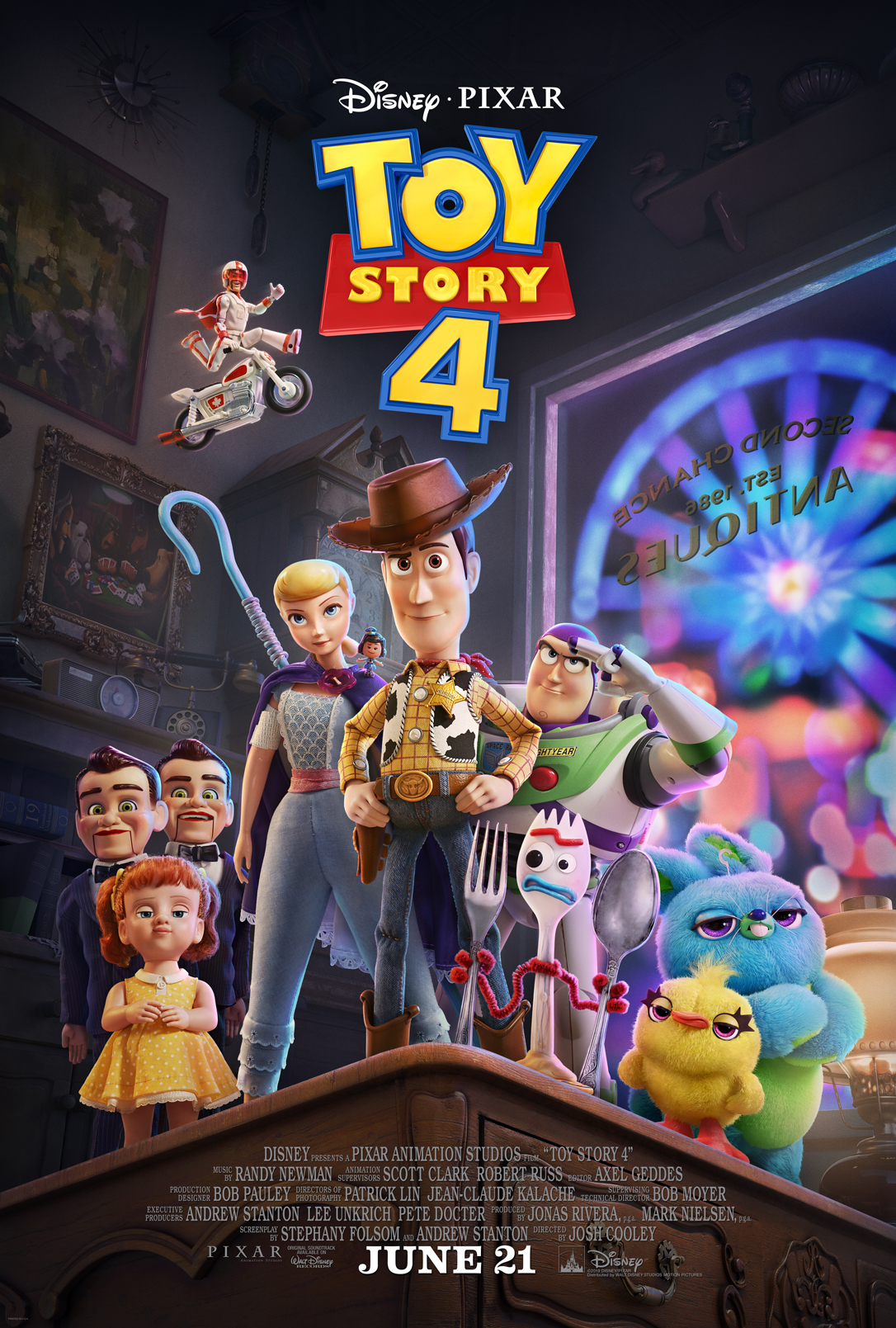 About Toy Story 4
Woody (voice of Tom Hanks) has always been confident about his place in the world, and that his priority is taking care of his kid, whether that's Andy or Bonnie. So, when Bonnie's beloved new craft-project-turned-toy, Forky (voice of Tony Hale), declares himself as "trash" and not a toy, Woody takes it upon himself to show Forky why he should embrace being a toy. But when Bonnie takes the whole gang on her family's road trip excursion, Woody ends up on an unexpected detour that includes a reunion with his long-lost friend Bo Peep (voice of Annie Potts). After years of being on her own, Bo's adventurous spirit and life on the road belie her delicate porcelain exterior. As Woody and Bo realize they're worlds apart when it comes to life as a toy, they soon come to find that's the least of their worries.
Go See Toy Story 4 In Theaters On June 20th!
Who's your favorite Toy Story 4 character you can't wait to see?