If you have followed me along the way for the past two years, then you know that I've been fortunate enough to attend some amazing movie events with Disney. Well, last year I got to set foot on my first set visit. The best part? It was a Captain Marvel set visit and behind the scenes tour!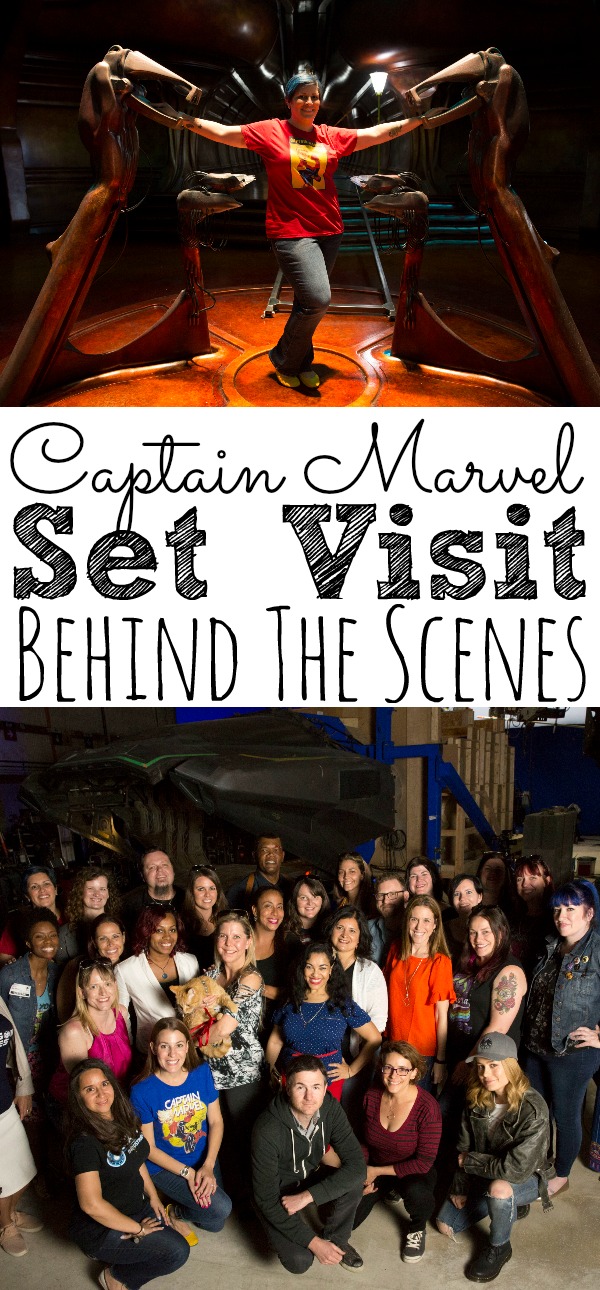 Captain Marvel Set Visit | Behind The Scenes
My daughter has been driving me insane since I got ahold of these pictures I'm sharing with you today. "Can I see them again mom?" "She's so awesome mom!" "Is it really her mom?" Although we haven't been able to see the movie yet and had to miss the early screening due to the fact that she was sick. She is looking forward to this weekend finally watching her superhero on the screen hopefully save the world!
Thank you, Disney, for allowing me to attend this secret set visit on Captain Marvel set while they were filming. As always, all superhero opinions are my own. Post contains affiliate links.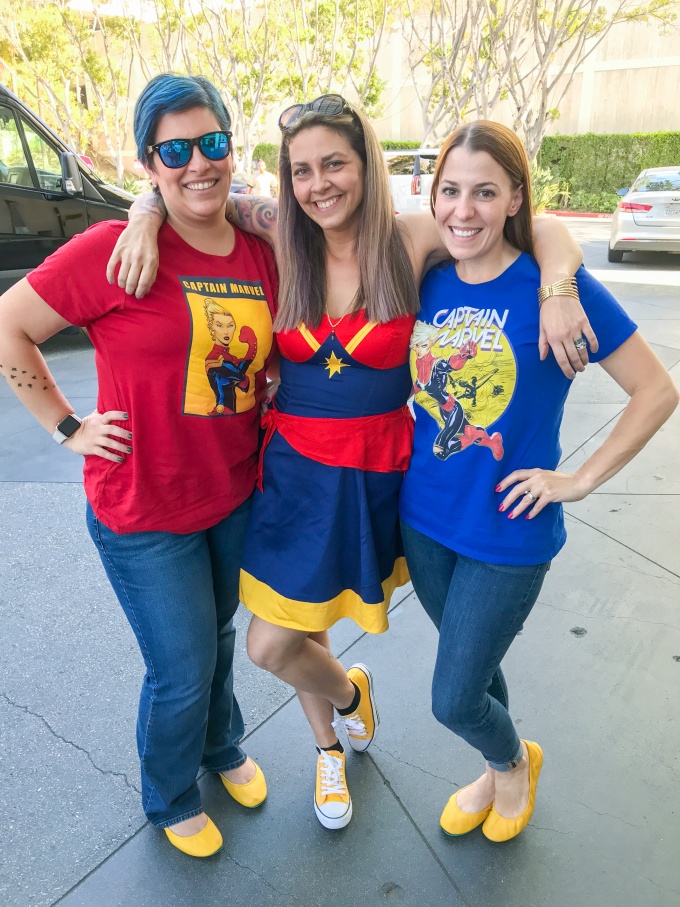 Captain Marvel Outfits
One of the most exciting things about this trip that it was a secret, even to us until the last minute! I mean, some of us had any ideas that something might be going on, but we didn't know what exactly it was. With our fingers crossed my blogging sidekick Ruth from Viva Veltoro purchased special Captain Marvel outfits and t-shirts hoping that they would come to good use! In fact, it was so early on in the Captain Marvel world that we only had a few choices of shirt designs! Now there's so many amazing outfits and shirts!
Captain Marvel Props
We got the opportunity to walk around the entire lot area where the film Captain Marvel was taking place. Including the dressing trailer where all of the costumes were kept, including Captain Marvel's suits! Yes!! That seriously was the coolest thing to see and touch the suit that Brie Larson wears as Captain Marvel.
Oh and all of the props! Check out this photo above with blogging buddies and our super cool we are going to save the universe pose! I mean how cool it is to be able to touch and take a photo with a prop that was used in some of the most amazing Marvel movies ever!
Captain Marvel Filming
Not only did we get to walk on the actual set of Captain Marvel, but we had the opportunity to watch as Samuel L. Jackson himself recorded some of his scenes! I couldn't believe that I was standing in this warehouse watching one of the most iconic actors shoot a scene!
We also got to briefly speak with him and let me say how cool he is! Oh, and the fact that we got to take a photo with him, Brie Larson (Captain Marvel), Executive Producer Jonathan Schwartz, Directors Ryan Fleck & Anna Boden and Reggie the cat who plays "Goose" in the film.
Experiencing Captain Marvel Set
Everything I've mentioned above is so surreal and amazing for someone like me who loves movies so much! But one of the things that I will remember the most is walking through the Skrull Spaceship itself! It was like I was in the movie myself. We even all got to take a photo with the Mind Fracker, although I feel like I should flip this photo around just to give it a bit more realism!
Even after of almost a year of being on location and walking the set I still can't believe it happened! It was one of the coolest things I have experienced and man I have experienced some overwhelming events that I'll never forget! This is on my top 10 for sure!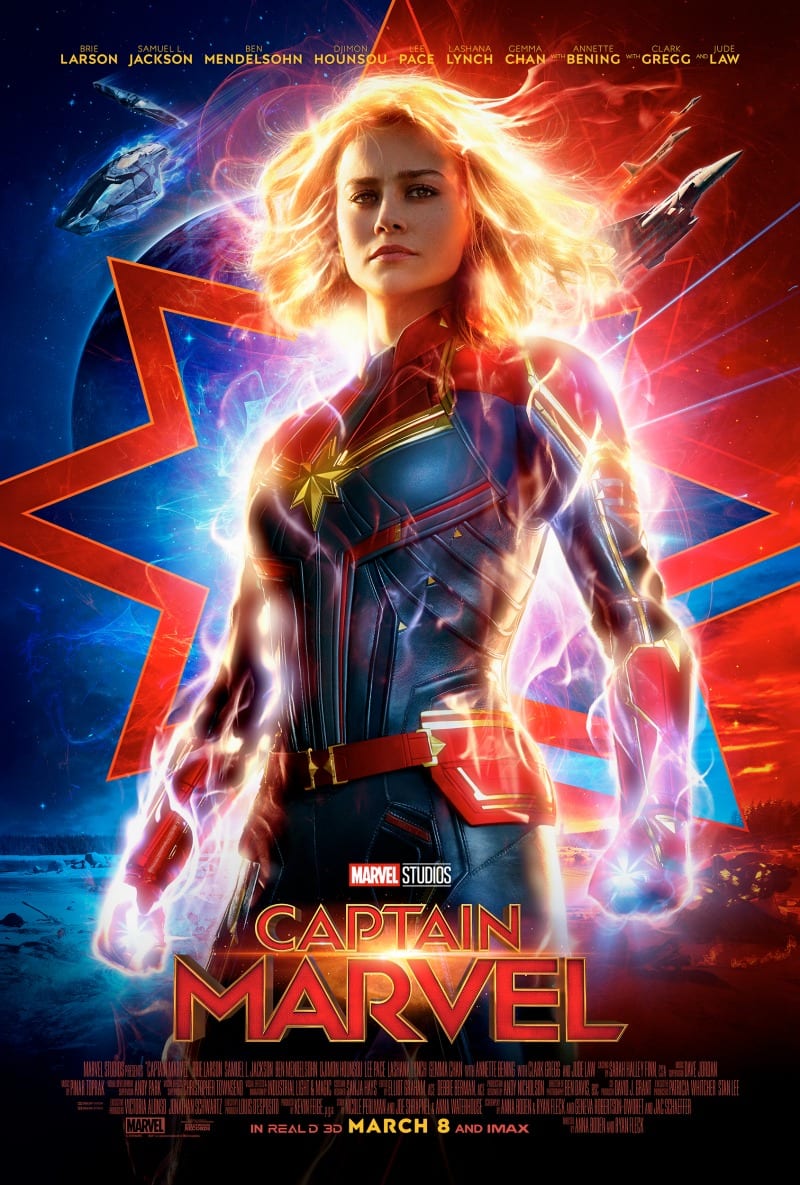 About Captain Marvel
Set in the 1990s, Marvel Studios' CAPTAIN MARVEL is an all-new adventure from a previously unseen period in the history of the Marvel Cinematic Universe that follows the journey of Carol Danvers as she becomes one of the universe's most powerful heroes. While a galactic war between two alien races reaches Earth, Danvers finds herself and a small cadre of allies at the center of the maelstrom. The film stars Brie Larson, Samuel L. Jackson, Ben Mendelsohn, Djimon Hounsou, Lee Pace, Lashana Lynch, Gemma Chan, Rune Temte, Algenis Perez Soto, Mckenna Grace, with Annette Bening, with Clark Gregg, and Jude Law. Marvel Studios' CAPTAIN MARVEL is produced by Kevin Feige and directed by Anna Boden and Ryan Fleck. Louis D'Esposito, Victoria Alonso, Jonathan Schwartz, Patricia Whitcher and Stan Lee are the executive producers. The story is by Nicole Perlman and Joe Shrapnel & Anna Waterhouse, and the screenplay is by Anna Boden & Ryan Fleck and Geneva Robertson-Dworet and Jac Schaeffer.
New Captain Marvel Trailer!
CAPTAIN MARVEL arrives in theaters everywhere on March 8th, 2019!
You Are Also Going To Love:
If you loved reading about my Set Visit on Captain Marvel, then you will also love the following ABC Television Set Visits I have put together for you:
Will you be watching Captain Marvel tonight?