This Easy Spanish Rice recipe is the perfect one-pot meal for the entire family.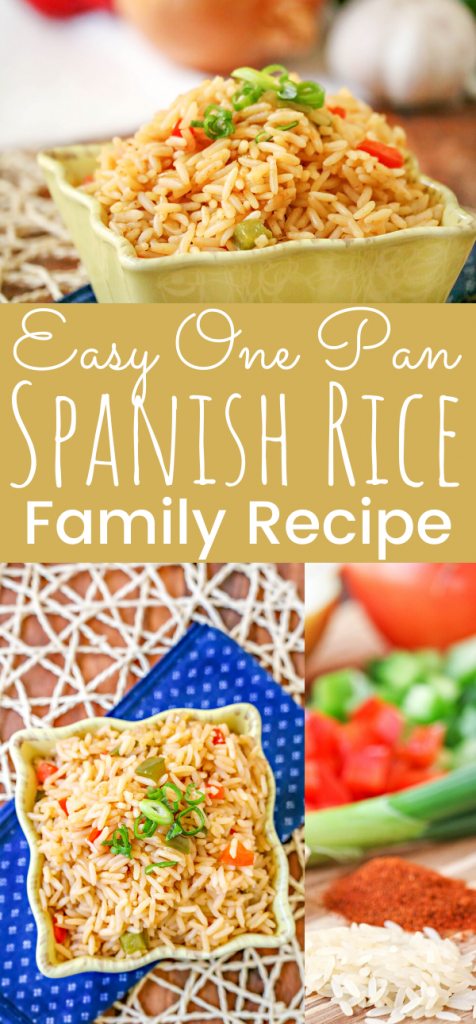 Easy Spanish Rice Recipe
This easy rice recipe is perfect to add to your weekly meal plan when you are on a busy schedule or looking for a low-cost meal.
Being raised in Puerto Rico as a child meant eating rice for dinner on most days.
Rice is the perfect meal when there's not much money to go around or you only have a few ingredients in your kitchen.
There are many ways you can create rice recipes, especially with all the wonderful spices available to us.
This post contains some affiliate links for your convenience (it means if you click on a link and make a purchase I will earn a small commission. It will not cost you a penny more).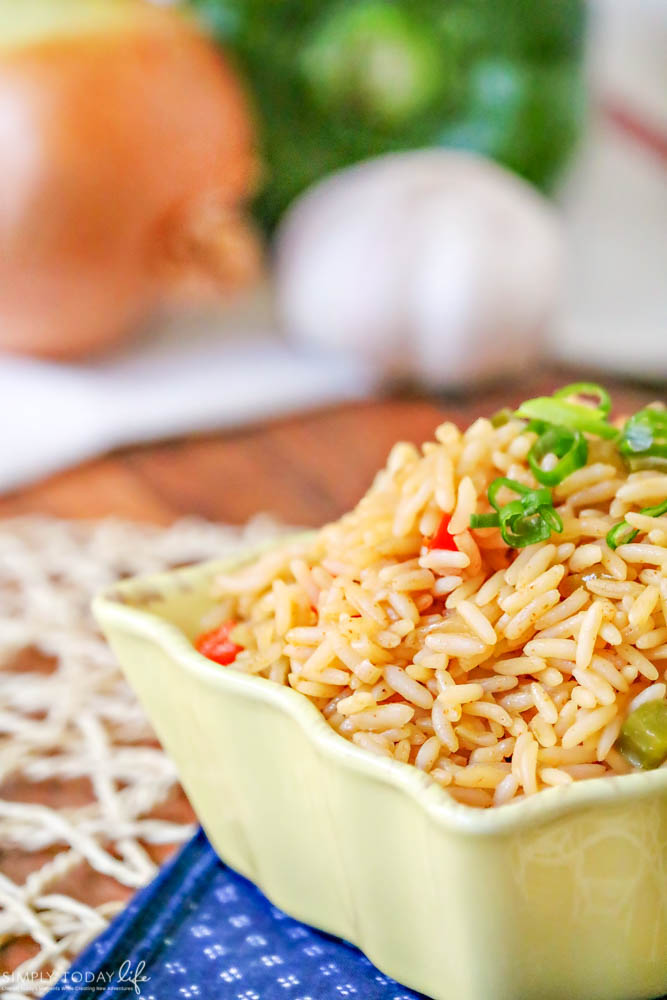 Tips For Cooking Rice
Cooking rice can be very easy to do, but ruining your rice can be just as easy to do.
Here are some helpful hints to make sure your rice turns perfectly.
The liquid portion of your rice is the most important to make sure it cooks correctly, not too dry, and not mushy.
You can follow the direction on the bag of rice to make sure that your liquid to rice proportion is correct.
You can also use chicken stock or broth rather than just rice when cooking your rice. It will give more flavor and personally I prefer the way it leaves the texture.
Make sure you allow the rice to simmer enough that it cooks thoroughly.
You want to make sure that after adding all of your ingredients you allow your chicken broth or water to boil before setting to simmer.
Do not uncover the lid of the rice before the cooking time. This will allow the steam to escape and not allow the rice to cook properly.
Protein Options For Spanish Rice
To make this low budget meal more filling you can certainly add your favorite protein on the side.
You can also make my easy slow cooker shredded chicken recipe and add it to this delicious Spanish rice dinner.
You can also easily add steak, shrimps, and fish on the side if you're looking to add some protein to the recipe.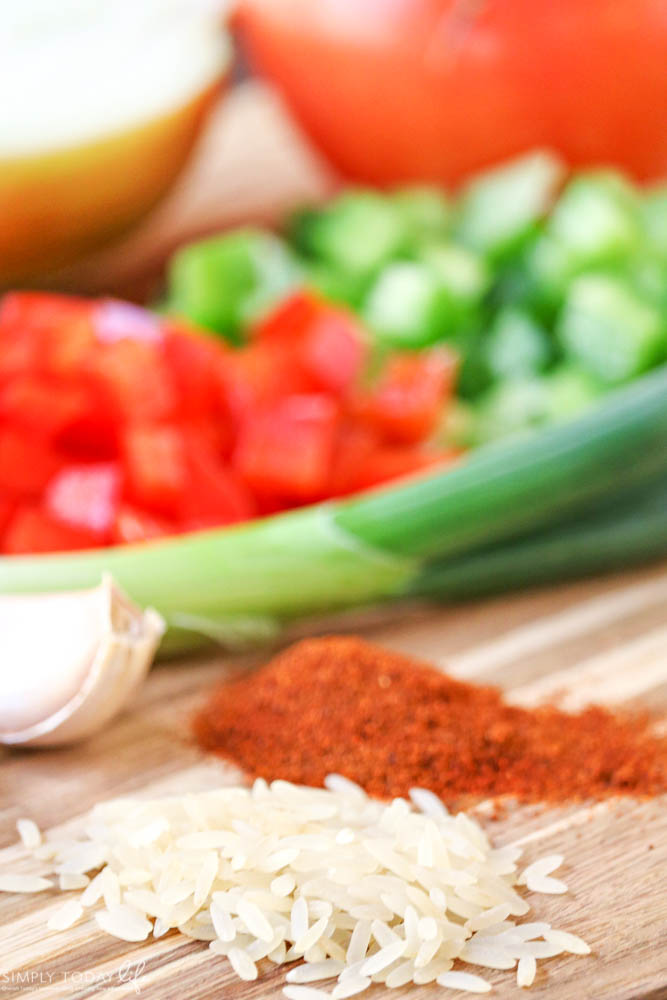 Spanish Rice Ingredients
When cooking rice the great thing about it is that you can easily mix different seasonings to make spectacular flavors.
You don't need many ingredients to create a delicious rice recipe.
In fact, the most important part of making this Spanish rice recipe is the seasonings you are adding to the recipe.
2 cups rice (I used long grain rice)
1 1/2 cups chicken broth (you can also use water)
1/2 green pepper, diced
1/2 red pepper, diced
2 garlic cloves, minced
1/2 small onion, diced
1 teaspoon of Paprika
salt and pepper to taste
1 teaspoon of cumin
1 teaspoon of chili powder
1/2 tsp Tabasco sauce (optional)
Tip: If you are making this recipe for your family with younger children, I would omit the Tabasco sauce and have it as optional on the side.
By adding the Tabasco sauce right on top it still gives it a delicious flavor and spiciness to this easy rice recipe.
This way you don't have to worry about the kids not wanting to eat because it's too spicy.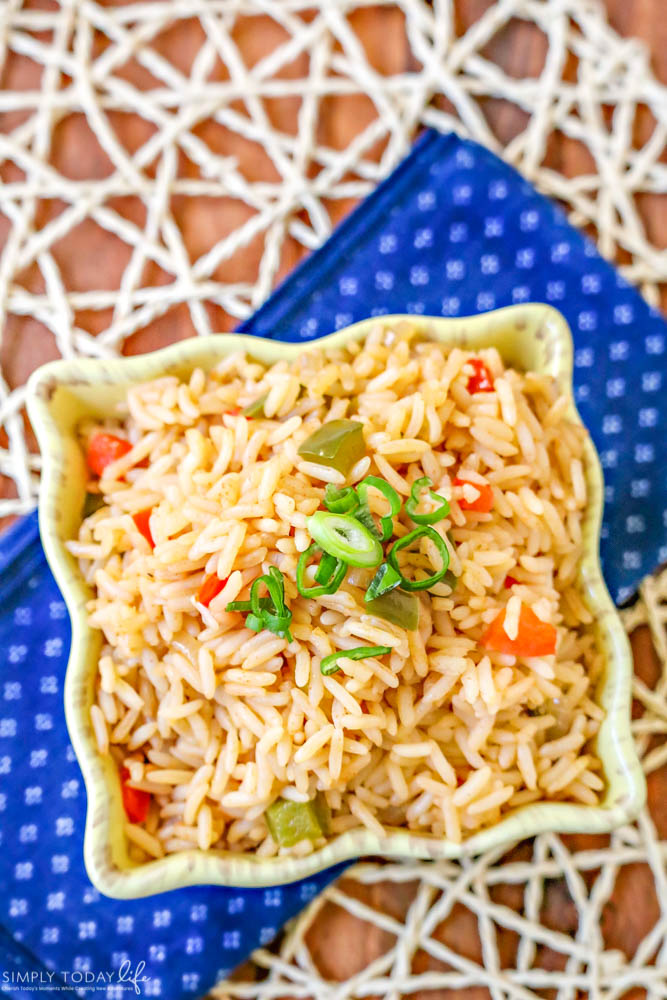 How To Make Easy Spanish Rice
One of my favorite thing about making this easy Spanish rice recipe is exactly that.
It's a super easy recipe to make for busy nights or when you just want to cook something quickly for the family.
First, you want to rinse the rice a couple of times or even soak it for 10 minutes.
Then drain all the water from the rice.
In a medium-size pan sauté onion, garlic, peppers, and rice in 1 Tbsp of olive oil until the onion and garlic are fragrant.
Next, add the spices and Tabasco sauce if using.
Stir everything together until it's all combined.
Then pour in broth over your rice mixture.
Allow broth to boil for a second before lowering heat.
Lower heat, cover the pan and allow the rice to cook completely.
Cook rice on low for 20 minutes.
Fluff rice right before serving.
Top with sliced green onions and serve hot. 
This recipe is so easy that you really just need to use one pot or pan for cooking it all!
One-pot recipes are the best for really busy days or trying to make less of a mess.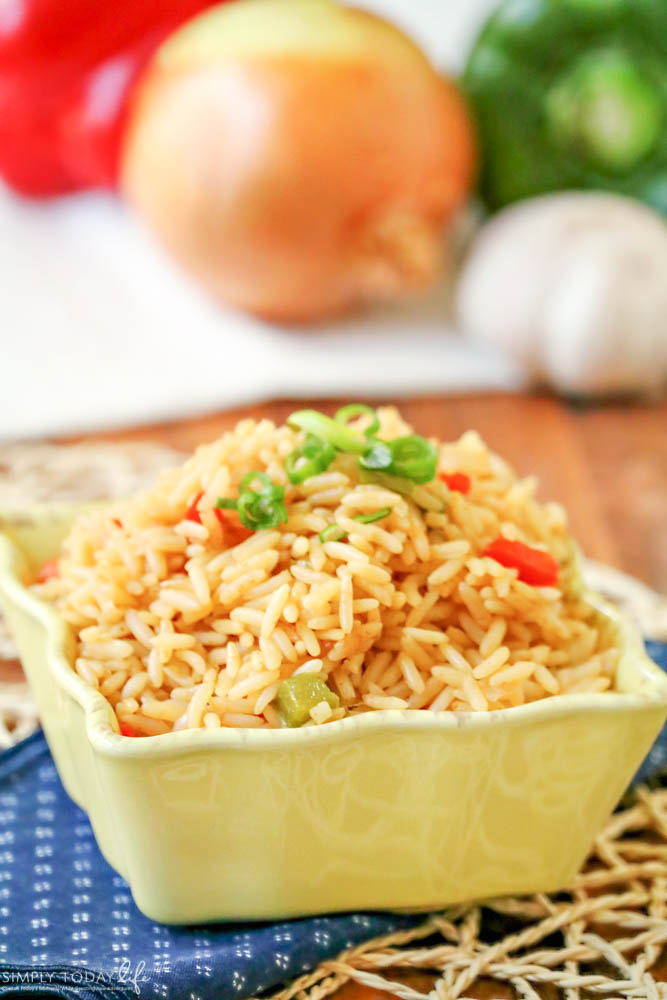 Can I Make Spanish Rice In Instant Pot
You can most definitely make your Spanish rice in your instant pot if you prefer.
Just set your instant pot to saute when adding the vegetables, oil, and rice just like above.
Stir ingredients together.
Set your pressure to high and cook for 20 minutes.
Once the instant pot releases allow the rice to sit for about 10 minutes before opening lid.
Fluff rice and serve.
Can I Make This Spanish Rice Keto
The only way you will be able to create this recipe and make it keto-friendly is by using cauliflower rice rather than regular rice.
It's easy to do and I bet it will taste just as delicious once you add all of the wonderful spices to the recipe.
I eat mostly keto in my daily life and cauliflower is one of my favorite ingredients to use when creating a favorite recipe keto-friendly.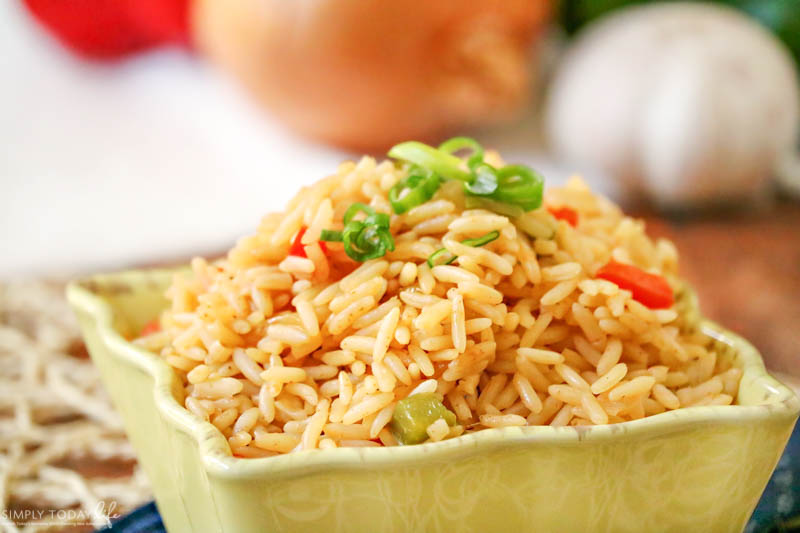 Other Ways To Enjoy Spanish Rice
I love recipes that you can easily use with different meals throughout the week.
Make this Spanish Rice recipe first thing during the week and enjoy it in so many different ways.
Fillers for burritos
Add it into soups
Mix it with a protein like shredded chicken or ground turkey
Make a burrito bowl
The possibilities are endless and all of them delicious!
More Easy Rice Recipes
Does your family enjoy easy rice recipes?