Clothespin Turkey Kids Craft is perfect for preschoolers during Thanksgiving and the fall season. We are starting November with these adorable clothespin feathered turkey crafts my girls loved creating!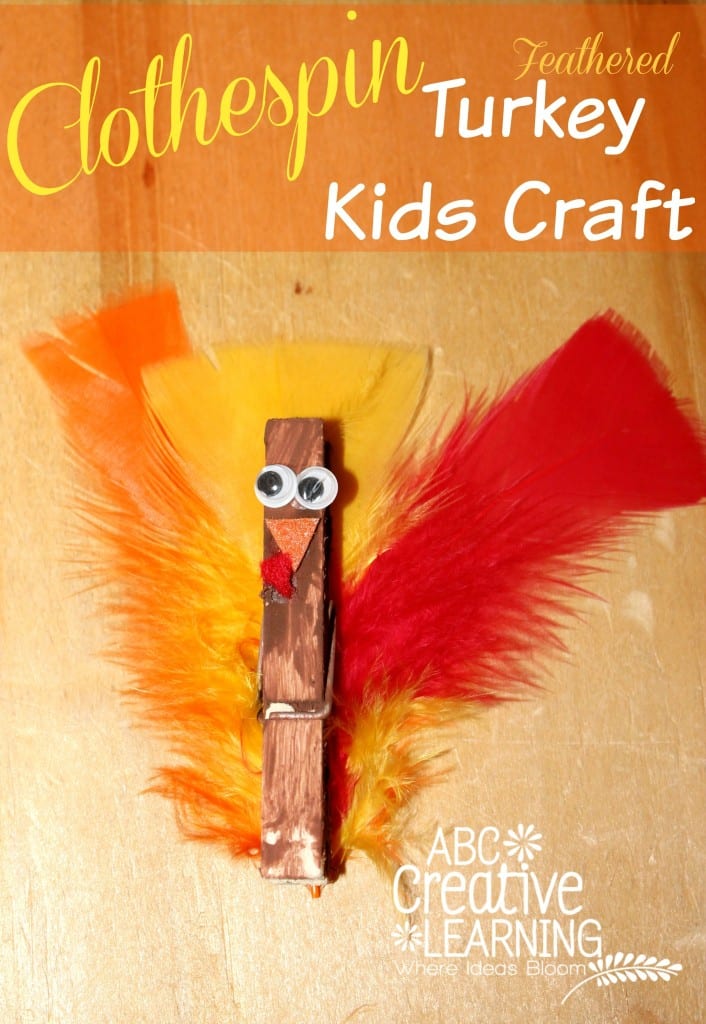 Clothespin Turkey Kids Craft
November is a special month in our home as we celebrate our youngest daughter's birthday!
This year she is turning 3, and she is my Thanksgiving baby!
So, you can imagine that the month of November can be a little hectic for us with all the holiday events going on.
One thing that I never take away from is celebrating her!
Now that she is older, she loves doing crafts, so I have a month full of many arts & crafts planned for my girls!
I've made these in the classroom before using coffee filters, but I thought it would be fun to use feathers instead. Either way, these turkey crafts are perfect for fall and Thanksgiving!
This post may contain affiliate links.
Materials Needed For Clothespin Turkey Craft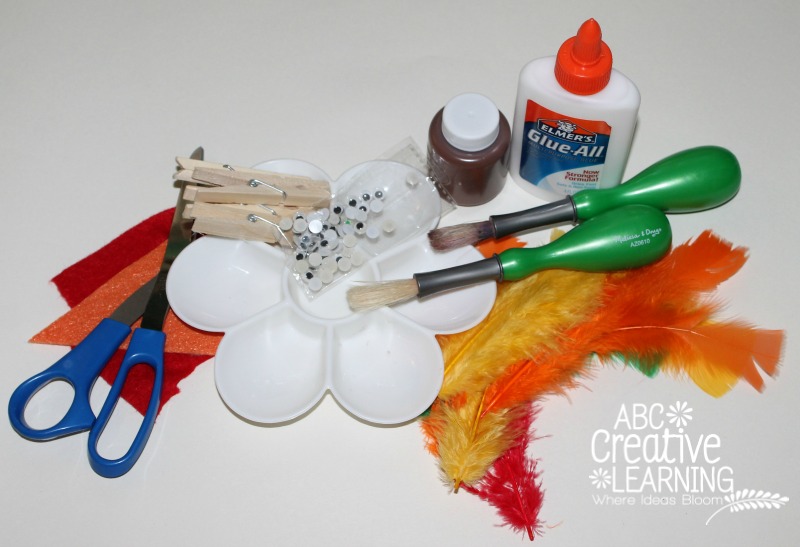 How To Make Turkey Clothespins
Have the kids paint their clothespin brown. I had my girls paint the front and sides but leave the back as is so they wouldn't get stuck on the drying paper.
Allow to dry for a few hours or until the paint is dry.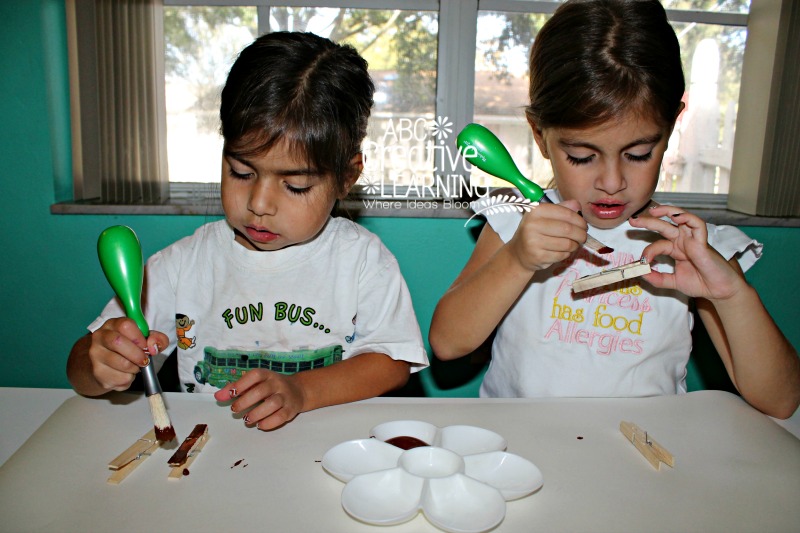 Once your clothespins are dried enough to handle, you can add the turkey's face.
We used Elmer's glue to add the small googly eyes, orange felt beak, and red felt wattle.
This might be a challenge for younger ones just because the pieces are so small that they might need some help with their fine motor skills. My youngest needed help the first time, but for her second turkey, she got the hang of it.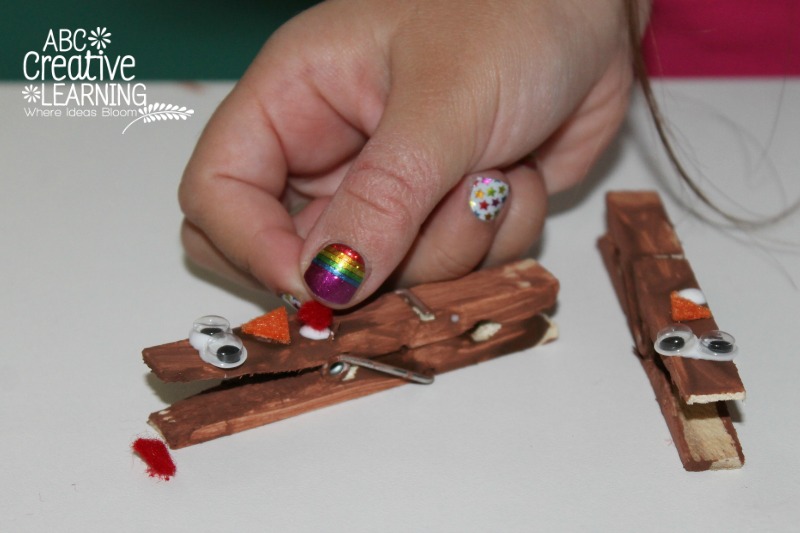 Now it's time to add some feathers! The easiest way we found to add the feathers without getting too messy or glued to the feathers was to lay the feathers flat, add a little bit of glue, and add the next feather piece.
We layered three pieces of feathers on top of each other.
We added some glue on the last piece of the feather and glued our turkey clothespin to the feathers. Make sure to add enough glue, but not too much. The feathers are very thin, and the glue will glue the feathers to your table or sheet of paper.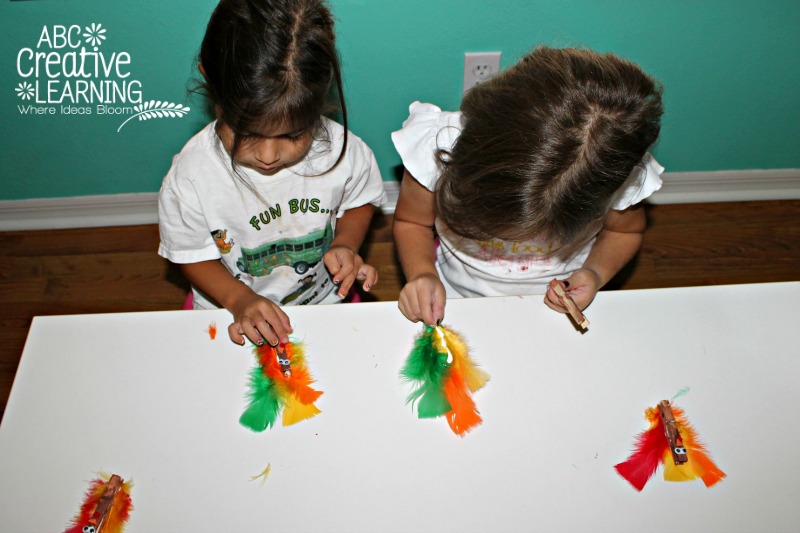 Allow to dry overnight to ensure nothing falls off, and that's it!
Let your kiddos have a gobble of a time with their adorable Clothespin Feathered Turkey!
My girls created a family portrait of us.
I think this might be perfect for our Christmas cards! What do you think?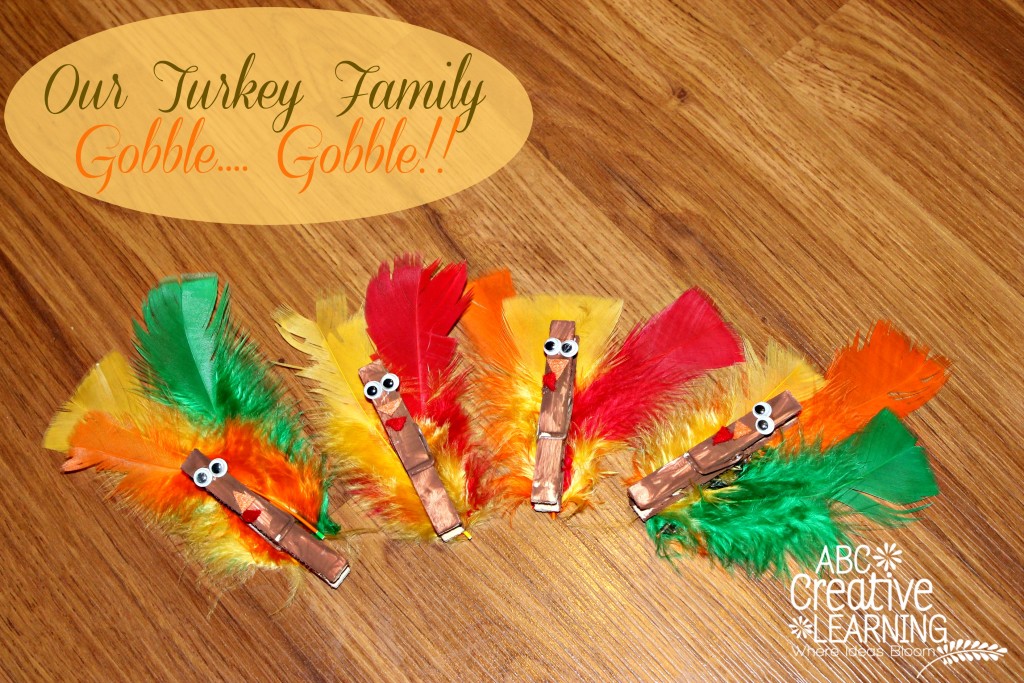 This fun fall turkey craft is perfect for fine motor skills practice or math counting activity.
You can easily change the colors around or add jewels if you want.

You Are Also Going To Love:
If you love these Clothespin Feathered Turkey Kids Craft, then you will also love the following turkey posts I have put together for you:
Have you started on Turkey or Thanksgiving Crafts yet?

*First published on Nov 4, 2014*