The perfect Candy Cane Sugar Cube Body Scrub recipe to use during the holiday season! Makes the perfect gift for teens and beauty lovers.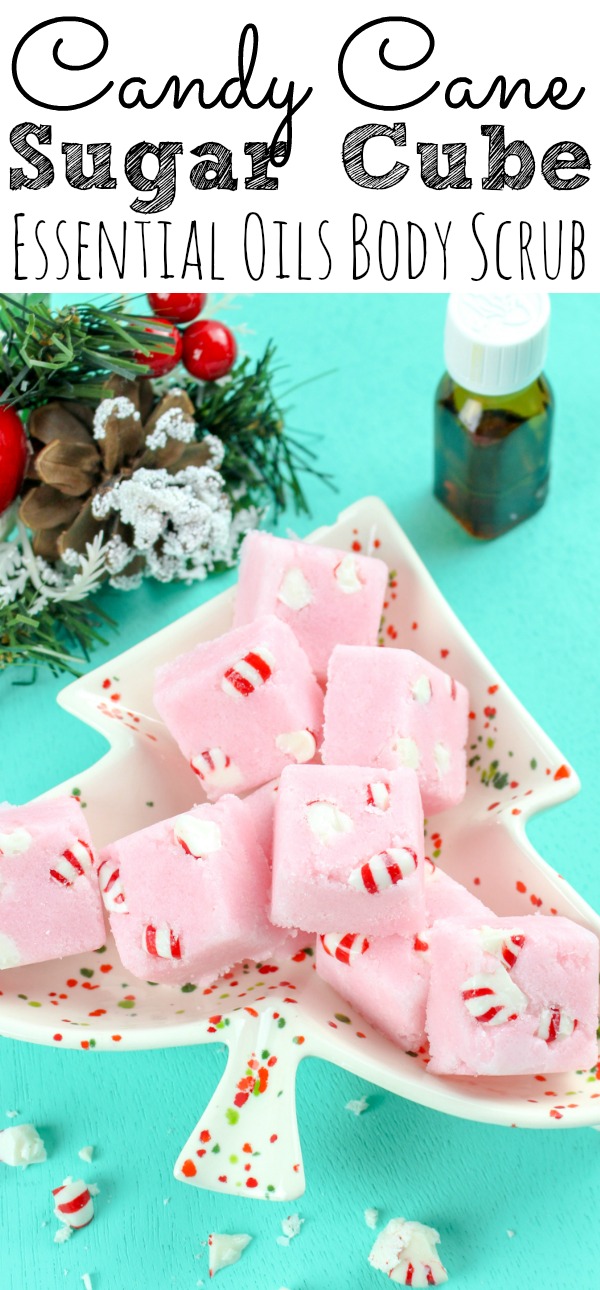 Candy Cane Sugar Cube Body Scrub
Shopping during the holidays can become so stressful and overwhelming. That's why this year I'm all about keeping it simple, personal, and making my own gifts. This year all of the women in our family will be getting this delicious smelling candy cane sugar body scrub. Shhh… just don't tell them! Not only will this keep us on a budget during Christmas shopping, but I purchased all of my essential oils and materials online. Making it an easy and stress-free Christmas shopping experience!
This post contains affiliate links.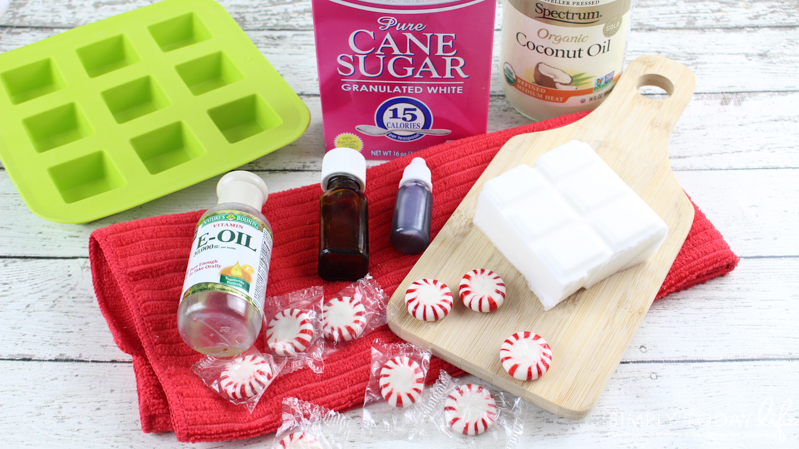 Make sure to check out my links below to all of the materials I used to create this sugar scrub. I want to make sure that I make this as easy and stress-free as possible for you all! I even made some a few years ago for a favorites gifts party with all of our mom friends and my sugar scrub was the hit of the party!
Materials Needed
9-12 count cubed silicone mold

1 cup granulated sugar

1/2 cup shea butter melt and pour soap base

1/3 cup fractionated coconut oil

10-12 drops peppermint essential oil

3-4 drops Vitamin E oil

Red or pink soap colorant

2-3 candy canes – crushed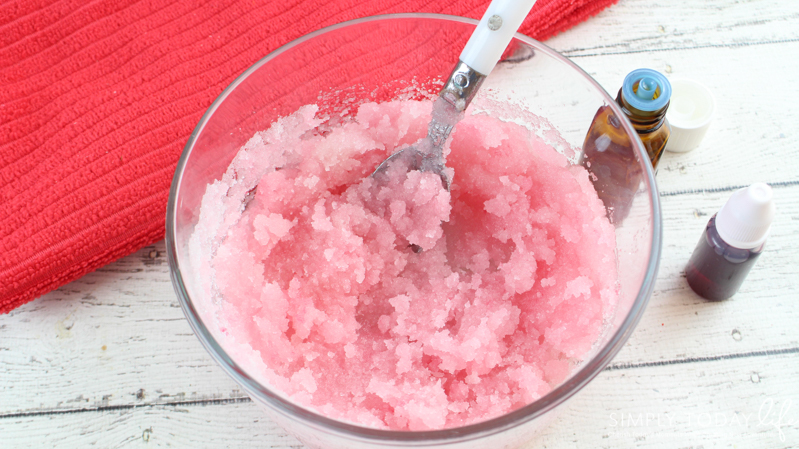 Instructions
Place the candy canes in a plastic bag and crush them with a hammer or rolling pin.

Sprinkle 1 teaspoon of the crushed candies into each separate silicone cube. Set aside.

Place the sugar in a medium mixing bowl and set aside.

Add the coconut oil to a small mixing bowl.

Mix in the peppermint essential oil, Vitamin E oil, and red soap colorant.

Pour on top of the sugar and stir well to incorporate.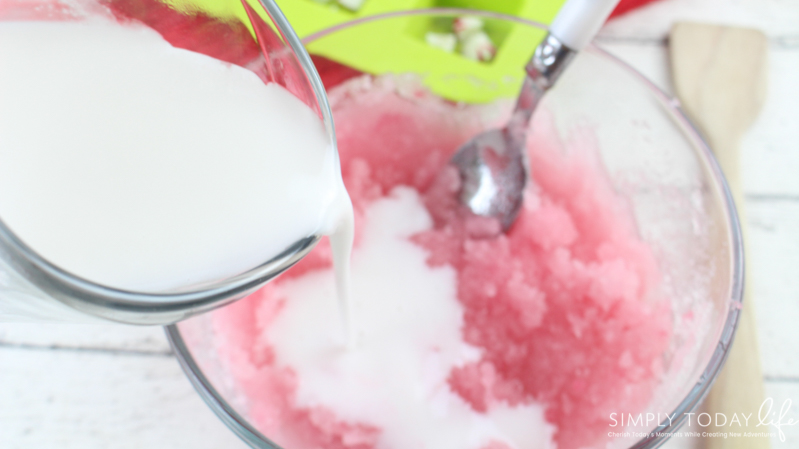 Add the shea butter to a microwave-safe bowl and microwave on HIGH for 30 seconds or until the soap is completely melted. Remove from microwave and stir.

The next step is to pour the melted soap into the sugar mixture and stir quickly

to mix. Once you mix the soap with the sugar, it will harden pretty fast so you need to complete this step quickly.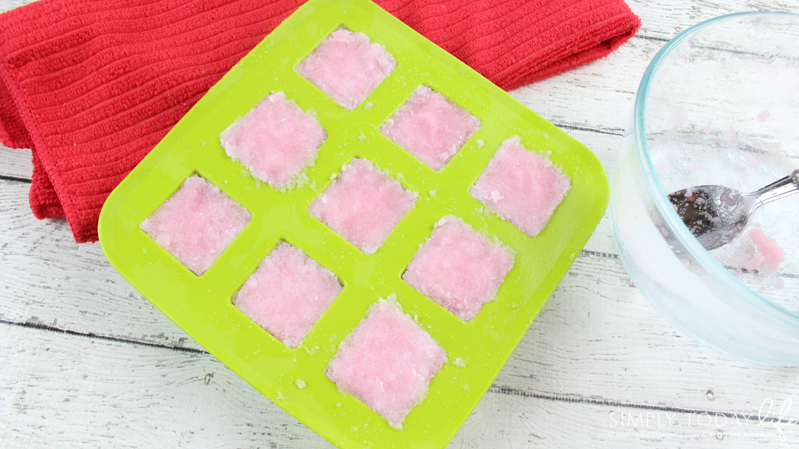 After you mix and stir, transfer immediately to the silicone mold, filling up to the top of each cube. Press down firmly with your fingers.

Chill for 1 hour. Once chilled, gently pop the candy cane sugar scrub cubes from the silicone mold and store them in an airtight container.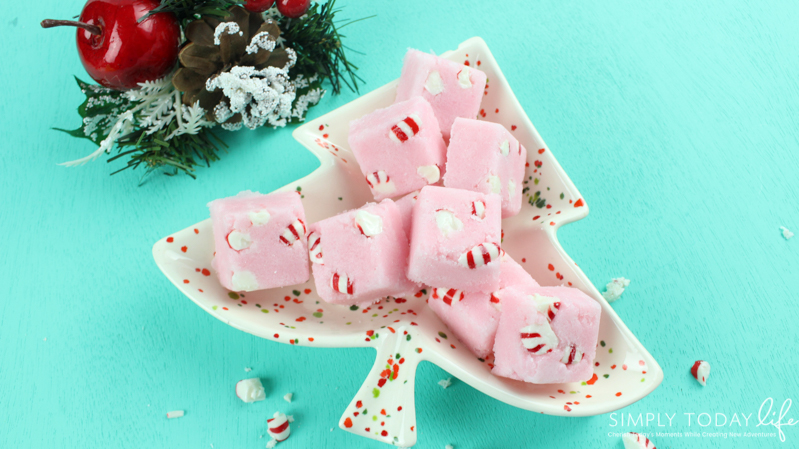 How To Use
Bring 1-2 candy cane sugar scrub cubes with you into the shower or bath.

Rub the sugar cubes on wet skin in place of sugar scrub. The sugar will exfoliate and the shea butter and coconut oil will soften and moisturize your skin. Enjoy the uplifting and energizing aroma of peppermint!!

Rinse with warm water and pat dry with a towel.

Apply your favorite body moisturizer.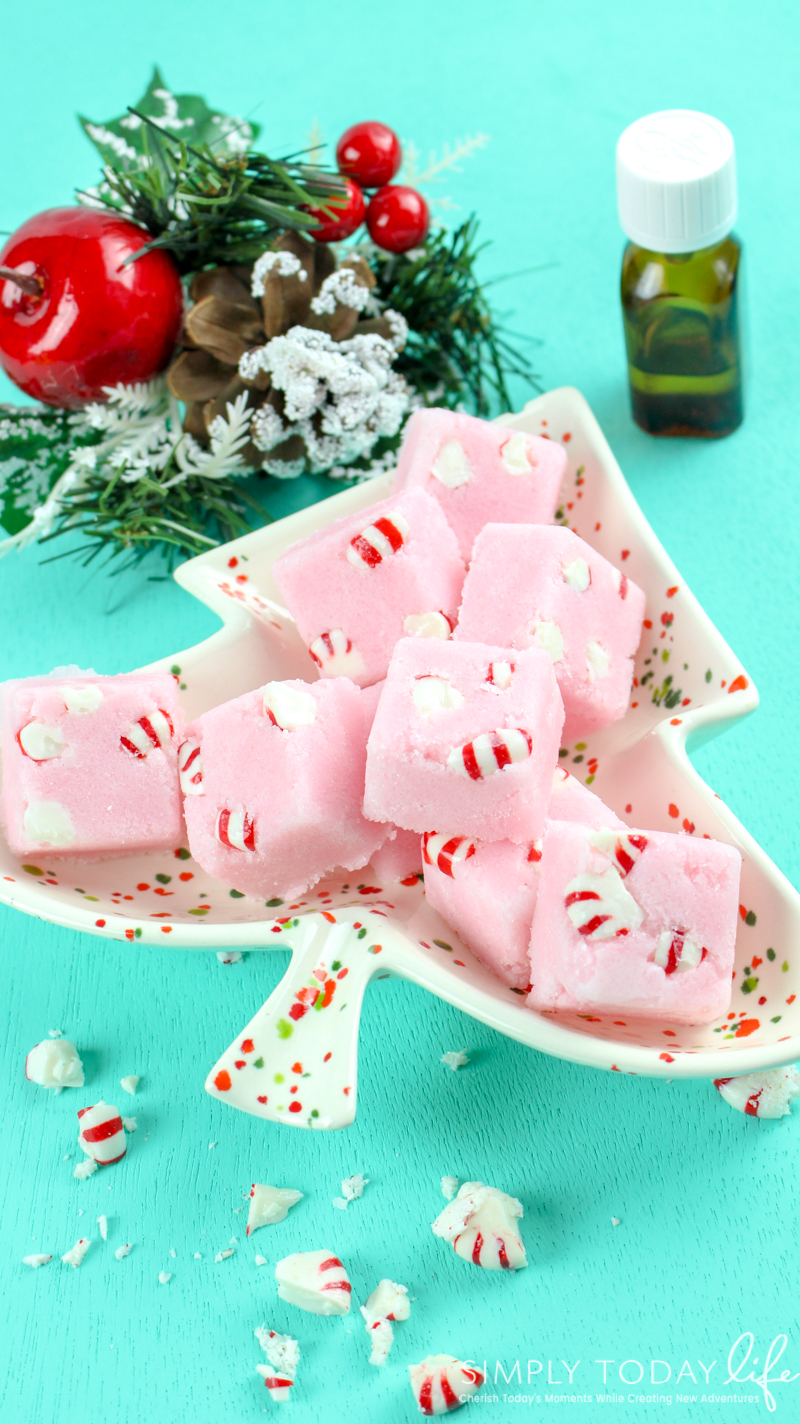 There are so many different essential oils you can create with a body scrub! I love adding lavender essential oils to my sugar scrub for those stressful weeks. Especially during the holidays. Experiment with different oils and find your favorite scent.

You Are Also Going To Love:
If you love this Candy Cane Sugar Cube Body Scrub recipe, then you will also love the following essential oils recipes I have put together for you:
Will you be creating your own holiday gifts this year?

*Originally published December 14th, 2018*