25 Days of Christmas Family Togetherness Activity Calendar will help when life gets in the way this holiday season. One of the things that I love about Christmas is all the activities that are available to do, but life can get busy! So, I hope this list can bring some family time.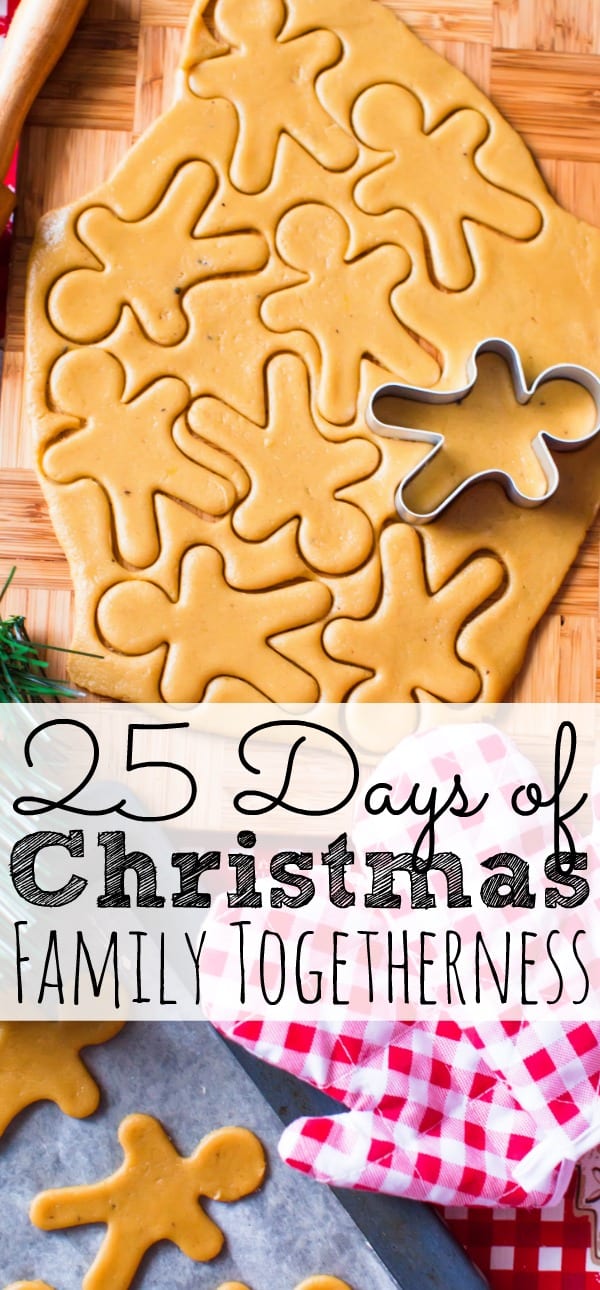 25 Days of Christmas Family Togetherness Activity Calendar
This is the time of year when my family and I like to do things together, even if we are super busy.
Being able to set aside some time every single day to spend together is what makes these memories last for years to come.
I will be honest; it's not always been this way.
This busy mama tends to put everything else first rather than spending time with my family.
That's why I wanted to ensure our holidays this year were intentional and purposeful.
I don't mean to be perfect every day, but to spend quality time together cherishing what the holidays are all about.
I believe that this is the reason for the holiday season. That's why I wanted to make sure that your family was being intentional too.
We can hold each other accountable! What do you say?
This post contains affiliate links.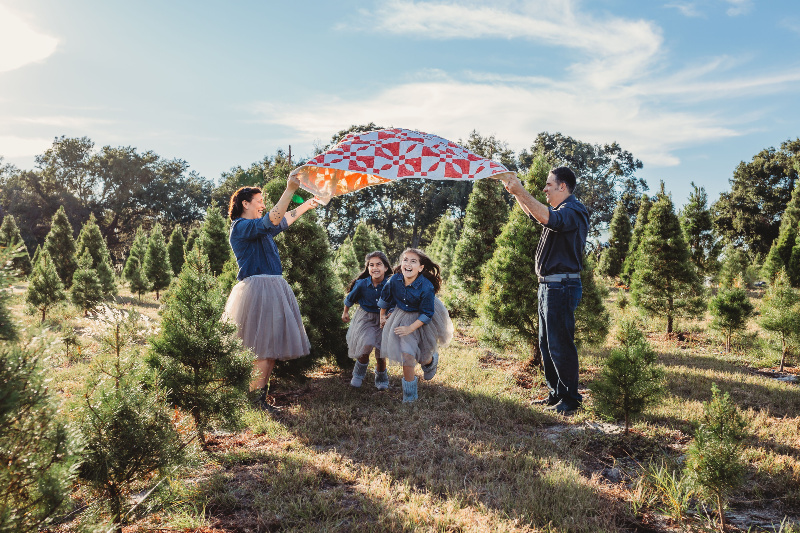 Christmas Family Calendar
Here is a fun list you can easily print out and hang somewhere everyone in your family can see.
I also encourage you to add some of your own with your kids.
Ask them what activities or crafts they would like to do together.
I promise you that the holiday season and Christmas will be less stressful if we allow the important moments into our life.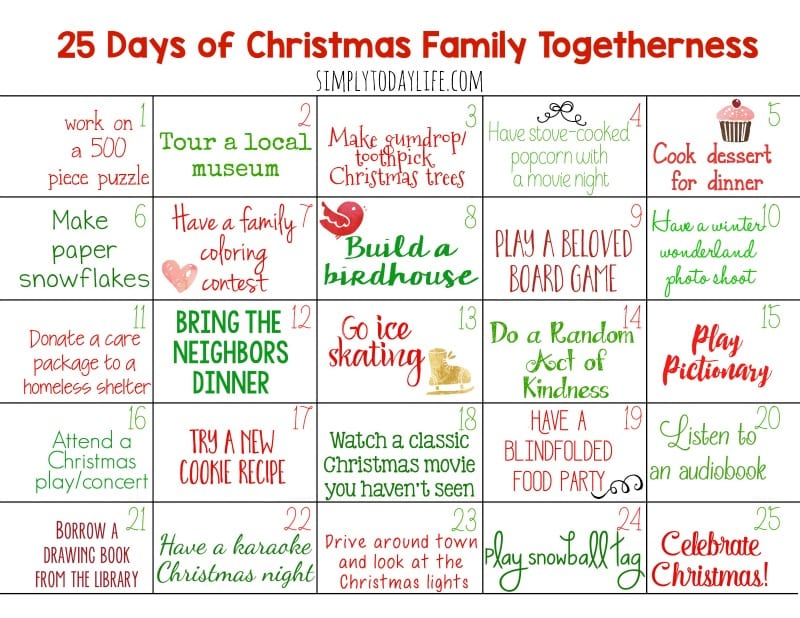 Spending time with our family is a great reminder that it only takes a few minutes a day to spend quality time with those you love during Christmas.
Plus, think about the memories you will be building with your children.
These are moments you want your children to remember and pass on to their children.
Christmas Family Calendar Ideas
Work on a 500-piece puzzle
Tour a local museum
Make gumdrop/toothpick Christmas trees
Have stove-cooked popcorn with a movie night
Cook dessert for dinner
Make paper snowflakes
Have a family coloring contest
Build a birdhouse
Play a beloved board game
Have a winter wonderland photoshoot
Donate a care package to a homeless shelter
Bring the neighbors dinner
Go ice skating
Do a Random Act of Kindness
Play Pictionary
Attend a Christmas play or concert
Try a new cookie recipe
Watch a classic Christmas movie you haven't seen
Have a blindfolded food party
Listen to an audiobook
Borrow a drawing book from the library
Have a karaoke Christmas night
Drive around town and look at the Christmas lights
Play snowball tag
Celebrate Christmas!
To print out your free copy of our 25 Days of Christmas Family Togetherness Activity Calendar, click on the link below!
I hope you and your family enjoy these fun activities together!
And if you're looking for more Christmas Ideas, follow my Fun Christmas Pinterest Board!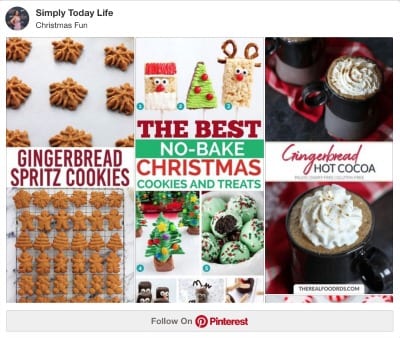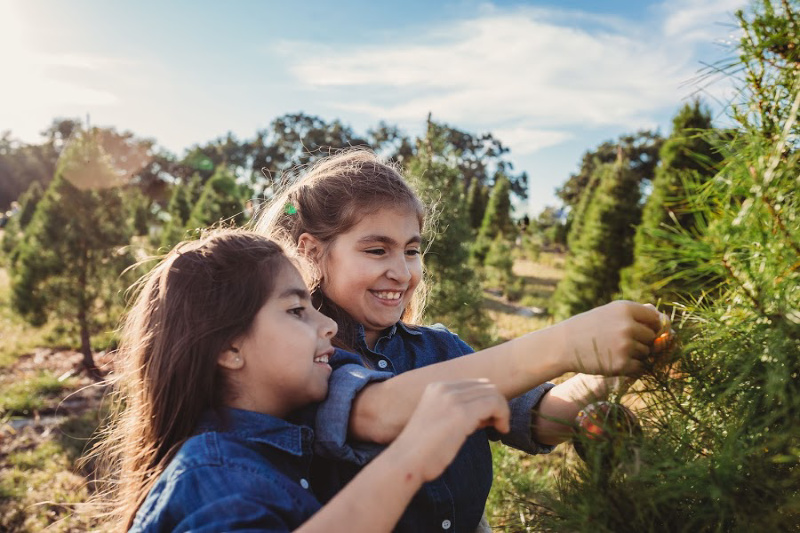 Remember, it's not about doing everything every day on this calendar.
I created this to give me ideas throughout the month of December to do with my girls and my family.
One of the things that I have realized as my girls have gotten older and this mama has gone through breast cancer is that we don't get this time back.
So, for me being able to choose a few fun activities during the Christmas holidays is important for us.
Choose activities you think your family will enjoy, and add some of your own!
It's not about what you're doing; it's about who you are doing it with and how you build these amazing memories for your children to remember as they grow up.

You Are Also Going To Love:
If you loved the 25 Days of Christmas Togetherness Activity Calendar, then you will also love the following Christmas Crafts I have put together for you:
What is the one family activity that you all do together every year?

*Originally published in 2015*