I had the opportunity to test drive the 2017 Mazda CX-3 Touring FWD for a week with my family. No compensation was given and all opinions are my own.
It's been a while since I've shared about vehicles on the blog, but hopefully I can bring you all some more reviews on family friendly vehicles. Helping you all with your purchasing questions and inside views! Today I'm sharing with you all the 2017 Mazda CX-3 Grand Touring FWD in Dynamic Blue Mica.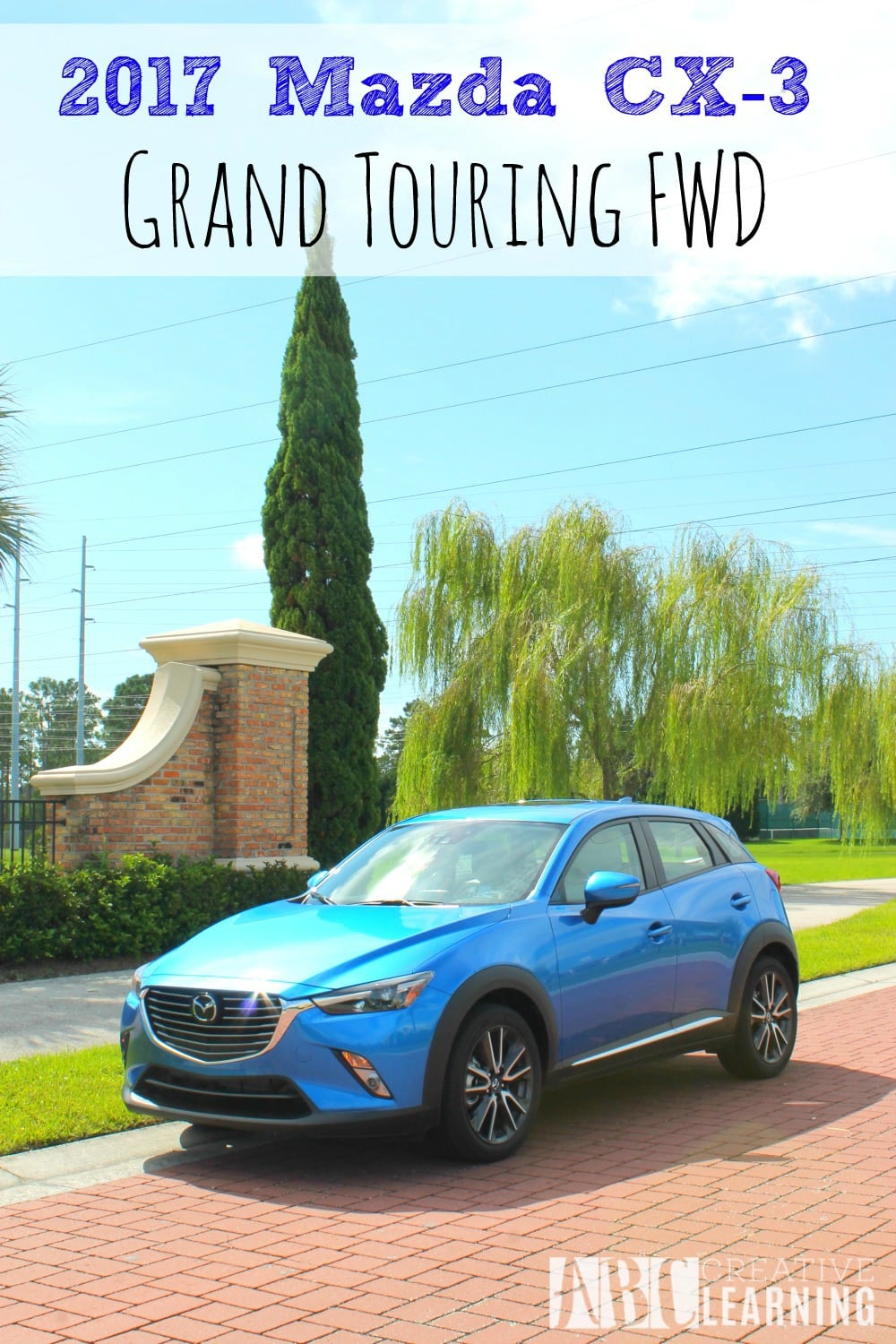 2017 Mazda CX-3 Grand Touring FWD
My first reaction when I saw the 2017 Mazda CX-3 Grand Touring was, wow that's bright! I absolutely loved the Dynamic Blue Mica color because it's totally different than anything you see on the road. Sure enough when I rode this fantastic car down I-4 traffic I was the only one standing out!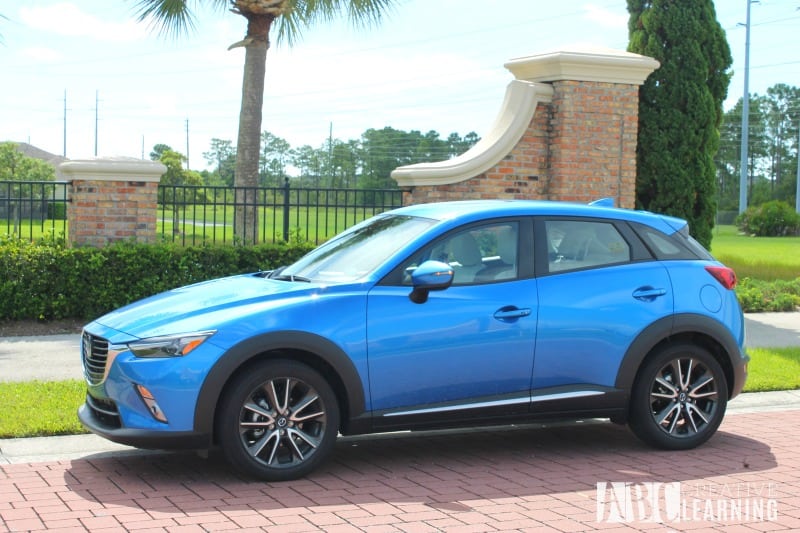 Not only does this compact vehicle have one of the best fuel economy gas rating that I have seen, but it drives super smooth. At times I told my hubby that it was nice to drive a vehicle in which I could find a parking space easily or change lanes by zooming by. Don't worry, I was safe, just felt like I was zooming by everyone because of the size and shape compared to my mini van.
It really made sitting in traffic and jumping from doctors appointments a breeze. Especially when using the navigational system in the vehicle would direct me towards my destination making sure that I avoided the traffic as much as possible.
The vehicle has everything you will need to drive safely on the road, because everything is literally on your fingertips. Right on your driving wheel you have everything you need to make your drive in the 2017 Mazda CX-3 Grand Touring safely, convenient, and modern.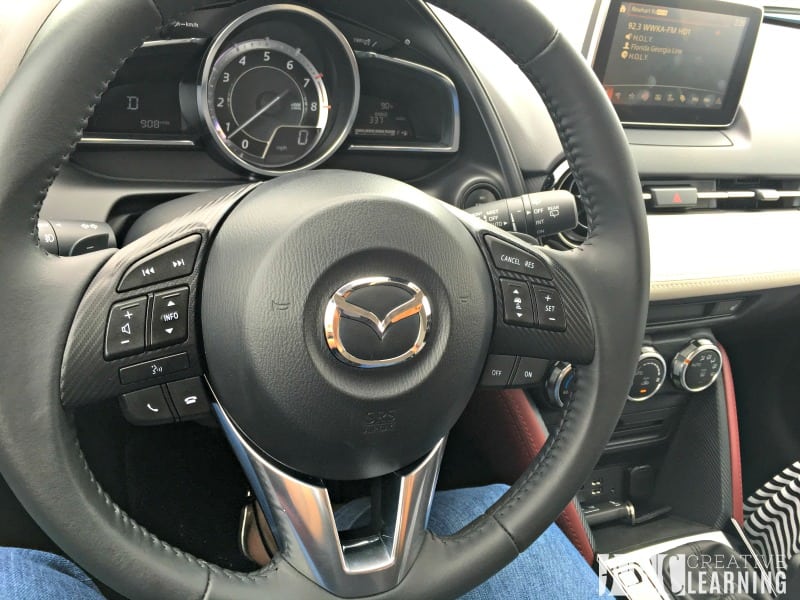 Another fun feature that my girls absolutely loved was the moonroof. Letting our hair lose was fun, but not for very long. Unfortunately, this is the same week Hermine visited Florida, so our letting our hair blow in the wind was very short, but we still had a chance to try it out as we drove all over downtown Orlando.
Even with the bad rain we were getting in Orlando, I felt very safe in the Mazda CX-3 Grand Touring. I loved that I didn't have to leave the eyes from the road if I wanted to check my speed or if there were vehicles next to me when changing lanes. With safety features such as bling spot monitoring, rearview camera, head-up display, and dual front airbags just to name a few, the 2017 Mazda CX-3 really makes it easy to love.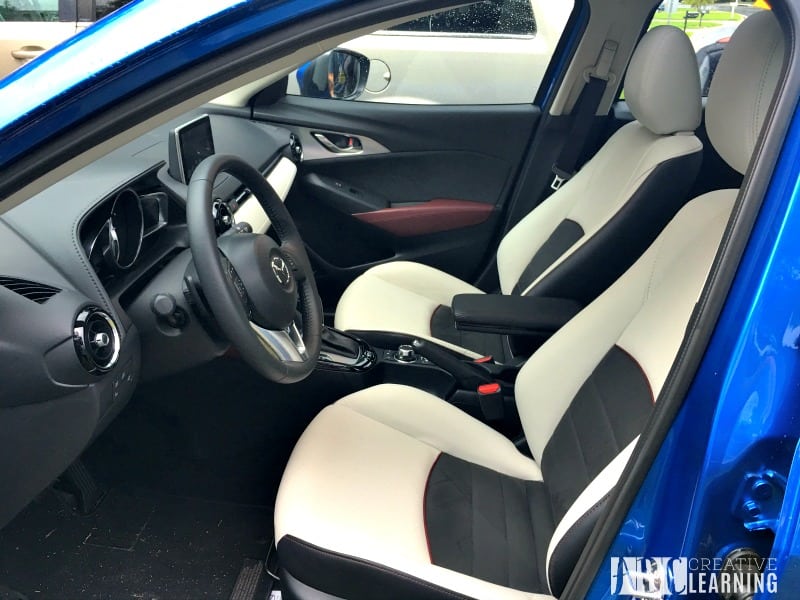 Personally, I would love to own the vehicle if I didn't have kids. Although, the car seats fit comfortably in the back seat, it would make it difficult to go grocery shopping or family road tripping. The car is something that I would love for my husband to get for himself, because it's perfect for him to commute to work with an awesome Bose system and wonderful on gas. It definitely makes the perfect second vehicle in a family home.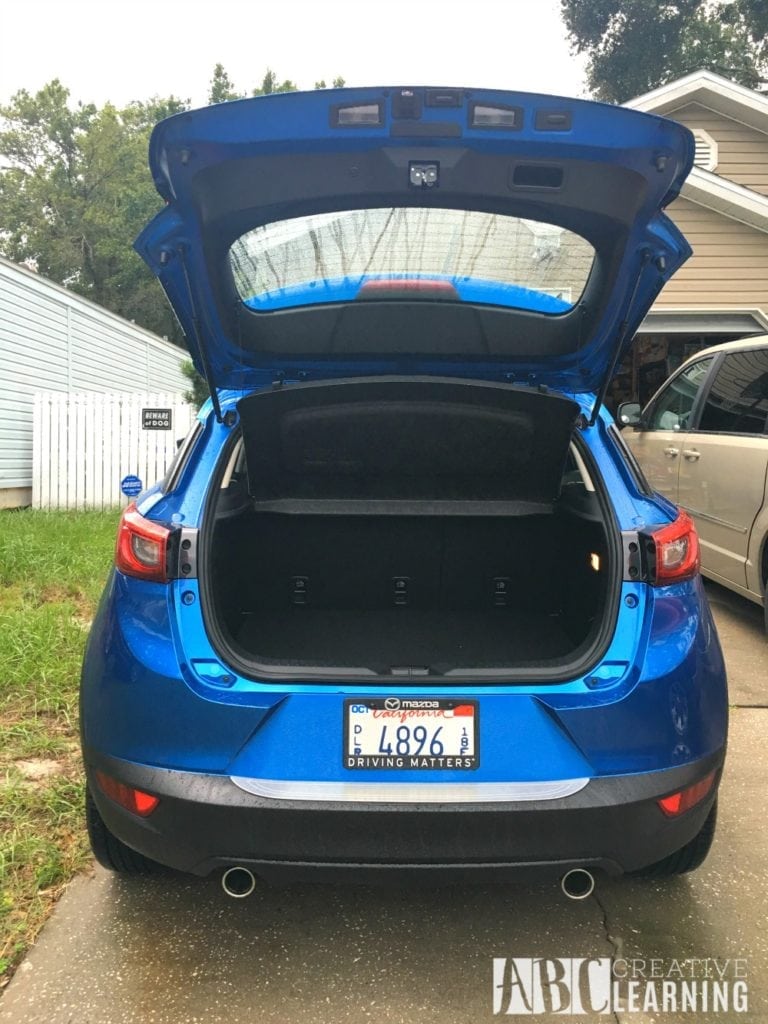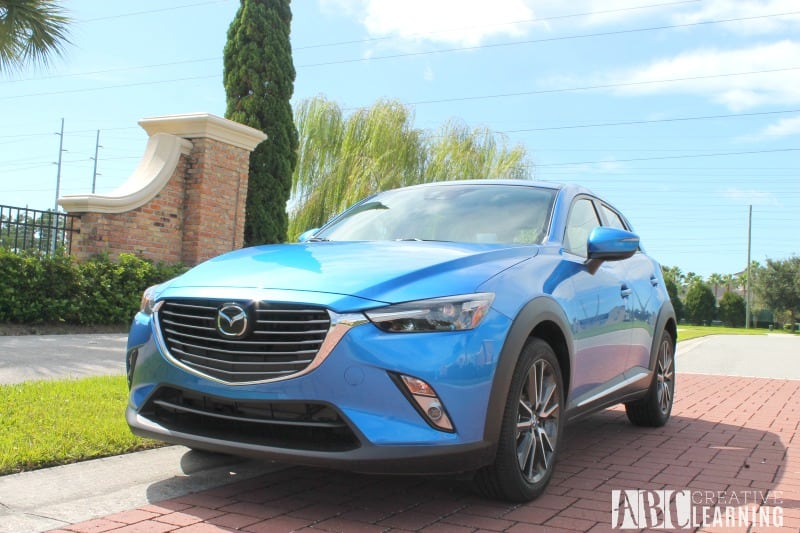 The 2017 Mazda CX-3 Grand Touring as shown here runs for about $27,260 with 32 MPG, 29 in the city, and 34 in the highway. Including:
Skyactiv-G 2.0L Engine
Skyactiv Drive 6SPO Soort Mode at 148 horsepower; 146 LB FT Torque
Front Wheel Drive
4-Wheel Drive Brakes
Optional Equipment:
Navigation System
Sirius Satellite Radio
GT i-Activsense Package (radar cruise control, smart city brake support, smart brake support, variable rain-sensing wipers)
Lane Departure Warning
Auto Headlights
High Beam Control
Make sure to visit mazda.com for more information.
Your Are Also Going To Love:
If you love this review for the 2017 Mazada CX-3 Grand Touring, then you will also enjoy the following articles I have put together for you: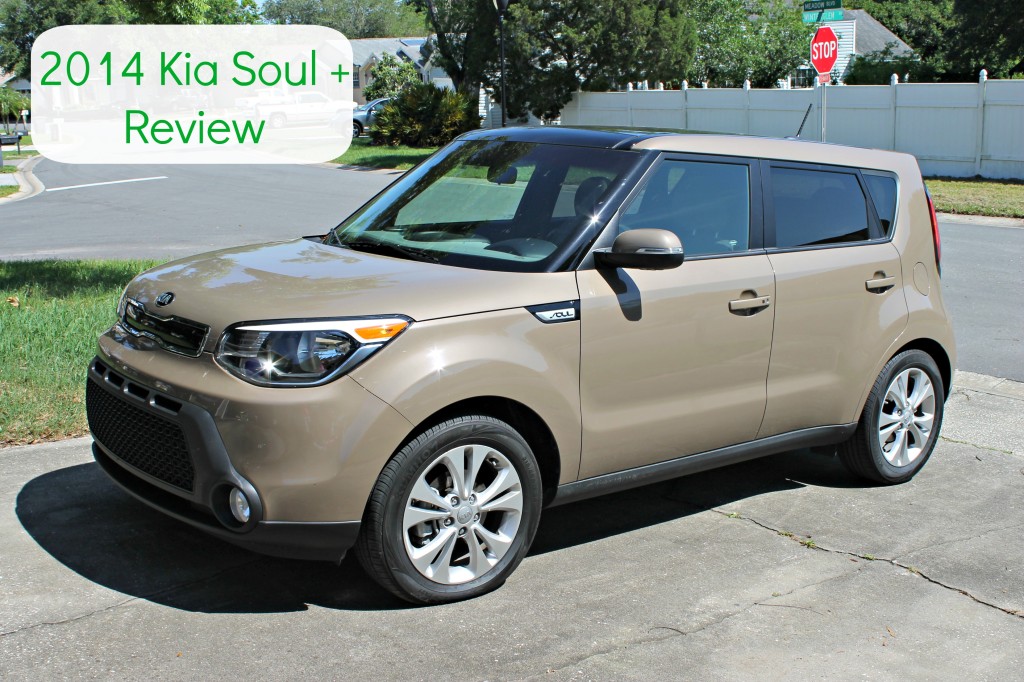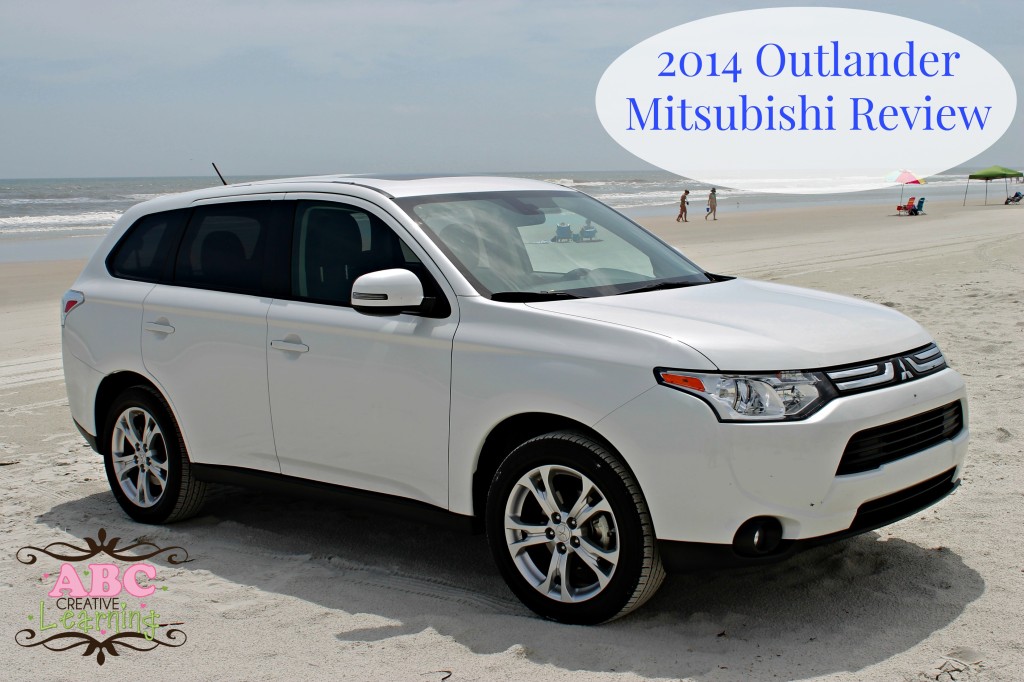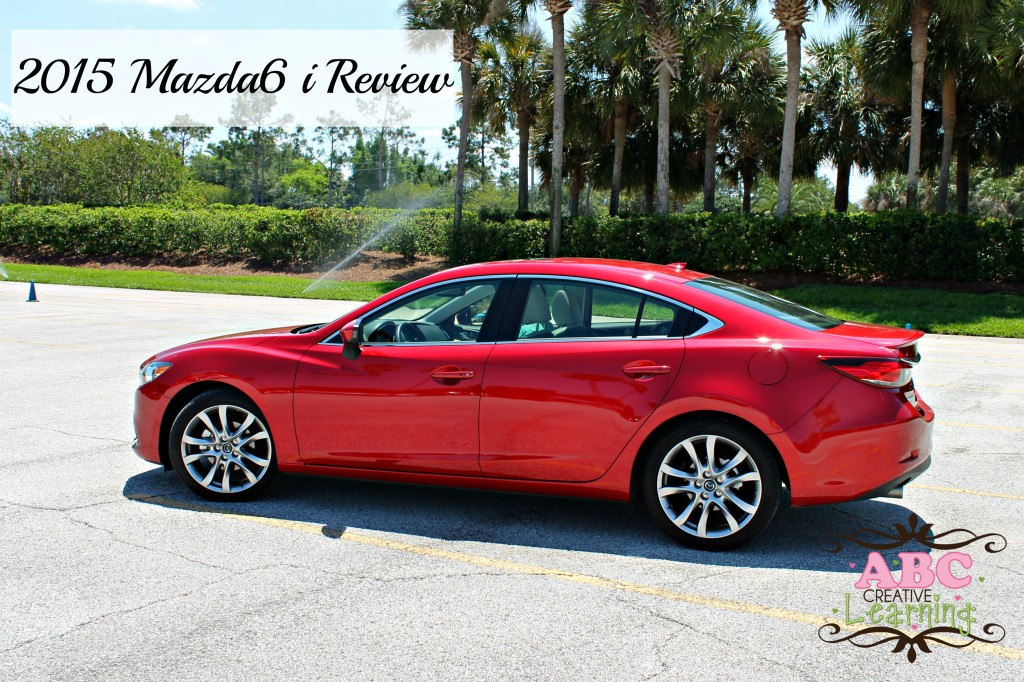 Have you had a chance to check out the 2017 Mazda CX-3 Grand Touring?