The 2015 Mazda6 i Grand Touring definitely more than I expected it to be! Today I have a 2015 Mazda6 i Grand Touring Review. In this Family-Friendly Review, I will share the pros and cons of the car. I was provided a 2015 Mazda6 i vehicle for the week to complete my review. No other compensation was given. All opinions are my own.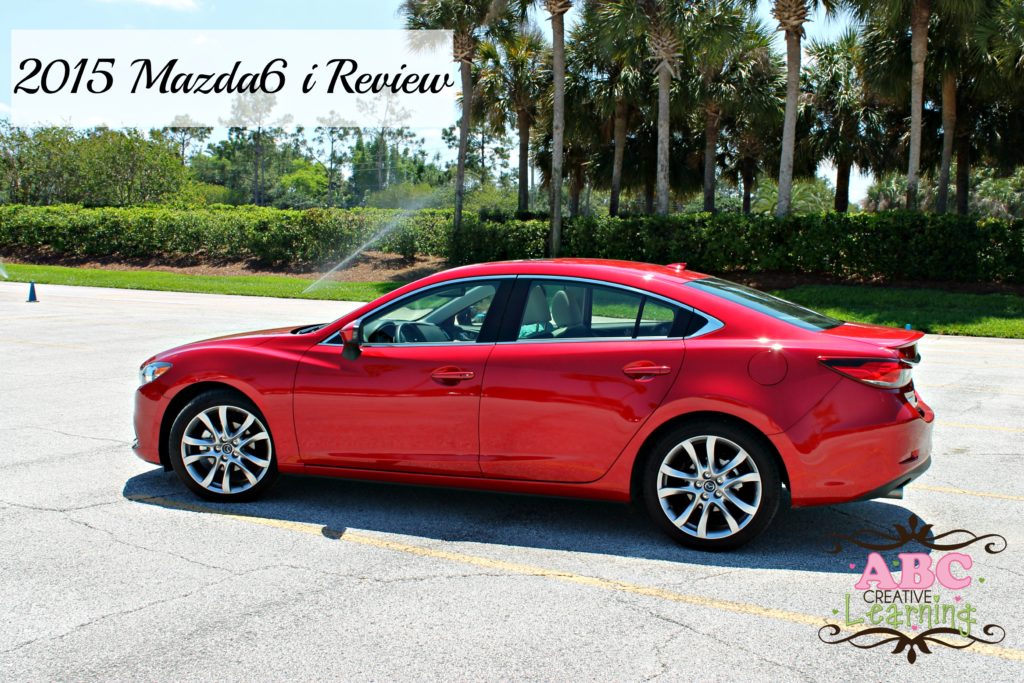 2015 Mazda6 i Grand Touring Review | A Family-Friendly Review
Last week my family and I took the Mazda6 i Grand Touring in the Soul Red color for a week demo test drive. As a busy mom of two little girls who are still in car seats, I definitely need some space and enough leg room for the girls to be comfortable in long car rides or when running errands. I honestly couldn't believe the space and how comfortable the girls were in the Mazda6. I personally love big cars, but I have to say that I fell in love with the 2015 Mazda6.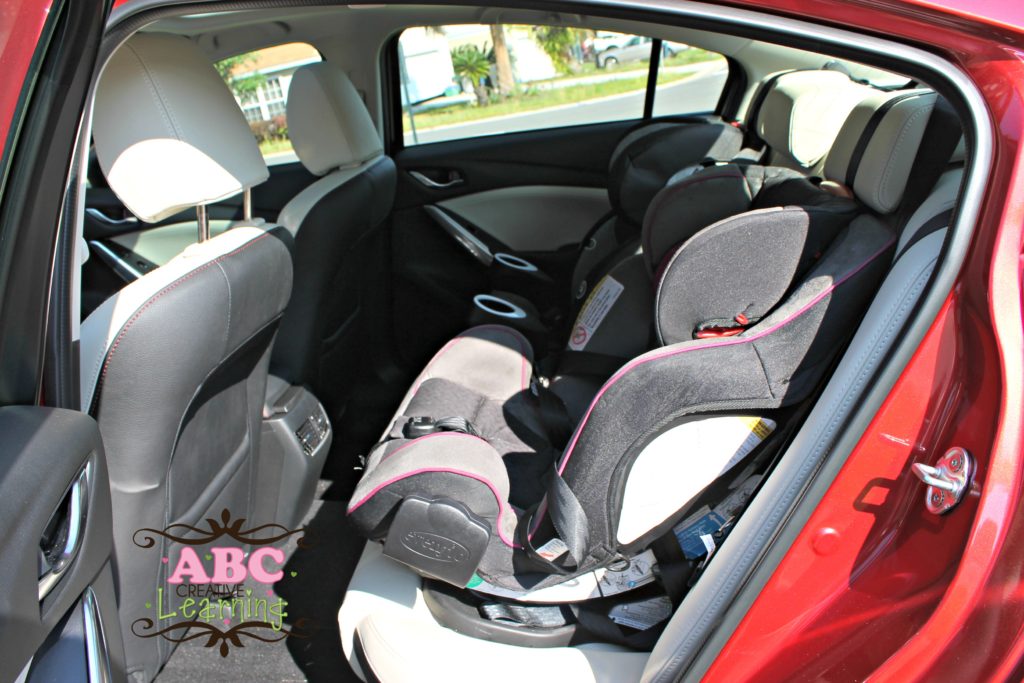 Family-Friendly Vehicle
Both of the girl's car seats fit perfectly and it had all the safety belt features that we look for in a car to make sure their car seats are as secure as possible. Being able to hook up their car seats safely from the bottom and back of their seats was a big plus for us! Even with both car seats in place on the back seat, there was still enough room for one more person to sit in between them.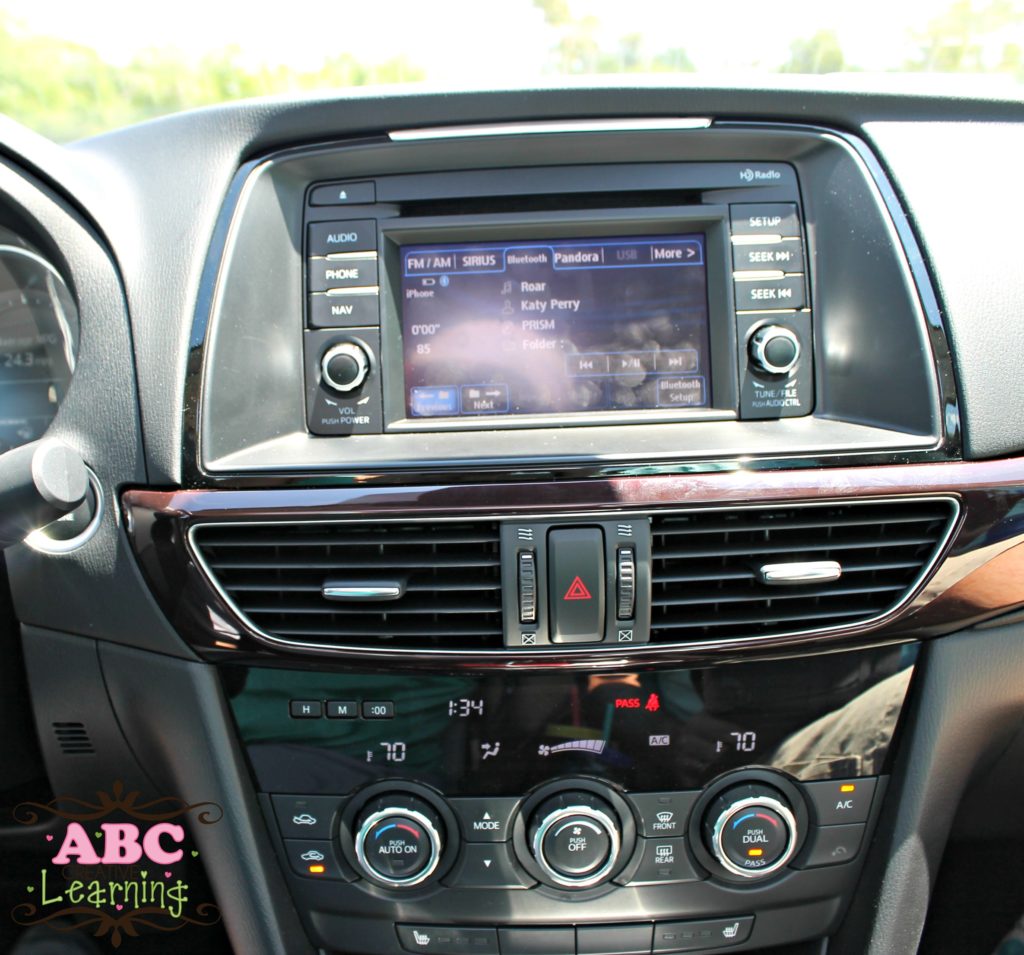 2015 Mazda6 i Grand Touring
Bluetooth lets you easily stream phone calls, music, texts, and more all at your fingertips. Everything is located on the driving steering wheel so that your hands don't even have to let go of the wheel.
Commander control dial located right next to you for easy access the audio, phone, navigation and more.
A large screen to display navigational road instructions, phone control, radio stations, Bluetooth connection, Sirius, and Pandora.
Includes 11-speaker Bose surround sound system with Centerpoint 2 and AudioPilot 2 technology.
Leather seats in which you can control the temperature
Sunroof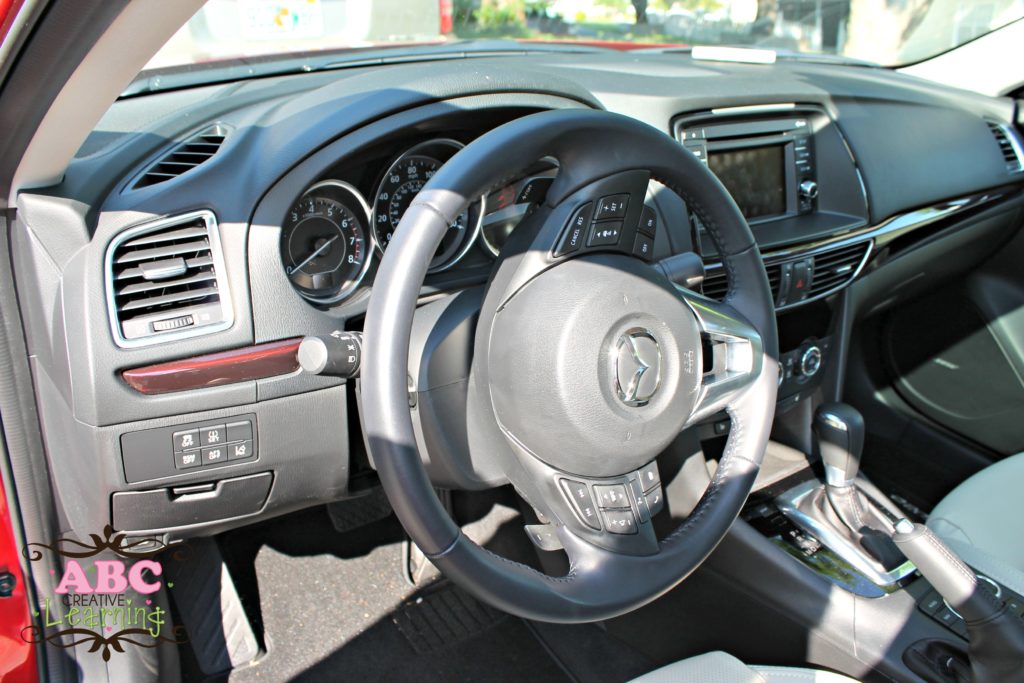 Economy Vehicle
Even though the car was absolutely beautiful with the leather interior and other great amenities, as a mom I'm all about the safety features for my family when I'm driving and of course saving on gas. First, let me tell you that the Mazda6 fuel economy is 32 MPG!! Can you believe that? Even my husband couldn't believe it, he actually had to see it himself to believe how amazing this car is on fuel. We drove this car every day last week to soccer practices, games, ballet classes, errands, drove from one city to the next, and even took the girls to Sea World for the day (which is a good 45 minutes from us). By the end of our week, we had literally only used half a tank of gas! With all the driving we did we probably would have to fill our car at least once. By the end, my husband was a believer.
There is definitely lots of room for a family in the Mazda6, even our stroller fit in the trunk perfectly. Plus, if you need to you can pull down the backseats for some extra room.

Safety Features
Radar Cruise Control which allows you to set how far away you want to cruise from the car in front of you. I thought this was pretty cool!
Forward Obstruction Warning warns the driving if there is something up ahead and to break.
Lane Departure Warning System alerts the driver when they are crossing over to the next lane and an icon appears on your review mirrors as well. This was such a great feature to have!
Rear Cross Traffic Alert lets the driver know that there is an object crossing from behind. This was great when backing out of our driveway. Although we are very careful when backing up, we have many small children in our neighborhood that are always playing in the street.
Blind Spot Monitoring is a great feature to alert you that there is a car next to you. This was great when we were on the highway and needed to change lanes or get off exits.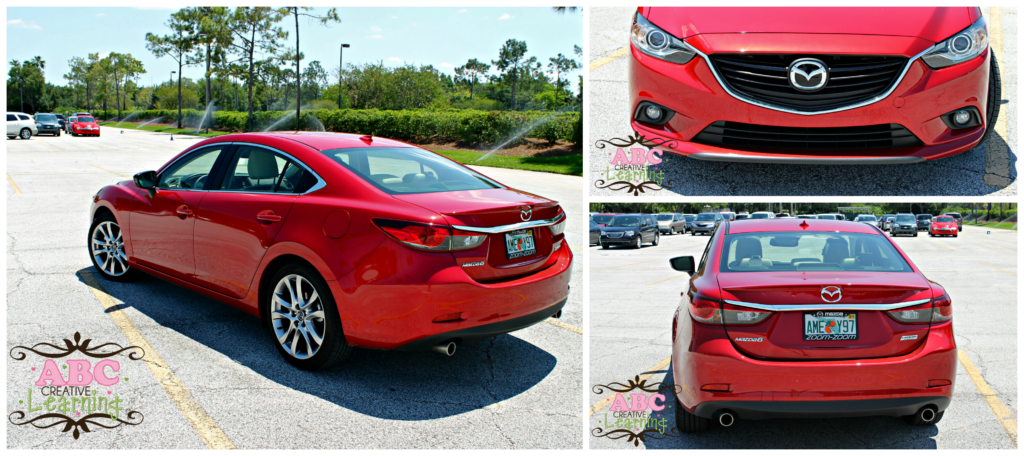 I really did get spoiled with the Bluetooth and Voice Command though! Now I really want these features in my car! Plus, I really liked how the car was comfortable, sporty, and fun all at the same time. I even drove it alone a few times to the gym and it was nice having my girl's car seats in the car, but not feeling like I was driving a "mom' car.
The Mazda6 i Grand Touring starts at 29,895 and with added optional features can go up to $33,345.
I really wish I would have done a video tour for this review to show you all the details, but it's definitely on my to-do list for the next one!!
What did you think of the 2015 Mazda6 features?