Disclosure: I was provided a 2014 Mitsubishi Outlander SUV for the week from STI and Mitsubishi to complete my review. No other compensation was given. All opinions are my own.
We had the opportunity to check out the 2014 Mitsubishi Outlander SE SUV and take it out on a family beach adventure.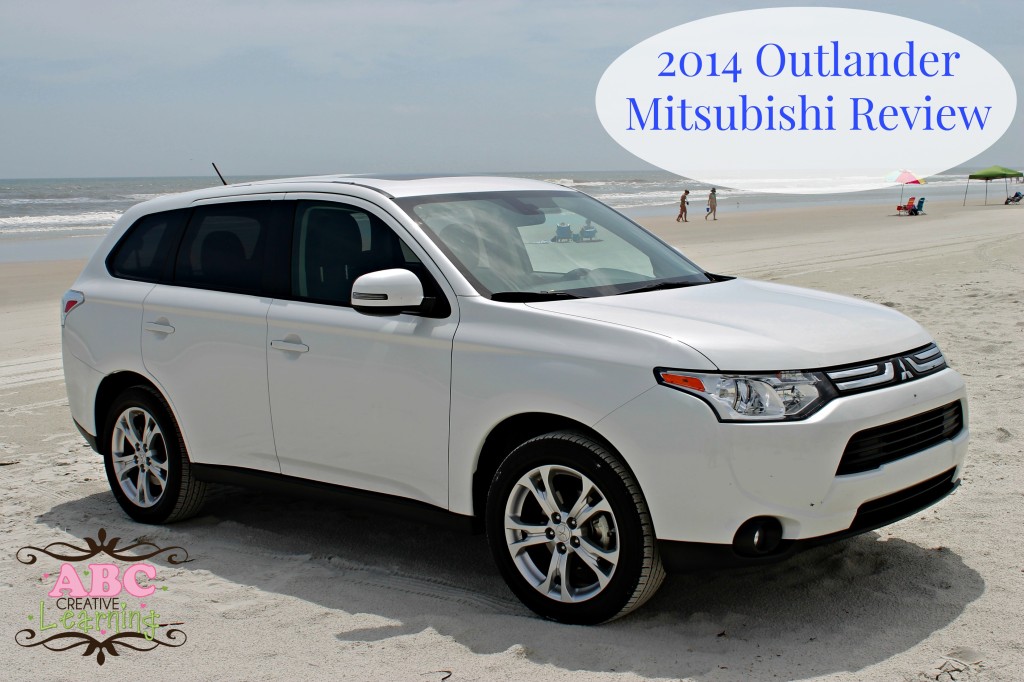 2014 Mitsubishi Outlander SE SUV Review
Now that Summer weather is in full swing here in Florida, it was the perfect time to head to the beach to test out our week long vehicle the 2014 Mitsubishi Outlander SE! I did love the White Pearl Color, just because it really does make the car look sophisticated and it also keeps the car a lot cooler from the Florida sun!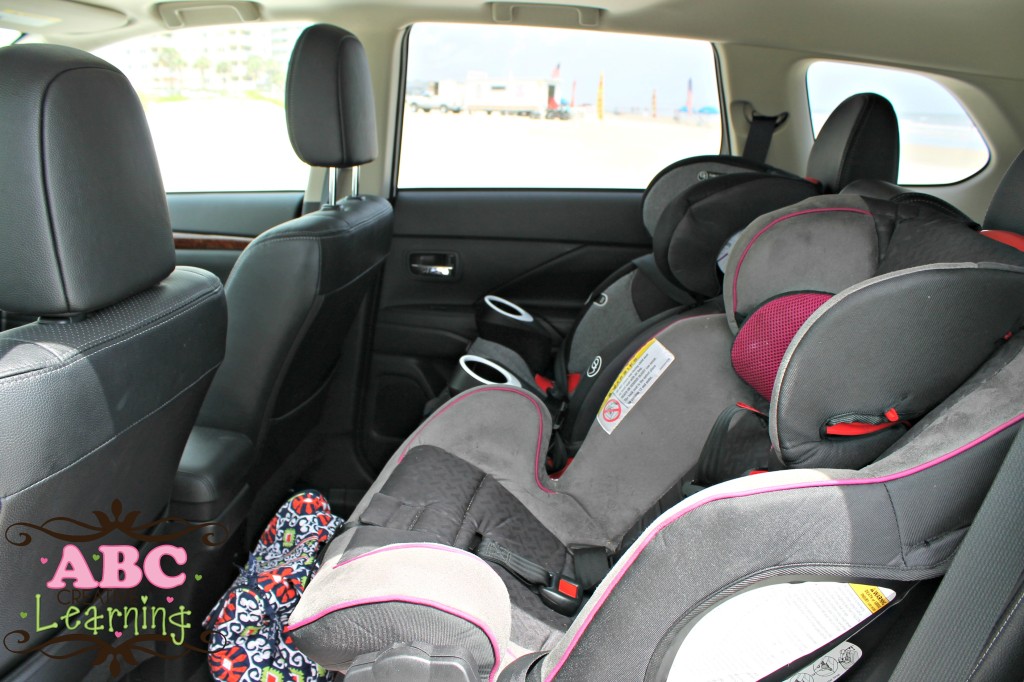 The first thing that I always do is add our car seats to our review vehicles, because lets face it, if the car seats don't work then we are not going to be comfortable. As a very busy mom, I definitely need my girls to be safe and comfortable in any vehicle and the 2014 Mitsubishi Outlander did just that! Both Car Seats fit perfectly and the girls had more than enough room in the back seat.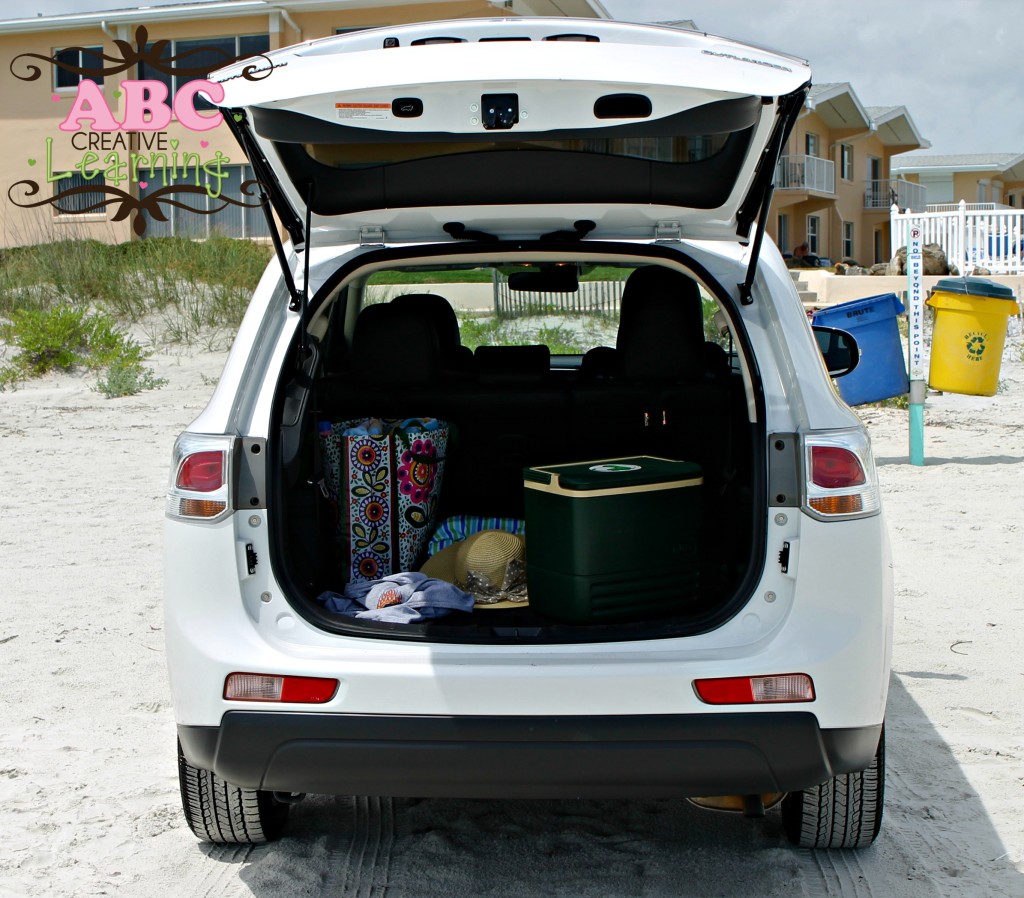 The 2014 Mitsubishi Outlander definitely had the space we needed to take all of our beach essentials. This picture above is completely missing the thousands of beach toys the girls brought with them and my husbands huge umbrella and chairs 🙂 Definitely a great SUV for families to take on the road and everyday use! I did love all the space that it provided me, especially when going grocery shopping, with the one touch button that closed the back door for me easily.
Another great feature with the large space is that it can actually hold 7 passengers if needed. In the picture above we have the seats down so we can fit everything for the beach, but there is an extra row that will hold 2 extra passengers!

I also loved the touchscreen radio, GPS system, and hands free voice control. As a mom these are just some awesome features! In my current vehicle I do not have a hands free system, so I do not answer my calls when I am driving, so I definitely got spoiled using the hands free system in the Mitsubishi Outlander.
The touchscreen was a good size, especially when backing up. The back up camera made parking and backing out of parking spaces so easy and much safer.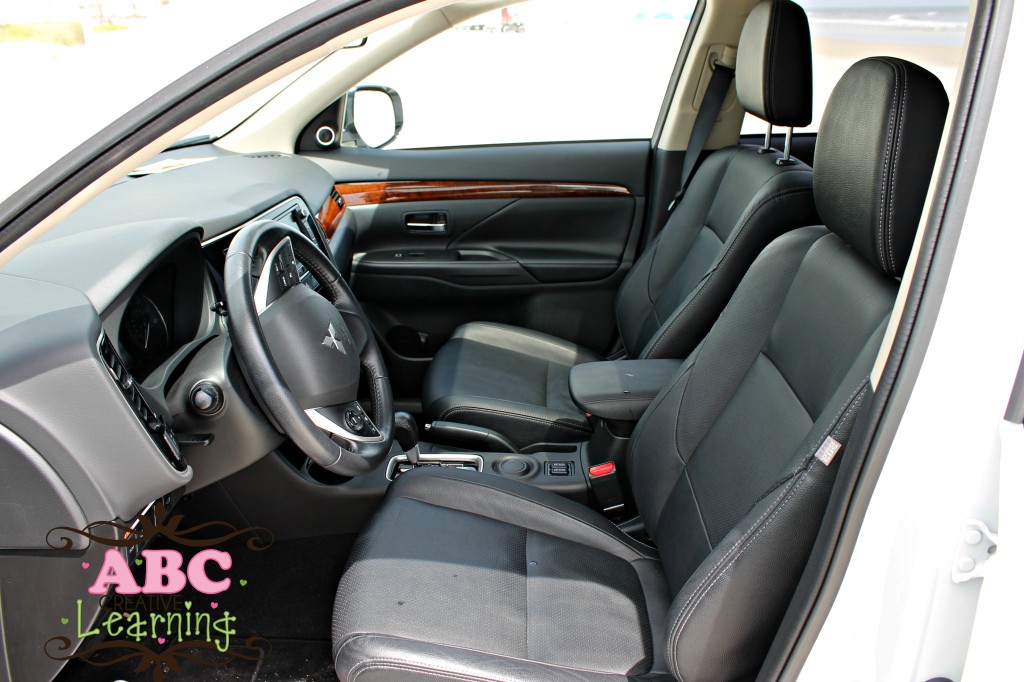 2014 Mitsubishi Outlander SE Features:
The Mitsubishi Outlander SE offers a big upgrade in style and comfort with 18-inch alloy wheels, heated front seats, the FUSE Hands-free Link System™ dual-zone automatic climate control and FAST-Key electronic entry and starting.
166-hp, 2.4-liter MIVEC 4-cylinder engine
Continuously Variable Transmission (CVT)
Automatic dual-zone climate control and heated front seats
140-watt 6-speaker CD/MP3 audio system with 6-inch touchscreen
Sunroof
27 MPG combined city/highway
Base price: $23,795 (the model I drove had an additional $6,100 of optional equipment added)
18-inch alloy wheels
Fuse hands-free link system
Lane Departure Warning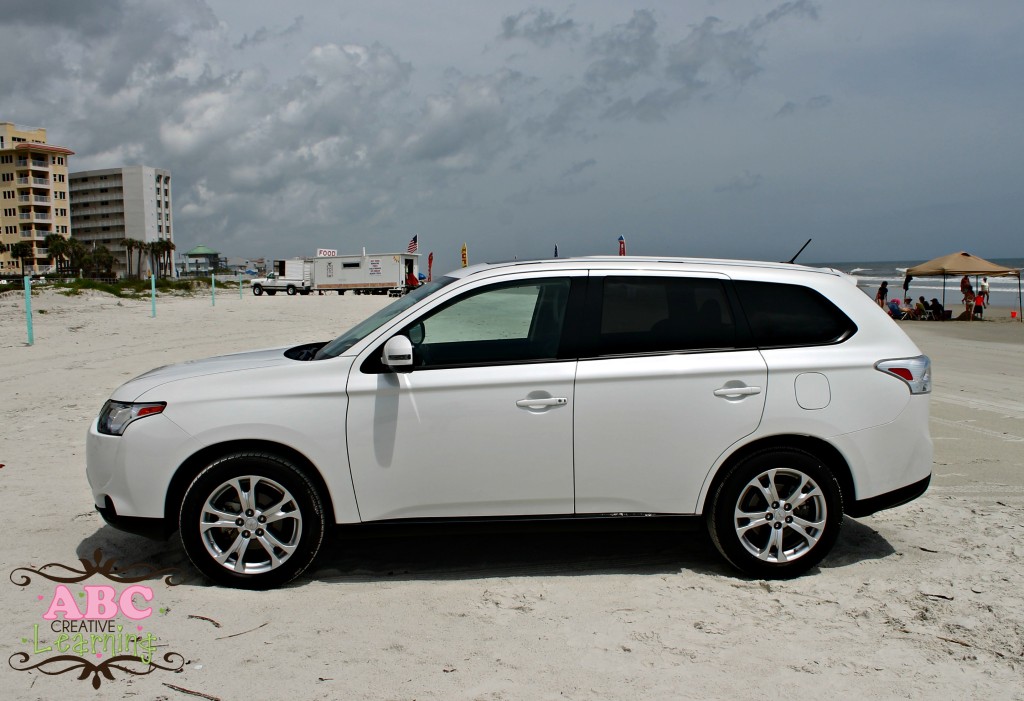 As you can see we had tons of fun with the 2014 Mitsubishi Outlander at the beach and definitely recommend it for families!
What is your favorite feature from the Mitsubishi Outlander SE?