St. Patrick's Day Leprechaun Mask craft that will have kids excited about the luck of the Irish! Plus, check out all the seasonal paper plate crafts we have to share!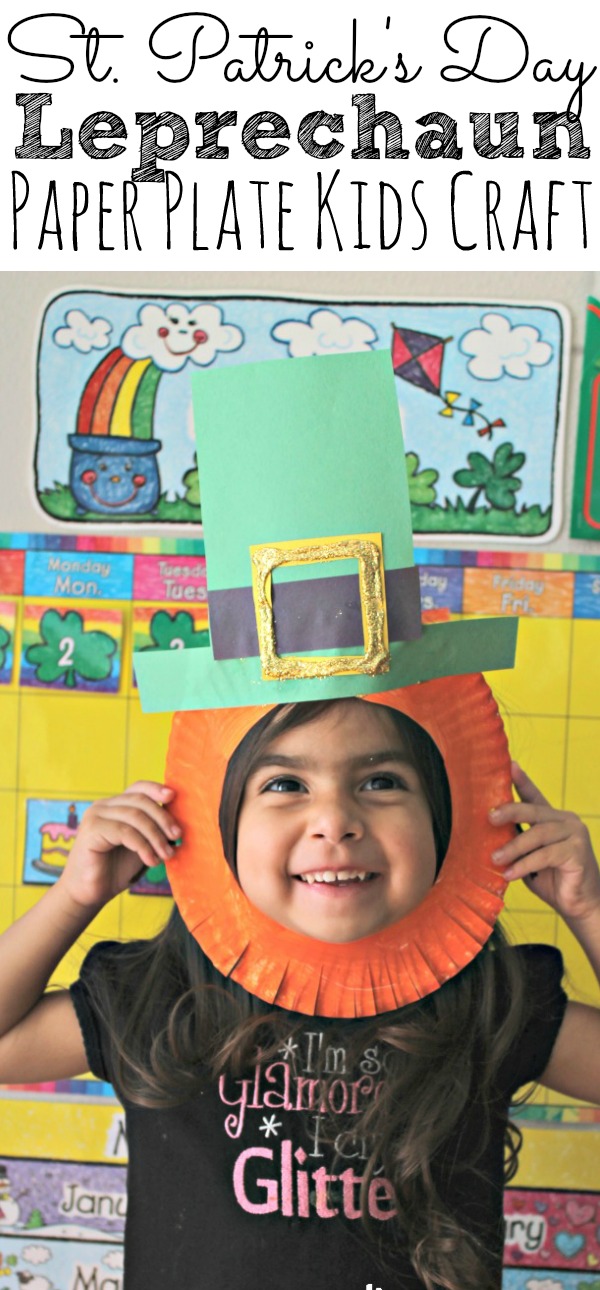 St. Patrick's Day Leprechaun Mask
Creating activities and crafts during the holiday season is a great way to make learning fun for kids.
St. Patrick's Day is one of my favorite times of the year, so I just had to create something fun with my girls.
This leprechaun paper plate mask is perfect for kids to make for St. Patrick's Day and March.
It's an easy craft that can be used for pretend play or fun.
You can add so much to a unit when adding crafts, books, and hands-on activities.
Being creative when it comes to educating our kids is the best way to keep learning fun and exciting for them.
This post contains some affiliate links for your convenience.
What Is St. Patrick's Day?
Saint Patrick's Day, or the Feast of Saint Patrick's, is a religious celebration on March 17th.
Saint Patrick was one of Ireland's patron saints who brought Christianity to the country.
The day is celebrated on March 17th because that was the time of his death.
Ways You Can Celebrate St. Patrick's Day In The United States With Kids
St. Patrick's Day is most celebrated in the United States as a fun day, not celebrating the true meaning behind the day.
There are many ways we can celebrate St. Patrick's Day here in the United States, but I would always start by discussing it with the kids.
This can be an enjoyable and historically teachable moment for them.
Allowing them to celebrate and enjoy the true meaning behind the day. Everyone dresses in green.
Read books about Saint Patrick
Learn about the Irish culture
Attend a St. Patrick's Day parade
Go to an Irish restaurant to taste the food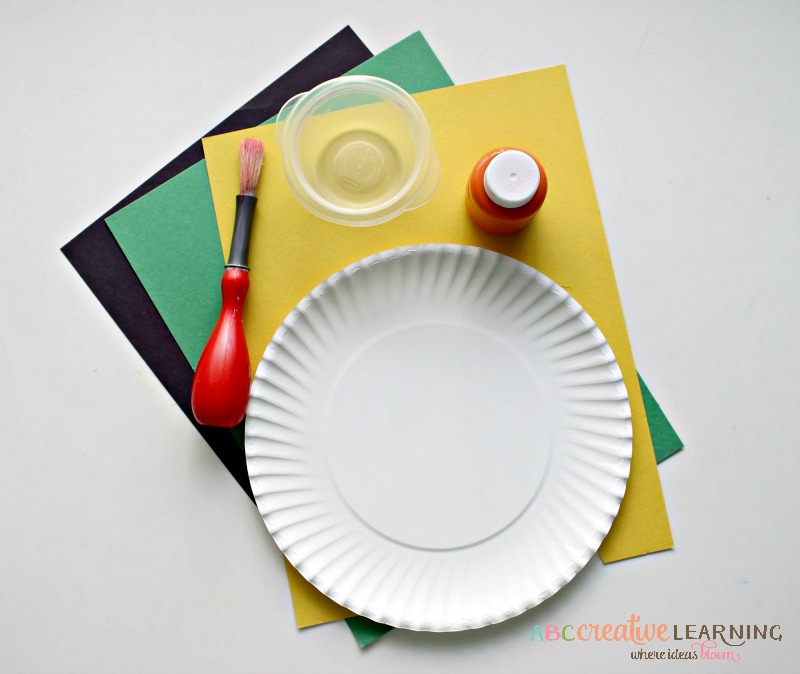 Materials Needed For Leprechaun Mask Craft

How To Make A St. Patrick's Day Leprechaun Mask
Cut out a circle in the middle of the paper plate.
Please have your child paint the paper plate orange and let it dry completely.
While your paint dries, you can begin creating your leprechaun hat. If you have a younger child, you can cut out the hat pieces for them, but if your child is ready to cut the pieces themselves, go ahead and allow them to do so.
Draw a small rectangle on black construction paper, a hat from green construction paper, and a little square with yellow paper. Allow your child to cut out the pieces for a great fine motor skills activity.
Help your child cut another square inside for the gold buckle to create a thin buckle for your hat.
You can add gold glitter to your leprechaun's hat buckle for some extra sparkle.
Glue the pieces on the leprechaun hat and glue your hat to the mask.
Cut small strips on the bottom of your painted paper plate to create a fun bearded effect.
Allow all your pieces to dry before using the mask, especially glitter. Believe me; you do not want all that wet glitter on your child's face. Yes, unfortunately, we are speaking from experience!
To tie your mask around your child's head, tie yarn on each side. You could also add a large popsicle stick at the bottom of their mask, and they could hold it to their faces. Either way, they will be so cute!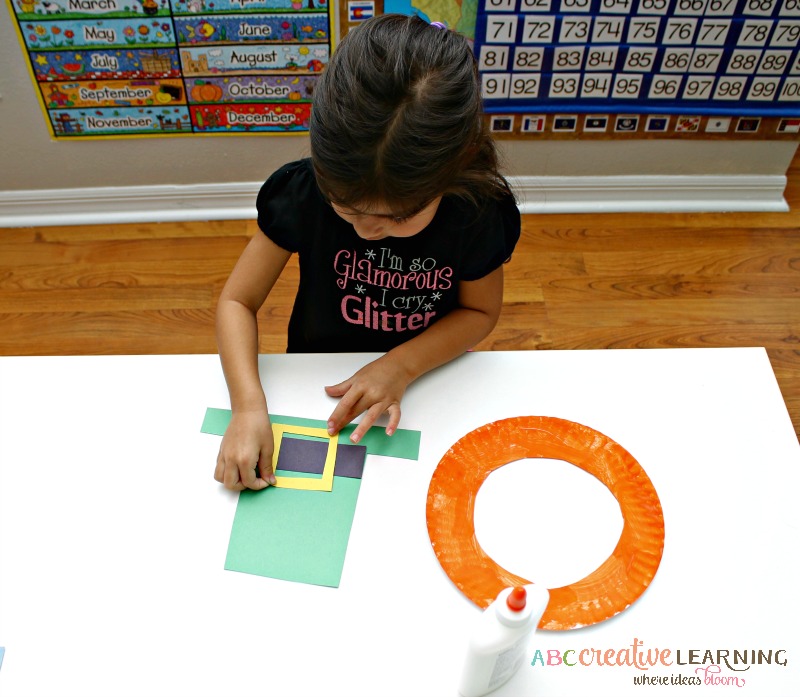 Fun Leprechaun Books For Kids
Learning about Saint Patrick and Leprechauns can be fun for kids.
Here is a list of some of our favorite books to read on St. Patrick's Day:
Books For Kids About Saint Patricks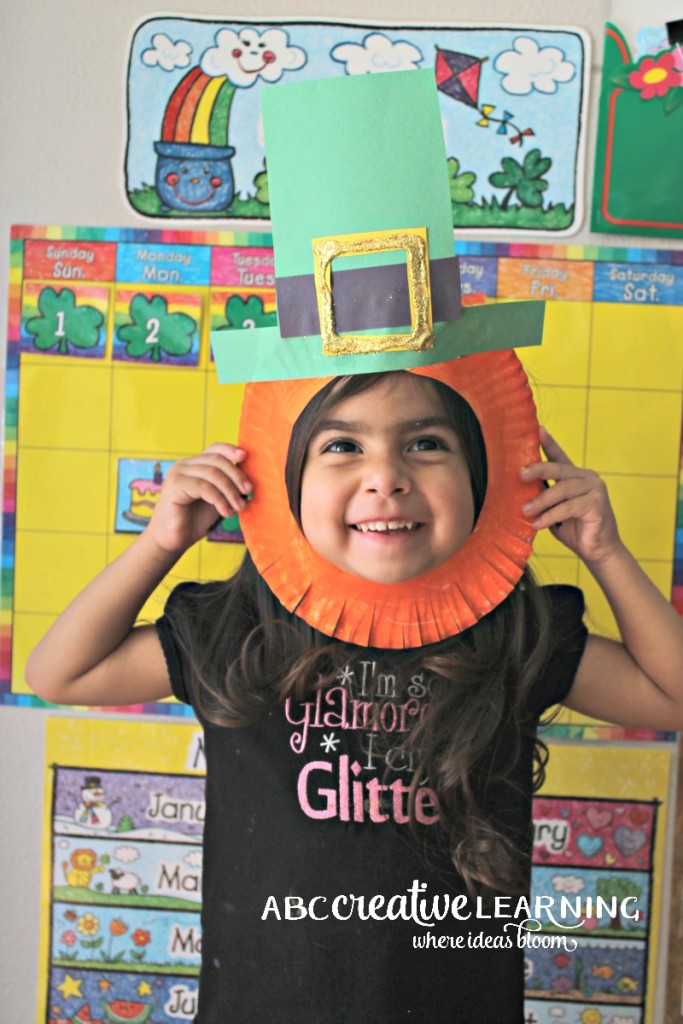 This is one of my favorite crafts to date!
I had made them in the classrooms when I was a teacher and have made them with my daughters.
It's such a fun craft and makes me laugh every time!

I hope you all create these fun Leprechaun St. Patrick's Day crafts with the kids!
It's so much fun to make, and they will have a blast pretending to be little Leprechauns.
You Are Also Going To Love:
If you love this St. Patrick's Day Leprechaun Kids Craft, then you will also love the following St. Patrick's Day crafts I have put together for you:
Will you be making Leprechaun masks this St. Patrick's Day?