It's been over a month since I was in San Francisco learning all about the newest Disney*Pixar animated movie COCO. There are so many details shared in the film that has tremendous significance. That is why these 5 Important Significance Of Bringing Skeletons To Life In COCO are essential to know and will help with learning more about Dia de Los Muertos.
Thank you, Disney, for the Disney*Pixar invitation to take a closer look at the making of COCO. All pixie dusted opinions are my own.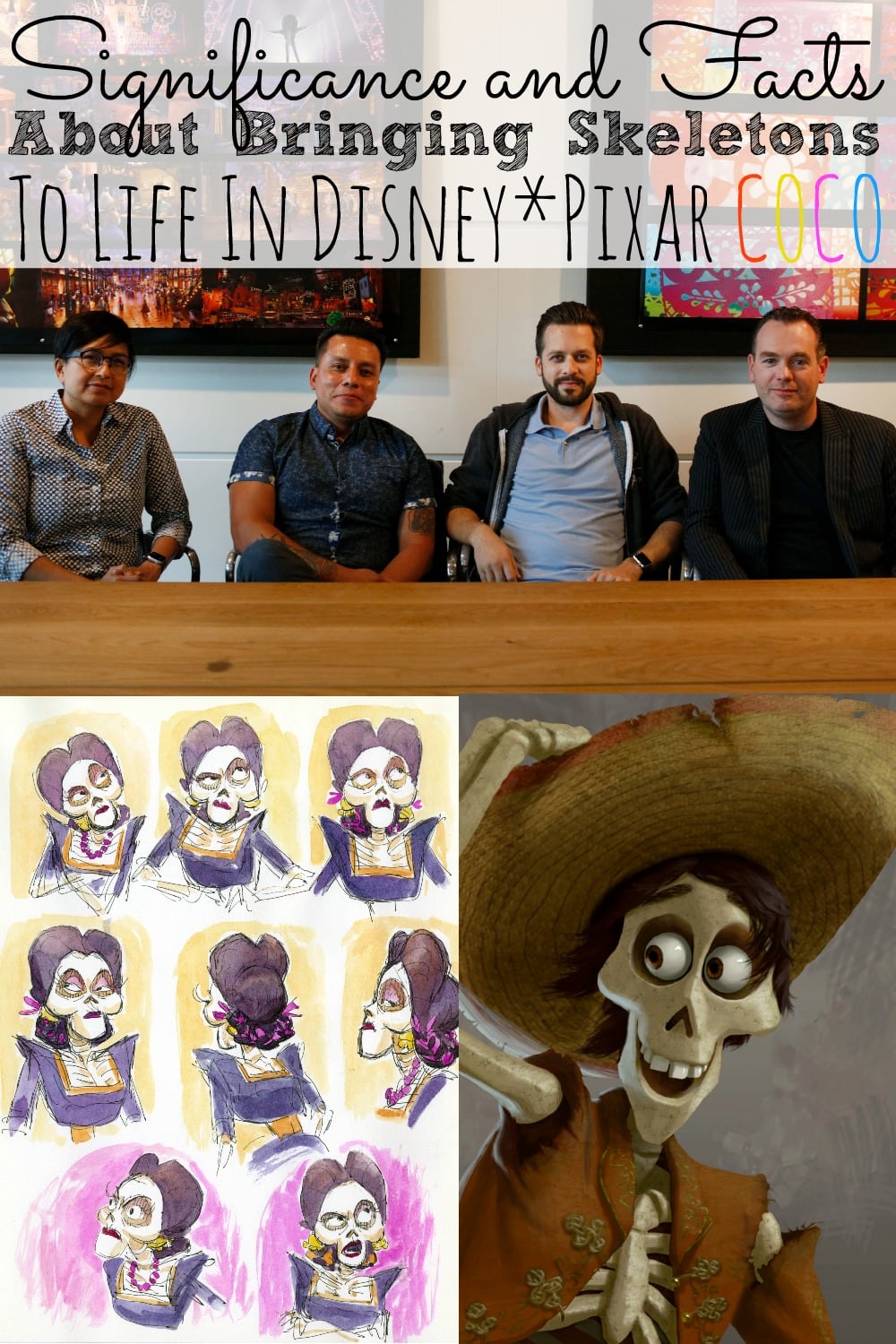 Significance And Facts About Bringing Skeletons To Life In COCO #PixarCocoEvent
Traditions in different cultures can become a very touchy subject, but when done correctly it can bring light to others. Learning about new things is something I strive for every day, and I hope that my children are the same way growing up. There are so many cultural details in the movie that will have kids immersed in a culture they otherwise might not have any contact.
Significance Of Skelentons On Dia de Los Muertos
We learned in my last Coco post that Dia de Los Muertos is a celebration of life. It's a day that families gather together to celebrate those who have passed. But why all the skulls and skeletons? The main reason you see skulls associated with Dia de Los Muertos goes back hundreds of years ago when the Spaniards conquered Mexico. It's a symbol used to show life after death.
Many times you will find skulls and skeletons with bright colors and clothing. Even dressed as family members who have passed or their favorite hobby. The sugar skull is a connection with the Catholic holidays of All Saint's Day and All Hollow's Day.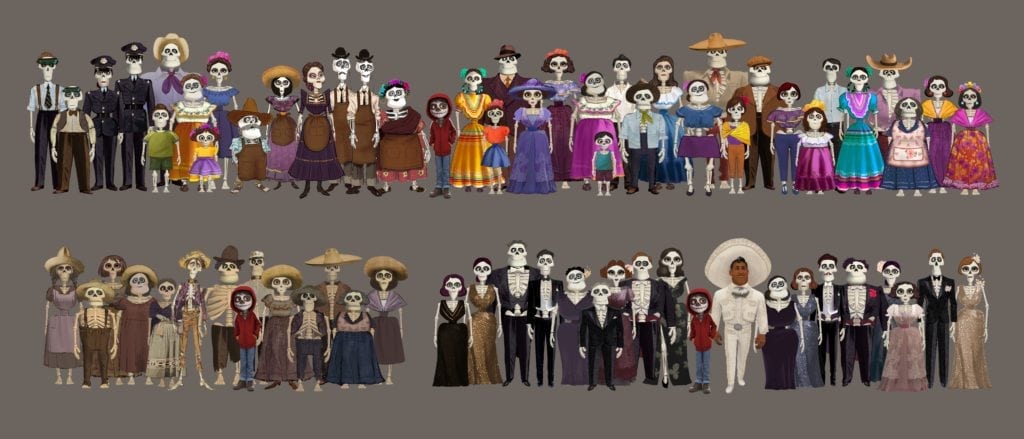 Skeleton Characters
Daniel Arriaga, COCO's character art director, said that the skeleton characters were some of the hardest characters to bring to life at Pixar Animation Studios. The details are so many that it made it very complicated for the characters to be created.
Models were built so that they could play with the age of characters and face painting techniques. Daniel Arriaga wanted to make sure that the skeletons and the skulls did not seem creepy or scary. For inspiration, he looked to famous Mexican artists who have created Dia de Los Muertos art.
Ginny Santos, COCO's supervising animator, shared with us that Pixar has never animated skeletons before and bringing to life a universal symbol of death was a real challenge for them.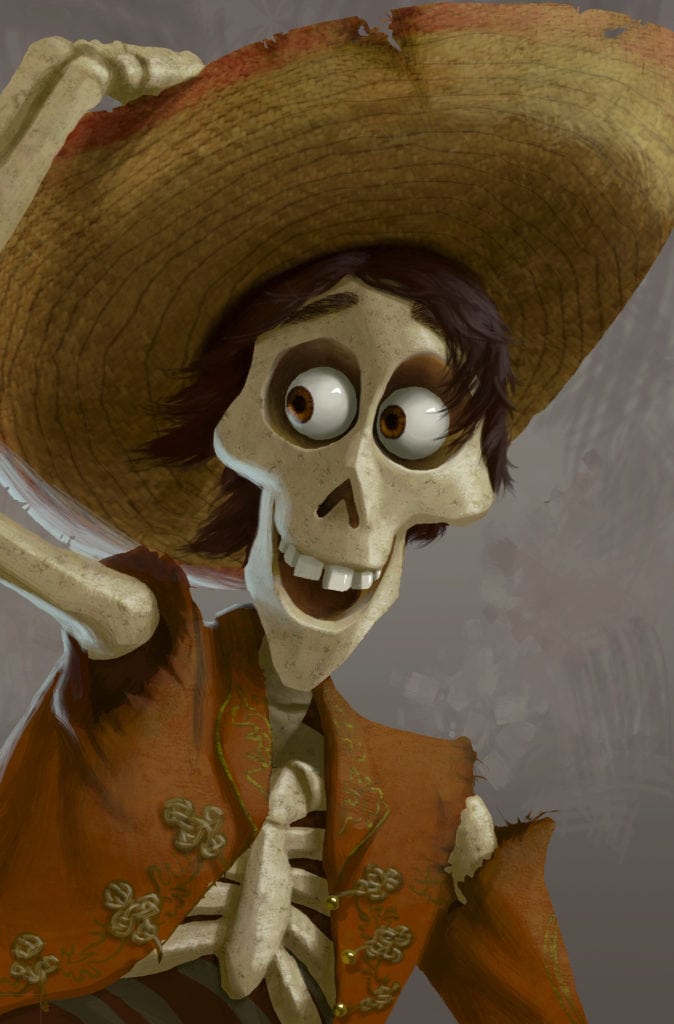 Believable Characters
Ginny, shared that the best way for them to be able to make a skeleton a believable character on COCO was to make sure they came up with specific guidelines throughout the process. To help create structure and design with emotion and personality.
Ginny, "Skeletal structure is only 20% of our body and being able to test varying degrees on how they could separate the bones for precise movements that are believable".
Here's a fun fact, the character Hector was inspired by the character Ratso in Midnight Cowboy by Dustin Hoffman. The detail in his walk signifies the brokenness of the character himself.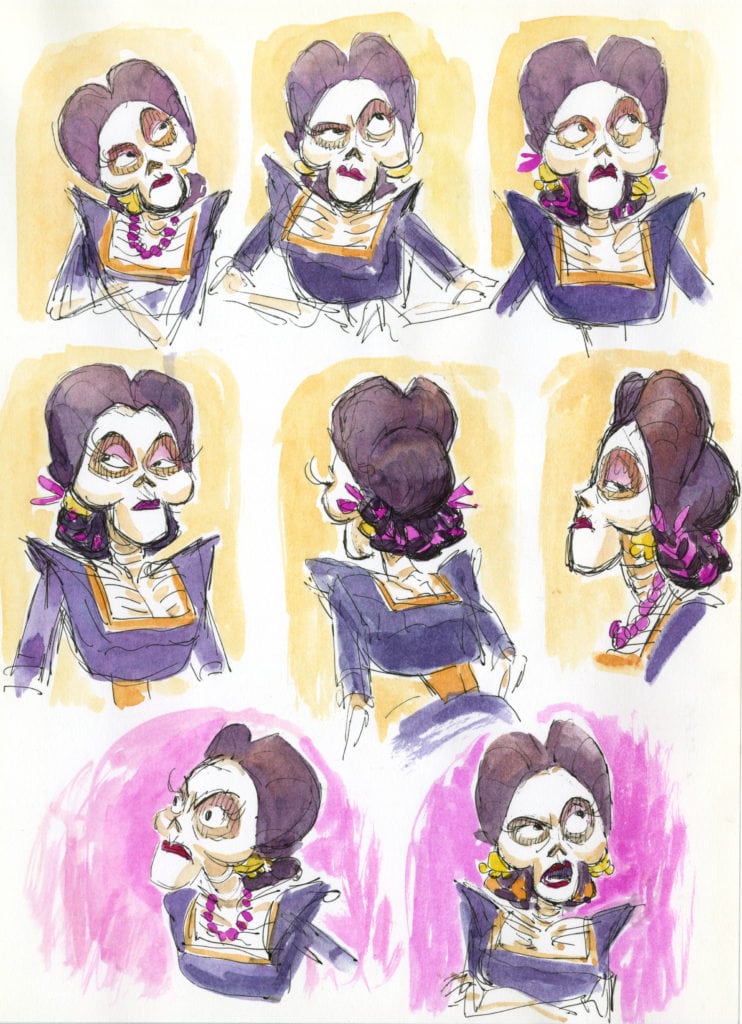 Making Skeletons Not Creepy
As we all know, skeletons can be scary and even creepy. Particularly for younger kids. That is why the Pixar animation team wanted to make sure to bring in the realness of what skeletons are. Ginny, shared their goal was to "bring the appeal of a skull and embracing it for what it is by breaking certain rules so that they could bring expressions the audience could connect to."
Ginny shared with us that by shaping the sockets around the eyes with brows, adding lips rather than separate sockets, keeping the out shape still to support the hard bone look, and bringing individualities into the characters with their movements helped the animation team bring Lee and Adrienne's vision to life.
Embracing The Skeleton
Byron Bashforth, character shading lead, said that COCO Director Lee Unkrich told them to "Embrace the Skeleton." It was his mantra throughout the entire clothing process. Lee Unkrich wanted to see the definition of the bones poking through the body. Making sure that the characters cloth did not fall between the joints or get stuck between bones.
The team embraced the skeleton just it was asked of them. The team created new methods and techniques to keep the cloth from snagging on characters. So, much so that they changed some of the way animation works and created a new program that would help them achieve their vision.
I think it's absolutely amazing the way the entire Pixar Animation team had to work together to create specific elements in the movie COCO. It's not just one team working together, but many teams of artists creating specific elements and then at the end combining all of their hard work together. It's going to be amazing to see COCO come to life on the big screen!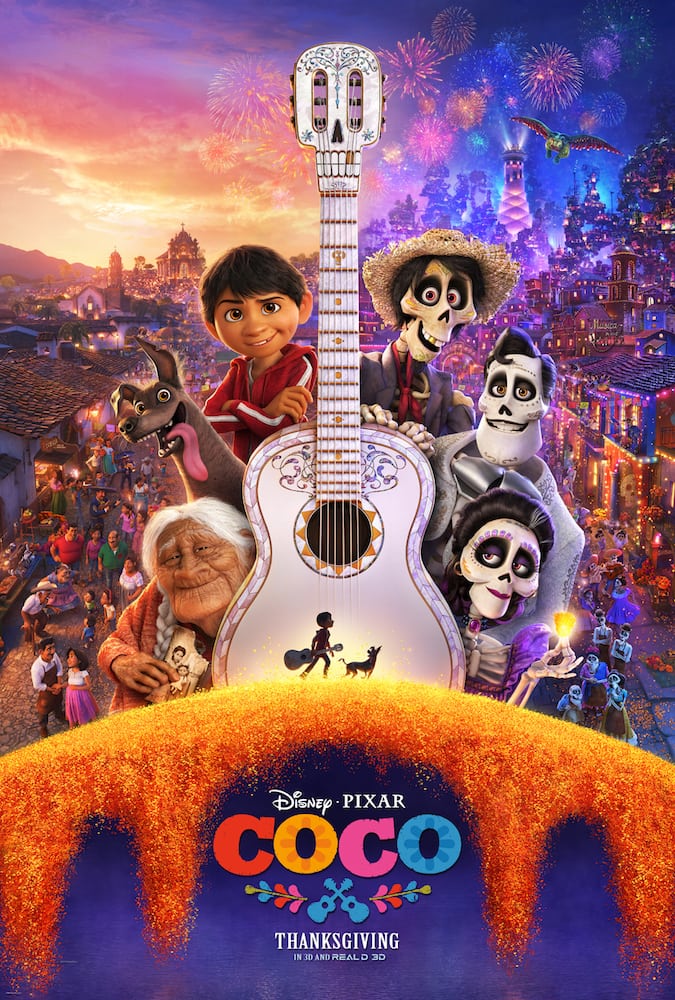 About Disney*Pixar COCO
Despite his family's baffling generations-old ban on music, Miguel (voice of newcomer Anthony Gonzalez) dreams of becoming an accomplished musician like his idol, Ernesto de la Cruz (voice of Benjamin Bratt). Desperate to prove his talent, Miguel finds himself in the stunning and colorful Land of the Dead following a mysterious chain of events. Along the way, he meets charming trickster Hector (voice of Gael García Bernal), and together, they set off on an extraordinary journey to unlock the real story behind Miguel's family history.
Follow Disney*Pixar COCO on Social Media

COCO opens in theaters everywhere on November 22nd!
You Are Also Going To Love:
If you loved learning about the Significance And Facts About Bringing Skeletons To Life In COCO, then you will also love the following COCO and Disney articles I have put together for you:
Did you know about these skeleton facts?

SaveSave
SaveSave
SaveSave
SaveSave