Renovating your kitchen is easier than you think! Check out how Painting Kitchen Cabinets With Chalk Paint is easy and can transform a room on a budget.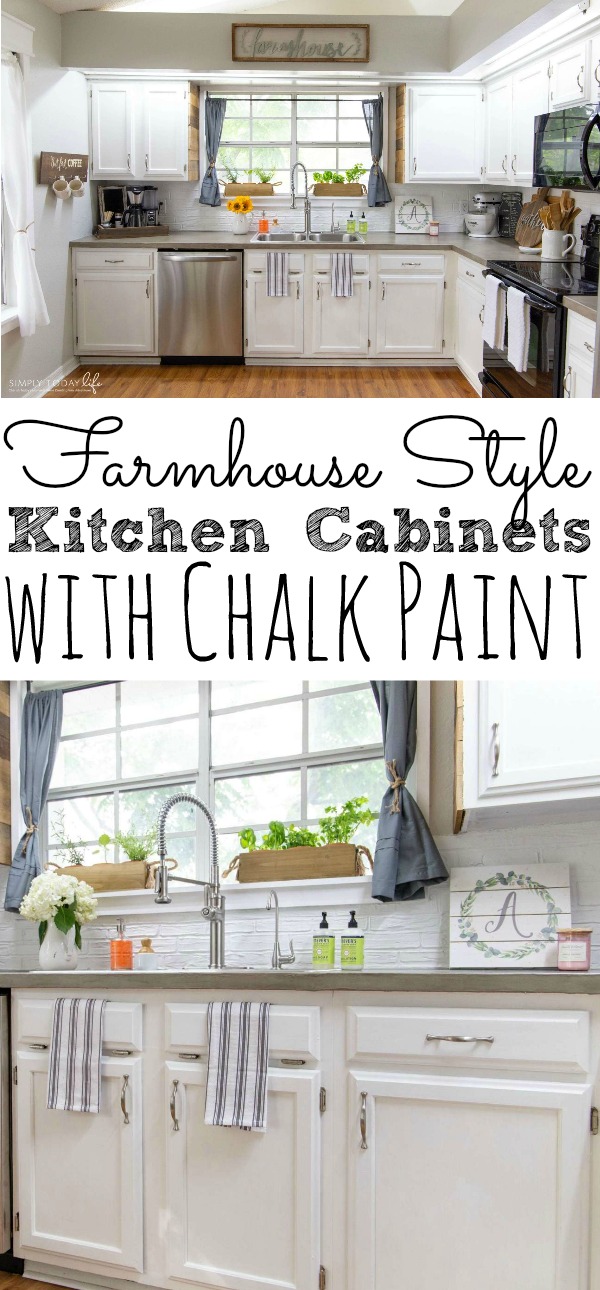 Painting Kitchen Cabinets With Chalk Paint
Have you ever lived in a home that you just love, but know that some updating needs to be done?
I know the feeling oh too well. My husband knows I've been dying to get my hands on our 1980's kitchen cabinets since we moved in.
Sometimes, purchasing new cabinets just isn't in the budget and I'm all for budget-friendly DIY!
That's why painting my kitchen cabinets with chalk paint was the perfect choice for me.
I have been waiting to redo our kitchen since we moved into our home 14 years ago.
Painting my kitchen cabinets with chalk paint literally took it from 80's drab to farmhouse fab.
This post contains some affiliate links for your convenience
DIY Farmhouse Kitchen Cabinets
I knew that I wanted to create a Farmhouse look for our kitchen renovation.
It's been a dream of mine to walk into my white beautiful kitchen since we moved into our little home.
I just needed to find the perfect materials, paint, and color to make my farmhouse kitchen dream house a reality.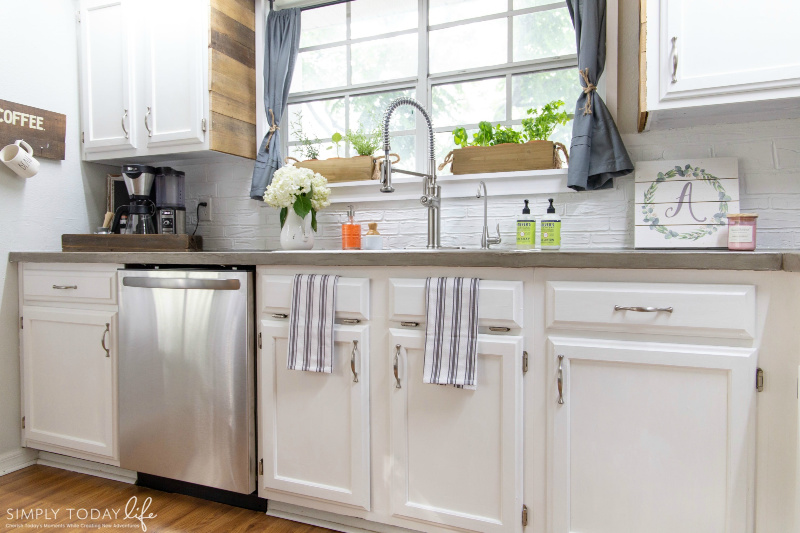 No Sanding Or Priming Kitchen Cabinets
Another great thing I love about using chalk paint is that there is no need to sand or prime before painting furniture.
This is something I've heard for all chalk paint, but I've put it to the test with Dixie Belle Paint.
I wanted to get more of a clean, bright, and farmhouse look in my kitchen, so I chose Dixie Belle's Cotton paint color.
What better way to transform my kitchen into my dream farmhouse kitchen the easy way?
Plus, I was able to keep the cost down by not having to purchase materials to sand or prime my cabinets.
Tip: If you feel as you need to sand or prime your cabinets, by all means, go right ahead. It's not going to hurt the process at all.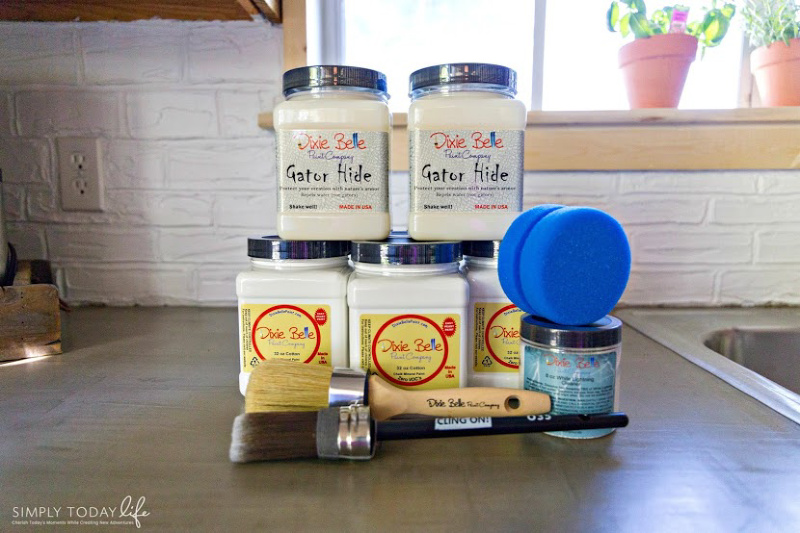 Materials Needed To Paint Kitchen Cabinets
I compiled a list of materials that I used to redo our kitchen cabinets.
Some of these materials you most likely will already have at home if you've done any home renovations.
The rest you can easily order online on Amazon, straight on the Dixie Belle website, and your local hardware stores.
Chalk Paint, your color choice, I used 2 of the 32 oz. in the color Cotton
2 small buckets or spray bottles
2 washcloths or small towels
Screwdriver
Small baggies to keep all hardware
Painters pyramid stacks (holds cabinet doors away from the floor to dry)
Towels or sheets to cover countertops
Below you will find all of the materials I used straight from Amazon.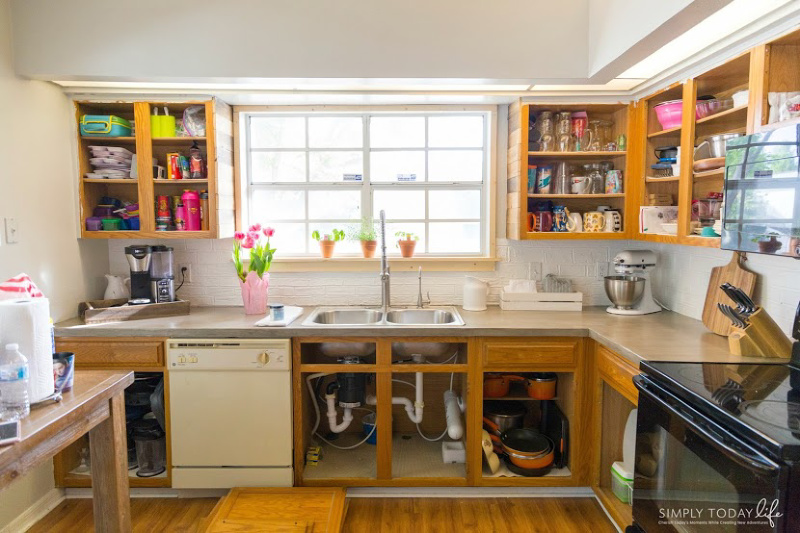 How To Paint Kitchen Cabinets With Chalk Paint
Chalk-painted kitchen cabinets look absolutely beautiful and although I'm going to be sharing a lot of steps so try not to get too overwhelmed.
I'm telling you, it's easier than it looks.
In fact, I re-did this entire kitchen all by myself. My husband helped me out when I couldn't get a screw out here and there from the cabinets.
I mean, they are from the '80s and haven't been touched since the house was built.
So I will say, if you've been thinking about painting kitchen cabinets with chalk paint, then do it!
The first thing I did was take my cabinet doors off along with all the hardware. Believe me when I say that you will thank me for doing this. Yes, it's a pain and tedious, but the painting will be so much easier and cleaner to do. Especially if you are going to re-use your hardware as we did.
Now, if you are going to re-use your hardware, make sure to clean them or spray paint them. It will give the cabinets a nice shiny new look.
Once all the doors and hardware pieces were off I used the White Lighting Cleaner to clean all of the cabinets and doors. This helps give the paint a nice clean surface for it to stick on. Plus, you don't want any extra dried pasta on your cabinet doors.
Make sure to get into the cracks of your cabinet door. Especially if they are as old as ours are.
Tip: Use a washcloth to clean the cabinet area and the cabinet doors. If you have cracks or smaller areas like ours does use a toothbrush to really get the dirt out.
Don't skip cleaning your kitchen cabinets and doors. I know you want to go straight into painting, but it's not going to be worth all of that work if you skimp on the important steps.
Cleaning is a major part of making sure the chalk paint goes on the furniture easily and beautifully.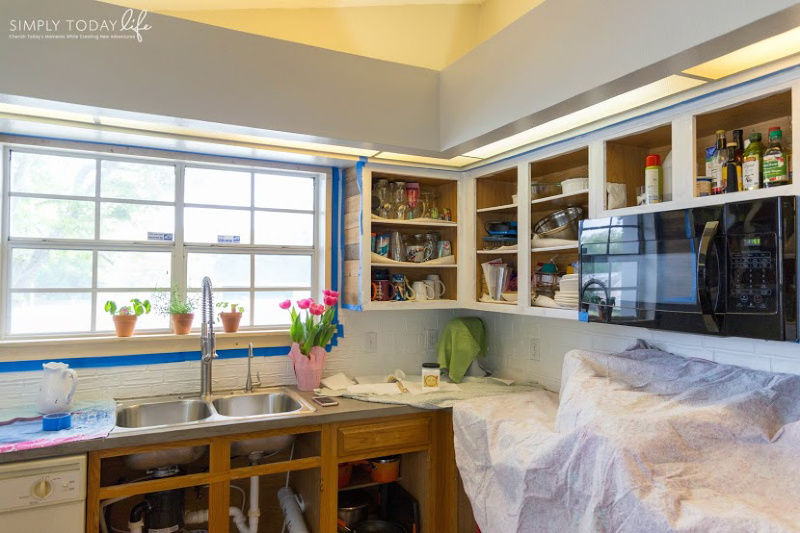 With chalk paint sanding and priming is not necessary.
I decided to prime my cabinet doors because I wanted to make sure that the white paint lasted a long time.
Especially since my girls are getting older and starting to make more of their own meals.
I didn't prime the cabinets though, just the doors.
Again, this wasn't necessary but just an extra step I wanted to do so that the white color would last longer.
If you look at the photos below you can't even tell a difference between where I primed and where I just painted over the cabinets.
If you are priming, make sure to allow all of the primers to dry completely overnight. This is very important! If you are not priming just start painting your cabinets with your chalk paint.
Once my primer dried (I waited 24 hours), I painted all the cabinets and cabinet doors with my Cotton Dixie Belle paint.
Tip: There's no need to wait long to do a second coat of your Dixie Belle.
The process was easy and the paint dries quickly, so by the time you finished painting the first coat you can go ahead and start a second coat.
This helped the process go a lot smoother and faster than painting with regular paint does.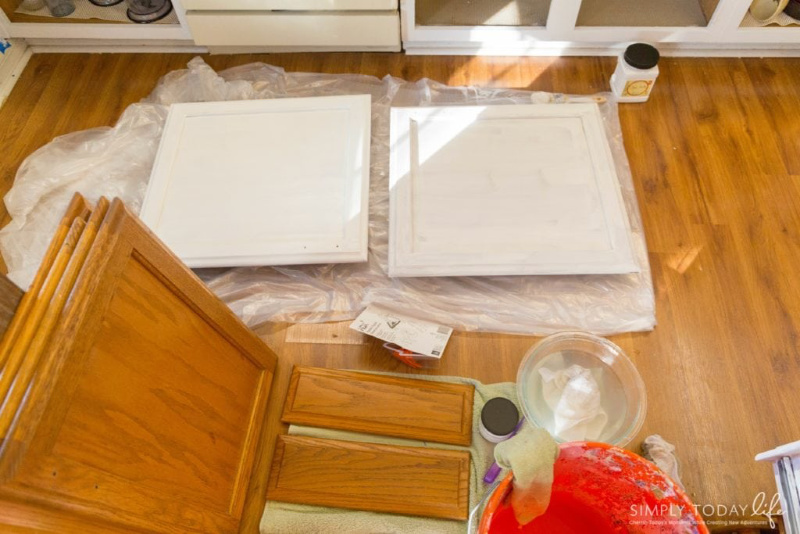 I knew with our darker kitchen cabinets I would have to do more than one coat of paint.
One of the great things about chalk paint is that it's very thick and covers the cabinets well.
I decided on two coats for the cabinets and two coats for the cabinet doors on top of the primer.
If you have lighter cabinets you probably won't need to do two coats.
Tip: One way to make sure if you need a second coat is to allow the paint to completely dry. If you can still see your base color on your doors or cabinets go ahead and apply a second coat of paint.
How To Paint Cabinet Doors
Painting doors is not as easy as I thought it would be.
Especially since you have to paint both sides and don't want to mess up the side you have already painted.
You have to be careful not to scratch the paint off your doors with the chalk paint before you have sealed them.
The easiest I found when it came to painting the cabinet doors at the same time was using painters pyramid stacks to keep the cabinet doors off the floor and easier for me to paint.
I suggest two packets as they bring 5 in each pack.
You will need about 2 pyramid pieces per small door and 4 for larger doors.
These little pyramid stacks were a lifesaver in making sure that the cabinet doors were drying quickly and without any streaks or scratches.
Plus, the more you have to use, the more doors you can paint without waiting for the other doors to dry.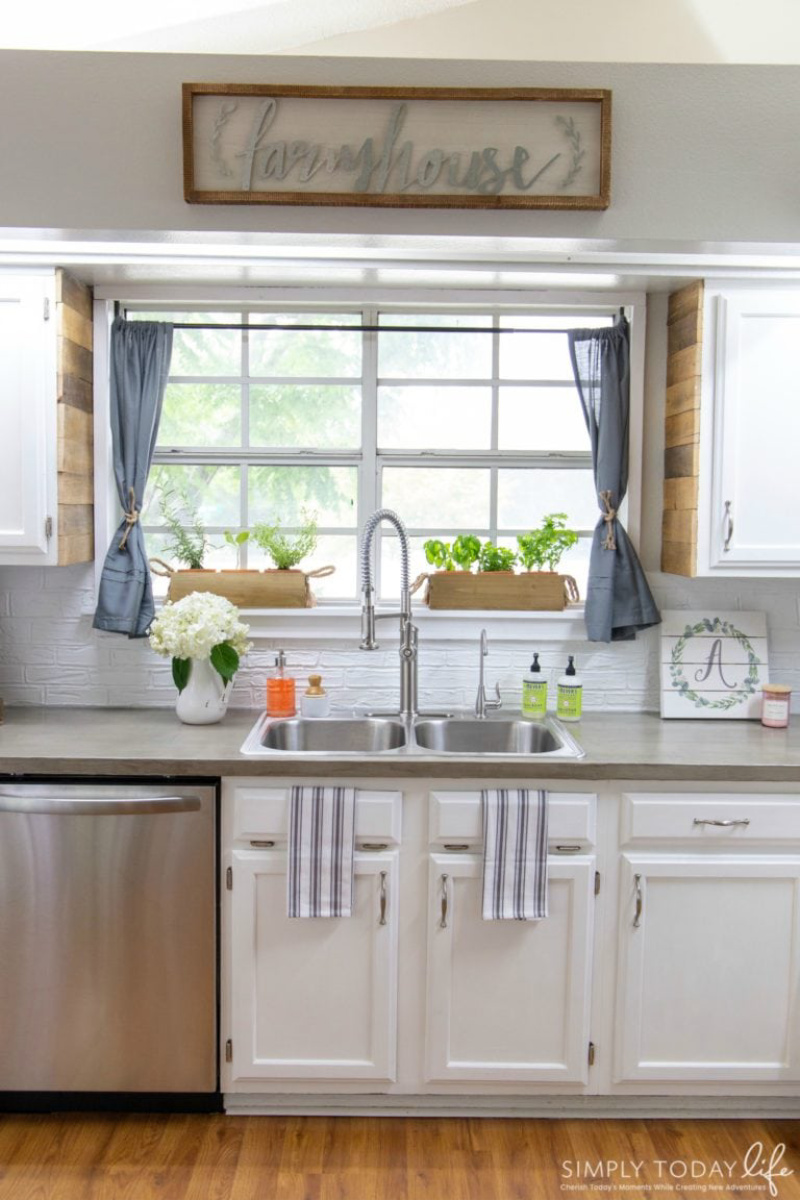 The last step in making sure your cabinets are sealed and last a long time is to cover everything with Gator Hide.
This will protect the cabinets from stains, water damage, fingerprints, and will take away the chalky feel of the paint.
I applied the Gator Hide using their blue sponge.
Tip: Make sure to wash your blue sponge a few times with soap and water. You want to get some of those blue fuzzies off before you start using it on your beautiful cabinets.
Using Dixie Belle's blue sponge helped with drippings and making sure I was spreading the Gator Hide evenly.
It's not thick like the chalk paint, so it runs easily.
A little goes a long way!
Once the Gator Hide dried, I applied two more coats. I wanted to make sure these were sealed perfectly, especially with two little girls running around.
Update: I highly suggest the Gator Hide seal your cabinets! Especially if your family loves pasta nights.
My daughter spilled a bowl of pasta that had pasta sauce splatter on the floor, cabinets, and our walls. Anywhere I applied the Gator Hide was easy to clean, my white curtains, not so much!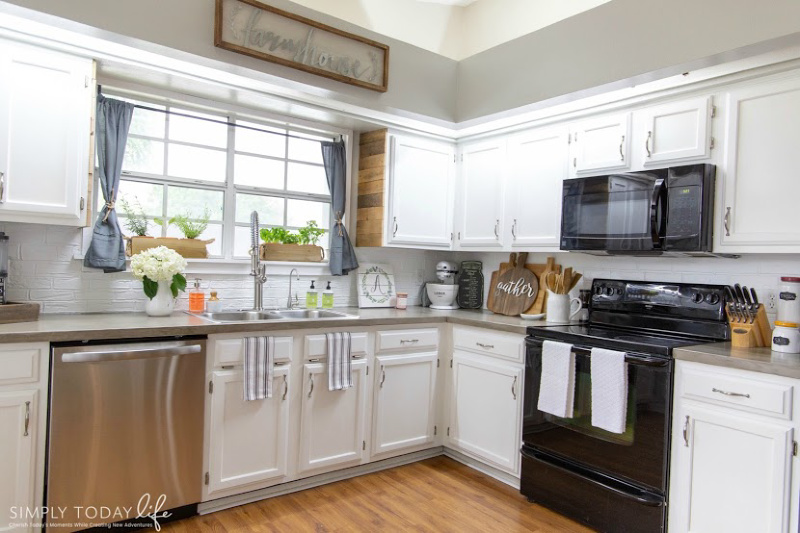 That's it!
See, painting your kitchen cabinets white with chalk paint is super easy and so worth all of the work you put into it.
Just by looking at the before and after photos you can't even tell that it's the same kitchen!
It's amazing what a little bit of chalk paint, a little work, and a lot of determination can do for renovating your home on a budget.
I can't wait to share some more projects that I have planned in our home!
Plus, some new DIY ideas I've been working with my husband as well.

Also, check out my Instagram stories where I've been sharing my budget-friendly DIY farmhouse kitchen idea videos.
Just look for the highlight on my Instagram account that says Chalk Paint.
Chalk Paint Kitchen Cabinet Update
I'm updating this post today February 24th, 2020 because lately, I've been getting a lot of questions and emails on how my kitchen renovation has gone and why I've not shared anything new when it comes to DIY projects.
First of all, these messages have motivated me to get back at doing some DIY in our home.
Well, in our new home! Yes, as of last June we have moved from our former 14-year-old home and although it was bittersweet, we are super excited about some new renovations in our home.
You would have thought that I would want to get something newer, but guess what, we purchased another 80's home!
I think I just like updating old things! In a good way!
I surely miss my old kitchen especially since I had renovated it into my dream farmhouse kitchen, but let me just say that that was the selling point in our home.
Everyone who walked into the house was in love with that little kitchen that I put so much effort and love into.
When we moved out it looked just as fabulous as it did when I first painted it.
This is why I'm planning on redoing the kitchen in our new home and transforming it into my new farmhouse dream kitchen.
Plus, sharing how I created my concrete countertop!
You Are Also Going To Love:
If you loved this Painting Kitchen Cabinets With Chalk Paint DIY, then you will also love the following home renovation DIY posts I have put together for you:
Will you be painting your laminate kitchen cabinets with chalk paint?