I'm simply in love with my kitchen renovation from last month, but it seemed like something was missing. My youngest daughter is a big fan of Fixer upper and was begging me to add a kitchen island. That's when she gave me the idea to create this budget-friendly DIY Kitchen Island From Desk and pallet wood. Farmhouse Style of course! Thank you, Dixie Belle Paint, for sponsoring today's post. I am a Dixie Belle Brand Ambassador, but all farmhouse opinions are my own.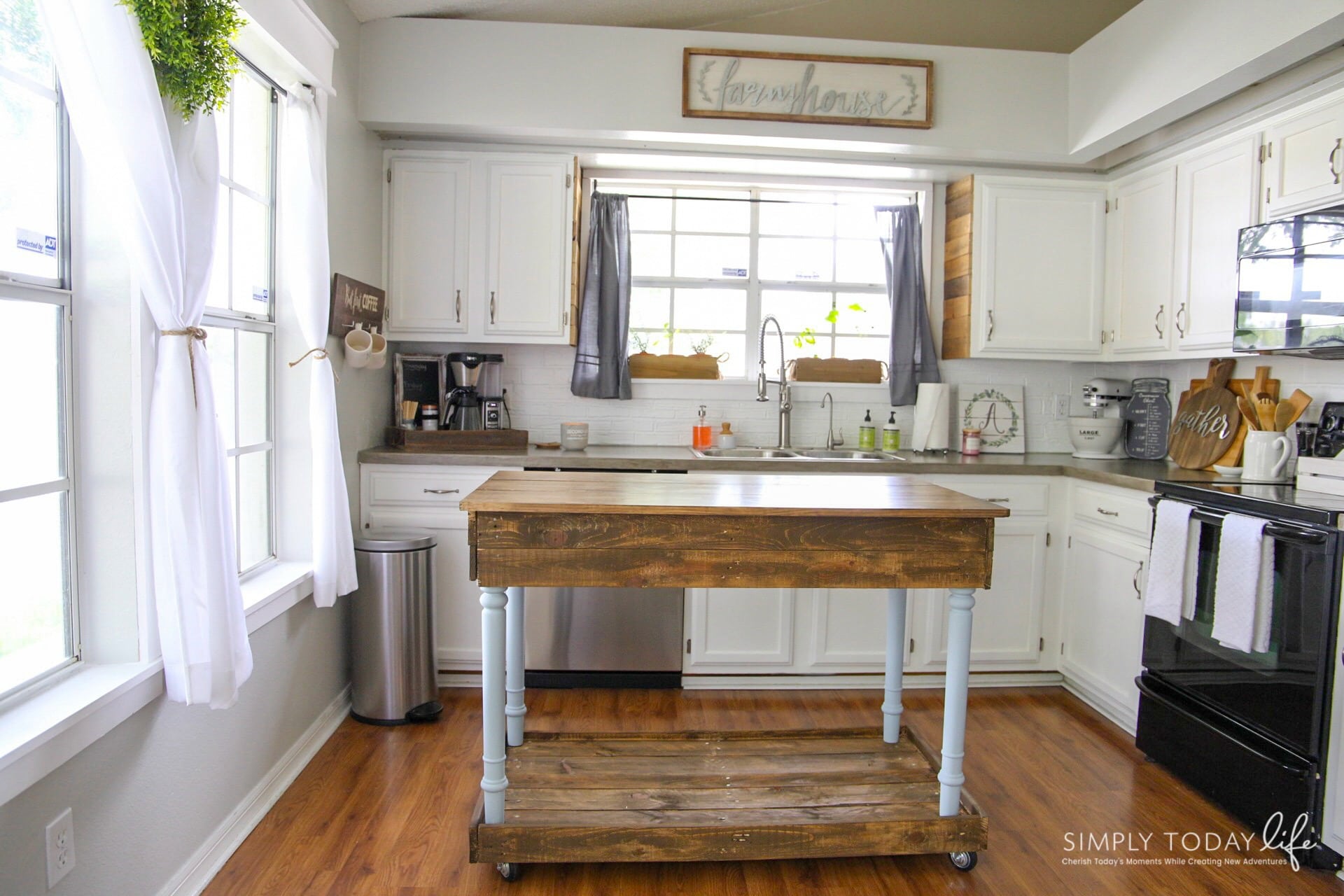 DIY Kitchen Island From Desk | Farmhouse Style
I will admit, I don't have much time or money to spend on our renovations and I still have so many more ideas I would love to implement in our home. That's why I have to make sure that I make these DIY projects as budget-friendly and easy as possible. Like this kitchen island project.
This post may contain commissioned affiliate links.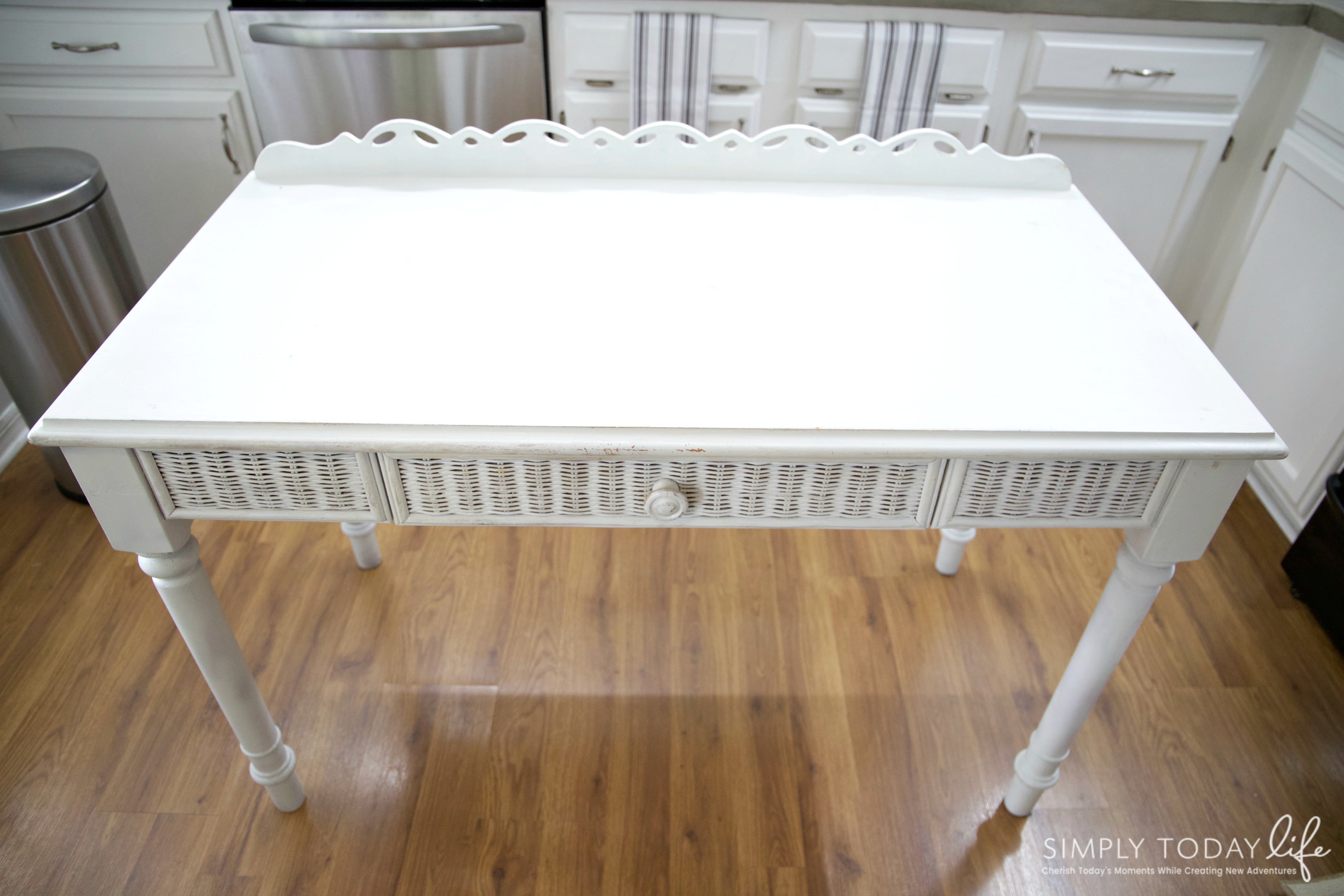 I had this old desk that my mother-in-law had given me years ago. This desk has been moved all around our home. I've used it as a work table and even sat my embroidery machine on it when I sewed. Right when I was about to get rid of it, I decided to try and repurpose it and create a kitchen island out of it. I also wanted to incorporate some pallet wood into the design, because it would match the kitchen perfectly with some of the pallet wood pieces my husband added to our cabinets.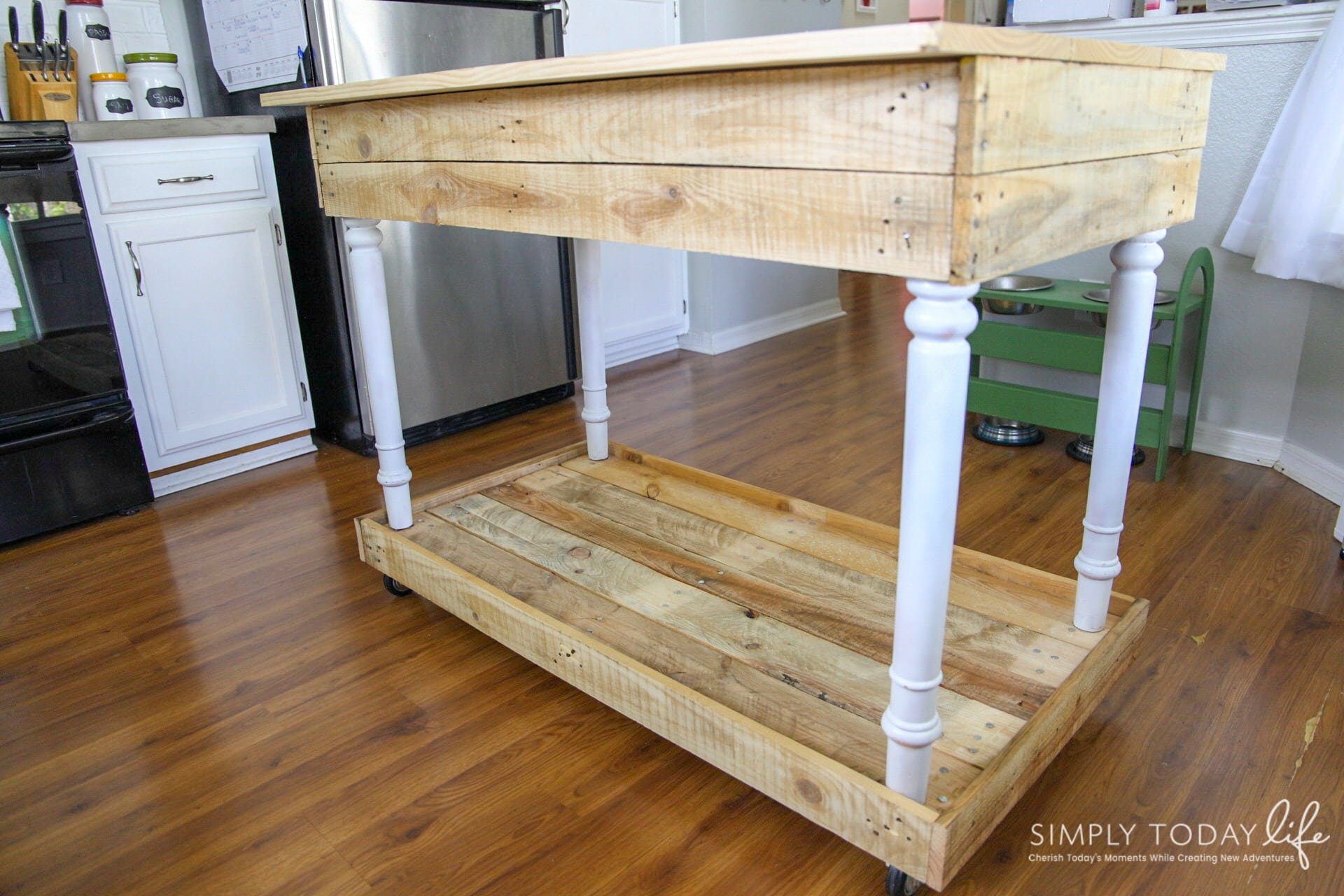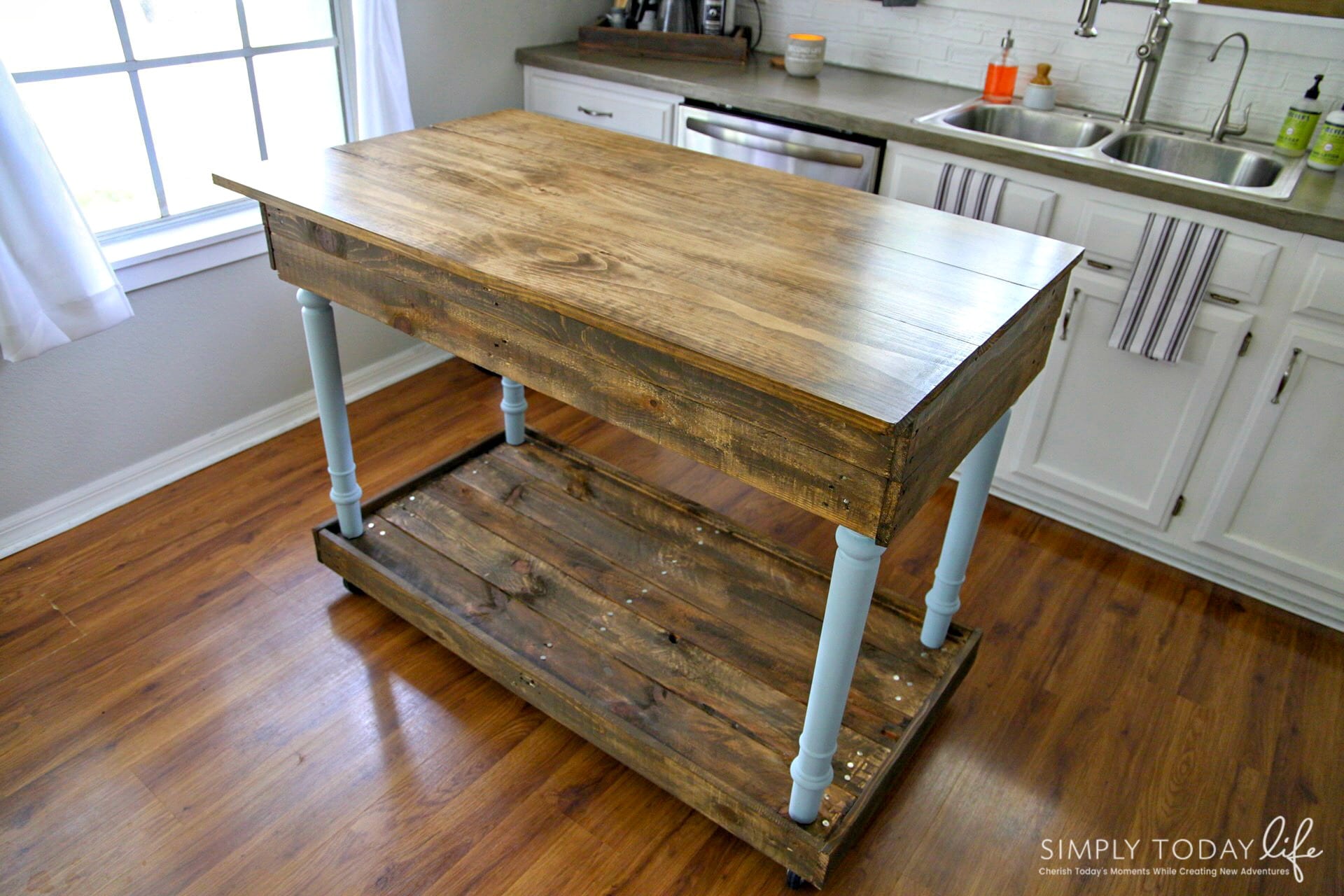 I sat down and came up with the easiest way to convert this desk into my kitchen island. Once I knew what I wanted to do with the desk and how I wanted it to look, it was up to the hubby to make it happen. Of course, he came up with something fancier than I had thought of still staying on budget. As much as I love getting my hands dirty, he loves to build things so it was all on him. Almost immediately he began working on my farmhouse kitchen island.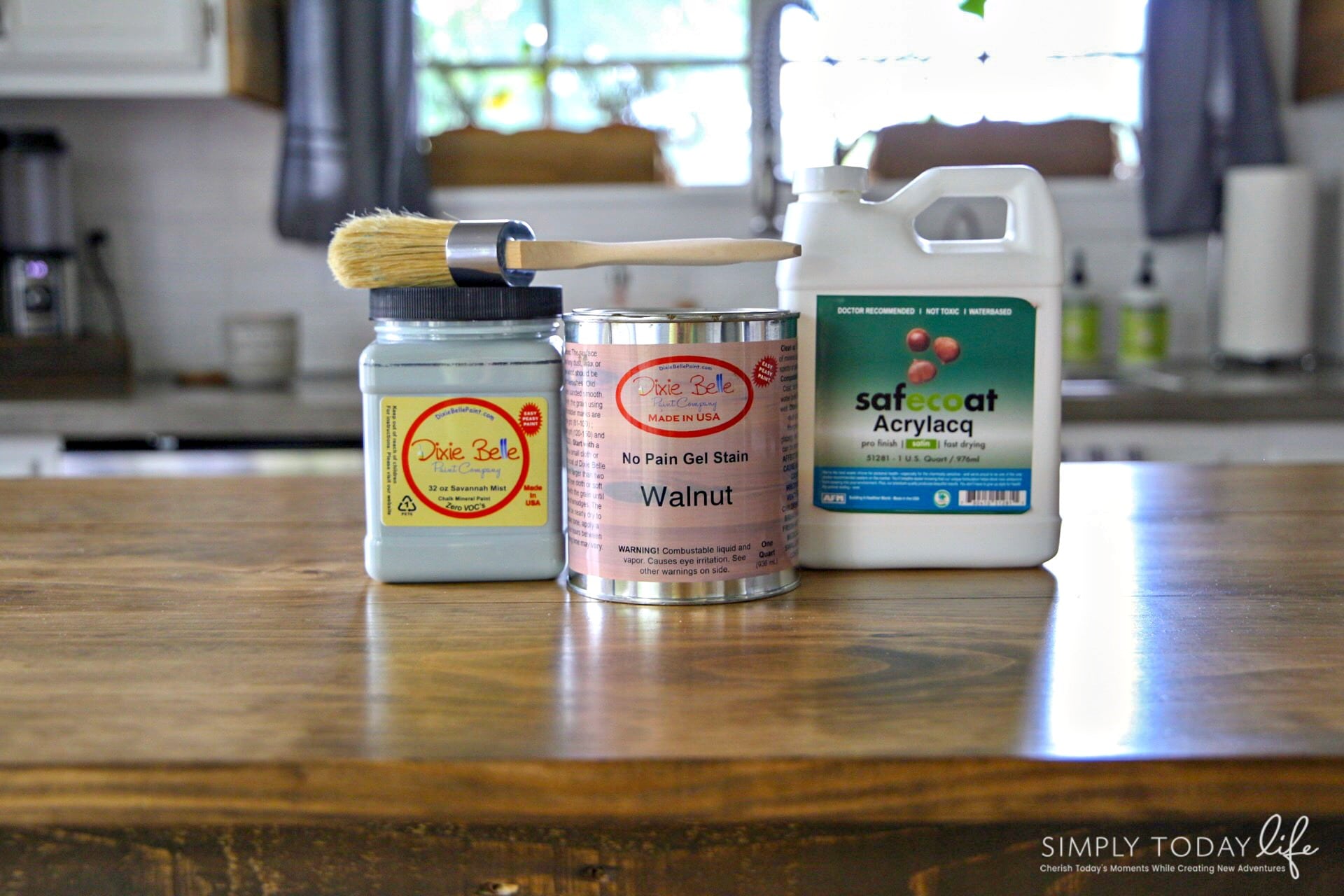 This is how we transformed our desk using pallet wood into a beautiful farmhouse kitchen island! I briefly explain how we built our kitchen island, but your measurements will be different depending on the size of your desk.
Materials We Used
Desk for repurposing
Pallet wood (you can find these in trash areas or you can purchase it)
48″ x 10″ Poplar Wood (for countertop)
2″ nails
hammer
Dixie Belle Savannah Mist Chalk Paint
Dixie Belle Paint Brush
Dixie Belle No Pain Gel Stain-Walnut
Cloth or Rag
Dixie Belle 2″ Chip Brush
The reason we bought new wood for the countertop area of the island table is that after doing some research I found out that pallet wood is filled with lots of chemicals. I want to use my kitchen island as a place to cut food and prep meals. So, I wanted to make sure that we purchased new wood for this area and seal it with food safe Safecoat Acrylacq. This was the most expensive part of the entire project, but oh so worth it.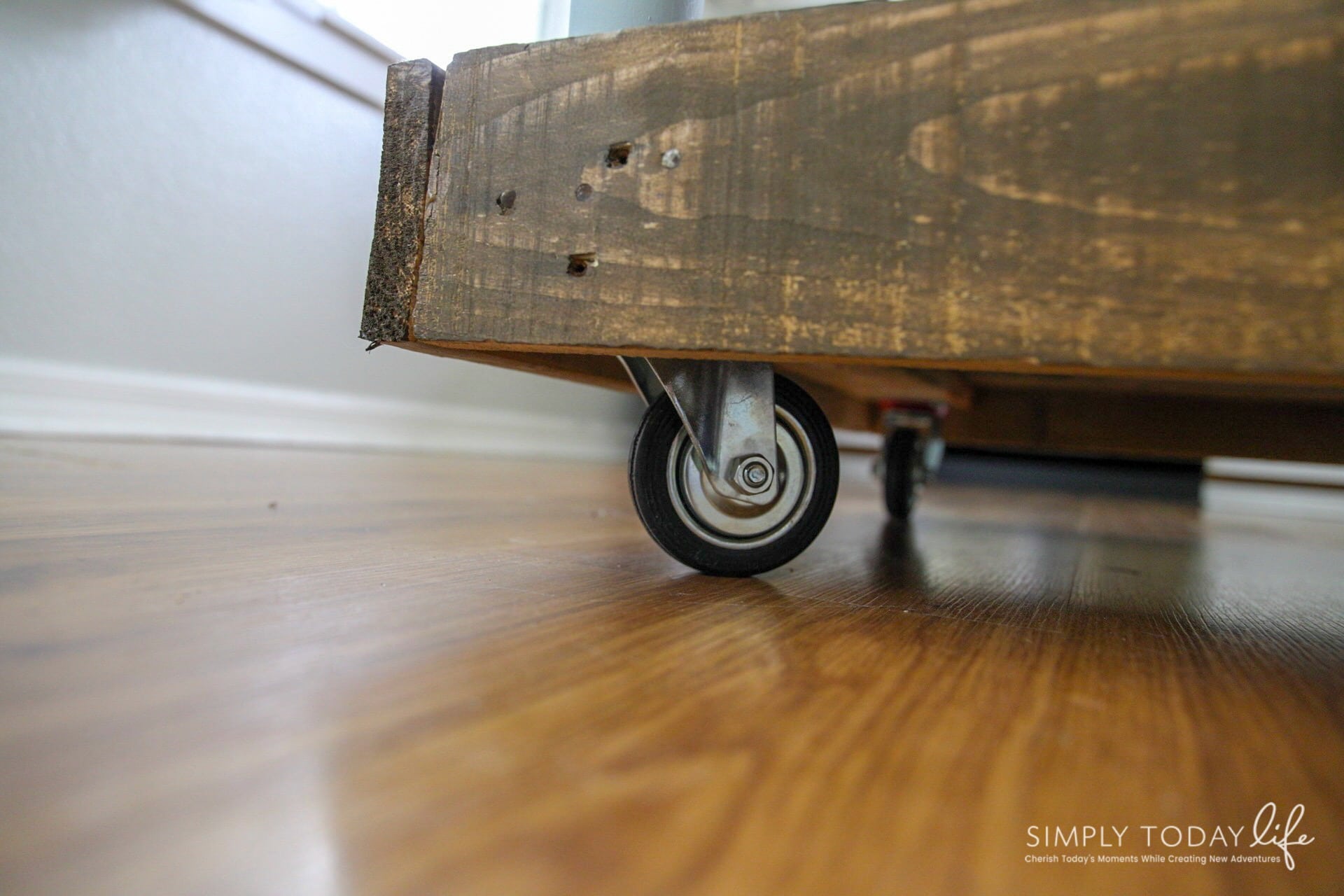 Building Our Kitchen Island From Desk
The first thing my husband did was create a base that our desk will sit on using pallet wood. Underneath this base he attached four wheels so that I am able to move my kitchen island anywhere I need it. This makes it so much more convenient and perfect for allowing more space in my kitchen when I need it.
He then took off the scallop design and the borders from the desk. I wanted a flat surface and something to cover all around. So, my husband used pallet wood to cover the old desk.
For the counter area, we purchased three new pieces of wood and nailed down on the desk from underneath. I wasn't worried about the color of the wood because I was going to stain it all the same color.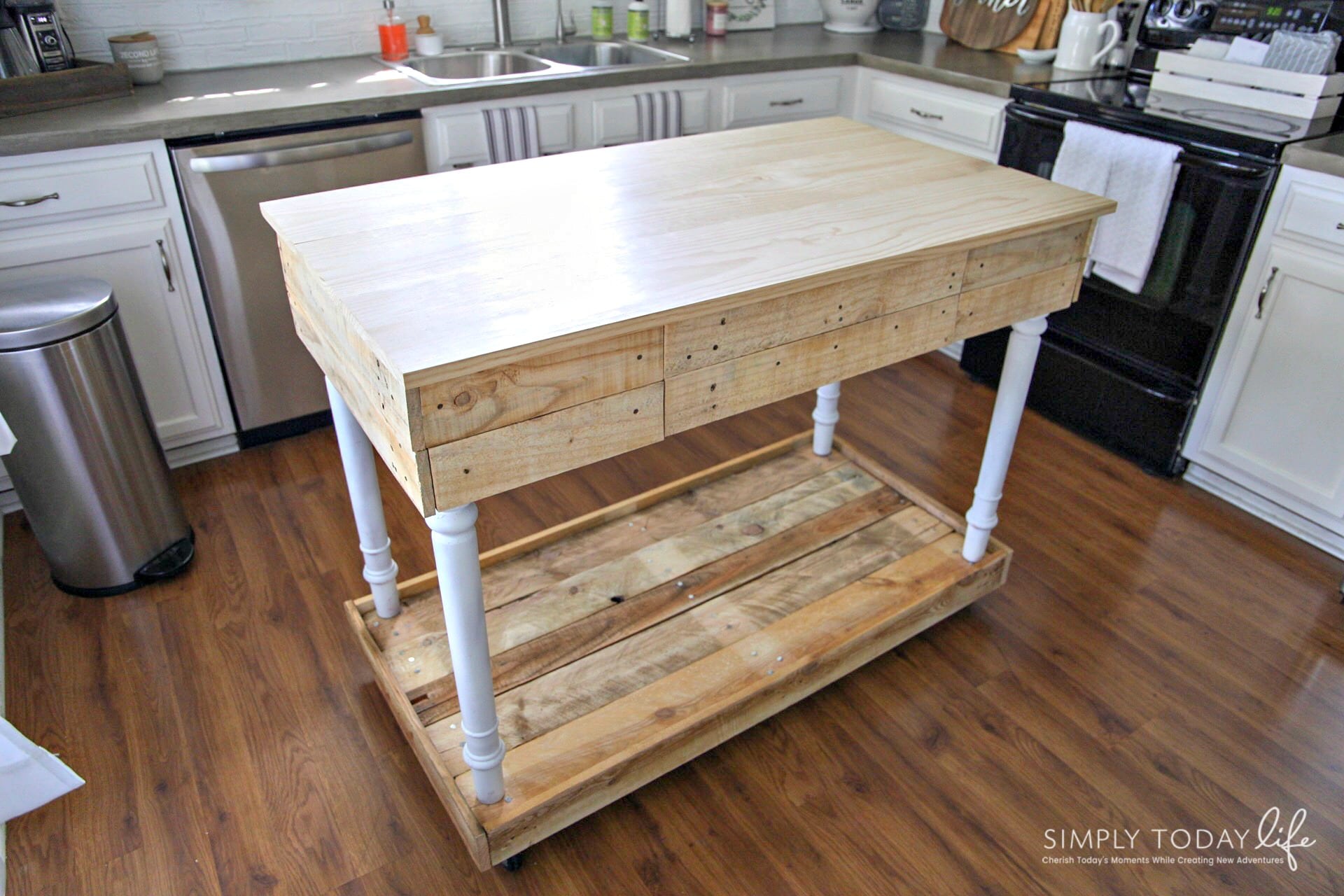 Once he had the entire kitchen island built I started painting and staining. I used Dixie Belle Chalk Paint in Savannah Mist to color the legs of the desk. I wanted a grey color that would match my kitchen walls, but not too light. I did two coats of paint on the legs.
*Tip: Paint the legs of your desk before you nail down your pallet wood. It was a bit difficult painting the legs without getting the paint on the wood as well.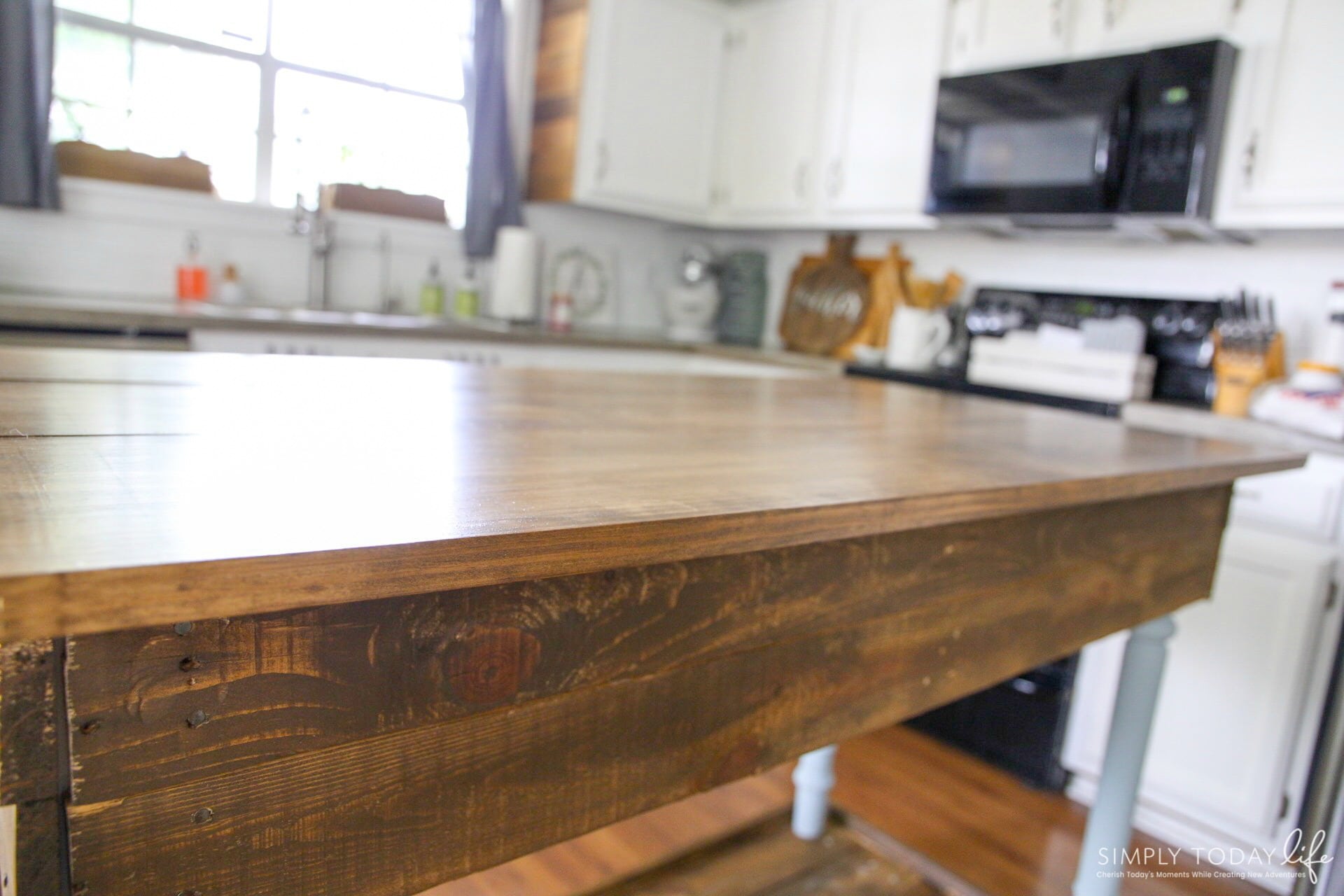 I then used a rag to stain all of the pallet wood on my new kitchen island. I only did one coat of the stain because I loved the color is created on the wood the first time around.
*Tip: I did two different samples of stains on a piece of scrap wood to see how the stain colors would dry.
I'm so happy with how our kitchen island turned out.

You Are Also Going To Love:
If you enjoyed reading about our DIY Kitchen Island From Desk | Farmhouse Style, then you will also love the following DIY posts I have put together for you:
Have you repurposed a desk before?