Today's Lady And The Tramp Interviews include Thomas Mann and Adrian Martinez. Who play Jim Dear and the dog catcher in the live-action Disney+ film.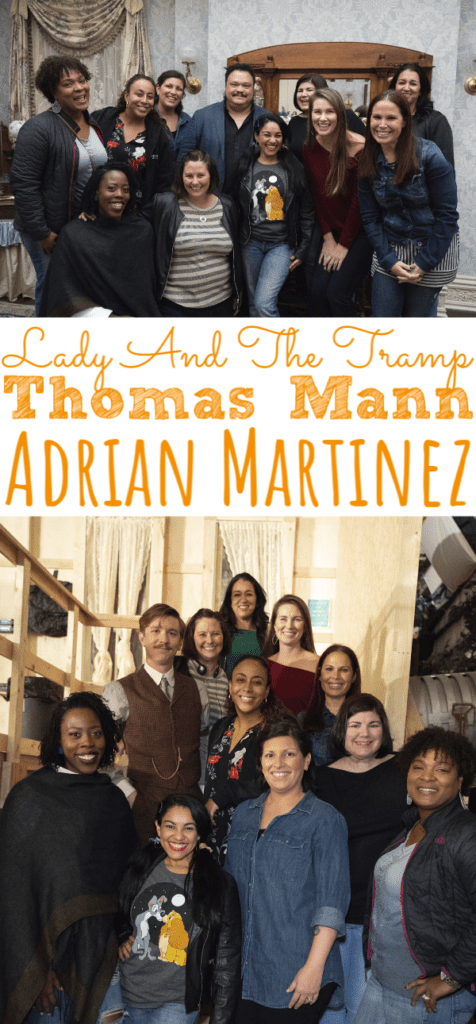 Lady And The Tramp | Interviews With Thomas Mann and Adrian Martinez
The day before yesterday I shared a little bit about the ladies in the Disney live-action movie Lady And The Tramp. Today is about the men who make up the cast in the film.
Thomas Mann plays Jim Dear along side with Kiersey Clemons as the happy couple who own lady.
While Adrian Martinez plays the villain in the film as the dog catcher who is always after Tramp and all of the street dogs.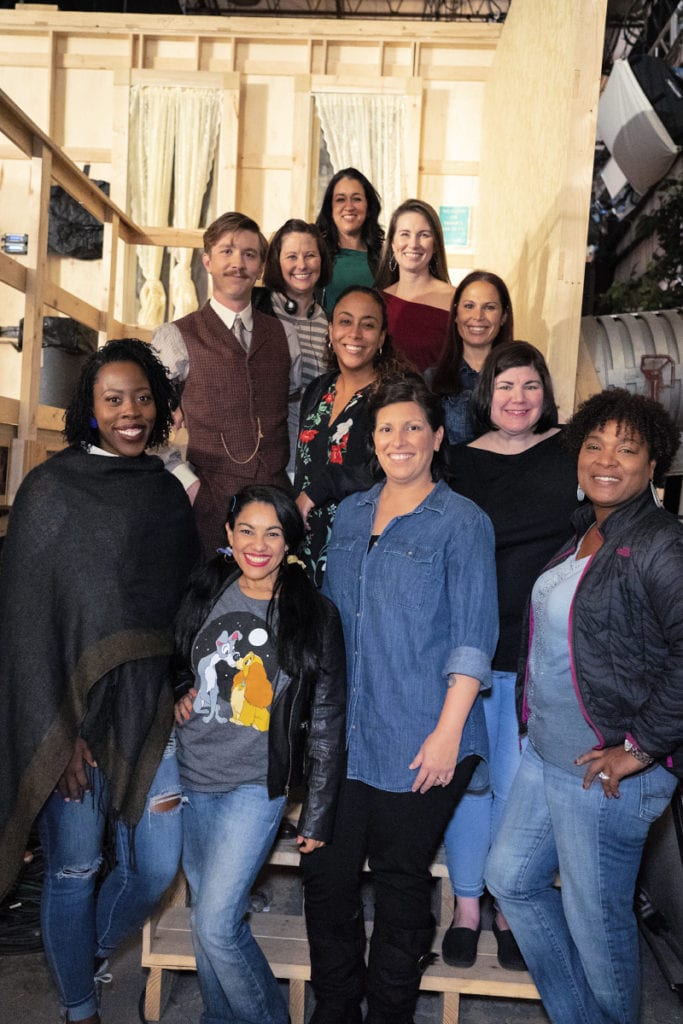 We had the pleasure to sitting with both actors individually to learn more about their character and of course their love of Disney.
Interview with Thomas Mann
How did you become a part of the film?
Well, it just came to me like any other audition. I only had to go in one time to audition, which is always a blessing. It was just me and a few other guys.

So they already had, like, kind of an idea of who they wanted Jim Dear to be. So I just went in with the casting director and spent 30 minutes in there working the scenes with him.

All I remember about it is that there was no AC. It was really hot. And so I had to take a break in the middle of it.

In order to get the audition the way that I want it, I need to just take a break. It's one of those things where I didn't think it went that well

Then afterward it was great! Then I got the part and at that point, it was like a no brainer because of the voice talent that was already attached.

I had been wanting to work with Kiercy Clemons for a long time. So it was really cool that it kind of worked out

I was totally, totally thrilled o be a part of The Lady and the Tramp legacy as. It's a huge deal. I never worked for Disney before, either. Which is also an interesting opportunity.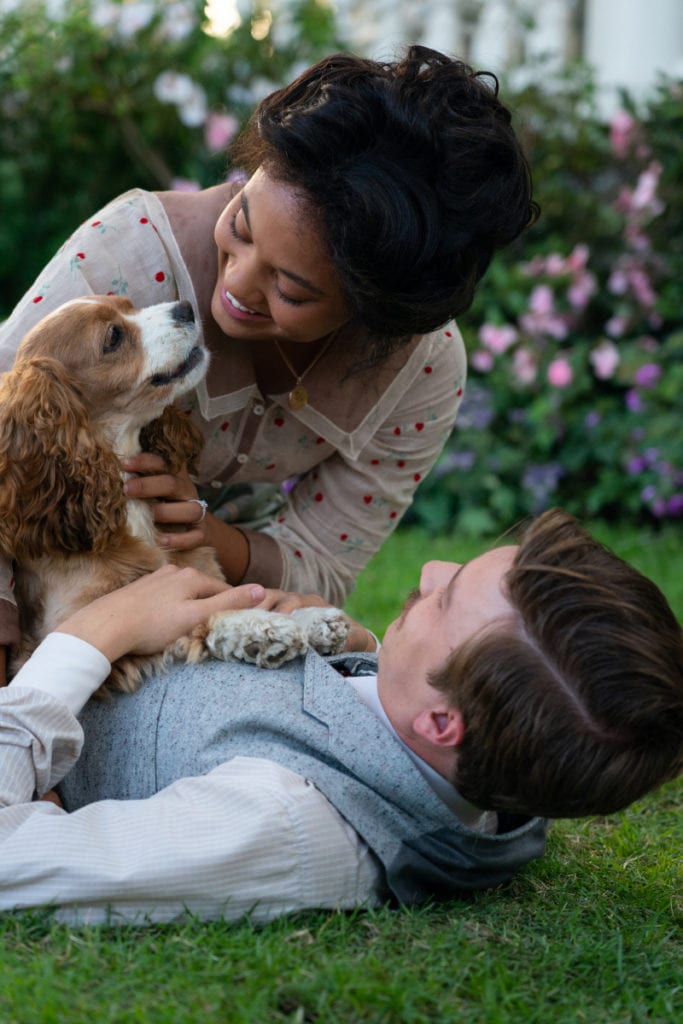 This is a very different character for you. How does it feel?
I'm a grown-up!

This… I mean, the world is… much bigger than in the 1955 animated version. So it allows me and Keircy specifically to kind of flesh out our characters more so than they were.

If you catch little glimpses of them in the animated version. But you don't really get to know who they are as people. And this one, you know, there's still… supporting characters. It's still all about the dogs. But you get a better sense of who they are, and you kinda get to know them, and you get a better sense of their personalities.

And for me, I'm… You know, I'm transitioning out and playing someone's son, or like this college student or high school student. I don't know, upgrading into more adult roles. I get to wear a wedding ring. Now I'm playing a father in this and that's really exciting. I feel like I'm making a lot of progress in my own career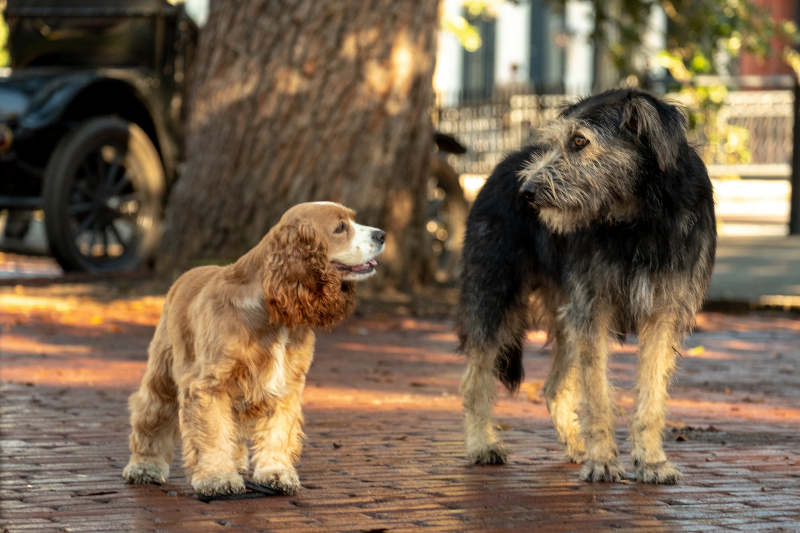 What's it like working with the animals?
Ah! The animals? Well, it just depends on the day. You know, they don't know they're at work! Which is the crazy thing you have to keep in mind. I love Rose, who's playing Lady.

We've gotten so much time to kind of bond with them. Off set and while we were doing rehearsals and stuff, we got to just spend a lot of time playing with them and getting to work with the trainers, which was really important

Then Tramp also is just the sweetest. Monty is his real name and is the sweetest dog. I don't have as much to do with him in the movie except for a few scenes, but he's also so great.
What's been the biggest challenge for you?
I don't know! It's been such a light-hearted easy-going set that nothing's been too hard! I guess just the patience of, well the dogs and babies.
Were you at Lady and the Tramp fan before?
Yeah! I mean, I've watched countless times. I hadn't seen it, obviously, in many years, and before I got this. Then I watched it again recently, and it lives up! It doesn't feel like it's just for kids. It's not like a zany kids' movie in any way. It's thoughtful and kind of heart-wrenching in some ways, too. It's a beautiful movie.
Looks like Thomas Mann found the perfect movie role and now he's apart of the Disney family. I say it was meant to be.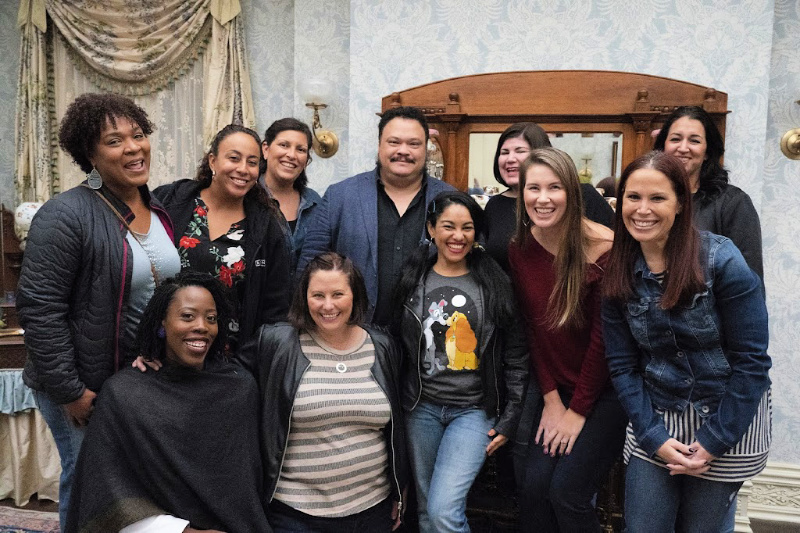 Interview with Adrian Martinez
How did you become involved in this project?
Oh well, it was an audition like anything else and I just kind of went in. And they told me, do a self-tape, put yourself on tape. said, I don't do self-tapes anymore, and they were well it's Disney. Okay, it'll be there in an hour.

So I put myself on, it was like I got the sites for the audition like on a Tuesday and then that Wednesday the next day I put myself on tape and by that Friday I heard I booked it.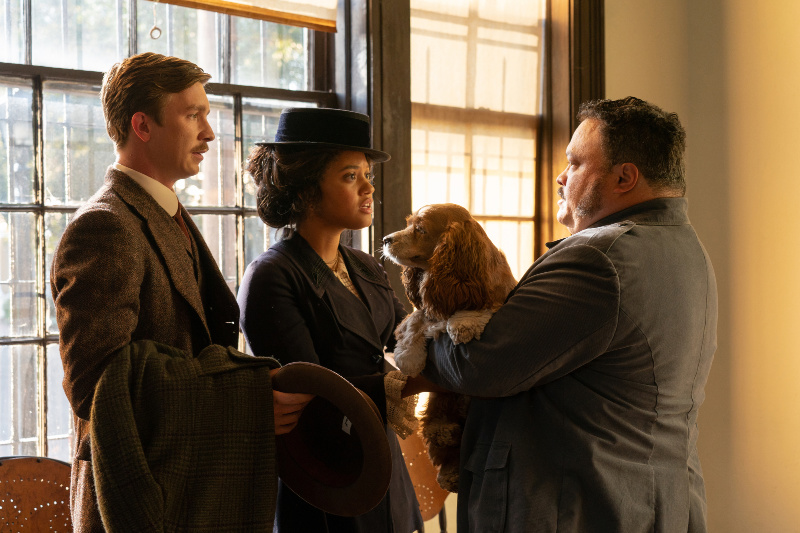 Are you a dog hater? Talk about the process?
Well, I love Monty who plays Tramp and Rose who plays Lady. These dogs are the real deal.

But I love the dogs. There's three of them, there's three Tramps and three Ladies. One's like the stunts, one's just the sprints but Monty and Rose are the stars and they're just gorgeous animals and really sweet and loving. Which is a challenge to me, because I'm like the antagonist trying to catch Tramp.

And they took me to a kennel to work with him so that he knows I'm an actor, I'm not just the bad guy. He was like licking my face trying to get on my good side. The trainer, not the dog. No, it was great, it was great, just a wonderful experience my first time working with animals, so it was really cool.
We saw some of the casting improv, did you do some of that?
Most of my movies I do a lot of improvisation. I did a lot of improv with Amy Schumer in I Feel Pretty. But I try to put it in, I try to keep, you know, see what sticks to the wall. But it's a smart script, you don't really need to mess with it too much.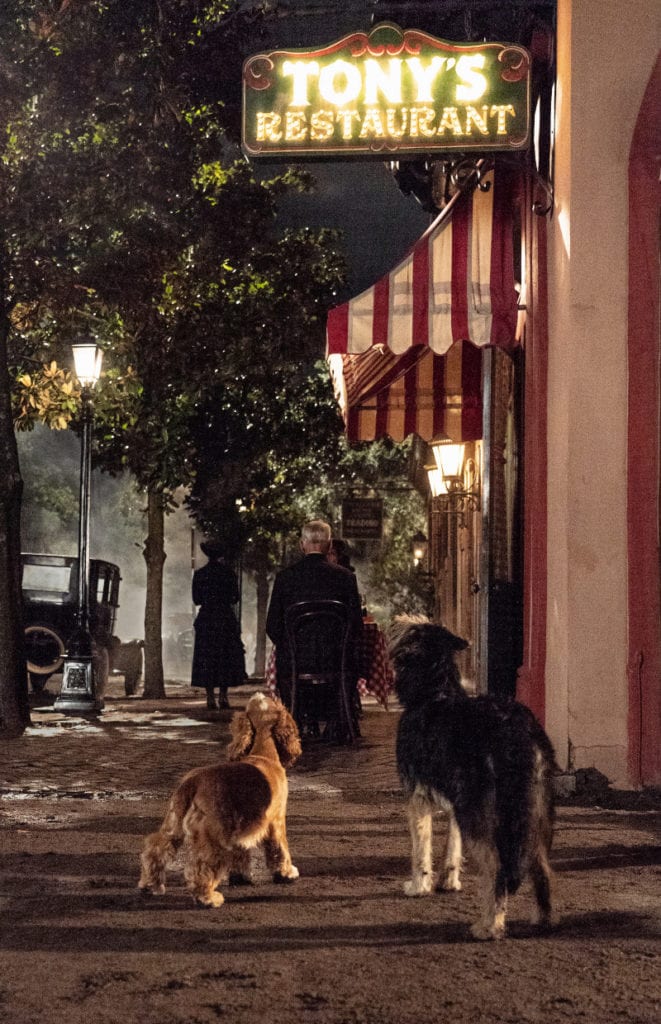 Knowing that you could possibly act in a classic, what were your thoughts?
I flipped out it was so cool, I mean it's Disney. I'm telling you it's Disney. Lady and the Tramp and it's Elliott the Dog, I mean everything, I was like oh my god this is huge.

Then I Googled it and they had these pictures on Google of the nineteen fifties movie with the dog catcher and he's like posting signs. I was like that could be me, so it was trippy, you know, to be part of this legacy, it's a great thrill.
Do you consider yourself a Disney fan?
Very much so. Yeah I mean I just took my kid, I have a thirteen year old and I took him to Disneyland first time, not this summer but previous. And he just wants to go back because now they have a new Star Wars thing.
Can you talk about working with Charlie?
Yeah, everything you've heard is true. He's a cool guy. I like him because, for an actor, the most important thing is that you feel safe, to take chances, to be yourself, to relax and do the work because it's hard.

It looks glamorous and it is on some level but it's also like a grind and you need to feel relaxed so you can be your best self. Charlie gives you that. So from the beginning of rehearsals in September, he was very open to ideas.

I ain't got nothing but praise for him. It's the first time he's actually working with humans I think, I think he comes from animation. So hopefully he'll continue doing it. We've got a great cast.
Adrien Martinez is a great dog catcher in the film and the role was perfect for him! I can't wait for everyone to finally get to see the film on November 12th on Disney+!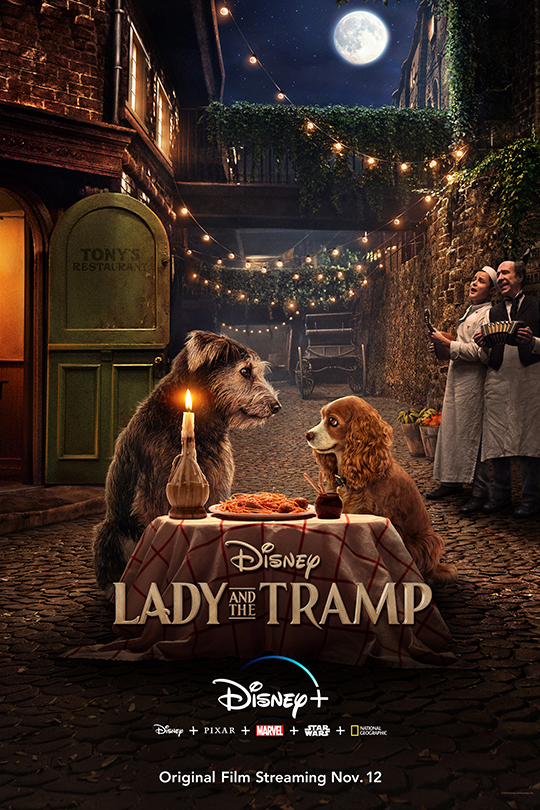 About Lady And The Tramp
In Disney+'s "Lady and the Tramp," a timeless re-telling of the 1955 animated classic, a pampered house dog and a tough but lovable stray embark on an unexpected adventure and, despite their differences, grow closer and come to understand the value of home.
Lady And The Tramp Streaming On Disney+ Starting November 12th
You Are Also Going To Love:
What are you most excited about the film?