Today's interview is with Lady And The Tramp Animal Trainer Mark Forbes. He shared it was the process from beginning to end when it came to choosing the animal cast for the Disney+ film.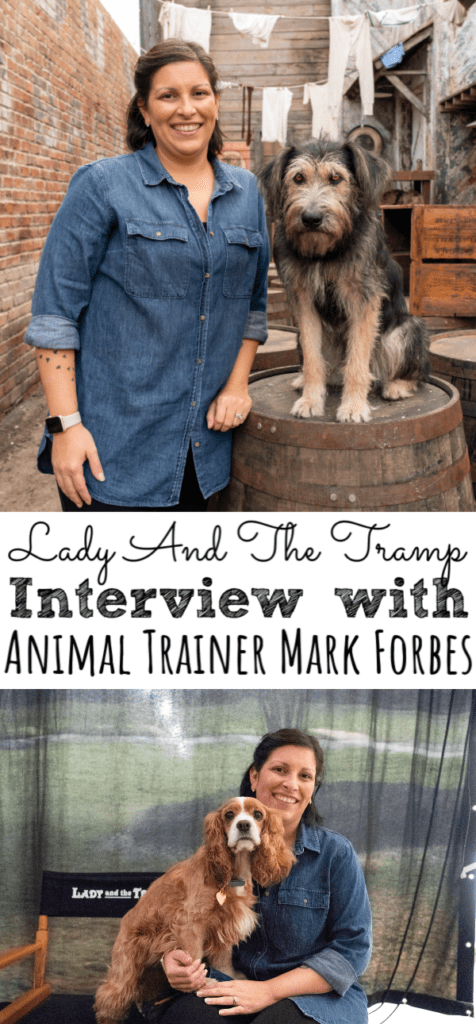 Interview With Lady And The Tramp Animal Trainer Mark Forbes
When it comes to hiring a cast for a movie or show the task is not an easy one. 
But when you are given the task to find the perfect dog for a precise role while training them, now that's a hard task.
That's why animal trainer Mark Forbes was brought in to help with the Lady And The Tramp movie.
We had the opportunity to chat with Mark Forbes and share the stories of some of the animal actors who appear in the film.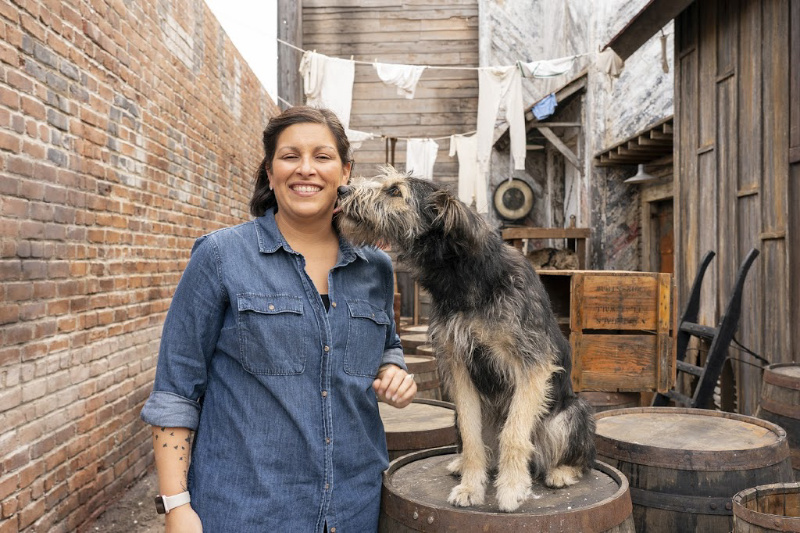 How did you find Tramp?
We basically cast him from a picture. They had posted his picture online. We showed his picture to Charlie, to the director. So we flew out there, checked out his temperament and he was great.

We adopted him and here he is today. So we got him about 4 ½ months before we started shooting. So we really don't know what his life was before that.

The adoption agency thought he was about a year old. The vet that we took him to had to do an ultrasound on him. And he at that time thought he was more like eight months old which means he was about a year old when we started shooting. His name is Monty.

We have two other tramps. Wendell was the first dog that we rescued. Wendell's story was he was in a gang in LA. Literally, he was in a pack of dogs that were just roaming the streets.

How long did it take you to get the entire cast?
I think the last one we got was Jagger who plays Isaac sort of the mean heavy street dog. We got him about eight weeks before we started filming. We started about five weeks before we started filming. So it was about a 2 ½ month process to cast and find the whole cast.

I think seven or eight of them were complete strays, rescued. A few came from breeders. A couple came from private homes.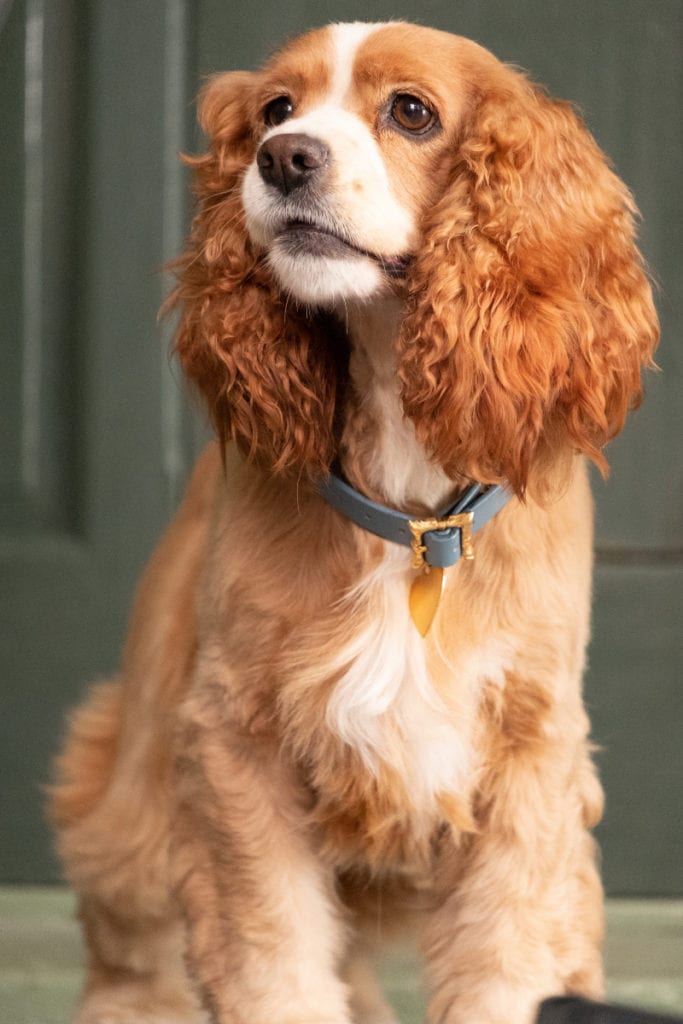 Were you worried at all about them being trained?
Not really. I mean you know the whole saying that you can't teach an old dog new tricks? It's positive reinforcement. It's getting them to be sort of a team.

But first thing you know we start with basics. We start training them to sit, lie down, on your feet, go get a mark, stay. It's about eight behaviors.

We'll spend the first 6 to 8 weeks doing nothing but that. But while we're doing that we're taking them to different places and then getting them used to new people.

The great thing about dogs is after a while a pat on the head means just as much as a treat. Your approval means a lot. So we kind of use that. We rely on that.

Do they stay focused?
That's one of the hardest things especially in a talking dog movie it's all about the dog looking in the right directions whether he's looking at another dog or another actor instead of just looking off-screen at the trainers telling them what to do.

That's probably the hardest thing to do. So it's all about eye lines. We use a big stick a lot which is we teach them to look at the bait stick.

We teach them a "work away" which is they work away from us to a treat whether the treats on the ground or we give you a treat and they're working towards you.

It's really the hardest part of our job. It's where we use, other than a complete CG dog is where we would use the most sort of moving action which is split screens to hide a trainer or completely painting out the trainer was over "there".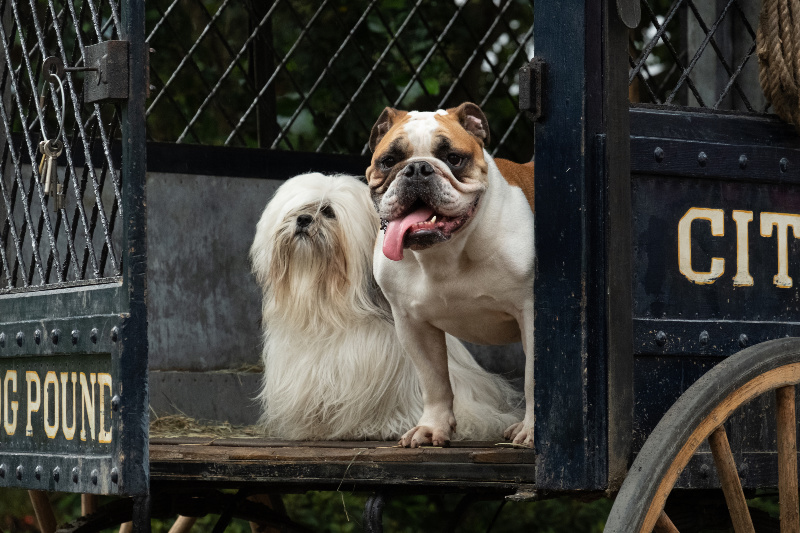 I saw today one of the trainers was in costume. Does that happen often?
We did a shot today where Lady had to come in. It was a hard shot coming down the stairs, coming in, sitting and looking away.

And cueing her was somebody in wardrobe. Right before the camera got to her she's cuing and then she's acting like an extra. And as the camera goes by then she's back at cuing.
Do you put out an advertisement for the animal cast?
We don't really put out an advertisement. We just started looking. And it's exactly what you're thinking. It's hard. I mean the great thing is almost every animal shelter, pound, a rescue group in the country has the dogs that are in the website.

You can go to pet finder or any of those and literally spend all day looking through pictures of dogs. It's a little overwhelming. So you have to get as much information from the director and everybody else as to what they're looking for. 

Whenever you find something that's really interesting you call the number or email them and say, can I get some more pictures? Can I get some more information? If everything still looks good, you got to get on a plane and go there and check out the dog and see if he's cowering in the back of the kennel or if he's outgoing and up at the front. Then you just take a chance. At some point you make that leap and go, I'm going to rescue this dog.

And once you do that, you're committing. Some of these dogs we'll find a home for them at the end of this. We're still going to be on a microchip. We're still committing to that dog being taken care of for the rest of his life. So to make that leap at some point we try to get as much information as we can.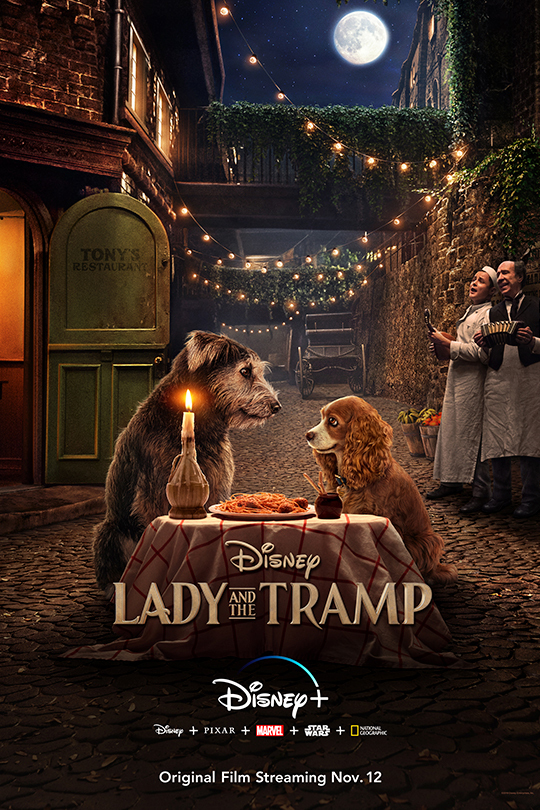 I hope you enjoyed some of the fun behind the scenes that Lady And The Tramp Animal Trainer Mark Forbes shared with us.
It's always amazing learning how they get animal actors to do what they do on the bi screen.
About Lady And The Tramp
In Disney+'s "Lady and the Tramp," a timeless re-telling of the 1955 animated classic, a pampered house dog and a tough but lovable stray embark on an unexpected adventure and, despite their differences, grow closer and come to understand the value of home.

Life is good for Lady, an overachieving American Cocker Spaniel who resides in an upscale suburban neighborhood. Her owners, Jim Dear and Darling, spoil her daily and her neighbors, Jock, an outspoken Scottish Terrier and Trusty, a world-weary Bloodhound, are always within barking distance. But when a baby enters the picture, Lady is no longer the center of attention, and the arrival of cat- loving Aunt Sarah only complicates matters. Lady soon finds herself alone on the streets in an unwelcoming part of town.

Fortunately, Tramp steps in, and the streetwise mongrel is quick to teach her the ways of the world. Before long, the prim and proper pure bred and the fast-talking mutt are partaking in moonlight strolls in the park and romantic spaghetti dinners by candlelight. Tramp savors the independence of a world without leashes or fences alongside his roguish friends Peg and Bull, but Lady misses the comfort and safety of a family, and soon both must decide where – and with whom – they belong. A heartwarming romantic adventure that seamlessly combines live action and photorealistic animation, "Lady and the Tramp".
"Lady and the Tramp" premieres on November 12, 2019, streaming only on Disney+.
You Are Also Going To Love:
Will you be streaming Disney+ on November 12th?