Young Living has the best essential oils on the market, hands down. They source from their own farms using organic, sustainable practices and extract the essential oils safely from the plant. Essential oils come from the plant's leaves, seeds, nuts, and fruit. By using steam distillation or cold-pressed technology the oils are then extracted. Here are the basics, or Essential Oils 101, to help you learn more about them.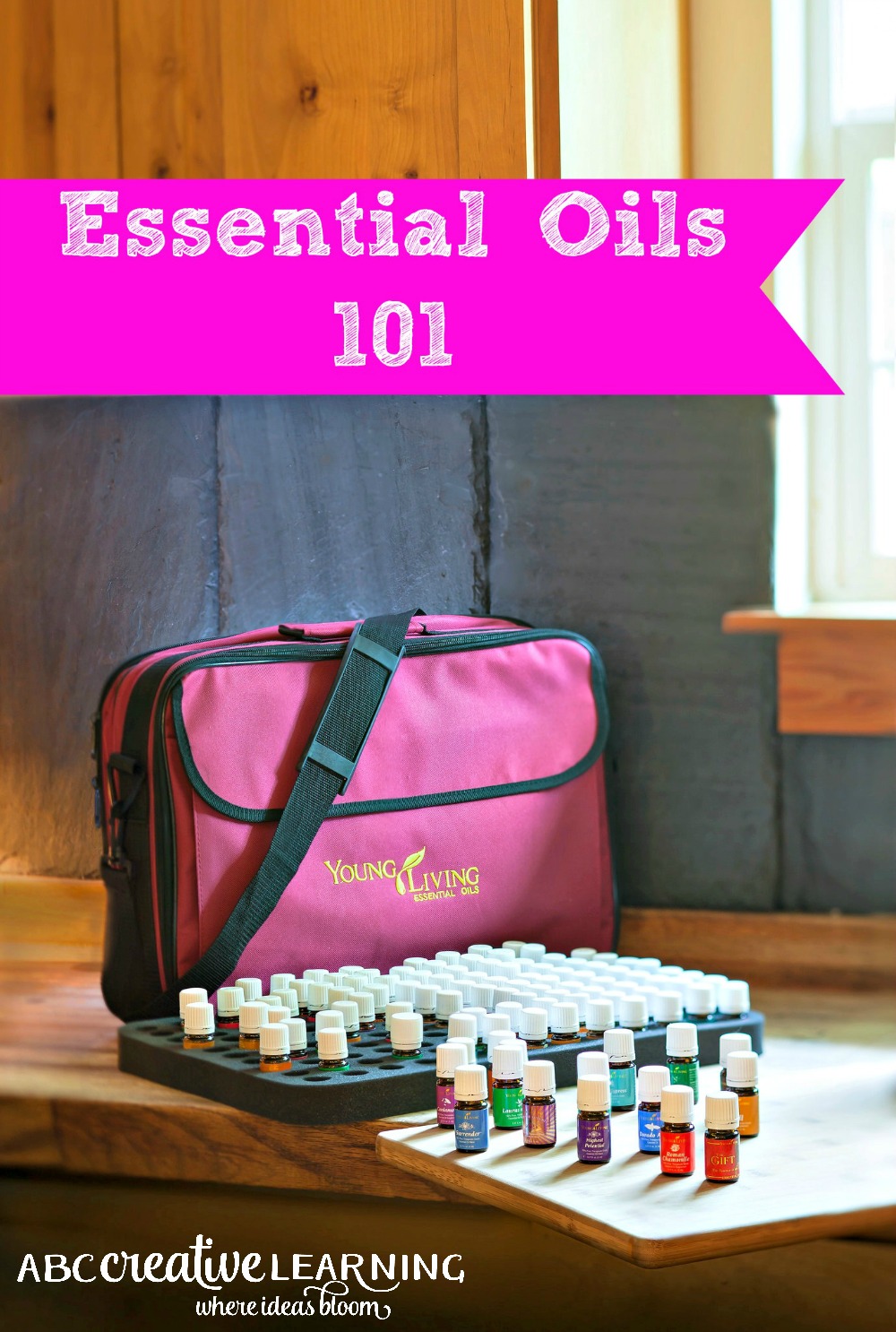 Essential Oils 101
Be Safe with Essential Oils
Essential oils are concentrated derivatives of the main plant, which makes them very potent. Not every essential oil can be used in the same manner.
Make sure to do your research on what essential oils are safe for children and which ones should be avoided until later on. I love my essential oils, but I do treat them and keep them away from my girls in a safe location as I do our medicines.
Best Ways to Use Essential Oils
The easiest way to use your Young Living Essential Oils is to add them to your diffuser. You can add them by themselves or with other essential oils. Essential Oils can also be added to vinegar or water to make safe cleaning solutions. You can even make bug repellents using essential oils!
Try this easy recipe to get mosquitos to go bug someone else. Simply add these essential oils to a small spray bottle and fill the rest up with water. You can then mist it on yourself and your surroundings to repel mosquitos.
10 drops Lemongrass Essential Oil
2 drops Peppermint or Spearmint Essential Oil
Make your own Hand Sanitizer Recipe or Cleaning Recipes.

16 oz Refillable Sprayer with Mist and Stream Nozzle Settings $9.99
Essential Oils make great additions to carrier oils to create custom massage oils. For carrier oils, look at sweet almond, fractionated coconut, or even jojoba oil. Try this massage oil recipe the next time you need your muscles to relax and be rejuvenated.
5 drops Lavender Essential Oil
3 drops Orange or Tangerine Essential Oil
2 drops Ylang Ylang Essential Oil
Here is a list of the best Carrier Oils to use.

Fractionated Coconut Oil 16 Oz – 100% Pure & Natural Therapeutic Grade $12.89
Essential oils have helped a lot in our home, whether during homeschooling or on very stressful mommy days. We just absolutely love them and what it has done for us.
If you are interested in learning more about essential oils please feel free to email me or if you want to purchase Young Living Essential Oils I suggest purchasing the Premium Starter Kit. Not only does it bring everything you need to begin using essential oils, but it's the best way to save money.
Do you use essential oils? Which is your favorite oil to use and why?

Notes: I only recommend using high-quality therapeutic-grade Young Living Essential Oils for ingestion. These are not everyday oils that you can find at the store. This is also what has worked for me and my family, this is in no way to take away from what is suggested from your doctor. These statements have not been evaluated by the food and drug administration. Contains Affiliate links.
SaveSave