It's the first year of the Food & Wine Festival at Busch Gardens and I can bet that they are going to go all out! Who doesn't want to spend a day of fun accompanied by and an amazing assortment of exciting dishes and drinks? Plus, a live concert at the end of the night! Now, this is how I want to spend a day at Busch Gardens!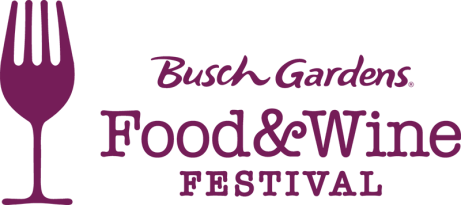 Busch Gardens Food & Wine Festival
Guests can now explore the Busch Gardens® Food & Wine Festival menu online and prep their palettes for the inaugural spring event debuting on March 7. From comfort classics like bacon mac & cheese to decadent desserts like passion fruit flan, the Busch Gardens Food & Wine Festival feeds guests' appetite for adventure with wild flavors for every taste.
Busch Gardens Food and Wine Festival
Gourmet Lodge:
Explore the exotic flavors of Gourmet Lodge, featuring duck confit, venison chili, and other exciting dishes.
Savory Tavern:
Tempt taste buds with the rich flavors of Savory Tavern, including coconut shrimp cigars, braised lamb shank, and passion fruit flan.
Chef's Plantation:
Pan-seared salmon cakes, a griddled cheesecake sandwich and more await your palette at Chef's Plantation.
Coast to Coast Cookery:
Flavors of the land and sea come together at Coast to Coast Cookery, featuring hangar steak, bacon-wrapped prawns and more.
Field House Eatery:
The Field House Eatery is the Festival's biggest location, offering pan-seared scallops, roasted pork belly, and mango éclairs right on Gwazi Field.
Southern Station:
Southern Station tantalizes taste buds with shrimp & grits, pan-fried cod, and beef short rib.
Comfort Kitchen:
The Comfort Kitchen fuses classics like bacon mac & cheese with contemporary eats like habanero shrimp salad.
Light Fare Canteen:
Freshen up your palette at the Light Fare Canteen with scallop ceviche and an heirloom tomato & goat cheese salad.
Blazin' Bistro:
Blazin' Bistro breaks out the grill for fire-braised pork chops and jerk chicken sliders.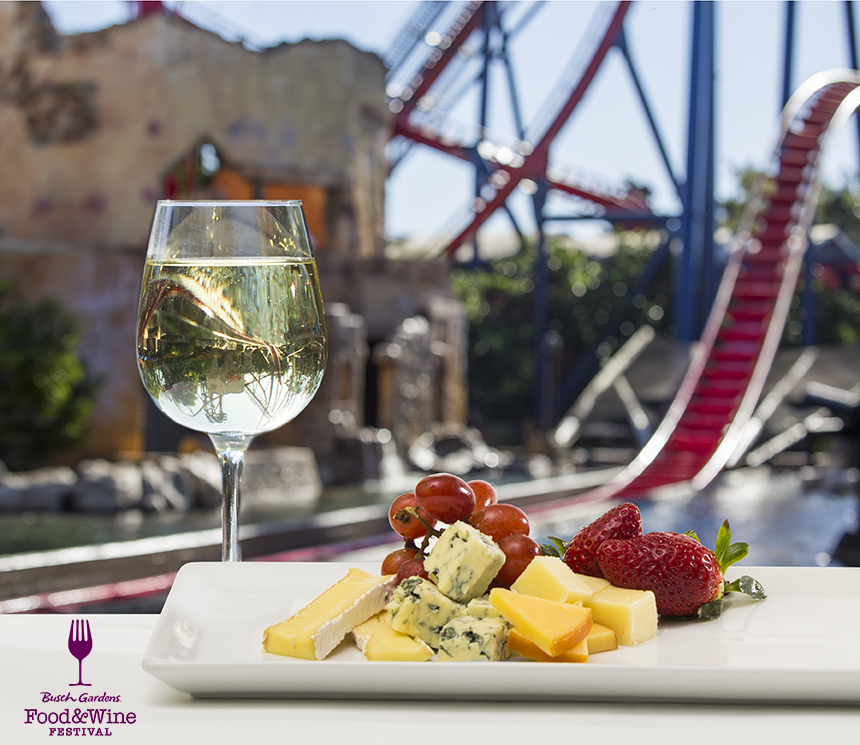 The Busch Gardens Food & Wine Festival runs from noon to 9 p.m. on Saturdays and Sundays, March 7 through April 26. Plus, raise your glass to live concerts at 6 p.m. on Gwazi Field. The Festival is included with any pass, Fun Card or daily admission. Food and beverages are available for purchase at an additional fee.
For more event information, including detailed menus and a full list of wine, craft brews, and cocktails, visit buschgardens.com. Stay connected and join the conversation by using #corksandcoasters on Busch Gardens' Facebook page, Twitter and Instagram.
You Are Also Going To Love:
If you love theme parks and enjoyed this Busch Gardens Food & Wine Festival, you will also love the following theme park tips I have put together for you:
Now, who is joining me at trying out these delicious options?