They say raising daughters is one of the hardest things parents can do. You know what I agree, and that is why I've written this Open Letter To My Daughters.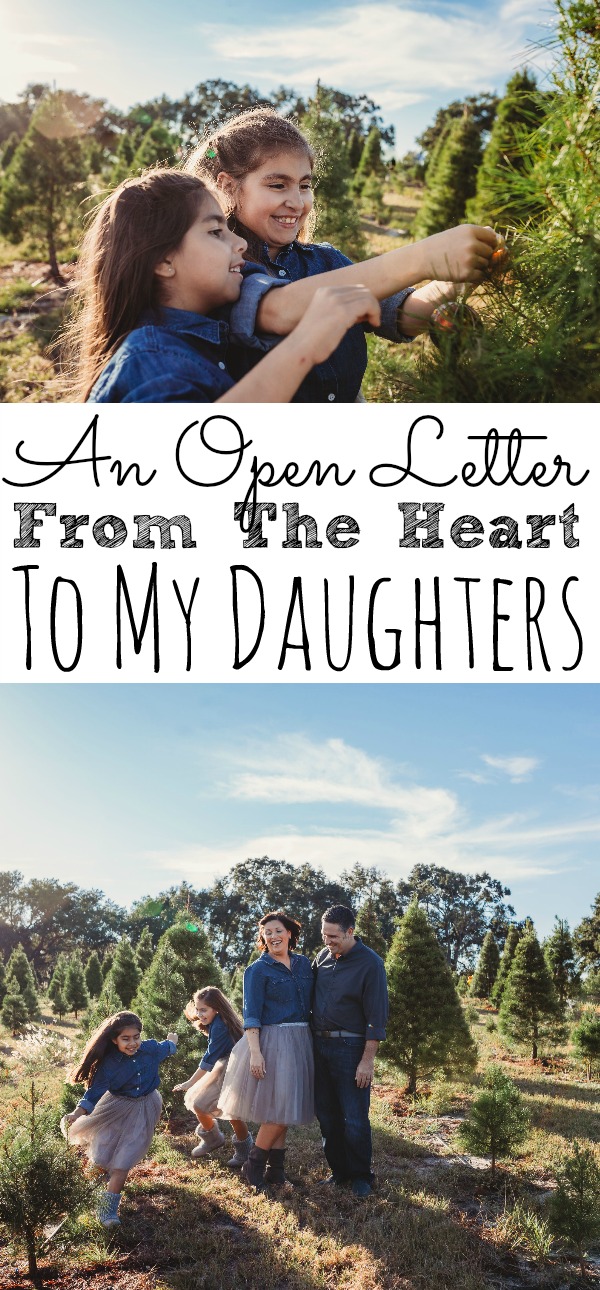 An Open Letter To My Daughters
Raising daughters in a world where we see so much hate, negativity, and danger is terrifying for parents.
I'm terrified!
Especially when we see so many people being bullied and attacked for being who they are.
It becomes challenging to allow or even guide our daughters to show who they were meant to be in life proudly.
Instead of being afraid, today, I want my daughters to stand up united and show the world who they are! I want them to grab every little girls hand and stand by them.
No more hate or competition on who is better than the next. Instead, I want them to lift each other and support accomplishments together.
Because you know what? One little girl's accomplishment is the door opening for another little girl to walk through.
As a grown woman, why we can't do this for each other?
It's something I've had to learn, and that's not easy to admit.
We need to do better and teach from our mistakes.
Dear Daughters,
I know that the world is not an easy place, I can see it in your eyes that you too are starting to get touched by the negativity this world can hold.
There is too much hate, deceit, and lies.
And I will admit, I too have tainted the world in these ways.
I'm so sorry.
I really wish that I could make it all go away, but that's just not the case.
Just remember to stay true to who you are and show the world a much kinder way of living.
Because you know what? There's also greatness, abundance, and gratitude to be had in this vessel we call life.
Together and united as sisters, take on the world!
Do what you love to do!
Don't let others tell you otherwise.
Conquer the world!
And support every human who comes your way.
You never know what trials they have been through in life.
I know that you both already have felt some of these pressures of changing who you are because of the things you love.
Don't!
Your creativity and the way you view the world will help it change in a much better direction.
You are both amazing young girls who just want to live life to the fullest.
Taking it all in and enjoying every breath given to you!
To tell you the truth, I wish I lived life the way you both do.
Don't follow those who are taking the easier road.
Instead, be a leader and allow them to follow you in your journey of kindness and help on the road less traveled.
Individually, you both have the power to do great things in life!
Together, you have the power to be stronger and truly make a change!
I'm not saying things won't get hard because if I did I would be lying to you.
Just learn from those moments. It will make you a greater person.
No matter what, remember that your father and I will always be right here for you both.
You are NEVER alone!
Dear Daughters,
Stay True To Yourself and the world we live in will fall into place.
You Are Also Going To Love:
If you loved this Letter I Wrote For My Daughters, then you will also love the following parenting articles I have put together for you:
Have you ever written a letter from the heart to your daughter?