During my trip to LA during my Guardians of the Galaxy Vol 2 event a few weeks ago, we had the opportunity to learn about ABC's newest show Downward Dog. Now, don't let the fact that the show is about a dog scare you away, because, you will be laughing off your couch!
Thank you, Disney, for inviting to the #GotGVol2Event in LA. All opinions are my own.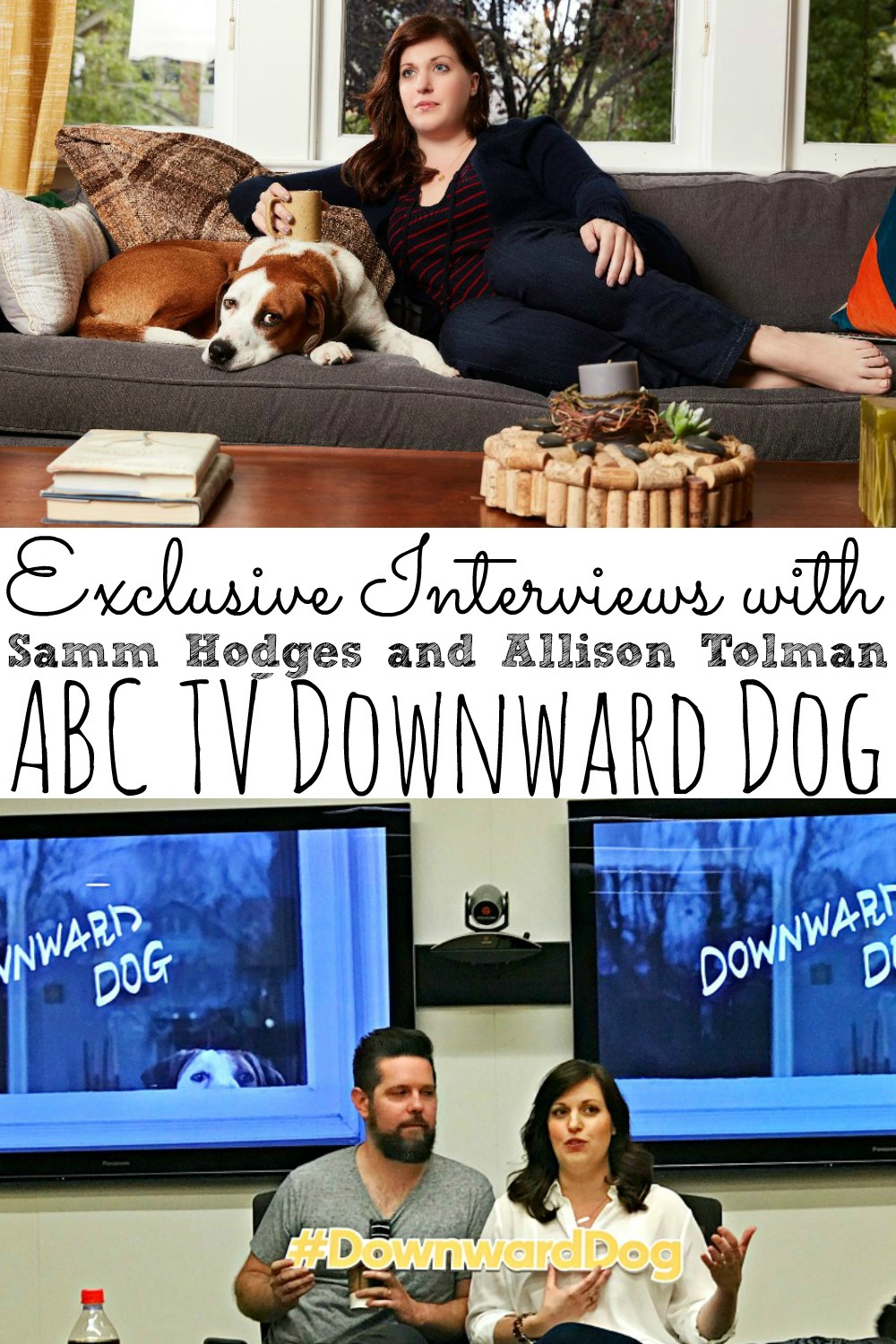 Samm Hodges and Allison Tolman Interview Downward Dog | A Show About A Dog? #DownwardDog
Samm Hodges, who is the Co-Creator / Executive Producer AND the Voice of "Martin," the dog and Allison Tolman, who plays "Nan", were gracious enough to sit with us during this exclusive interview to give us a little bit more about ABC's newest television comedy sitcom, Downward Dog.
What I really enjoyed about Downward Dog was the fact that it really gives you the perspective of a dog's life with his owner. As a dog lover and owner of two dogs, I actually finished watching the episodes missing my puppies.
As much as you want to tell yourself this show has been down before, it really hasn't. Now, I will let you know now. As much as you want to let your young children watch the show because it has a cute dog in it, I suggest otherwise. This is a funny and fun show for the adults to enjoy! As always, parents it's up to your discretion.
Watch the show and see what you think! I for one fell in love with it and if you're already a fan of comedies like American Housewife and Modern Family, then you are going to love Downward Dog. I can't wait for my hubby to watch it tonight!
Ned who plays Martin the dog is a hound mix rescued from a shelter in Chicago called Paws Chicago. The show was looking for a dog who could really be a dog and not one that had all the glam of an acting dog.
In the first pilot, Ned the dog had just started training. he was jumpy. Like he was a
Allison: He was jumpy. I mean he was a rescue dog and had rescue dog anxiety.

Samm: He thinks he's the most important being in the world, but it's important for us that he's very like just a regular old dog, you know.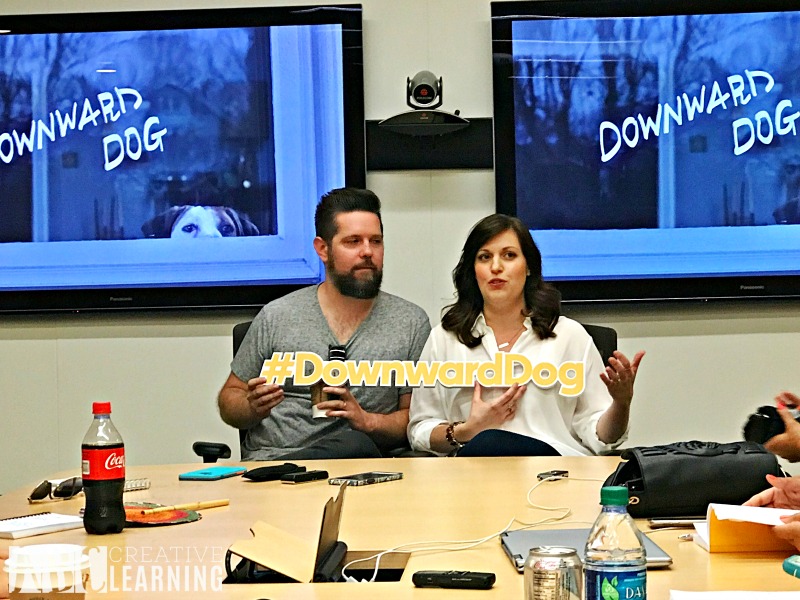 A fun fact about one of the co-creators Michael Killen had done a lot of stuff with talking animals specifically the Taco Bell Chihuahua. Which really makes it easy for them to create the way Martin the dog moves his mouth in the show.
During casting for Martin the dog voice, Samm read some of the monologues to show how they wanted him to sound and he ended up actually voicing Martin himself.
Allison shared with us that she wasn't sold on the script when she first read it. She probably thought that same thing many of us did at first. A show about a dog? It really isn't just a show about a dog. For me, it was very heartfelt and the comedy is fantastic. Go watch the shorts now!
Allison: But then I saw the shorts and I was like, oh, I get it. It's like sweet and down to earth and kind of indie. And then I was really into it. So, that's kind of how it came about.

Samm: I think in the shorts it was about how a dog's view of his own life. And then we realized a dog has such an intimate view of the life of the owner.

So it became much more about the character of Nan and him as an angle on her life, 'cause he sees all these moments that no one else was there and he's there for her in these moments of there was very — I was just — was just very alone and to wrestle with it. That was a shift. I think.
Allison is a big animal lover, but not the kind you think.
Allison: I've had my cat for 17 years. Like she is the — she's the longest standing relationship of my entire [CHUCKLES] life, and I grew up with her. I've had her since I was 19 years old.

So, the like transformative power of like loving an animal and being in charge of this little life, like truly, truly has affected the person that I am, because I grew up with this cat. I was a baby when I got this cat.

And I think that's what really special about it is that it's a love — it's a love story that I think is universal for a lot of people because a lot of people are pet owners and love their animals but it's not something that we really focus on.

We focus on romantic love or familial love, but nobody really talks about what a profound thing it is to love an animal.
Samm, on the other hand, has his hands full with two kids of his own, including a newborn. So where does his inspiration come from for the show?
Oh, yeah, I mean, well, I mean I grew up with dogs being my only source of solace. You know, as a kid I mean it just — like that was what the — you go to the dog and, and like my dog's name's Smiley. I'm crying to her [CHUCKLES] and was like, no one understands but you, you know [CHUCKLES].

And there's that — and so I think that in Martin's character is really based on what a dog's experience is. Like dogs experience a lot of emotion, you know, and a lot of like really profound things they can experience, we just found out recently.

But it's kind of like — it's less asking what is your dog thinking and more saying like what if your dog had human anxiety and existential angst, you know.
You may be wondering, well, how do they make the dog talk?
Samm: So, it's all, it's all done in, in visual effects, but what's, what's difference is that usually, they'll kinda replace the entire muzzle, a lot of the face, with CGI. In this case…it is done in post-production, but it's a lot more naturalistic.

Allison: They shot — like any time he has a talking head where he's just there, they would set up the shot and then they would have him sit there and the trainer would be behind the camera and they'd like let's try to look — make him look over here. Let's try to make his ears move.

And then after the fact, Samm goes into a voiceover booth and puts a mo-cap stuff on his face so they can capture his entire muzzle.
Make sure not to miss Downward Dog on ABC Tuesdays nights! There are only eight episodes in the season, so make sure to tune in every week!
About Downward Dog:
The series, the first network comedy to have its world premiere at the Sundance Film Festival, will move to its regular time period, Tuesday nights at 8:00–8:30 p.m. EDT, with its second episode, beginning May 23, on The ABC Television Network.

Based on a web series, "Downward Dog" follows the day-to-day life of Nan (Emmy and Golden Globe-nominated Allison Tolman, "Fargo"), as told by her increasingly lonely and philosophical dog, Martin (voiced by Samm Hodges).

Nan attempts to juggle her tumultuous personal life with a stressful career, unjustly supervised by her self-obsessed boss. Having her story told from the canine perspective provides a uniquely unfiltered point of view that helps us laugh and cry about what it means to be a human being in the twenty-first century. It's a show about a dog and the girl he adores, and even at their worst, Nan and Martin just might be best for one another.
In the series premiere airing May 17, "Pilot," Martin battles loneliness and the need for Nan's unconditional attention, while she struggles with a breakup and Martin's recent bad behavior as he reacts to her newly busy work schedule.

"Downward Dog" stars Allison Tolman as Nan, Lucas Neff ("Raising Hope") as Jason, Nan's ex-boyfriend; Kirby Howell-Baptiste ("Love") as Jenn, Nan's best friend and co-worker; and Barry Rothbart ("The Wolf of Wall Street") as Kevin, Nan's boss.
Guest starring Mo Collins as Kim, Maria Bamford as Pepper, DaJuan Johnson as Tristen, Rachna Katau as Gwen, and Ned as Martin.

"Pilot" is written by Michael Killen & Samm Hodges and directed by Michael Killen.
"Downward Dog" series creators Michael Killen and Samm Hodges executive produce with Mosaic's Jimmy Miller and Sam Hansen, and Animal Media's Kathy Dzubiek. Showrunners Kat Likkel and John Hoberg also executive produce. The series is produced by Legendary Television and ABC Studios.

Don't miss Sam Hodges as "Martin" and Allison Tolman as "Nan" in the all-new comedy "Downward Dog" premiering tonight with a special sneak peek at 9:30–10:00 p.m. EDT, following the season finale of "Modern Family."
*Edited June 28th: Unfortunately, Downward Dog has announced its cancellation after only one season.
You Are Also Going To Love:
If you loved this Interview with Samm Hodges and Allison Tolman Interview Downward Dog | A Show About A Dog?, then you will also love the following articles I have put together for you:
Will you be watching Nan and Martin tonight in Downward Dog?

SaveSave
SaveSave
SaveSave
SaveSave